Gunther Förg, Untitled, 2001. 20th Century & Contemporary Art.
Throughout a remarkable career that spanned painting, photography, sculpture, and design, Gunther Förg developed a practice that interpreted space and fragmentation in ways that reflected the modern world with a unique sense of expression. Witness to that practice, Mikael Andersen speaks with Phillips' Scandinavian Regional Director Kirsten MacDonald about the artist's work, as well as Andersen's upcoming museum project celebrating the work of Sonja Ferlov Mancoba and what legacy means in the world of art.
KIRSTEN MacDONALD: Tell us a bit about how the Museum on Bornholm is coming along, and what the project seeks to achieve.
MIKAEL ANDERSEN: Work is progressing as planned – the 'Pavilion Sonja Ferlov Mancoba' is currently underway through the commission of architect Tadao Ando. From 11 December, we'll be exhibiting a model of Ando's work at the Bornholms Kunstmuseum, and we are expecting to have the pavilion ready and open in 2024. It's an exciting project born from a passion to celebrate the work of the iconic Danish sculptor.
KM: You've spoken to us before about your wonderful Studio House in Vejby, where Förg had stayed and worked. How did seeing Förg's practice in person impact your understanding of his approach?
MA: Before he even visited the Studio House, we ensured that everything would be ready for Förg's arrival, so we prepared materials like canvases, paper, and supplies so he could concentrate solely on his work. He always brought his preparatory drawings and sketches, which gave a view into his dedication – he knew exactly what he was going to create. The paintings were already complete in his head and they would come to life through his practice.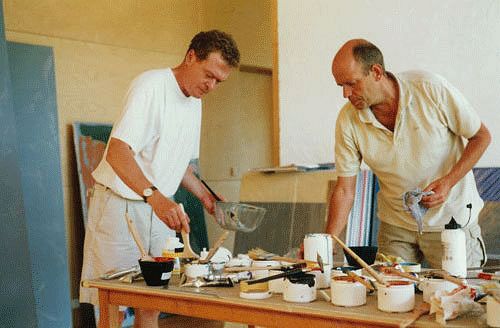 Günther Förg with Mikael Andersen at Andersen's Studio House in Vejby, Denmark. Courtesy of Mikael Andersen.
KM: What speaks to you about the present work? How do you see it within Förg's oeuvre?
MA: Firstly, it's his minimalistic approach; the simplicity of which conceals a multifaceted depth. For Förg, dots are not only dots, colors are not only colors, and so on – they come from a deeper tradition of Impressionism. His choices are deliberate and each placement of a color or dot is considered.
KM: Your Copenhagen gallery (and previously the Berlin space) showcases work by many young and upcoming artists. What sort of legacy do you see Förg having with this new generation?
MA: Förg was part of the '80s movement of German artists who had a strong influence on the younger generation we see today. He both came from and taught at the Academy of Fine Arts in Munich, so that continuity between his training and the lessons he passed on to his students has an impact now. He inspired artists like Michael Sailstorfer, Emanuel Seitz, and many more.
KM: Relative to Förg and your recent work with Sonja Ferlov Mancoba, what does legacy mean to you?
MA: Förg enjoyed the work of both Sonja Ferlov Mancoba and her husband Ernest Mancoba, and he included works by both artists in a show he had at the Stedelijk Museum in Amsterdam in the early 1990s. Sonja Ferlov Mancoba's legacy is something that both she and her husband considered when they dreamed of finding a platform to exhibit her works and showcase her oeuvre. My objective is to make that dream come true!
Discover More from 20th Century & Contemporary Art >
---
Recommended Reading