Lynsey Addario, Darfur Sandstorm, 2004. Photographs London.
Phillips is honored to be working with the Ian Parry Scholarship in presenting a selection of 22 powerful works from around the world as a part of the Photographs sale in London on 23 November. Ian Parry was a photojournalist who tragically died while covering the Romanian Revolution in 1989 when he was just 24 years old. This award has been encouraging and supporting young photojournalists in memory of Ian Parry for three decades. The works on offer give a breadth of selection for collectors, from artists well-known to auction like Edward Burtynsky and Richard Mosse, to an array of impressive auction debuts including Nanna Heitmann and Lynsey Addario. A preview exhibition of these works will open to the public from 17 to 23 November at 30 Berkeley Square. In addition, Artsy will also host a benefit auction in partnership with the Ian Parry Scholarship on 11 November. Here, we highlight seven photographers from the sale.
Lynsey Addario
In Darfur Sandstorm, two soldiers from the Sudanese Liberation Army wait by their truck as they shield themselves from a sandstorm in the northern territory of Darfur, Sudan. This image was used as the cover of Lynsey Addario's acclaimed book Of Love and War (2018), which focuses on the ethical complexities entwined with documentary photography.

Lynsey Addario (b.1973) has covered every major conflict and humanitarian crisis of her generation, including in Afghanistan, Iraq, Darfur, Libya, Syria, Lebanon, South Sudan, Somalia, and Congo. In 2015, American Photo Magazine named Addario one of the five most influential photographers of the past 25 years, writing that the photographer "changed the way we saw the world's conflicts." Addario has been the recipient of numerous international awards throughout her career, including the prestigious MacArthur Genius Grant and the Pulitzer Prize in International Reporting in 2009. She regularly works for The New York Times, National Geographic and Time Magazine.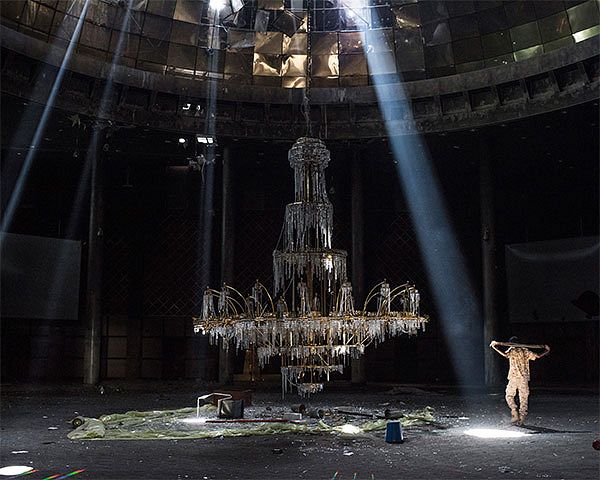 Lorenzo Meloni, Ouagadougou Conference Center, Sirte, Libya, 2016. Photographs London.
Lorenzo Meloni
The same year that the self-proclaimed caliphate Islamic State came into existence – 2014 – Lorenzo Meloni began tracing its wars and landgrabs, as well as its loosening grip on certain cities. Returning to Libya in July 2016, Meloni spent weeks covering the Libyan unity government's campaign to capture the city of Sirte from ISIS forces. As has been widely reported and recognised by global media, the latter resorted to using suicide car bombs and landmines to deter the attackers, resulting in high casualties. Due to this, Libyan fighters had to methodically check every piece of captured property for traps. On December 2016, Sirte was totally liberated from ISIS presence.

Lorenzo Meloni (b.1983) is known for his searing, artfully drawn photographs covering conflicts in the Middle East. Though he is often working on the frontline, having covered some of the most pivotal battles in the war against ISIS, post-colonialism and its history are central concerns in his work. Living in Beirut from 2012 to 2014, Meloni dedicated himself to long-term projects regarding the aftermath of the fall of Gaddafi in Libya, and the conflict in Syria and its impact in Lebanon. Meloni became a full member of Magnum Photos in 2020. His work has been featured in global publications, including The Telegraph, TIME, Le Figaro and Vanity Fair.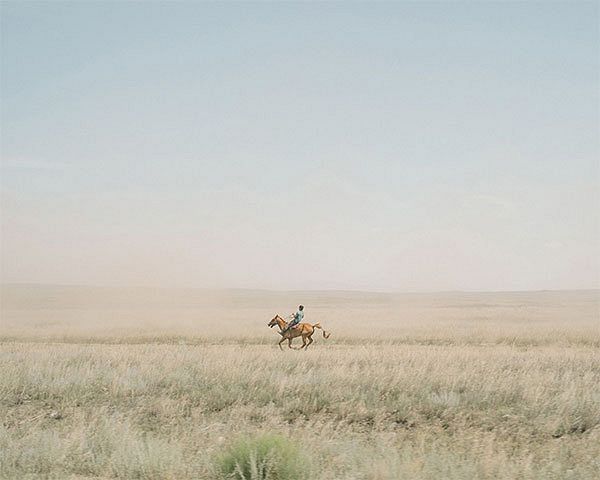 Nanna Heitmann, Horse Race from Hiding from Baba Yaga, 2018. Photographs London.
Nanna Heitmann
This work by Nanna Heitmann depicts a traditional horse race of the Tuvinese National Festival Naadym. The image is from her acclaimed series Hiding from Baba Yaga, in which she undertook a poetical journey along one of the most powerful rivers on earth: the Yenisei. Flowing 3,438 km from the Mongolian border, northward through Siberia, and into the Arctic Ocean, the remains of USRR history bear heavily on its shores. Heitmann's lyrical photographs capture the social bonds between different communities that live together. They are also evocative of local people's isolation and dreams while living in one of the coldest places on earth.

Born in 1994, the German/Russian photographer became a nominee member of Magnum Photos in 2019, the same year in which she also won the Award for Achievement in the Ian Parry Scholarship. Her work has been published by TIME, M Le Magazine du Monde, De Volkskrant, Stern Magazine and die Zeit. She has worked on assignments for outlets, including The New York Times, TIME, The Washington Post and Stern Magazine.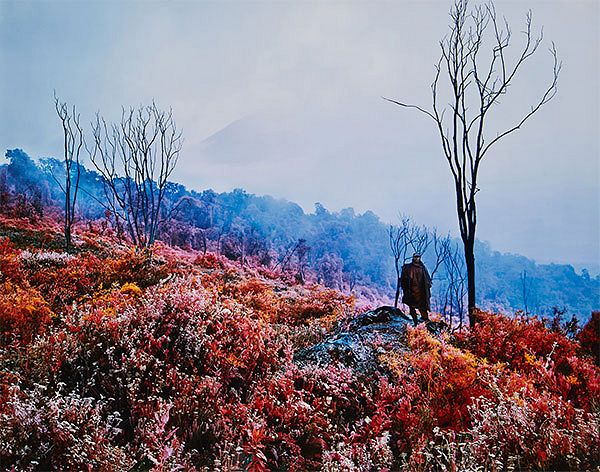 Richard Mosse, Nineteenth Century Man from Infra, 2011. Photographs London.
Richard Mosse
This work is from the acclaimed series Infra, which Richard Mosse created during multiple trips to the Democratic Republic of the Congo. By shooting with Kodak Aerochrome, a discontinued infrared surveillance film that transforms greens into acid pinks and reds, Mosse offers a searing, psychedelic vision of the warscape, encouraging viewers to consider a war largely ignored by the media. The otherworldly colours draw attention to the striking beauty of the land as well as the bloodshed fuelled by the region's rich natural resources. Infra earned Mosse the prestigious Deutsche Börse Prize in 2014.

Richard Mosse (b.1980) is an Irish conceptual documentary photographer and filmmaker. Merging photojournalism and fine art, his lush, cinematic images capture human destruction in natural environments. His work has been exhibited internationally, notably at Tate Modern in London and Foam in Amsterdam. In 2013, Mosse represented Ireland at the Venice Biennale, and in 2017, he was the recipient of the Prix Pictet award for his heat-map photographs of a Greek refugee camp, which he captured using a military-grade surveillance camera.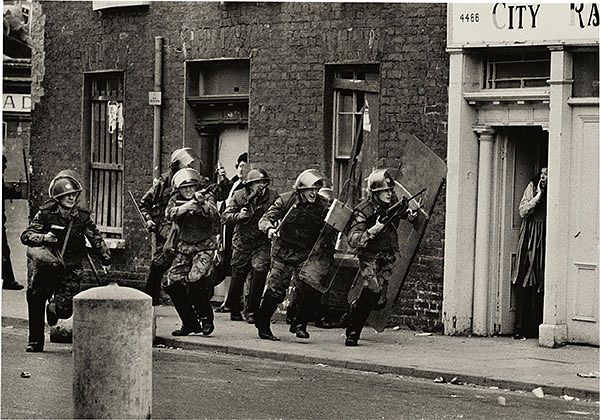 Don McCullin, The Bogside, Derry, 1971. Photographs London.
Don McCullin
One of the most acclaimed and renowned images in British history, The Bogside, Derry, 1971 by the world's most respected documentary photographer Don McCullin was taken on assignment for The Sunday Times Magazine. Published as part of a photo-story entitled 'War on the Home Front', it depicts a group of soldiers of the Anglia Regiment counter-attacking stone-throwers in the Bogside, a Catholic majority neighbourhood in Derry/Londonderry. Never before had such a bold and brave cover story been published in a Sunday supplement.

Born in London's Finsbury Park in 1935, McCullin left school at 15 with no qualifications and signed up to National Service in the RAF as a photographic assistant. In 1959, he took his first published photograph of The Guvnors, a London gang who had been involved in a murder. McCullin has since spent his career covering the world's most important conflicts, famines and social issues in countries like Congo, Biafra, Uganda, Chad, Vietnam, Cambodia, Israel, Jordan, Lebanon, Iran, Afghanistan and Northern Ireland. He was the first photojournalist to everbe awarded a CBE by the Queen of England.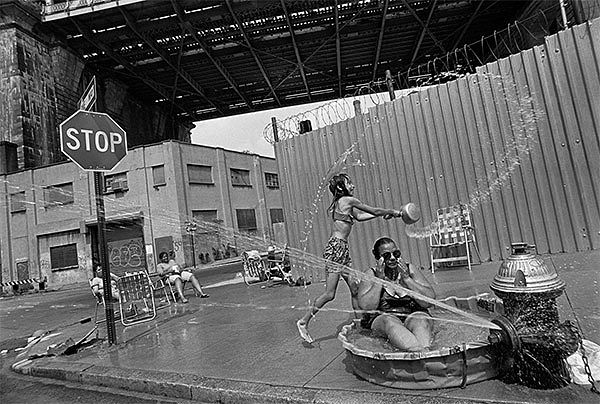 Eugene Richards, Grandmother, Brooklyn, New York, 1993. Photographs London.
Eugene Richards
On a very hot day in Dumbo, New York City, Eugene Richards walked past a grandmother and some children on his way to the subway. While the grandmother sat in a wading pool, a little girl was playing, throwing buckets of water in the air. This image was featured in Richards' book American We, published by Aperture in 1994. The book explored the many faces of America - from the tender, to the funny, the disturbing to the sublime. Americans We was the recipient of the International Center of Photography's Infinity Award for Best Photographic Book in 1995.

Eugene Richards was born in 1944 in Dorchester, Massachusetts. In 1968, he joined VISTA, (Volunteers in Service to America), a government programme established as an arm of the so called 'War on Poverty'. Following a year and a half in eastern Arkansas, Richards helped found a social service organisation and a community newspaper, Many Voices, which reported on black political action as well as the Ku Klux Klan. After being invited to join Magnum Photos in 1978, he worked increasingly as a freelance magazine photographer, undertaking assignments on such diverse topics as the American family, drug addiction, emergency medicine, paediatric AIDS, aging and death in America.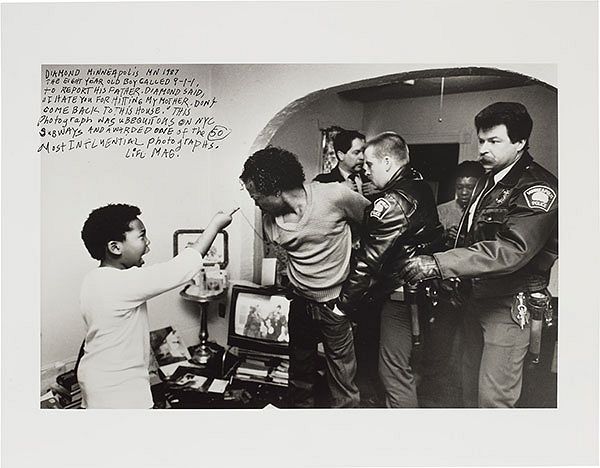 Donna Ferrato, Diamond Shouting at His Father from Living with the Enemy 1987. Photographs London.
Donna Ferrato
A little finger points accusingly at a man being hauled away by law enforcement. Diamond was eight when he shouted at his father during the arrest for domestic abuse: 'I hate you for hitting my mother.' Part of the series Living with the Enemy by Donna Ferrato, this photograph has been acclaimed as one of the most important frames ever made, an image that transformed the way family violence is perceived within the American collective consciousness.

Donna Ferrato (b.1949) is an internationally acclaimed photojournalist, known for her groundbreaking documentation of the hidden world of domestic violence. Her seminal book Living with the Enemy (Aperture, 1991) went into four printings and, alongside exhibitions and lectures across the globe, sparked a national discussion on sexual violence and women's rights. In 2014, Ferrato launched the I Am Unbeatable campaign to expose, document and prevent domestic violence against women and children through the lived experience of real people. Ferrato's work received numerous awards, notably the W. Eugene Smith Grant and the Robert F. Kennedy Award for Outstanding Coverage of the Plight of the Disadvantaged.
Discover More from Photographs London >
---
Recommended Reading
Promethean Figures: Peter Beard and Francis Bacon, 1976 >
A Mapping of the Self: Photographs from the Collection of Peter McLeavey >