David "Mr. StarCity" White, Moonlit Roses and Heartache, 2020. New Now New York.
Patrizia Koenig, Head of New Now, New York
David "Mr. StarCity" White is widely recognized for his experimental multidisciplinary practice that spans painting, sculpture, poetry, performance, video and installation art. Through these various mediums, Mr. StarCity visualizes playful storytelling emphasizing the need for love in the process of personal healing and stresses the importance of empathy. Articulating the importance of this narrative in his work, Mr. StarCity comments that "art has become my platform to deliver this message of love and spreading that love in which I so strongly believe and uphold."
With exhibitions in Stockholm, Los Angeles, and Hong Kong, Mr. StarCity's work is internationally sought-after and has captured the attention of a growing number of influential collectors across the globe. His work will be included in group exhibitions at Nassima Landau in Tel Aviv and Spazio Amanati in Florence (the latter curated by Caio Twombly and Jacob Hyman) this October. In January 2022, Mr. StarCity will also feature in the Singapore edition of Black Voices, curated by Destinee Ross-Sutton.
Jessie Makinson, Stirring his pot, 2017. New Now New York.
Rebekah Bowling, Head of Day Sale (Afternoon Session), New York
Striving to "set the scene without telling the story," painter Jessie Makinson creates otherworldly artworks that engage with storytelling and how the mechanical aspects of painting — line, color, and form — can shape it. Makinson's paintings most often depict powerful, alien-seeming women and imagined creatures in exotic interiors and environments. Borrowing from early science fiction, obscure pop culture, and folklore, Makinson has pioneered a deeply unique style that has been met with considerable acclaim.
Makinson's work approaches a modern form of mythology. Her figures and the settings they inhabit are clearly not of this world, but they approximate life and its dynamism and ultimately contain something — thoughts, emotions, motivations — that viewers can relate to. This emotional articulation and her well-developed sense of storytelling are what make her work so appealing to international audiences: Makinson, while based in London, is represented by Lyles & King in New York and has recently shown at Galería OMR in Mexico City, Nicodim Gallery in Bucharest, and Fabian Lang in Zurich.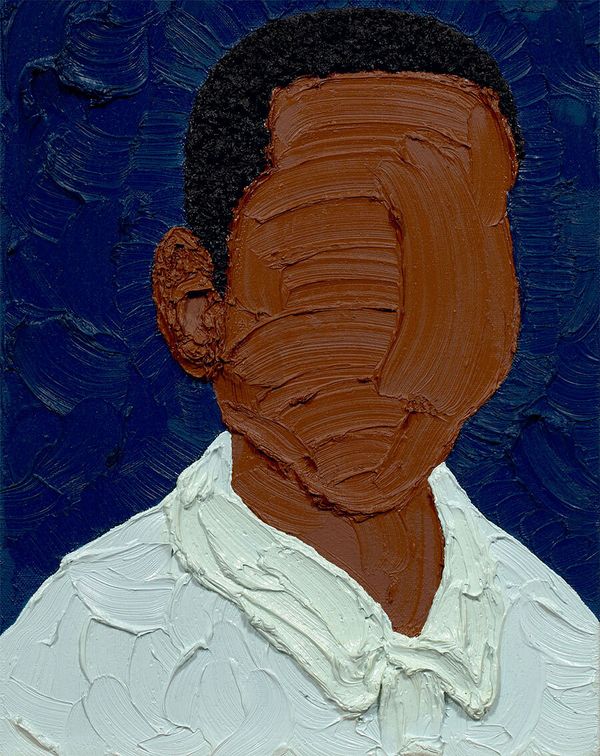 Danielle So, Head of Day Sale, Hong Kong
Minneapolis-based artist Shaina McCoy paints highly original and deeply engaging portraits of anonymous sitters, lavishly executed with thick layers of oil paint. Initially beginning her career with the use of acrylic and a Sharpie to outline smiles and frowns of her subjects, she turned to oil paint in 2012, meticulously replacing the eyes and mouths of her figures and crowning them with lush halos of brushstrokes. While she endows her faceless subjects with an air of mystery, McCoy is still able to skillfully evoke the same interpersonal warmth through her attention to human body language and positioning that surpasses their facial anonymity. McCoy's virtuosity is misleading: she is a relative newcomer to painting and adopted the medium only when she entered art school. Since then, she has developed a deeply unique style that has garnered considerable attention, largely driven by her presence on social media.  
McCoy's works seem to depict unknown subjects, but in fact each image is drawn from photos of the artist's family. Roused by moments of affection among the families of friends, these images are cut off from all context and, rather than depicting family members, are rendered as archetypes. Adeptly oscillating between intimacy and anonymity, McCoy gives her audience just the right amount of information for a spark of recognition — be it a face or a shirt — offering an honest and relatable visual record where one can project their own ideologies and visions. For this reason, McCoy considers herself an archivist of images as well as a painter of them. This aspect of her practice — the ability to render personal history on such a universal level — has resonated greatly with viewers.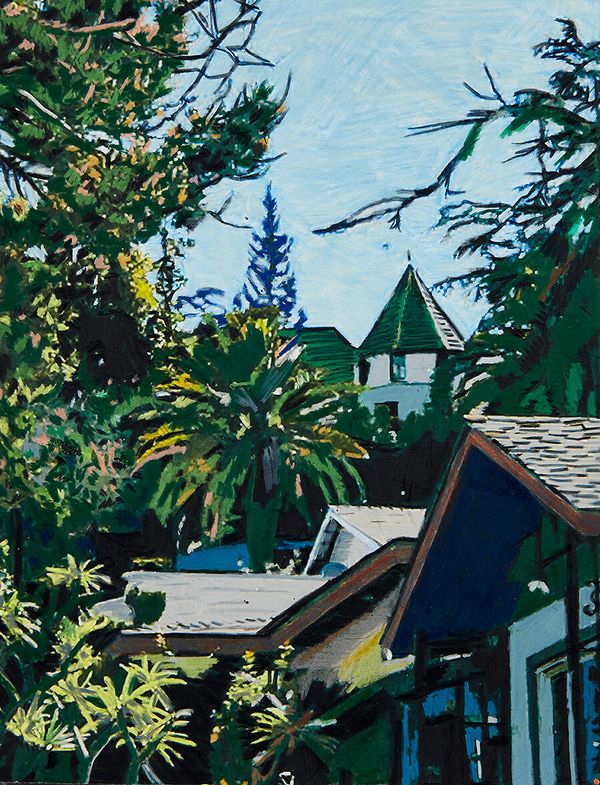 Hilary Pecis, Untitled (Pyrenees Rooftop), 2018. New Now New York.
Avery Semjen, Cataloguer, Day Sale (Afternoon Session), New York
Some artists are so affected by their environment, inherited or adopted, that it shows itself in their work. Hilary Pecis, like David Hockney and Ed Ruscha before her, reflects her West Coast surroundings in her art. Pecis creates vibrant, lively landscapes and intimate interiors; her work is marked by its expressive use of color and generous rendering of detail. Recreating with loving detail the Los Angeles landscape, its rolling hills and hand-painted store fronts, and the books and bottles that adorn cozy domestic spaces, Pecis paints places that are close to her, in literal and figurative senses. Pecis' embrace of the familiar is especially moving in a year when most of us have spent ample time indoors; her richly rendered scenes cast our everyday surroundings in a more positive light. Pecis' work has generated considerable excitement recently, as she participated in the Art in Focus series at Rockefeller Center in New York and was recently signed to the roster of David Kordansky Gallery in Los Angeles.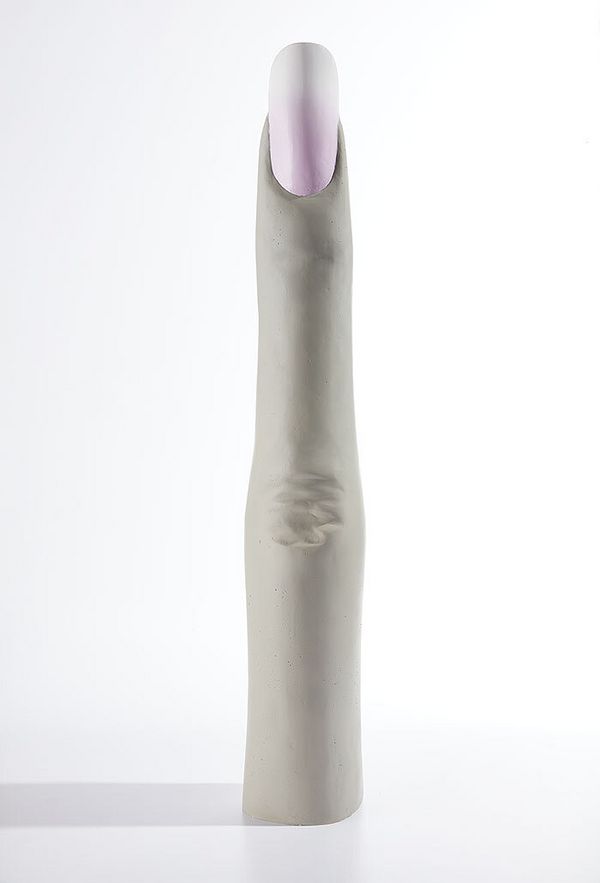 Annie Dolan, Associate Specialist, Associate Head of Day Sales, New York
Born in Stockholm and based in Berlin, artist Anna Uddenberg creates work that focuses on consumerist culture and modern technology. Uddenberg considers the relationship between the self, society, and spirituality but also engages feminine identity and performativity. Her sculptures and installations examine an individual's engagement with their environment; she explains, "I was interested in testing where the breakpoints lie between the personal versus the professional." Using sculpture and performance, Uddenberg creates distorted forms which confront these boundaries and demand to be seen. "If you take that surface and push it forward, making it more visible, people will find it awkward," Uddenberg states. "That's something I like to work with." Her investigations of identity and consumerism have international appeal and have been exhibited in recent years in Germany, the United States, China, and Lithuania. She has recently shown her work in a solo exhibition at Kraupa-Tuskany Zeidler in Berlin.
---
The Crossover
We sit down with Gardy St. Fleur to discuss Project Backboard, a non-profit organization dedicated to revitalizing neighborhood basketball courts across the world. Held in conjunction with the 28 September New Now auction, The Crossover features a compelling selection of established and emerging artists, each donating their proceeds to support Project Backboard's first international project in Haiti, as well as earthquake relief efforts.
---
Recommended Reading
The Starting Five: Highlights from The Crossover >
Sweet Jane in Fields of Daises: Celebrating Emerging Female Artists >