Yoshitomo Nara, Untitled Portfolio, 2010. Editions & Works on Paper. © Yoshitomo Nara
Two Phillips colleagues log on to a Zoom call. Over the course of a discussion ranging from traditional craft to today's collector trends in Japan, artist and Senior Client Advisor based in London, Iori Endo, and International Specialist in New York, Takako Nagasawa, offer insight on contemporary Japanese art. Yoshitomo Nara and Yayoi Kusama in particular, they say, exemplify a series of concepts that interrelate the country's rich historical traditions with audiences around the world.
Familiarity: how does Japanese art merge tradition and innovation?
IORI ENDO: There's a notion that Japan, as a country, is super advanced and very much in constant forward movement, but it's also a deeply traditional place, and in some ways rather old-fashioned. The term 'hybrid' works here, in that artists like Yoshitomo Nara and Yayoi Kusama moved abroad and brought back with them a Western influence, not just to Japan, but to their own art, which then situated itself in Japan with that hybrid development.
TAKAKO NAGASAWA: Both have to do with a sense of relatability. With traditional works, we have the benefit of time and cultural awareness. But with new things, someone can always find an element of a piece that they can relate to, and particularly in the cases of Nara and Kusama. It can be a color, an image, whatever. There is something from each artist that they can see, grasp, and take in as relatable.
Acceptance: do all roads lead home?
TN: Japanese artists tend to be much more admired in Japan, and across Asia as well, when they become familiar through the process of going out and then returning. We have a weird relationship with Western culture in that way. With fashion, we accept and improve upon Western style once we know what it's all about. Artists, too, are better accepted when they are re-imported. They're not exports, per se, but Nara and Kusama are two good examples. Both of them left the country and gained recognition in their respective places — Kusama in New York and Nara in Germany — and once accepted elsewhere, I think it's easier for Japan to accept the artists at home, so to speak.
IE: Kusama here moved to the States and engaged with postwar feminism and performance art, two things that were generally unfamiliar to Japanese audiences, but brought both back with her. In order for those ideas to reach Japan in a way that could be understood and accepted, they first had to be imported through a Japanese interpretation, and from someone who went out of the country to grasp it. It's something I've always admired about her.
Presence: what does access mean for understanding?
IE: I remember having prints of Nara's postcards on my wall when I was in college. At the time I was in art school in Chicago, and as a Japanese artist abroad I was experiencing my own East/West journey. Obviously as a student you can't afford actual paintings, but the pictures were things I knew and could relate to, these cute drawings of girls who hid something deeper, a strong will and determination.The Nara pieces are ukiyo-e woodblock prints. The series demonstrates the high level of technical quality that master printer Yasu Shibata was able to achieve by layering shades of pigment that radiate intense color. Originally the term related to farfetched or unrealistic themes, literally 'floating world'.
TN: During the Edo period, this was a way to popularize the E-shi (artist) and also for their printers to make money. They made them in series and were sometimes used as wrapping paper, so looking back at the history of it, the average person is unlikely to be able to afford an actual painting, but the prints are a way to own a piece of art and have it on your wall, and it reaches more people this way. It remains so in a way, and therefore I think these prints will recieve attention in the Editions Sale.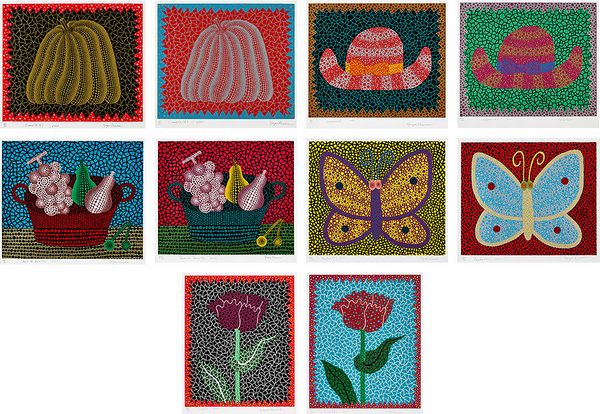 Yayoi Kusama, Amour pour toujors (Love Forever), 2000. Editions & Works on Paper.
Process: how does repetition define the approach?
TN: Throughout Japanese culture pattern is everywhere. If you look at kimono designs, or everyday earthenware, pottery, you see pattern. And it's easy to look at, orderly. I think that art, in that way, is a contemporary version of those traditional patterns and repetitions. It's a method that's both comforting and easy to continue working with over time. Take tea ceremony. There's not much to pouring tea, right? You have hot water, then there's the cup and the leaves and so on, but we make an entire process out of it. Through this process, you come to know that it's not about drinking the tea. In the end you do, but that's not the point. It's learning the rules and patterns that govern this process.
IE: It is true, everything is orchestrated and the whole process is the ritual. The guests take part in it too by taking time to have a look at the tea bowl at a specific moment, to appreciate the quality and craftmanship, or by turning the tea bowl in a specific manner before taking a sip to ensure they avoid drinking from the 'front' of the tea bowl, to pay respect and so forth. It's a systematic approach, I suppose. Everything is in order. Almost in the way you would think of a Zen monk approaching his training. Repetition is a cultural habit that extends into art.
Engagement: what is the state of the art?
IE: With younger collectors in Japan, I feel that it's a completely different scene to, say, New York or London. It's a very domestic market, particularly since Covid began. Collectors are looking at new artists, with that heavy emphasis on illustration, and I've even seen some flexibility with some older collectors, who tend to be a bit more set in their ways and tend to be more cautious, but largely, it's the new, local Japanese artists who are making a name for themselves now. Almost a reversal of what it used to be and what we were speaking about earlier. The country is cut off, not much travel to and from at the moment, so it's partly by force and partly by the already established art scene there. For the last two years now, not much has entered the country's galleries from abroad, so they focus on the local.
TN: The traditional established collectors are still more wary of some of these trends I think, but largely because of their existing preferences. They're fine with the Impressionists and the Old Masters, and they're fine with the contemporary pieces when there's a defined subject. Many have a hard time accepting American abstract art because they don't know what to see in it. Inversely, they recognize the patterns and traditions in some of the contemporary Japanese pieces, even if that subject isn't as apparent. People like to know what they're seeing, and artists like Nara and Kusama are representative of that. It might not actually be what the artist is saying, but there's something presented that can be interpreted either immediately or from the perspective of the person looking at it. It allows for that sort of space. Everyone can find something there.
---
Recommended Reading
Myth, Materiality and Multiples: The Art of Joseph Beuys >