The present sofa placed within the living room at The Finn Juhl House. Credit: Finn Juhl's House, Ordrupgaard, Denmark, and Louisiana Museum of Modern Art, Denmark, which has loaned the work by Vilhelm Lundstrøm. Photo: Emil Vendelbo Stegemejer / Yellows. Design New York.
Having stepped into the role of curator at Ordrupgaard in the fall of 2020, Morten la Cour now oversees one of the largest collections of French Impressionist art in Northern Europe. The collection also represents Danish art across the entire nineteenth century, from the Golden Age period, with the Eckersberg School and the National Romantic landscape art, to the individualists of Symbolist-influenced Realism spearheaded by Vilhelm Hammershøi and L.A. Ring. Along with contemporary exhibitions and an art park with some of today's most well-known contemporary artists, the museum is the site of Finn Juhl's House, a fully-furnished gem of 20th century design. Phillips' Scandinavian Regional Director Kirsten MacDonald speaks with la Cour on the museum's history, recent expansions, and what visitors can expect from a visit to the home of Danish Modern.
KIRSTEN MACDONALD: To start, tell us about Ordrupgaard (OG).
MORTEN la COUR: It is a true gem in the middle of the forest just north of Copenhagen. The museum is quite an attraction in itself, and not something you would normally experience – "hybrid" is a great word to describe it. The museum was established in 1918 by insurance director Wilhelm Hansen as a three-winged country mansion in the Neoclassical style. Hansen first began collecting works by Danish artists in 1892 and expanded his collection to include French artists starting in 1916, when he fell in love with one of Monet's cathedral paintings – he apologized to his wife for spending a large sum but said that she would forgive him when she saw it! He then set out to acquire 12 works by each of the greatest French artists and did so in only three years. Fast forward to 2005, when OG inaugurated a significant extension designed by the legendary architect Zaha Hadid to improve the space, climate and safety conditions in a way so that OG can now present special exhibitions of international format. The extension is primarily glass and black lava concrete, which are joined together to form a deconstructed, organically-shaped building body.
The Finn Juhl House was donated to OG in 2008 by Birgit Lyngbye Pedersen, and opened its doors to the public in summer 2021. Our latest extension comes by way of Norwegian firm Snöhetta, who also built the National September 11th Memorial Pavillion in New York. It is mostly underground and now houses OG's entire permanent collection of French Impressionist art, 40% of which was previously in storage. OG was closed for four years during the extension, reopening this summer with a special canvas and print solo exhibition by Tal R, a presentation of the entire French collection, and the rehanging of the entire Danish collection. The sculpture garden includes a bamboo tower by Doug & Mike Starn created especially for OG, mirror labyrinth by Jeppe Hein, ring of fog by Olufar Eliasson, a new installation by Tomás Saraceno, and other works by Carsten Holler, Klara Kristalova, and others.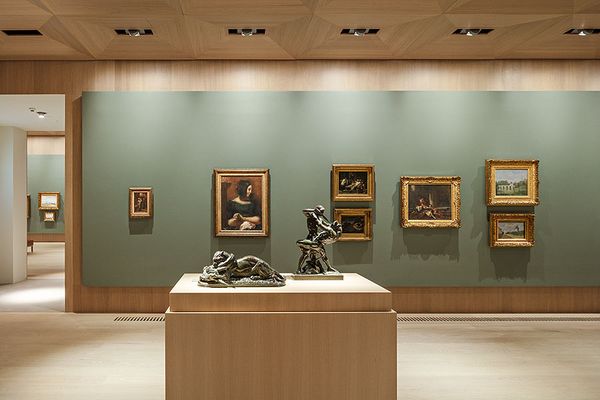 The French collection gallery view, Ordrupgaard. Photo: Laura Stamer
KM: Moving to Finn Juhl, why is he considered one of the great Danish furniture architects?
MlC:As a furniture architect I feel that he differs from Hans Wegner and Kaare Klint, who in my mind focused more on functionality, whereas Finn Juhl was all about aesthetics. He was one of the first Danish architect to receive international recognition – particularly with the UN Trustee Chamber in New York – and the quality of his craftsmanship goes without saying.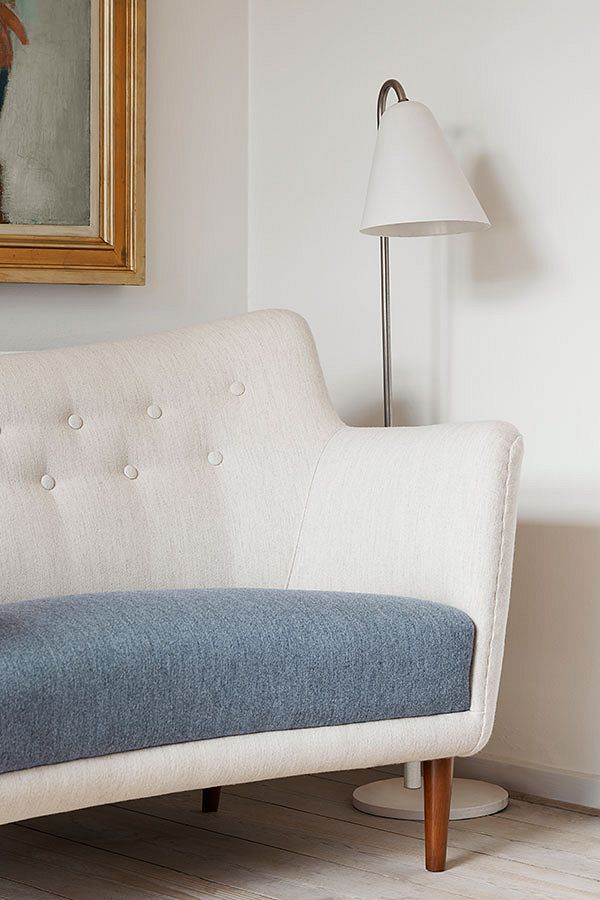 The present sofa placed within the living room at Finn Juhl's House (detail). Credit: Finn Juhl's House, Ordrupgaard, Denmark. Photo: Emil Vendelbo Stegemejer / Yellows. Design New York.
KM: What makes Finn Juhl's home an example of his extraordinary design?
MlC: I consider it a Gesamtkunstwerk, or an ideal compilation of his oeuvre created for the modern family.
KM: What were the most striking and significant evolutions – in terms of function and furnishing – from the home's opening in 1942 to Juhl's death in 1989?
MlC: For me it's the changes to the pieces he chose to include and exchange. His audacity with colors. The move to more stringent pieces that are now what we see in the Finn Juhl House as the best – his masterpieces, so to speak. I also love the artwork by Vilhelm Lundstrøm, and the juxtaposition of the bright yellow color of her dress to the interior.
KM: What do you consider the crown jewels of the collection? How are they optimally experienced within Juhl's home?
MlC: I would probably say the Chieftain Chair from 1949, the Bone Chair (FJ-44) from 1944, the colorful chest of drawers from 1961, and the artwork by Vilhelm Lundstrøm I mentioned before.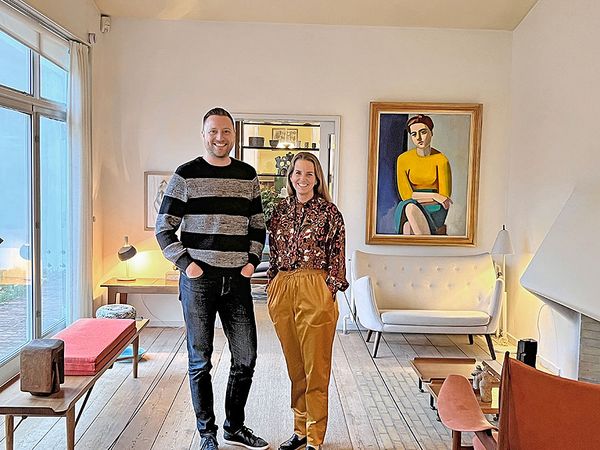 Morten la Cour (left) and Kirsten MacDonald (right) in the living room at Finn Juhl's House.
KM: What is your personal favorite object within the house?
MlC: I personally love the colorful chest of drawers!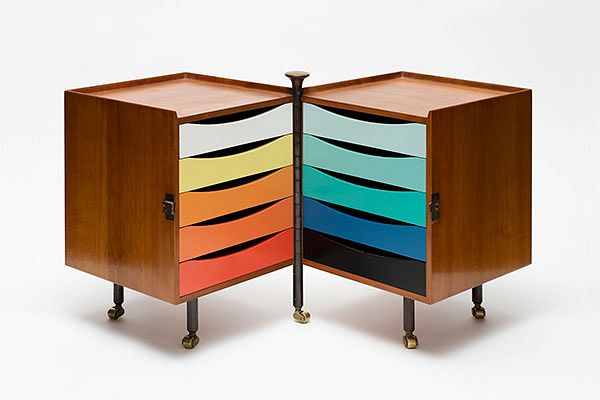 Finn Juhl, Glove Cabinet, 1961. Credit: Ordrupgaard, Copenhagen. Photo: Anders Sune Berg
KM: How do you think Finn Juhl's legacy continues to shape architecture and design today?
MlC: Craftmanship, minimalism, functionalism; works that are practical and sustainable.
KM: What do you hope a visitor coming for the first time will experience or feel?
MlC: Danish simplicity and modernism, hygge, a sense of welcoming and embracing, a low-key feeling, sustainability, that less is more, talent and beauty.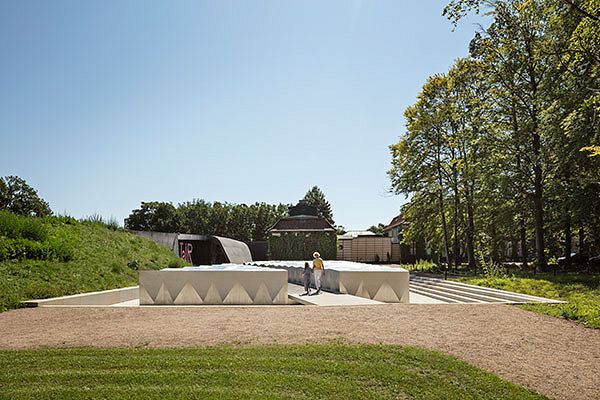 Exterior view of Snøhettas wing, Ordrupgaard. Photo: Laura Stamer
---
Recommended Reading
Frits Schlegel: The Architecture of Design >
Significant Forms: The Collection of John Driscoll >