Delphine Desane, Journeyin' into Motherhood, 2020-21. New Now New York.
Curated by Saint Fleur, The Crossover features an exciting selection of works by 13 artists — from established names such as Robert Reed and Rashid Johnson to auction newcomers Milo Matthieu, Delphine Desane, and Robert Peterson. Participating artists are donating proceeds from the sale to support Project Backboard, whose mission is dedicated to ensuring that all communities have a safe and inviting place to play basketball by organizing unique, artist-led renovations of public basketball courts.
In the spirit of The Crossover's mix of basketball and art, here we highlight a starting lineup of five of those artists (and one "sixth man" from the bench), each exploring themes at the intersection of contemporary identity.
---
1. DELPHINE DESANE
Raised in Paris by Haitian parents, painter Delphine Desane promotes ebullient and effusive depictions of motherhood and Black femininity. Desane bridges the worlds of art and fashion — a stylist by training, she decisively pivoted toward painting after becoming a mother, honing her practice on maternity leave. Her work quickly achieved acclaim, with Desane collaborating with both Vogue Italia for the cover of its 2020 Sustainability Issue, and designer Jacquemus on the 2020–21 Spring/Summer campaign. These collaborations led to successes in the art world, as Desane has since mounted her first solo show at Luce Gallery in Turin and will be included in the group exhibition Convergent Evolutions: The Conscious of Body at Pace Gallery, New York, from 10 September — 23 October 2021.
Desane's scenes exude positivity and confidence in a better future: Her startlingly immediate figures are emblems of pride and conviction, depicting a loving and honest narrative of her experiences and aspirations and reflecting her own complex identity. Speaking to the boundary-challenging nature of her practice, Desane says, "the work has a lot to do with my own experiences as a Black woman, a Black mother, being an immigrant in the US, being a child of immigrant parents, and being French and Caribbean."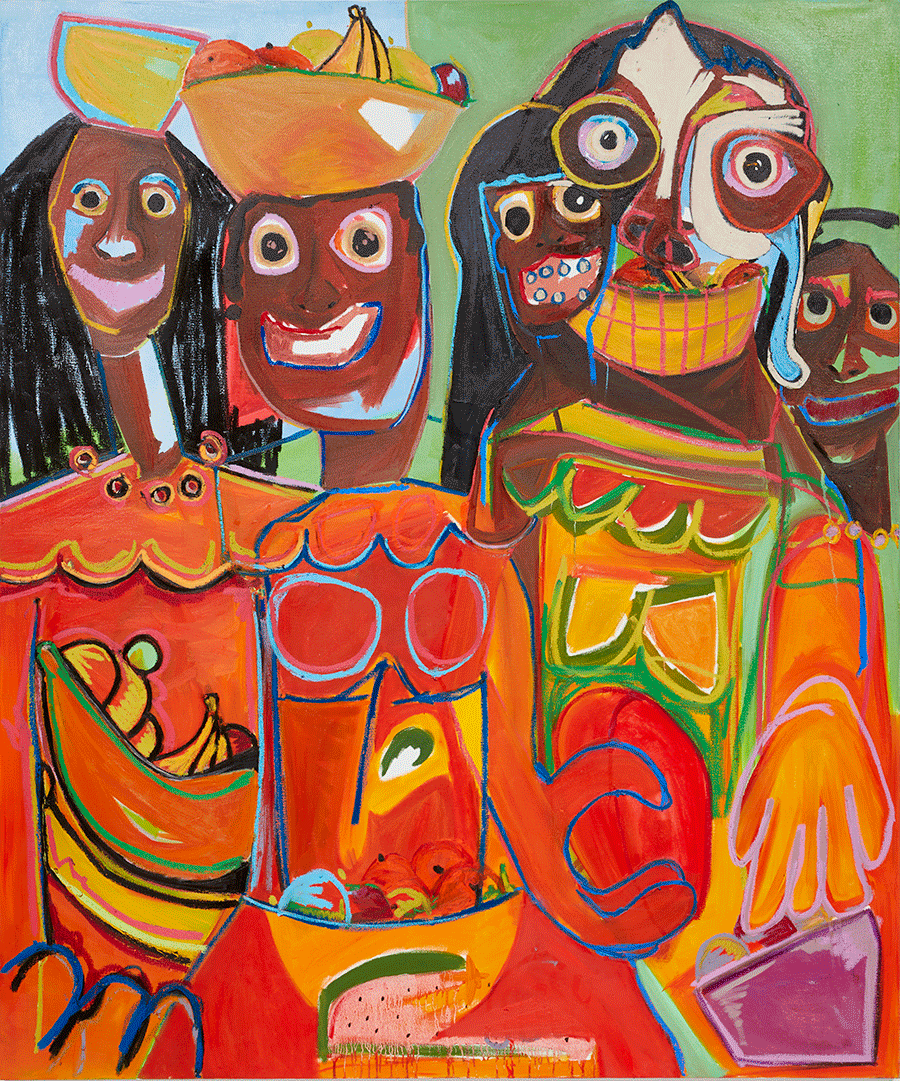 Milo Matthieu, Los Siete Infantes, 2021. New Now New York.
2. MILO MATTHIEU
Reprising the psychic autonomism practiced by the Surrealists and Dadaists, Milo Matthieu investigates the relationship between the conscious and the subconscious. He paints with an open mind, rendering the outlandish, the unexpected, and the exciting to create dialogues between the worlds of experience and introspection. Often painting multiple works at once, he projects thought in its purest form — the unthought — onto the canvas with prestissimo intensity and joyful spontaneity. The resulting works juxtapose disparate influences to open up unanticipated avenues of exploration between the felt and the unfelt, the seen and the unseen, and the experienced and the imagined.
Reflecting on this aspect of his practice, Matthieu posits that he uses "art as a means of dialogue for myself to express a feeling or a sentiment. So that's something that I've been carrying or trying to carry through even within my territorial practice — this idea of how art has an ability to say the things that we can't always say ourselves."
Art has an ability to say the things that we can't always say ourselves.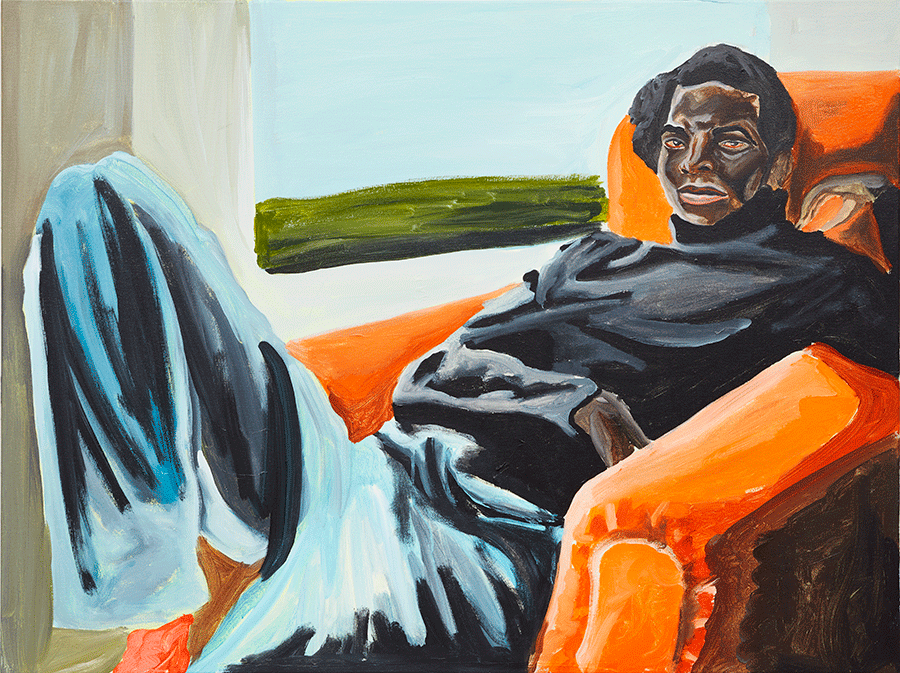 Marcus Brutus, Lounge, 2020. New Now New York.
3. MARCUS BRUTUS
Proudly self-taught, Marcus Brutus is a contemporary painter based in the Washington, D.C. area whose portrayals of African Americans examine the contemporary struggle for civil rights. Brutus meshes contemporary imagery with ambiguous traces of the past, collapsing time and revealing the lingering trauma of history. His figures, solitary or grouped, active or passive, exude calm confidence and stalwart self-assurance. Embarking from this point, Brutus explores self-expression and self-representation in spite of societal conditions; his figures define their own standards of beauty and identity while confronting — and surpassing — structural racism and the "internalization of racist attitudes by racial minorities." Brutus' paintings engage ideas of power through portraiture, establishing decisively positive frameworks for self-determination.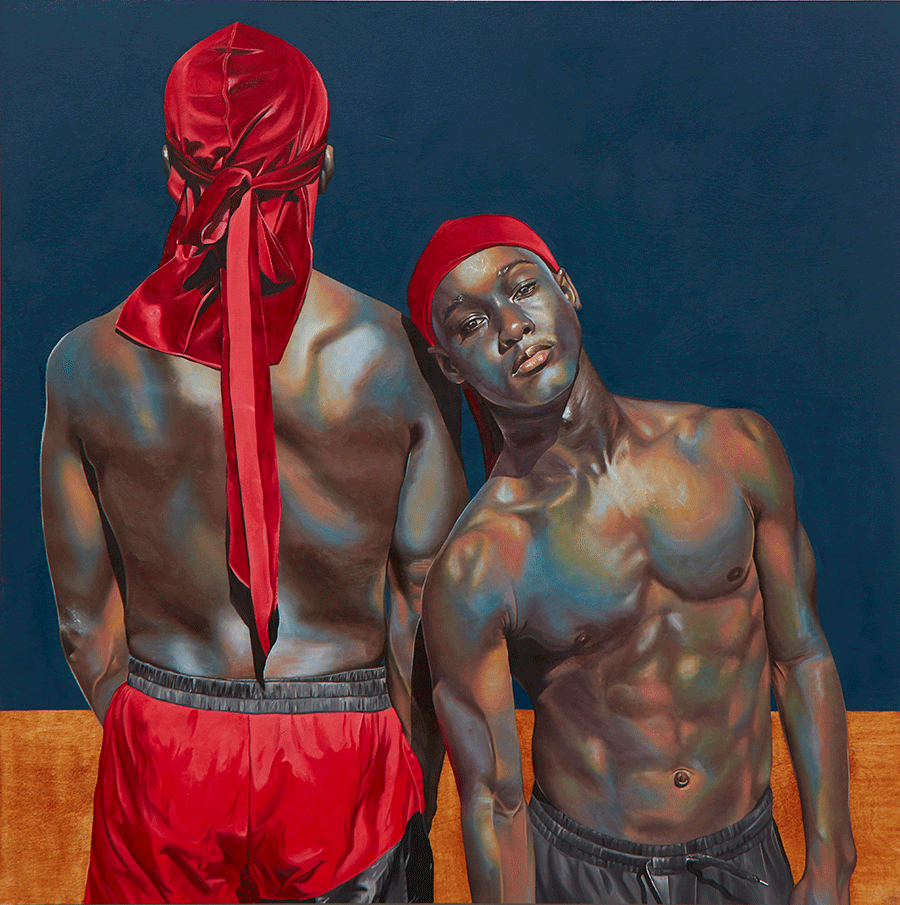 Robert Peterson, We're Gonna Be Kings, 2021. New Now New York.
4. ROBERT PETERSON
Few artists experience the rapid success and acclaim of Robert Peterson's early career. Peterson came to painting in 2012, when he put paint to canvas professionally for the first time after receiving life-altering medical news. Eight months later, he exhibited his work in New York and has since become one of the country's most celebrated new artists, exhibiting in Los Angeles, Chicago, and Miami. Peterson paints raw, honest, and empowering portraits with the express goal of uplifting people of color. Reconsidering and challenging the ways they have often been perceived, Peterson strives to establish "a dialogue between his works and the people viewing them… about how beautiful, resilient, powerful, and worthy we are and have always been."
Bahar Bambi, Reading Between the Lines, 2021. New Now New York.
5. BAHAR BAMBI
Born and based in Berlin, Bahar Bambi fuses aspects of her Turkish and German roots to create artworks that exist between cultures, time periods, and media. Bambi is best known for her large, ornately patterned paintings that combine elements of traditional weaving techniques and contemporary street art. These works seem intensely polar: one end often depicts sharply delineated forms and the strict symmetrical order of Middle Eastern textiles, while the other boasts free forms and carefree colors reminiscent of contemporary graffiti and street art. In the middle, the forms break down and melt together, highlighting the similarities shared by each side. Bambi's fusions dramatize the friction and harmony of culture that touches so much of the world today; speaking to this effect, Bambi says, "although these cultures differ a lot from each other, bringing both together on one canvas creates a magical new story and beauty through its contrast."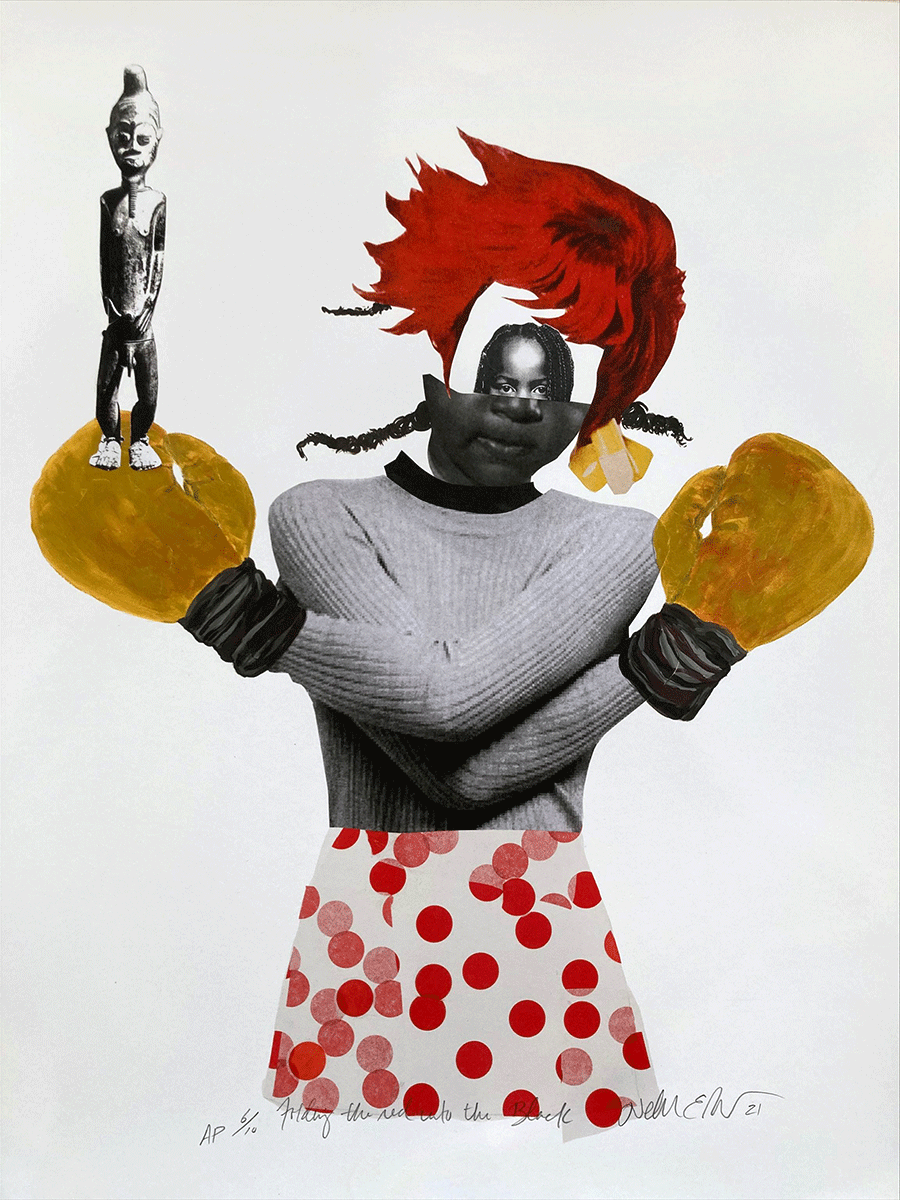 Deborah Roberts, Folding the Red into the Black, 2018/2021. New Now New York.
6. DEBORAH ROBERTS, as The Crossover's "Sixth Man"
Deborah Roberts investigates otherness by breaking down long-established and monolithic societal conceptions of beauty and belonging—art historical pop cultural, and psychological—and promoting in their place new standards of beauty and self-expression. Roberts, who lives and works in Austin, Texas, uses motifs of African American girlhood to emphasize identity and its dual abilities to empower and oppress. Her collages bring together imagery that highlights the implications of societal pressures and privilege that dominate mass media, presenting excluded and marginalized perspectives to fight against generalized and discriminatory perceptions of Black female experiences.
That's one of the gifts of the work — to see people differently, and not just as one being. Blackness is global.
Her abstractly figurative work speaks both to the universal and the specific: Roberts says "when you look at my work, you have to look at every part of the face and make something out of those fragments. That's one of the gifts of the work — to see people differently, and not just as one being. Blackness is global." Roberts implores viewers to see the humanity — the vulnerability, the strength, and the beauty — in her subjects so that they can see humanity in themselves. The present work, Folding the Red into the Black, 2018/2021, is a unique, hand-embellished artist's proof created by the artist specifically for this charity sale.
To purchase a special edition copy of Common Practice: Basketball & Contemporary Art, please visit the book's website. 100% of the proceeds go to support the nonprofit organization Project Backboard.

Discover More from Project Backboard >
---
Recommended Reading
Whose Histories Should Be Commemorated? >
Radical Originality: The Artists of Africa First >