Joseph Dirand. © Adrien Dirand
Joseph Dirand's approach to design finds a perfect complement in the clean lines and sleek details of 1950s interior pieces. With his curated collection, Dirand tells Phillips the story of a formative project and how his selections added to the development of his minimalist style.
PHILLIPS: When you approach a project, what guides you?
JOSEPH DIRAND: Things like the context, the location, the client, and the dimensions of the project itself. Each project is an opportunity to create something unique that is defined by those elements.
P: What is most important to you when creating a space?
JD: To feel a sense of place – whether it's working in different countries, or if it's a city or natural environment, it's the place that translates where you are and how you're supposed to live in a given space. I work in the context of that place to guide the approach in terms of style and lifestyle.
In that context, how do you approach materials and texture? Which are you most drawn to?
JD: I don't have a specific recipe, but I am very attached to craftsmanship and natural materials. I work a lot with stone or marble or wood, but I love the idea of natural materials that the craftsmen who work with us transform; that they transform what nature has given us.
P: You come from a design family. Can you talk about that and how it influenced you?
JD: Yes, my father was an important photographer of architecture and interior design – he collaborated with most of the magazines and art books in the field, so it gave me the opportunity to grow up in a very specific environment. I was around thousands of pictures of houses across historical and contemporary projects. It gave me a wide range of cultural information from a very young age. It's part of my foundation, and I think it's given me more flexibility for what I'm doing today, which is trying to do projects based on something historic, and how to translate that history into something that belongs to our time.
My mother was a fashion designer, so while it might not be directly connected to my field, she loved to go to the market and our house was full of vintage pieces, so I really grew up surrounded by design. My parents' friends were painters, sculptors, designers, photographers, and so on, which of course influenced me to become myself.
P: Walk us through some of the pieces in the collection. Which of the works do you find particularly inspirational?
JD: It's interesting because the work I've done for the client happened two separate occasions. The first time I did the apartment, it was very minimal with not many pieces around the space. One of the first we bought was a black André Arbus table – the apartment at that time was completely black and white. The first 1950s piece we bought was the Jouve, also black and white. At the beginning, the client was not interested in collecting pieces from the period, but because that black and white theme was recurrent in the collection, we began to work with more of them. When we returned a few years later, the space became a family apartment, so we brought in pieces with more warmth, and little by little, the client became very interested in 50s pieces. We worked together to find beautiful works – it's not something you can do quickly, so you have to keep your eyes and ears open to find the right piece from these designers that I love. I'm constantly collecting pieces by those designers. I think the dining table in ebonized wood is beautiful because it's quite rare to find a Perriand table in that finish. I also love the CPDE armchair; it's likewise rare to find a piece like this and the design is amazing.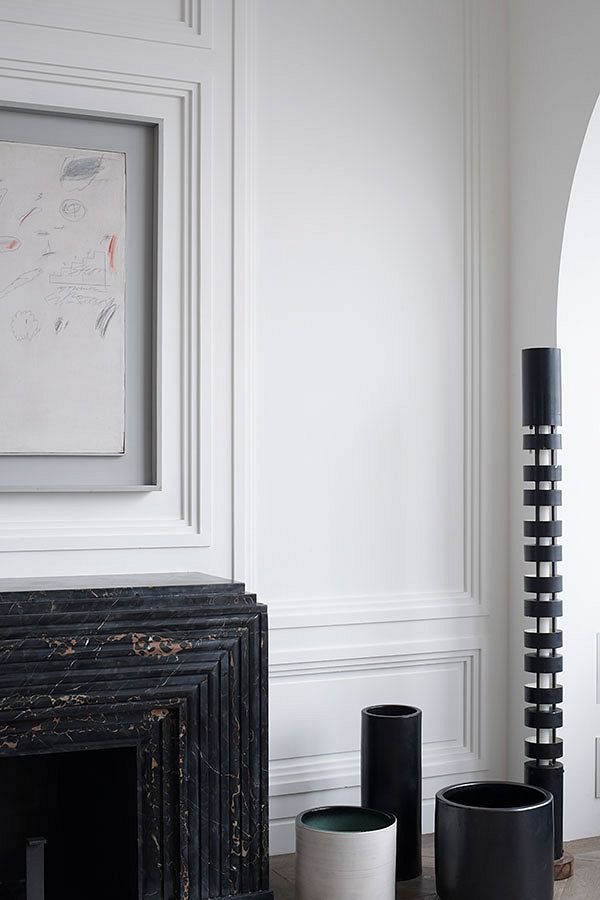 Apartment interior with Serge Mouille "Grand Totem" floor lamp (right). Design New York.
P: How have these 1950s pieces influenced your own practice?
JD: I bought a Prouvé for the first time when I was 18, so it's always been something I've been responsive to. Since I trained as an architect, I was always drawn to pieces that were more architectural than design in approach. The Prouvé, for example, is like a small building in a way; the structure defines the design, and pieces like it are special because they represent a change in the methods of production and consumption and show a new way of living.
P: If you could choose one piece to build a room around, which would it be? How would you create with it?
JD: One piece would be the Curial chair by Rick Owens - it's particularly interesting because it's the first piece I bought at Galerie Jousse's first exhibition of furniture by Rick Owens. In terms of building a room, I love the Sculpture armchair by Royère. Designers and architects of the period were clinging to functionality, where the sculptural piece feels completely independent.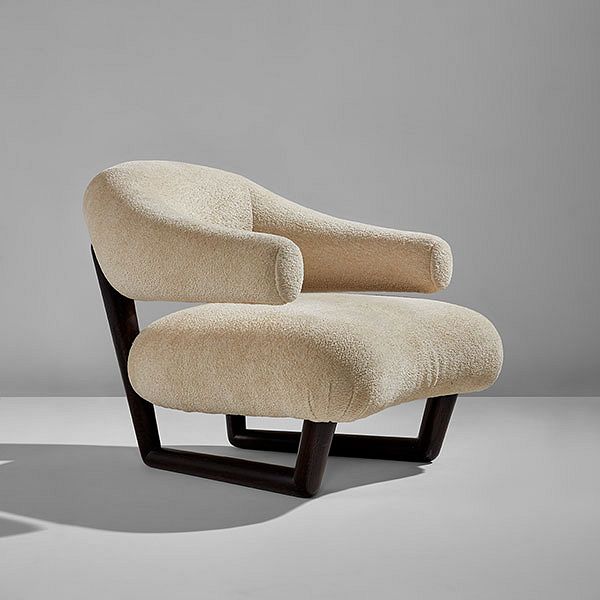 Jean Royère, "Sculpture" armchair, circa 1960. Design New York.
P: What appeals to you about black and white?
JD: The first version of this project was the first time I really created this contrast between black and white, and it represents this specific period of my work. Even though my practice has evolved over the years, this project was my first big statement in Paris with that extremely minimal apartment in all black and white. That apartment has a famous window that overlooks all of Paris and captures the light of the city. That view was what we wanted to express the most and not to distract the power of this scape with too much decoration and color. The collection followed that principle.
P: In your view, what is most exciting about the collection as a whole?
JD: The fact that this collection has been curated over the years to be a part of the architecture of the space; not just the aesthetic, but the composition.
P: What is your dream for the future of design?
JD: I love things to be different and varied, so to me there isn't one direction for the future of design. For my own future practice, I aim to create a collection of extraordinary homes and holiday destinations, of which we are commencing a couple of projects now.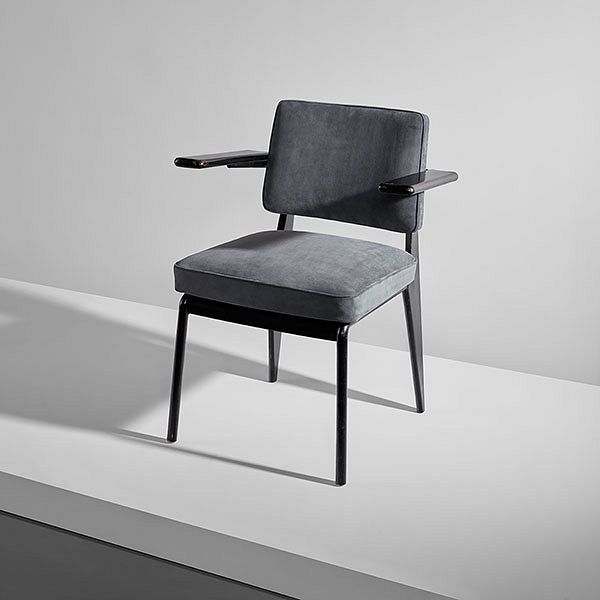 Jean Prouvé, "CPDE" armchair, circa 1934. Design New York.
---
Recommended Reading
Frits Schlegel: The Architecture of Design >