Anne Truitt, Spring Dryad, 1975. 20th Century & Contemporary Art.
Ahead of Phillips' 20th Century & Contemporary Art Day and Evening Sales, we look at a group of artists whose visionary works have slipped through the cracks of mainstream art history. Whether they've been recently reexamined or are currently on the rise, the joy of discovery and new perspectives inform each work in the below selection.
Anne Truitt
Spring Dryad (1975) is the concluding work of a series of four sculptures that began with 1971's Summer Dryad, each titled after a season. Spring Dryad's pillar-like shape had become a hallmark of Truitt's work by the 1970s. She painstakingly painted, sanded, and repainted layers of acrylic onto the surfaces of her wooden pillars by hand to achieve a uniform sheen and precise hue. It is this interplay between form and feeling — between the apparently Minimalist abstraction of Truitt's sculptures and their decidedly un-Minimalist materials and explorations of interiority — that sets her apart from her milieu. Spring Dryad embodies the raw, gentle beauty of its associated season and magnificently illustrates Anne Truitt's sculptural practice.
Why Now: After a 2017-18 retrospective at the National Gallery of Art, Washington D.C., interest in Truitt's timeless sculptures revived, culminating with a long-term exhibition of works in Dia Art Foundation's in Beacon, and is posed to set an auction record for one of the artist's works.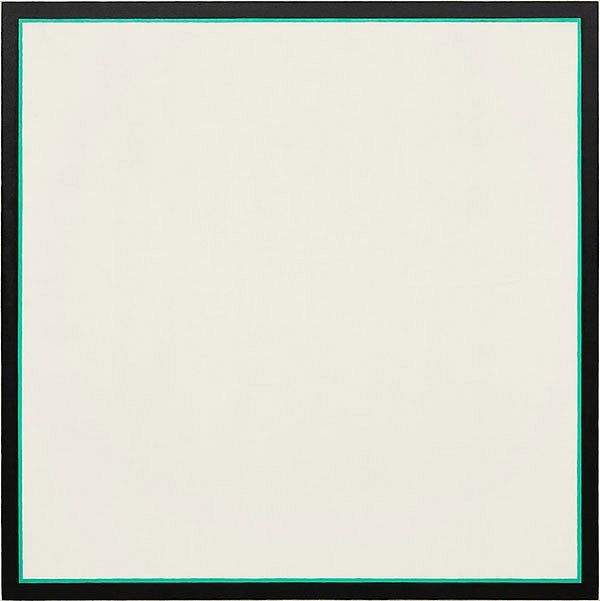 Jo Baer
Jo Baer has been a leading figure in American Minimalist painting for over fifty years. Her practice of non-objective painting in the 1960s led to a series of white canvases with starkly colored edges, of which Untitled (1964-68) serves as a prime example. A highly discursive painter, Baer engaged with notions of minimalism as defined by contemporary critics, drawing upon her scientific training and literary works by Samuel Beckett to form a view of the style as being rooted in a liberating resilience. Baer further developed her practice through "radical figuration," a concept employing fragmented images to maintain the openness of discourse.
Why Now: Despite a 1975 retrospective at the Whitney Museum of American Art, Baer's work has often been overlooked. However, in 2019, Pace Gallery announced its representation of the artist. Recently, Pace Gallery hosted two successful solo shows of the artist at the end of 2020, and is planning further exhibitions for 2022 in Geneva and New York. Untitled is the first painting by Baer to come to auction in six years.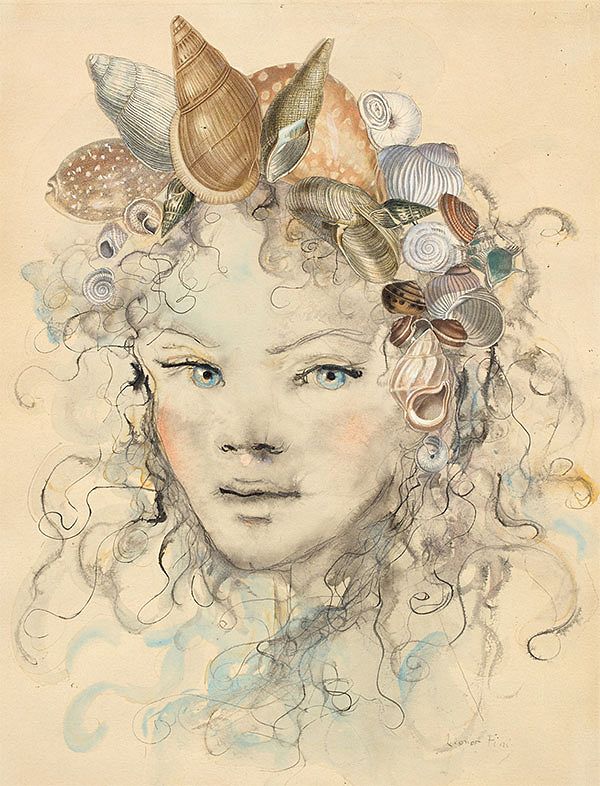 Leonor Fini
Most closely associated with Surrealism, though fiercely independent, Leonor Fini's portrayals of women pushed conventional boundaries. The list of Fini's collaborators, contemporaries, and artists she influenced include Jean Cocteau, Man Ray, Salvador Dalí, Albert Camus, Jean Genet, and Federico Fellini. Girl with Shells (1947) comes to auction from the collection of another exemplary modern woman, former Harper's Bazaar as editor-in-chief Carmel Snow, who commissioned the piece for the November 1947 edition of the magazine.
Why Now: Fini was the focus of a blockbuster exhibition at the Museum of Sex, New York, in 2018, along with a New York Times profile that same year. An auction record was set in May of this year at $2,319,000 for Autoportrait au scorpion (1938), cementing Fini's turn from forgotten artist to headline figure.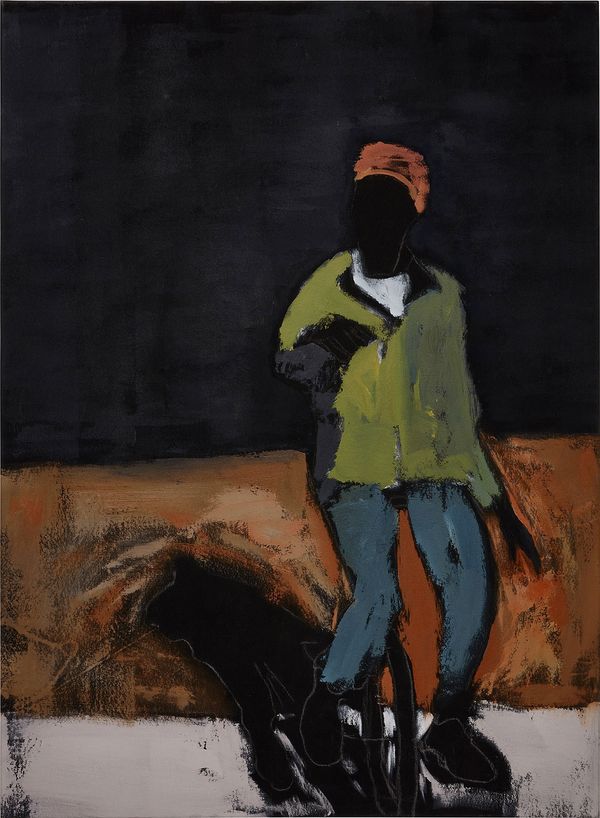 Reggie Burrows Hodges
Reggie Borrows Hodges excavates themes of identity and memory, often drawing from his childhood experiences in Compton. Straddling abstraction and figuration, his portraits depict faceless figures emerging from hazy narrative scenes that address the relativity of perception and the human relationship to one's environment. By employing a black ground for his paintings, Hodges looks to Color Field masters including Milton Avery, Helen Frankenthaler, and Mark Rothko, while "dealing with blackness's totality."
Why Now: His highly acclaimed debut solo show at Karma, New York earlier this year has fueled interest in the artist's work, leading to Hodges' auction debut with Phillips London in October when his For the Greater Good achieved £441,000 — soaring over 15 times its low estimate. Building on this momentum, the Centre for Maine Contemporary Art, Rockland will host Hodges' first institutional solo exhibition in 2022.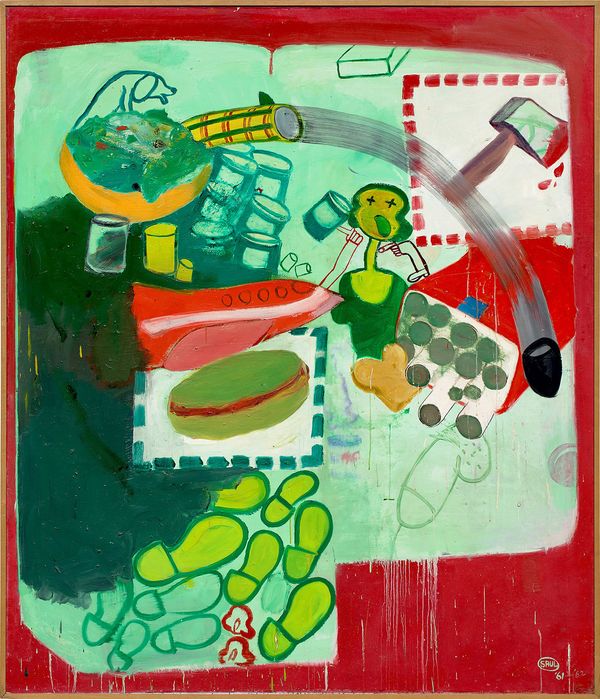 Peter Saul
Though widely known as one of Pop Art's founding fathers, Peter Saul has always evaded easy categorization in the art world. At once humorous and macabre, Saul's visual approach to issues of consumer madness, crime and punishment, and political corruption is as shocking as it is wildly inventive. Fusing Abstract Expressionism, Pop, and Surrealism, his singular aesthetic has long been commended by those who share his maverick sensibility, such as KAWS, and his precocious oeuvre is now gaining the appreciation of wider audiences.
Why Now: Saul received his long overdue first New York museum survey at the New Museum from 2020 to 2021, marking a renewed critical interest in his work. This past July, the artist was also the subject of an extensive profile in the New York Times Style Magazine, entitled "Peter Saul Doesn't Want Any Advice."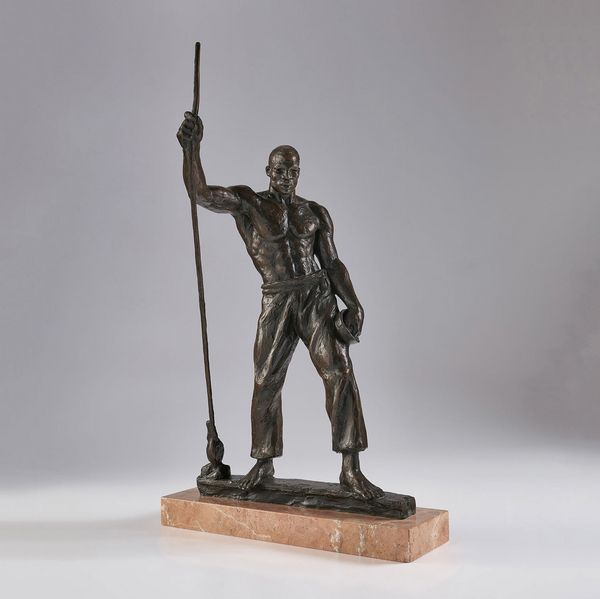 Richmond Barthé
A leading figure in the Harlem Renaissance, Richmond Barthé's works showcase a quality of workmanship that is only recently becoming a major focus point for critics. A devout Catholic, the artist imbued his sculptures with what he called a "spiritual quality I see and feel in people..." The artist's use of sculpture borrowed from classical forms in a manner art historian Margaret Rose Vendryes describes as "part of his expressive camouflage in that male nudes based on classical models or themes made the articulation of his homosexuality possible." Barthé retreated from his fame in 1947, leaving New York for Jamaica, where he continued to make work. By the time he returned to the United States in 1977, he was impoverished, and unable to collect benefits, despite being commissioned to sculpt the eagle statue which stood in front of the Social Security Building in Washington, D.C. Such injustice would prohibit the artist from receiving the recognition he deserved, making him one of the most under-appreciated African American artists of his generation.
Why Now: A major traveling retrospective beginning in 2010 and culminating earlier this year in March 2021 has recently shed light on the artist's most celebrated sculptural works. In June 2020, a new auction record of $629,000 was achieved for Barthé's Feral Benga (1935-6). Stevedore is one of his most iconic forms, exemplifying the full spectrum of the artist's attention to form, essence, and spirit.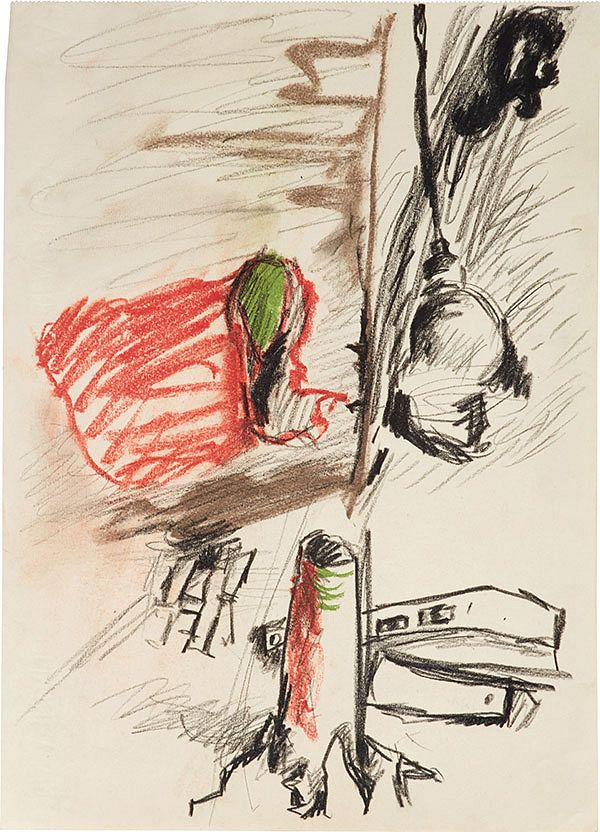 Lee Lozano
In 1969, Lee Lozano gradually withdrew from galleries and agents "in order to pursue investigations of total personal and public revolution." Prior to her disengagement, Lozano had been a fixture in the New York art scene, and from then on, she only exhibited works in public forums. She continued to push the boundaries of conceptual art with a 27-year-long project Decide to Boycott Women (1971), in which she refrained from speaking to other women. Lozano's simultaneous rejections of capitalism, patriarchy, and their intertwined relationships with the art world give her conceptual works a heightened degree of intensity.
Why Now: Lozano's radical measures were undoubtedly why her work was quickly forgotten after the 1970s, making the revived interest in her practice a welcome turn. Jo Applin's 2018 Not Working was the first in-depth study of Lozano's work, and the artist has been the subject of critically acclaimed solo exhibitions at Fruitmarket Gallery, Edinburgh, and Hauser & Wirth, Somerset over the past few years. Earlier in 2021, Karma published a comprehensive monograph to coincide with the exhibition Lee Lozano: Drawings 1959–64.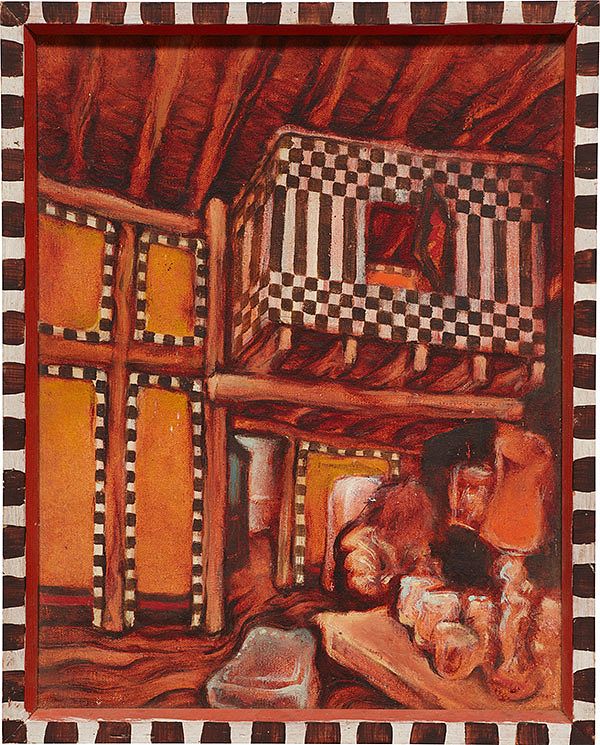 Martin Wong
Martin Wong's gritty style illustrates a keen attention to the urban landscape of 1980s New York City. Works like WACO Studio Loft (circa 1975-78) demonstrate Wong's use of abstract and representational forms to striking effect demonstrate Wong's combination of ambiguity and representational forms to striking effect. Wong was diagnosed with AIDS in 1994, after which he moved back to his home city of San Francisco before his untimely passing in 1999. His paintings have become nostalgic glimpses of the romance and desire of a downtown New York that is no longer.
Why Now: A 2017 solo exhibition at the Bronx Museum of the Arts and a publication by the K11 Art Foundation in Hong Kong have brought Wong's work to new, international audiences. The artist's auction record was achieved in 2021 for Persuit (El Que Gane Pierde - He Who Wins Looses) (1984), which achieved $1.1 million in September, following a sold-out exhibition at P.P.O.W. Gallery, New York, that amplified and renewed public and market interest in the painter's work.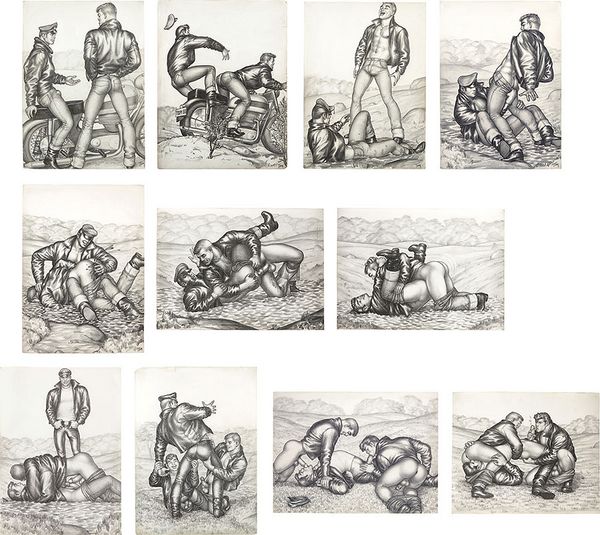 Tom of Finland, Eleven works: (i-xi) Untitled (Motorcycle Series), 1959-60. 20th Century & Contemporary Art.
Tom of Finland
Tom of Finland's subjects, or "Tom's Men"— all bulging pectorals, washboard abs, and chiseled jawlines, scantily clad in uniforms or tight leather and jeans — formed the archetypal images of gay culture in the latter half of the 20th century. From their origins as pictures passed between friends and lovers to their status today as a homoerotic lingua franca, the artist's drawings portray a radical vision for their time: a world not simply normalizing but celebrating the trappings of gay desire and masculine fantasy.
Why Now: The artist has been honored in a series of international exhibitions this year, celebrating what would have been the artist's 100th birthday. His influence on generations of artists was discussed in a feature in The New York Times last year. The 11 drawings that comprise the Motorcycle Series, some of the finest examples of the artist's work, form a complete narrative that could potentially achieve over double the current record price for the artist and marks the first time a serial story by the artist has ever been offered at auction.
Discover More from 20th Century & Contemporary Art >
Global Gallery Tour 20th Century & Contemporary Art
Join us on a virtual global gallery tour of Phillips' upcoming 20th Century and Contemporary Art auction being held in our brand new, state-of-the-art gallery at 432 Park Avenue in the heart of New York City.
---
Recommended Reading