Principal auctioneer Henry Highley sells Jean-Michel Basquiat's The Ring for over $15 million.
1. Private Collections Choose Phillips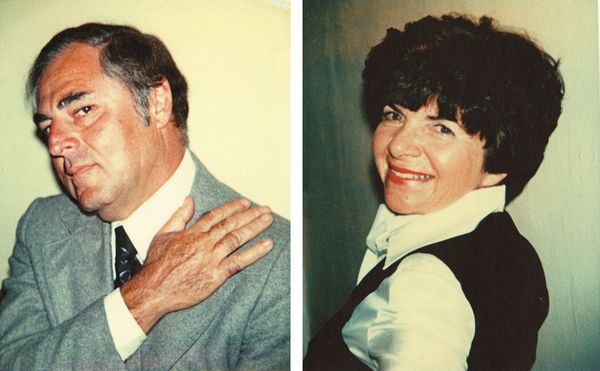 Left: Andy Warhol Miles Fiterman, 1975; Right: Andy Warhol Shirley Fiterman, 1976 © 2019 The Andy Warhol Foundation for Visual Arts
Phillips was the house of choice for some of the deepest, most personal and most significant major collections. Property from the Miles & Shirley Fiterman Collection was sold throughout the year across New York, London and Hong Kong. Passionate collectors with an enduring interest in Pop Art, the Fitermans developed close relationships with artists such as Andy Warhol and Claes Oldenburg, which provided access to the numerous masterworks they amassed over a lifetime. Highlights from their collection included Warhol's Late Four-Foot Flowers , sold for $7.4 million, Roy Lichtenstein's Horse and Rider, sold for just under $6 million and Alexander Calder's monumental mobile Black Gamma, sold for $5.5 million.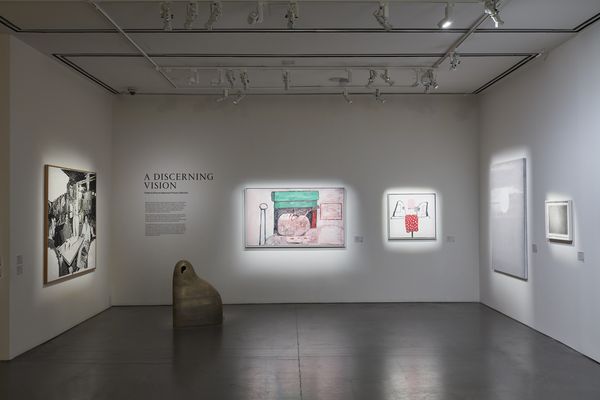 In the fall, A Discerning Vision: Property from an Important Private Collection proved to be one of the season's key consignments, with works coming to auction across the 20th Century & Contemporary Art Evening and Day Sales. The scope of artists, genres and styles were broad and varied. Philip Guston's large work on canvas, Smoking II, sold for over $7.6 million and was one of the standout results of our November Evening Sale. In the Day Sale, Maria Lassnig's Competition III catapulted past a $350,000 high estimate to sell for $704,000, a new auction record for the late Austrian artist.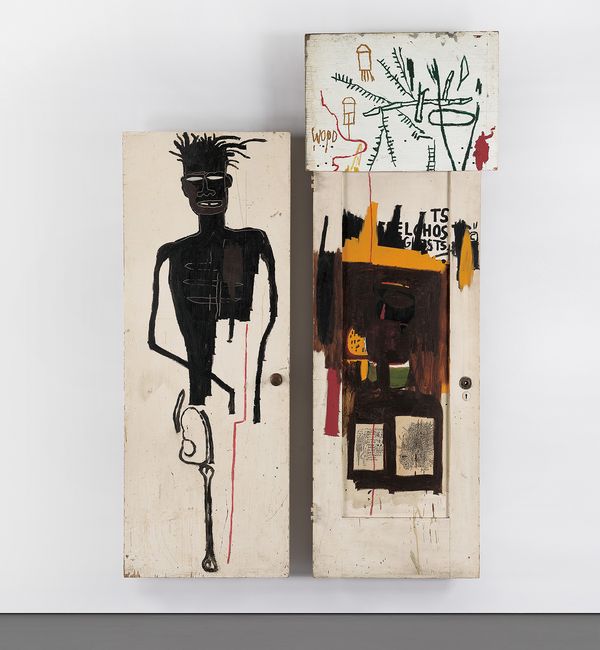 Jean-Michel Basquiat Self Portrait, 1983. Sold for $9,500,000 in New York.
Other key collections this year included that of Los Angeles record producer Matt Dike, a close personal friend of Jean-Michel Basquiat's. His collection, entitled To Repel Ghosts: Important Works by Jean-Michel Basquiat, saw the late artist's Self Portrait sell for $9.5 million in May. Making Modern: Property from the Florence Knoll Bassett Collection also brought forth a trove of key works, with Morris Louis' Singing selling for $1.7 million in the November Evening Sale, while in the Day Sale, Josef Albers' Homage to the Square: Silent Gray bested a high estimate of $600,000 to achieve $1.3 million.
Looking towards 2020, in December Phillips announced that we will be offering The Robert Tibbles Collection: Young British Artists & More in our London saleroom beginning in February.
2. The Cube Debuts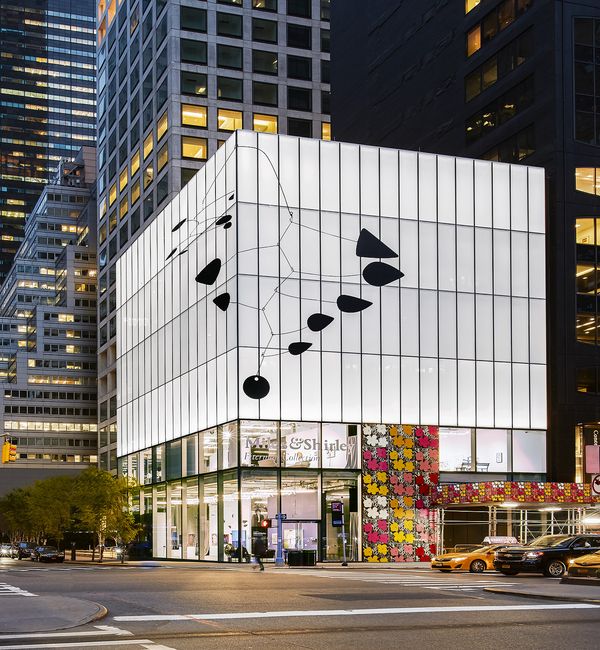 In 2019, Phillips began the transition into our new New York headquarters at 432 Park Avenue. In May, "The Cube" on Park held Property from the Miles and Shirley Fiterman Collection, while in November it hosted a curated selection of postwar and contemporary artworks from our Day Sales. Below ground, work has begun to transform over 55,000 square feet of space into state-of-the-art galleries and a new auction room. In October, Phillips announced the selection of studioMDA, founded by architect Markus Dochantschi, to lead the project. Dochanstschi previously ran the office of Zaha Hadid Architects for seven years. Having worked extensively with renowned art collectors, artists and galleries to create innovative gallery and exhibition spaces, studioMDA plans to create a one-of-a-kind setting that promises to transform Phillips into a leading venue for experiencing art in New York.
3. Investing in American Art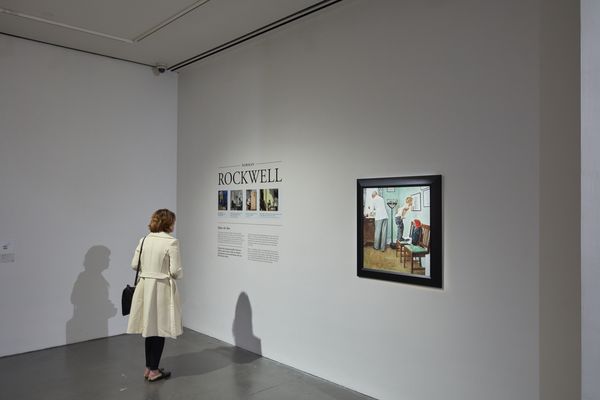 In an appointment dubbed "a major coup" by Chief Executive Officer Ed Dolman, Elizabeth Goldberg joined Phillips this July as Senior Specialist in American Art and Deputy Chairman for the Americas. Among the most prominent experts on American art in the auction world, Goldberg brings a wealth of experience, knowledge and passion in a category with strategic importance. Wasting no time in attracting key consignments, Goldberg secured Norman Rockwell's painting Before the Shot for our November Evening Sale. The iconic work became the top result in American art for the fall season among all three major auction houses, selling above-estimate at $4.7 million.
4. New Heights in Hong Kong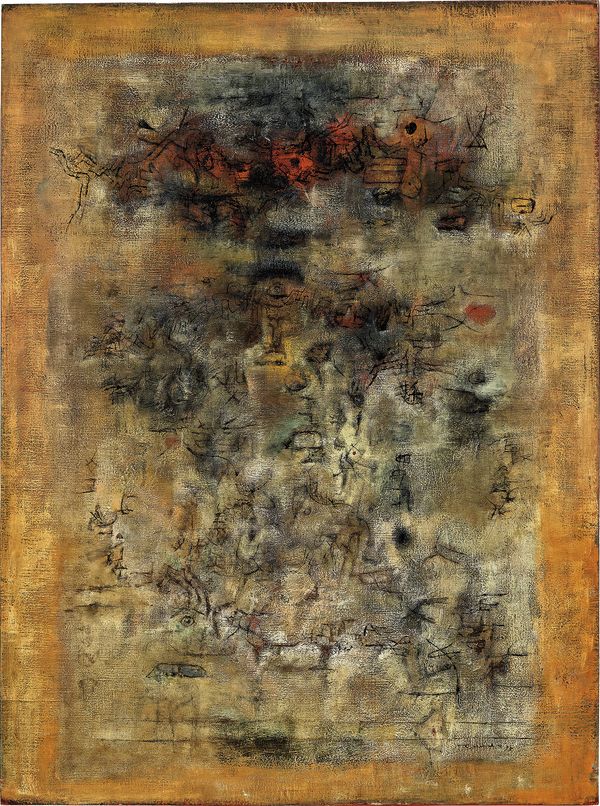 Zao Wou-ki Ailleurs, 1955. Sold for HK$52,040,000 in Hong Kong.
Reflecting Phillips' rising profile throughout Asia, our Hong Kong auctions in 20th Century & Contemporary Art have continued to grow both season-over-season and year-over-year due to exceptional works on offer, an expanding base of clients and rising digital engagement. May's spring auction weekend realized a combined total of HK$240 million, a 56% increase from the previous season's sale totals. Leading that season's Evening Sale was Zao Wou-Ki's Ailleurs, 1955, which sold for HK$52 million. In keeping with Phillips' global strategy, works by international artists such as KAWS and Pop Art from the Miles & Shirley Fiterman Collection also achieved strong prices.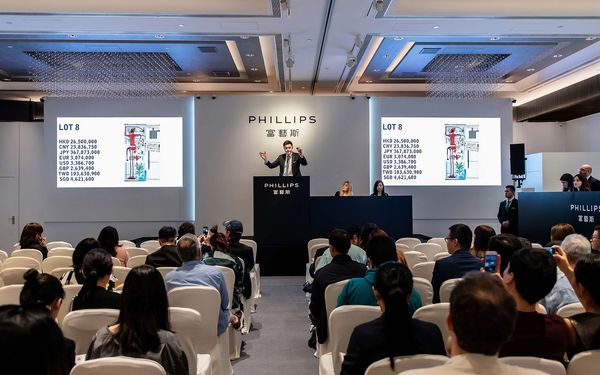 Deputy Chairman, Asia, Jonathan Crockett auctioneers in Hong Kong.
In November, Phillips Hong Kong realized our highest-ever total for a 20th Century & Contemporary Art auction series in Asia at HK$271 million. Phillips debuted six Western artists at auction in Asia—including Helen Frankenthaler, Lynn Chadwick and Pat Steir, all of whom attracted prolonged bidding. No fewer than eight new artists records were set over the weekend, including Stanley Whitney, MADSAKI, Joyce Pensato and Genieve Figgis. Works by Zao Wou-Ki and Jean-Michel Basquiat led the Evening Sale, with 29.05-31.10.68 and Thermopolae selling for HK$32 million and HK$31 million, respectively.
Beyond Hong Kong, the year saw several key hires and investments across Asia. Vivi Yip was hired as a Senior Consultant for Indonesia, while in Tokyo, Phillips opened a new gallery space in the city's art capital of Roppongi.
5. Phillips X Goes Worldwide
Following the launch of our private sales division in 2017 under the direction of Miety Heiden, Phillips X has expanded outward in 2019. With shows in New York, London, Hong Kong, Paris, Taipei and Shanghai, the platform allows Phillips to connect with clients all over the world without being limited by the auction calendar.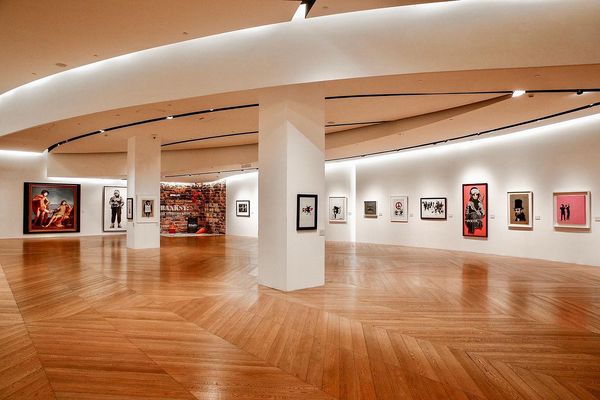 Banksy: The Authentic Rebel on view in Taipei.
The year kicked off in January with AMERICAN AFRICAN AMERICAN in New York, curated by Arnold Lehman, Senior Advisor to the CEO and Director Emeritus of the Brooklyn Museum. In March, Banksy: The Authentic Rebel attracted over 12,000 visitors in a single week in Taipei. That same month, Phillips X's first traveling exhibition, Foujita/Sanyu: Muses and Models, debuted in Paris before moving to Hong Kong. In May, The Cube at 432 Park Avenue played host to its first Phillips X exhibition, Tatlin, which brought forth the Russian artist's monumental work Monument to the Third International. Artist and set designer Gary Card took over our Berkeley Square galleries for the summer in a collaborative selling exhibition, HYSTERICAL. And in the fall, London again played host to Andy Warhol's Lenin, a selling exhibition of original works on canvas, collages and works on paper from the archive of Warhol's European publisher, Galerie Klüser.
6. Increasing Digital Engagement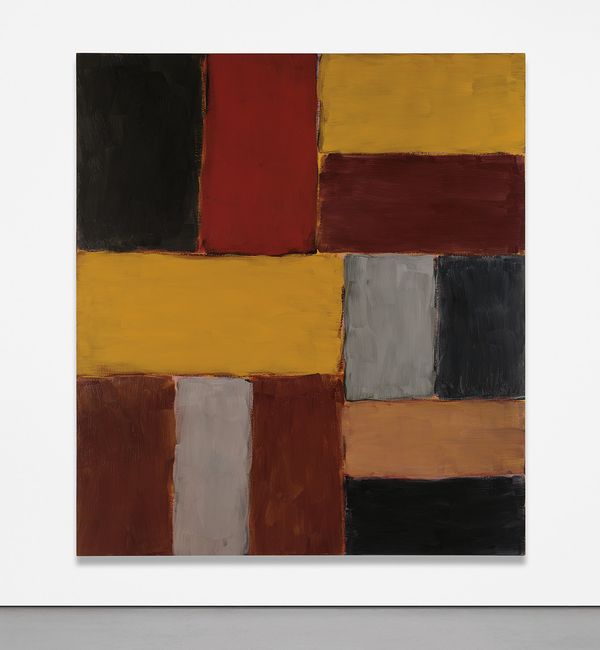 Sean Scully Red Bar, 2003-2004. Sold for $1,760,000 to an online bidder.
Our series of online-only auctions, aptly titled Unbound, launched last year; but 2019 marked the first online sales spearheaded in Europe and Asia. This summer, London-based HEATWAVE brought together a curated selection of modern and contemporary artworks, design, editions and photographs. Top lots from the sale included Tala Madani's The Bubble, which realized £47,500 and Toyin Ojih Odutolah's They, which achieved £32,500. In Hong Kong, 24/7 offered contemporary art, limited editions and Supreme accessories, with a Louis Vuitton x Supreme Monogram Malle Courrier Trunk realizing HK$1,187,500.
Even beyond online sales, digital engagement has crossed into every facet of the business. Our number of online accounts has increased 50% year-over-year, while online sale registrations have increased by 37%. In New York's November Evening Sale, Sean Scully's Red Bar sold to an online bidder for $1.76 million, setting a new auction record for the artist and a new record for a work sold on Phillips' digital platforms.
7. Leading the Contemporary Art Market
One of 2019's hottest artists, Tschabalala Self, made her secondary market debut this March at Phillips London when Lilith sold for £125,000 against a high estimate of £60,000. After setting the auction record for Christina Quarles in 2018, we broke it yet again when Moon (Lez Go Out N' Feel Tha Nite) sold for $275,000 in New York's May Day Sale. And in that May's Evening Sale, Landscape by Nicolas Party sold for $608,000, more than quadruple the high estimate.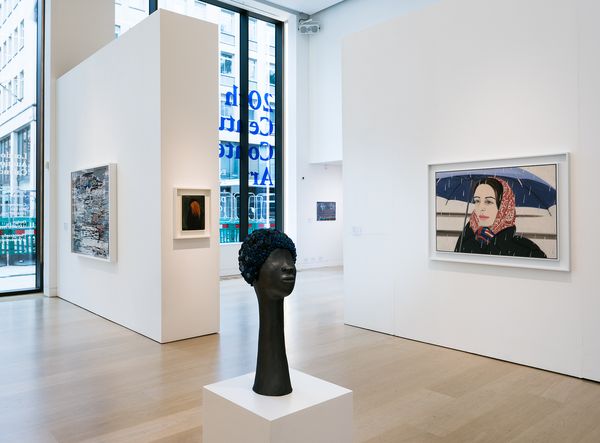 Works by Mark Bradford, Peter Doig, Simone Leigh and Alex Katz on view in London.
In keeping with the Frieze Week ethos of presenting fresh talent, this October's London sales saw a number of fresh names and notable records. We introduced Nathaniel Mary Quinn to auction, as Over Yonder sold for £212,000. Works by Derek Fordjour, Sanya Kantarovsky and Simone Leigh also saw strong results. Leading the sale, Alex Katz's Blue Umbrella I sold for nearly £3.4 million against a high estimate of £1.2 million. Executed in 1972, this was also the earliest work offered in our Evening Sale. The exceptional portrait of the artist's wife set a new record for the American artist, whose previous record stood firm at £947,250.
8. Our Commitment to the Arts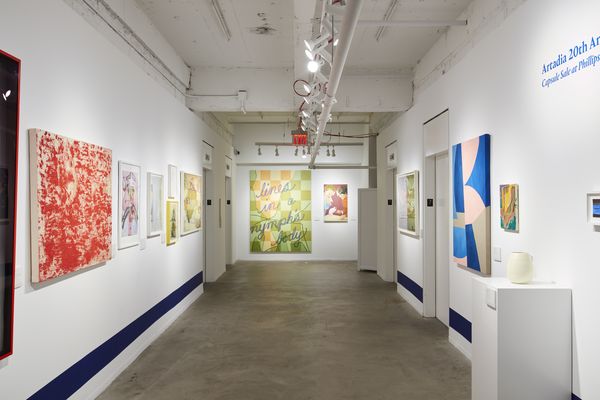 Works benefitting Artadia on view in New York.
As part of the greater art ecosystem, Phillips is dedicated to supporting artists and art institutions around the world. Some of this year's most prominent partnerships included the British Council of Hong Kong's SPARK Festival, featuring an auction of a commissioned work by young painter Faye Weiwei. In London, we sponsored Lucian Freud: The Self-portraits at the Royal Academy. And just in time for Art Basel Miami Beach, we sponsored Mickalene Thomas: Better Days at the Bass Museum. More institutional partners from 2019 included LACMA, MCA Chicago, TANK Shanghai and the Walker Art Center. And in our auctions, we were proud to present two charity sales within our New York and Hong Kong Day Sales, benefiting nonprofits Artadia and the Hong Kong Contemporary Art Foundation.