José Parlá Friends Around Town, 2019
Phillips is delighted to offer a unique selection of works at auction in partnership with the Hong Kong Contemporary Art (HOCA) Foundation, as part of the 20th Century & Contemporary Art & Design Hong Kong Day Sale. The HOCA Foundation was launched in 2014 to promote contemporary art in the city by providing free-access, museum-quality exhibitions to the community. HOCA has presented multiple solo exhibitions for artists such as JR, Invader, KAWS, and most recently, Textures of Memory, the most comprehensive exhibition of José Parlá's work in Hong Kong to date. HOCA also provides arts education to the city's underprivileged youth with guided tours, artist studio visits, workshops and various interactive activities held throughout the year. This unique section will feature 10 works generously donated by 8 established international artists, including Futura, José Parlá, Daniel Arsham and Cleon Peterson. The proceeds of this benefit auction are redirected to HOCA's future initiatives, helping the foundation to democratize art and enrich the cultural life of Hong Kong.
José Parlá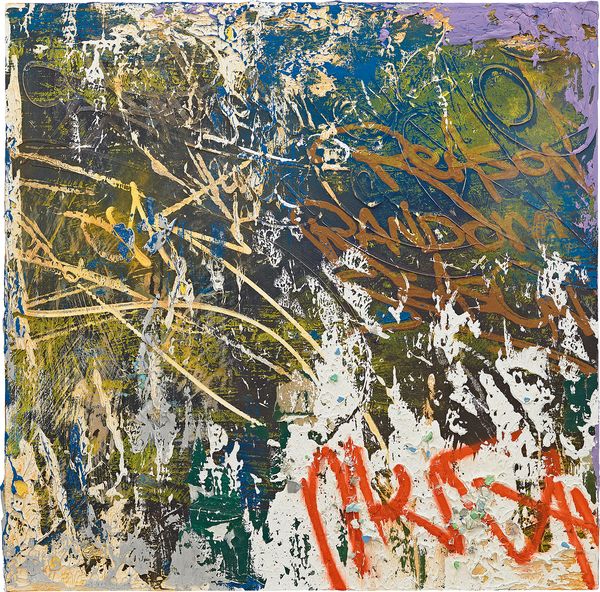 José Parlá Reason Random Season, 2019
Brooklyn-based visual contemporary artist José Parlá is critically acclaimed for his colorful multidisciplinary practice that blurs the lines between art, architecture, identity and environment. With influences drawing from his Cuban-American heritage, involvement with Hip Hop's underground art culture and his city surroundings, Parlá has established a style of painting that transforms the language of the street into a hybrid form of abstraction and urban realism. Finding inspiration in city walls tarnished from years of neglect, the artist's vibrantly elaborate paintings capture the rawness of urban decay, revealing hidden narratives as the layers are unpacked.
Both Friends Around Town and Reason Random Season are prime examples of Parlá's uniquely improvisational approach, as he combines painted marks rendered in acrylic and oil, with plaster and collages of found ephemera. Complex in their execution, both striking canvases invite the viewer to dissect their surfaces from an archaeologist's point of view. The more Parlá's works are engaged with, the more detail emerges in their layered surfaces, strengthening their narratives as their urban histories are revealed. Widely celebrated for his permanent installations of large-scale murals, Parlá has also exhibited worldwide, presenting solo shows in recent years at the Bryce Wolkowitz Gallery in New York (2019), the Neuberger Museum of Art (2018), SCAD Museum of Art (2017), Brand New Gallery in Milan, Italy (2017) and at the Young Arts in Miami (2016).
Futura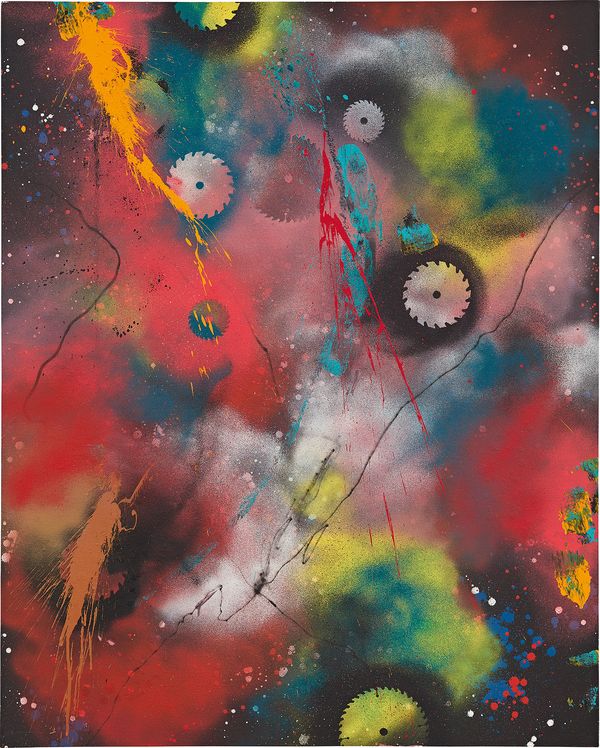 Futura THEY SAW US, 2019
Dubbed the godfather of contemporary graffiti, Futura – also known as Leonard Hilton McGurr – has been widely praised for putting the 'art' into street art. Alongside contemporaries including Jean-Michel Basquiat and Keith Haring, the multi-faceted American artist helped to define the graffiti movement of the early 1970s through introducing abstraction to an entirely letter-based medium. Executed in 2019, the freshly-painted present work demonstrates Futura's technical mastery, which his successors have yet to match. Rendered in brilliant hues, Futura's pioneering spirit as an inventor for new spraying techniques is clearly evident, in which larger areas of paint juxtapose impossibly thin aerosol lines. Applying paint to a canvas laid on the ground, similar to his predecessor Jackson Pollock, THEY SAW US is marked by a repertoire of motifs that Futura has come to be known for in his now refined approach. Energetic whilst still retaining a sense of balance, a pattern of atoms, stars and circles intermix on the predominantly primary-colored work. In a highly retro-futuristic style, the bright composition is as much about the artist's internal mind as it is about our wider galaxy. THEY SAW US is a striking example of Futura's unique aesthetic that has left an unforgettable mark on modern culture
Cleon Peterson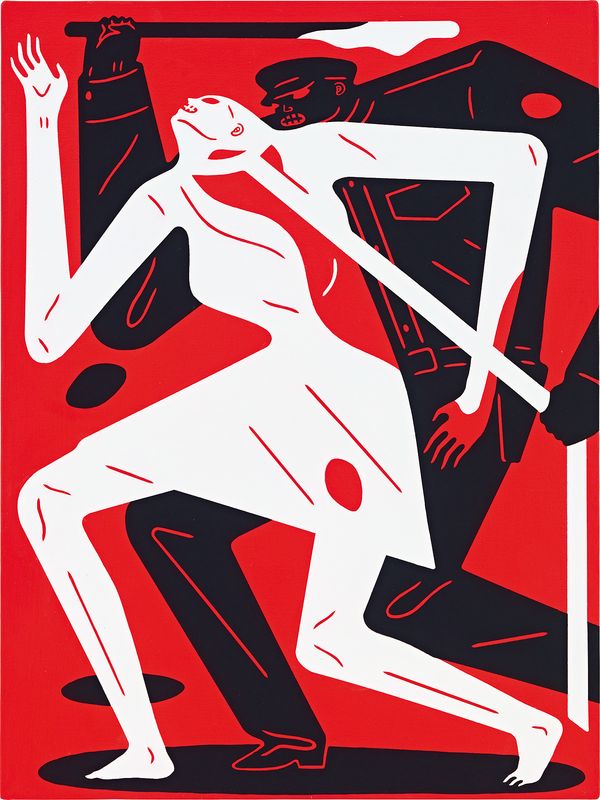 Cleon Peterson Deceive You Read, 2019
The dystopian worlds portrayed in Cleon Peterson's paintings investigate the struggles between power and submission. Depicting themes of violence, sex, carnage and chaos, the Los Angeles-based artist's aesthetic is heavily inspired by the classical Greco-Roman vases of warriors in battle— resulting in modern-day scenes that appeared to have regressed into the past. Deliberately confining his colour palette to red, white and black, the artist uses the bold emotive shades to further highlight his thoughts on present-day moral and social issues, as well as global and national politics – "Red, black and white feels violent and references the authoritarian colors used in propaganda, uniforms and symbols from the past." (Cleon Peterson quoted in "Cleon Peterson's New Exhibition Blood & Soil Attacks American Politics Head On," It's Nice That). At once provocative, gripping and shocking, Peterson's works unapologetically confront their viewers with the darkest recesses of the human mind.
Shepard Fairey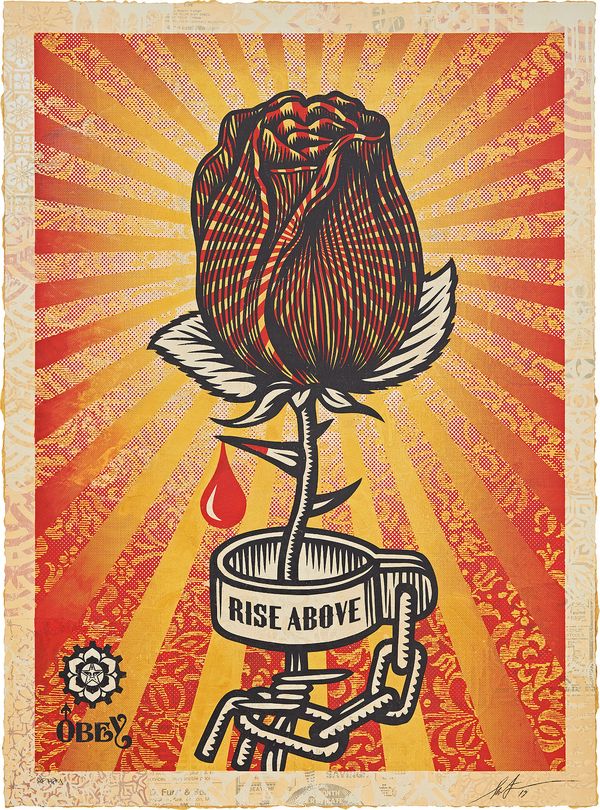 Shepard Fairey Rose Shackle, 2019
Shepard Fairey is a multi-hyphenate American artist famous for his passionate activism in support a diverse slate of global causes. Fairey is best known for, among other things, founding the streetwear brand Obey as well as his iconic "HOPE" poster of Barack Obama that he produced prior to the 2008 U.S. presidential election.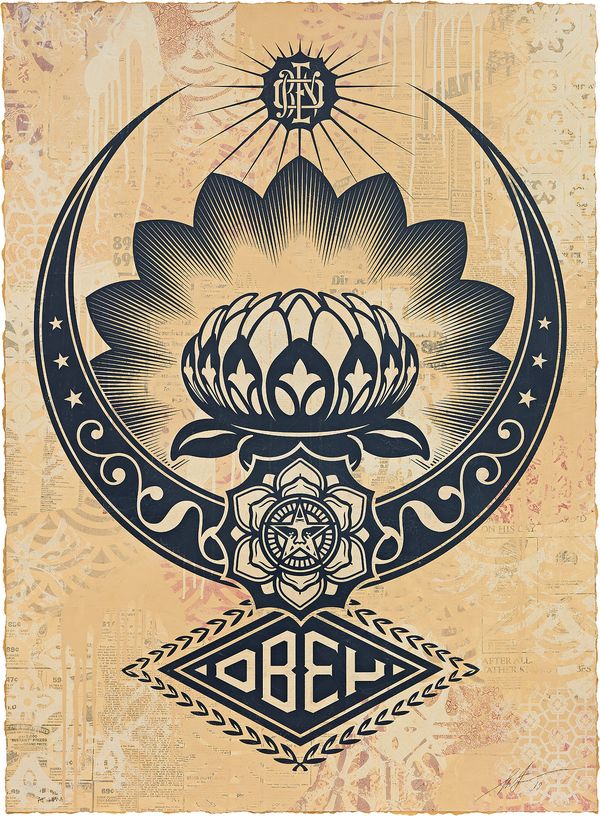 Shepard Fairey Lotus Ornament, 2019
Fairey's hand-painted multiples are built on the medium of stenciled pulp, collage, screenprint and embossing, resulting in highly tactile works that seem to portray the textured energy of the streets and city in his works. The prints combine symbols and references from multiple cultures worldwide, underscoring the international relevance of the artist's oeuvre.
Erik Parker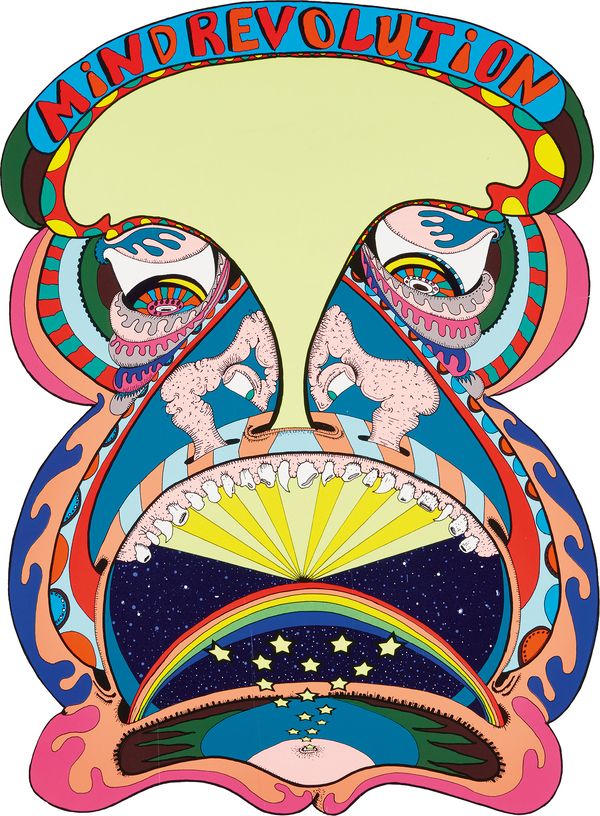 Erik Parker Mind Revolution, 2005
German-born artist Erik Parker makes pieces that are notable for their psychedelic explosion of color, as well as the incorporation of pattern and text into his oeuvre. Parker first studied art at the Univerity of Texas, Austin, under Peter Saul and went on to earn his MFA from Purchase College in New York. The present work, Mind Revolution, is emblematic of Parker's practice in it's organized, even methodical presentation of chaos, manipulating corporeal and celestial forms into a single cohesive composition. This work on paper, executed in 2005, is an artist's proof. Parker's explosive images often recall popular culture, fusing the visual language of cartoons, album covers and graffiti. Parker has been the subject of solo exhibitions at institutions like the Aldrich Contemporary Art Museum in Connecticut, the De Appel in Amsterdam and the Modern Art Museum of Fort Worth.
Felipe Pantone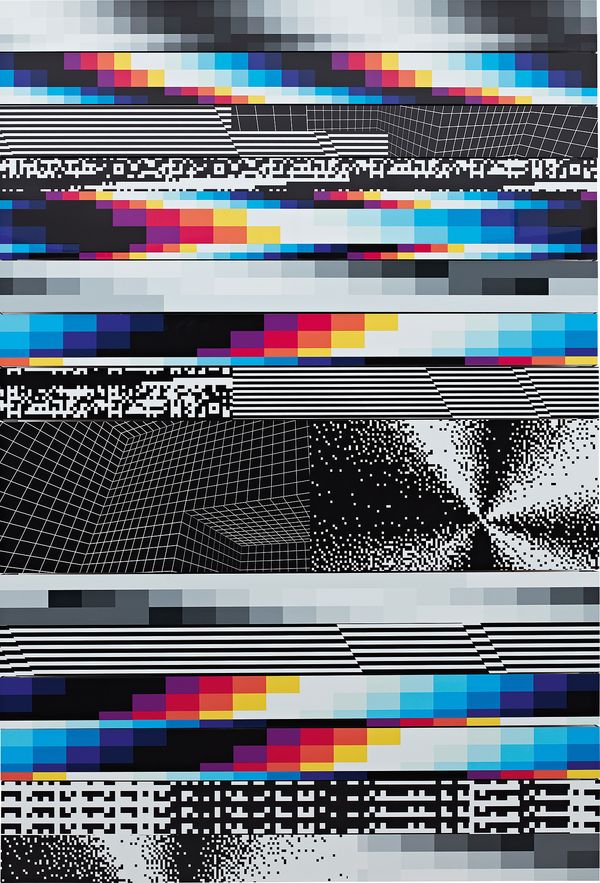 Felipe Pantone Chromadynamica Manipulable, 2019
For Felipe Pantone, his art is a meditation on the ways we consume visual information in the technological age, exploring the displacement of the light spectrum. Taking his source of inspiration from kinetic artists such as Victor Vasarely and Carlos Cruz-Diez, he utilizes the moiré effect (in which lines of contrasting color give the impression of movement), creating an electric vibrating sensation. To achieve this effect, Pantone uses a modeling software that allows for 3D insights and he translates this into his paintings and sculptures.
VHILS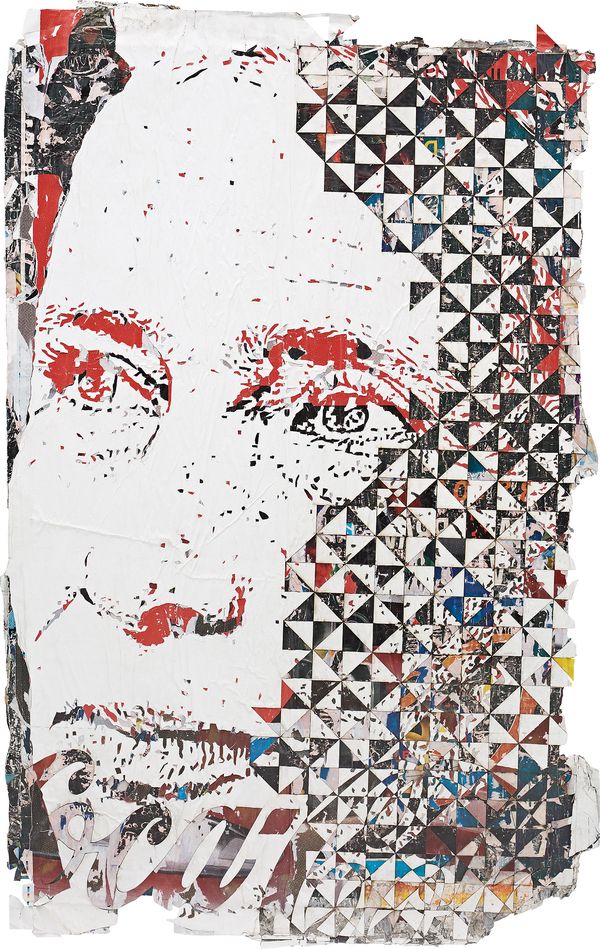 Alexandre Farto aka VHILS Dicey Series #19, 2019
Alexandre Farto, also known as VHILS, is a Portuguese graffiti artist. Growing up in Seixal, a suburban village outside the capital of Lison, the artist was inspired from a young age by the rapid industrialization that his home country underwent in the 1980s and 1990s. His work attempts to reflect the constant cycle of creation and destruction that cities and their infrastructure experience. The artist reflected, "I like to use destructive means to create artwork that is meaningful and poetic, mostly portraits that can humanize the often oppressive public space that we find in our cities."
Daniel Arsham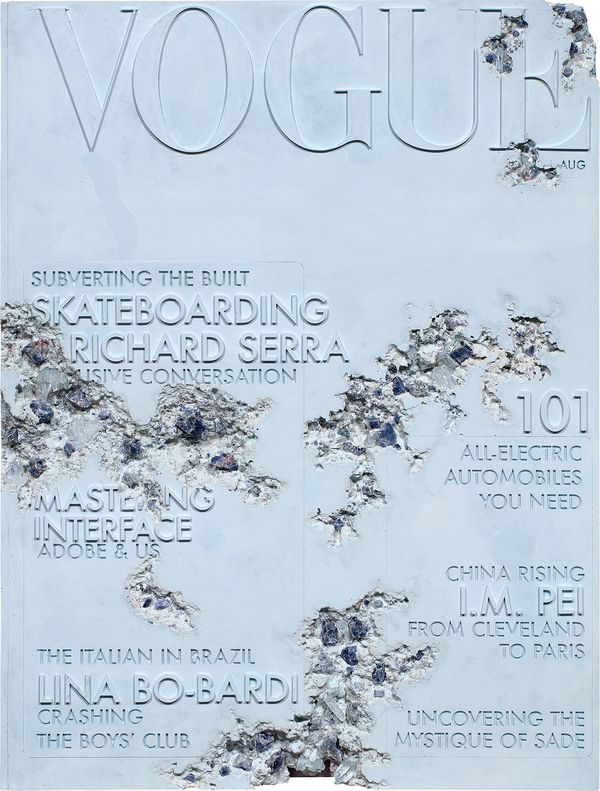 Daniel Arsham Quartz Eroded Vogue Magazine 101, 2019
Through thought-provoking and eye-catching work, Daniel Arsham has masterminded a multidisciplinary practice that exists between art, architecture, and performance. Unpacking the world we live in through a range of media, the one thread that ties his work together is that of inevitability – that objects in the present reflect ideas from the past, and are destined to be transformed by the future.
Showcasing the iconic Vogue magazine in his signature minimalist aesthetic— quartz crystals that seem to grow out of eroded surfaces on a clean matte background, the artist brings the humble domestic sized periodical into the realm of a massive fine sculpture. Rendered in his signature pale shades of monochromes, Arsham creates a work that marries the past and the future, in turn speculating on the fate of humanity through the exploration of space and light. Executed in 2019, the artist also pays homage to the passing of legendary architect I. M. Pei, his name carved in relief onto the lower left of the magazine cover of the magazine, immortalizing him as part of an object that transcends time.