Florence Knoll during a meeting of the Knoll Planning Unit (c.1955), Courtesy Knoll Archive
By Paul Makovsky, Critic and Curator
Florence Knoll Bassett (née Schust), an architect and pioneer of modern interior design, died earlier this year at 101. A true visionary, "Shu"—as she was affectionately called by those who knew her well—was one of the most influential architects and designers of postwar America, yet her mark on modern design transcends any one of these fields. Her career is inextricably linked with Knoll, Inc., the furniture company founded by Hans Knoll, who later became her husband. During the 1940s, she worked with designers like Eero Saarinen, Harry Bertoia and George Nakashima to create designs that fulfilled a need for modern interiors, and along the way produced innovative, high-quality furniture classics that are still relevant today.
Born to a baker in Saginaw, Michigan in 1917, Shu was beset by tragedy throughout her early life after becoming an orphan at 14. She ended up at the Cranbrook Academy of Art in Bloomfield Hills, Michigan during the 1930s, where she was taken under the wing of the Saarinen family and was exposed to the importance of the overlapping fields of art, craft and design. Later in Chicago, she was introduced to a rationalist design approach with Mies van der Rohe and received her Bachelor of Architecture at the Illinois Institute of Technology in 1941.
Florence Knoll transformed the field of 'interior design' from interior decoration to spatial architecture.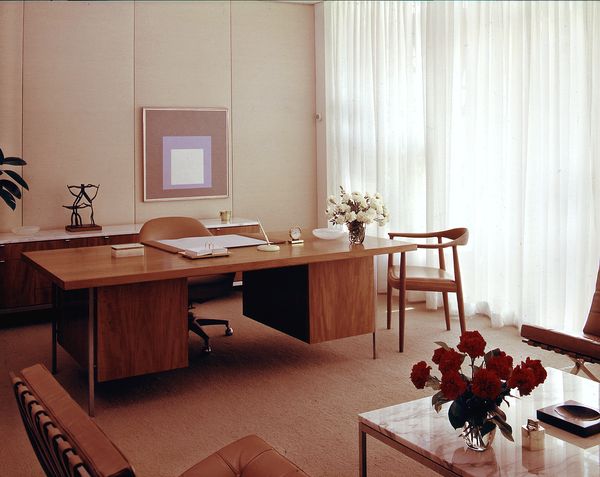 Office of Harry Hood Bassett at the First National Bank in Miami, Florida (ca. 1957), Courtesy Knoll Archive.
"Being a woman, I was given interiors," Shu said. She started moonlighting for Hans Knoll as a draftsman and eventually joined his company as the director of the Knoll Planning Unit, later becoming partner and co-owner. One of her first projects was to do the interiors for Secretary of War Henry Stimson—the first of many government projects. "It was an exciting time, but it was mostly hard work. We had to battle the prejudices against contemporary design," she said.
Shu transformed the field of "interior design" from interior decoration to spatial architecture—which in the 1950s was almost completely dominated by men. She collaborated with the most important mid-century modern architects, including Philip Johnson, Gordon Bunshaft and Marcel Breuer, designing their interiors which were rooted in practical needs and rigorous spatial planning. Her showrooms for Knoll became laboratories for contemporary design on how we could live and work, and came to represent her signature "Knoll look" that would epitomize the style of the 1950s. Her location at 575 Madison Avenue was one of the first to incorporate contemporary art and included pieces from artists with whom she had personal friendships. She developed her appreciation of Paul Klee from her mentor Mies van der Rohe, who at the time had a large collection of Klees, and when a group of works from the artist didn't sell in her showroom, she purchased all of them. Shu visited Black Mountain College to see the painter and teacher Josef Albers, from whom she said she learned about color, and later worked with his wife Anni Albers to develop textiles for the Knoll line.
Josef Albers Homage to the Square: Silent Gray, 1955. Estimate: $400,000-600,000. 20th Century & Contemporary Art Day Sale Morning Session at Phillips New York, 13 November.
After Hans Knoll died in a car crash in 1955, Shu became president of the company and continued to spearhead many innovations such as the Saarinen pedestal furniture collection. She completed large-scale interior projects for companies including Connecticut General Life Insurance, Heinz and CBS, which exemplified the best in postwar design in the United States. Very often, public art was integrated into her large projects. In 1955, while Shu was designing the interiors for the Bank of the Southwest in Houston, she met the Mexican artist Rufino Tamayo and remembered him coming to visit her with a small model of the mural that was going to be installed in the bank and today is considered to be one of his finest mural works. For many years, her Tamayo painting of watermelon slices was the first thing a visitor was greeted by when they visited her home.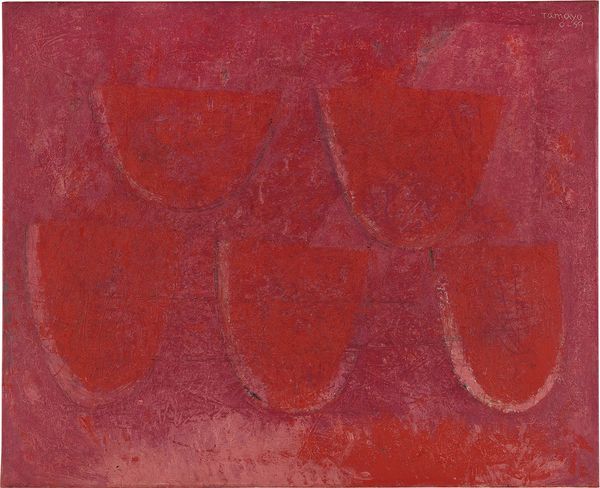 Rufino Tamayo Cinco Rebanadas de Sandía, 1959. Estimate: $1,000,000-1,500,000. 20th Century & Contemporary Art Evening Sale at Phillips New York, 14 November.
In 1958, Shu—by then the single most powerful figure in the field of modern design—married bank executive Harry Hood Bassett and eventually settled in Miami, where she would go on to design commercial Miami interiors in addition to several private residences. Hood Bassett was an important civic leader in Miami, and the corporate art collection that was developed for the Southeast First National Bank became one of the best in the country.
At the height of her career, and after designing thousands of office interiors, she resigned from Knoll in 1965. At only 48 years old, she had profoundly influenced post-World War II design by defining the look for corporate interiors during the 1950s and 1960s and promoting the "open office" workspace. She is one of the most influential architects and designers of post-war America, and she made designers like Saarinen and van der Rohe famous for their furniture—designs that are today considered classics (along with her own pieces)—and still being used in contemporary interiors. She had a curatorial eye for identifying talent and great works of art that she integrated both in her showrooms and in her homes.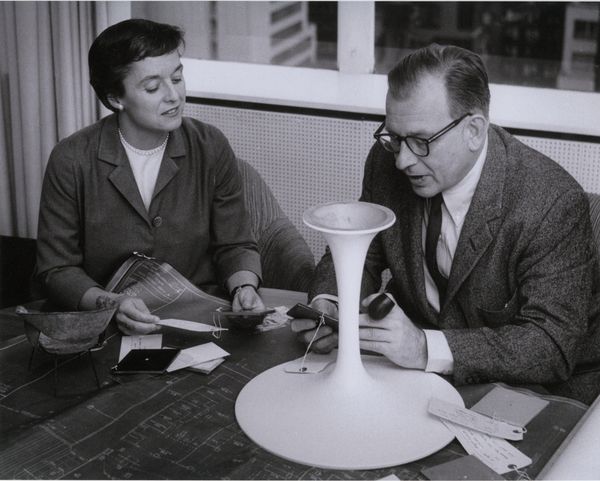 Florence Knoll and Eero Saarinen developing the Pedestal Collection, ca. 1955. Courtesy Knoll Archive.
Shu was of the belief that art was to be lived with and enjoyed on a daily basis, rather than something kept hidden away in storage. Now, Phillips offers the rare opportunity to share in the joy and memories that Shu experienced over an incredible life of art and design. When mid-century modern furniture was having a resurgence, Shu often came across her own furniture when perusing auction catalogues. With her wit and dry sense of humor she would jokingly say to me: "You know, Paul, I'm an antique now."
Paul Makovsky is a writer based in New York City. He is the Editor-in-Chief of Contract Magazine, a publication dedicated to architecture and design. Makovsky has curated countless exhibitions about art and design, including "Knoll Textiles: 1945- 2010" at the Bard Graduate Center, and was a contributor to the accompanying catalogue published by Yale University Press. He was a close friend of Florence Knoll Bassett and is currently writing a biography of her life and work.
More Collection Highlights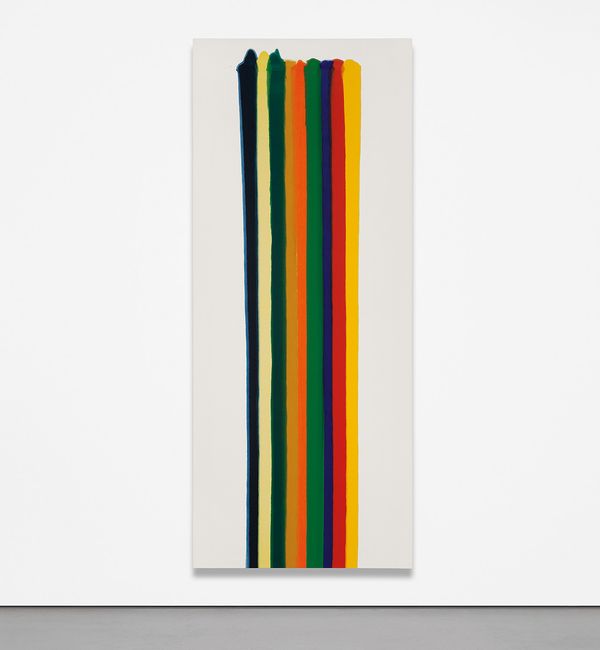 Morris Louis Singing, 1961. Estimate: $1,500,000-2,000,000. 20th Century & Contemporary Art Evening Sale at Phillips New York, 14 November.