Exhibition designer Samir Bantal, artist Virgil Abloh, and curator Michael Darling. Photo: Griffin Lipson.
PHILLIPS: Tell us a little about yourself: when did you first discover your interest in the arts, and how did you come to be Chief Curator at MCA Chicago?
MD: My excitement about visual art in particular goes way back. I first came across Picasso, Kandinsky and other artists like that in my middle school textbooks. It was so shocking and exciting to me to discover their work, and so I kept gravitating towards the arts in high school and did eventually major in art history as an undergrad.
I really started out as an intern at my local art museum in Long Beach, California. Then on to my masters and PhD in art history, learning how to write criticism, curating shows independently, and finally I began working at museums full-time. I started at the Museum of Contemporary Art in Los Angeles, then went from there to the Seattle Art Museum and moved to the MCA Chicago nine years ago.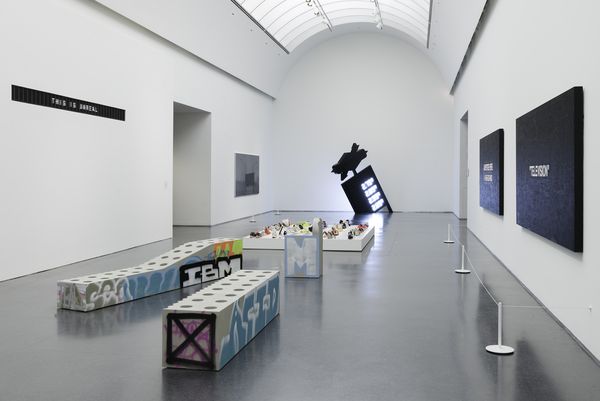 Installation view, Virgil Abloh: "Figures of Speech", MCA Chicago June 10 – September 22, 2019 Photo: Nathan Keay, © MCA Chicago.
P: What was the genesis of this show coming to MCA Chicago?
MD: Well, for as long as I've been here, we've been trying to recognize MCA's identity as a multidisciplinary organization. Even from our earliest days, when we were founded in 1967, we exhibited John Cage, Allan Kaprow and many others who combined performance, music, installation and visual art. We've tried to make sure that we maintain that identity, and we're one of just a few museums to have a full-time performance program in addition to collecting and presenting works of art.
I think we really had our "ah-ha moment" when we put on our David Bowie show 4 or 5 years ago. That show really opened the museum up to new audiences, and to new creative fields like music, stage design, poetry and fashion design. That felt very comfortable to us. We followed that up with other exhibitions like The Freedom Principle, which looked at cross-pollination between the visual arts and avant-garde jazz communities in the Midwest. We also collaborated with the Walker Art Center on a Merce Cunningham retrospective, which was very much about his collaboration across fields. That show really provided the template we were seeking to continue. I had come across Virgil's work in magazines, and was quite interested that this trained architect was doing fashion, but was also a furniture designer, and lived in Chicago: it really started to check a lot of boxes I was looking for. I invited him to come over to the museum, and I could see something really exciting happening if we joined forces. That conversation happened in summer 2016, so this was three years in the making.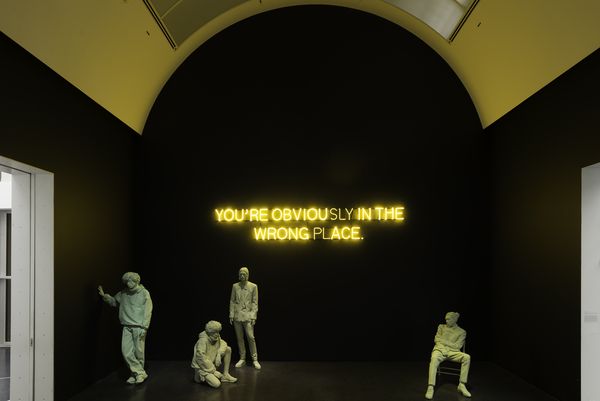 Installation view, Virgil Abloh: "Figures of Speech", MCA Chicago June 10 – September 22, 2019 Photo: Nathan Keay, © MCA Chicago.
P: His career has changed immensely in the last three years. What were you originally planning to show?
MD: Well, you're absolutely right. His career has changed and so the exhibition has changed a lot too. In the beginning, I was envisioning a show that was at least 50% dedicated to his fashion design work for Off-White, and maybe the collateral materials around that like videos of fashion shows, invitations, all of which is a fascinating body of work unto itself.
As his career really started growing, we started to focus more on the multidisciplinary aspect of his practice. We ultimately boiled it down to one gallery that looks at music, one gallery that looks at fashion, another looking at design, and a fourth that really dives into the political aspect of his work. Even his Louis Vuitton career is mentioned in the show, as is his work as a DJ. We wanted to go in a broader, more balanced direction.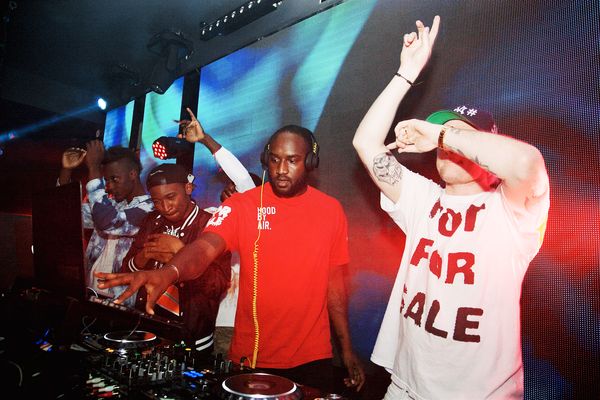 Been Trill group DJing, including Virgil Abloh, Matthew Williams, Florencia Galarza, Heron Preston, Justin Saunders, 2013. Photo: Matthieu Genre.
P: It's interesting that this show came almost as part of a series at MCA Chicago of artists who worked across disciplines. For you as a curator, do you work with other types of experts, like musicians or designers, when working on a show like this?
MD: My PhD is actually in architectural history, and I've always considered myself to be someone with really broad tastes in what I've liked and studied. I've curated furniture design shows in the past. This was definitely my first "fashion" show, and even though the exhibition evolved to be so much more than that, it was definitely an important foundational block to understand. My past experience at the MCA even has really broadened my experience. I've learned a lot about dance, music and theater from those colleagues here; it's changed me as a curator and made me more open to these other fields.
When it comes to writing and putting that scholarly lens onto the work, that's when it's time to reach out to the experts. It definitely came up with Virgil, reaching out to fashion historians and things like that. Having that outsider viewpoint, it can be very liberating to look at the work from another perspective. It's a completely different read.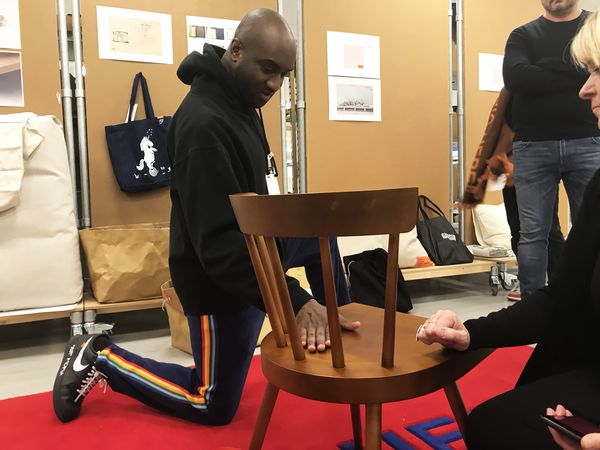 Virgil Abloh at work. Photo: Hanna García Fleer.
P: One of the great things about being in the contemporary art world is that the makers are still alive and you can actually work with them while you curate. What was that process like working with Virgil and his team, and how did they take this process on?
MD: It was an extremely collaborative process. The exhibition is filled with brand new work that's being shown for the first time here, a lot of which was really made in the months and weeks leading up to the exhibition. That's something I'm super familiar with, having worked with many living, working contemporary artists. That element of the unknown is really exciting to me.
One thing I realized kind of late in the game is that Virgil's process is very iterative. In the fashion world, if he wants to change certain things about a design, an entirely new version of the garment will be made and opened up for further critique and tweaks, before yet another iteration is produced. That's not something you see too much in the contemporary art world. It added a new challenge, in terms of time and production. But Virgil is so committed to the details. He wants to know everything, and he really thinks about the visitor experience. He loves to get involved in those details that a lot of artists I've worked with prefer to ignore and turn over to the institution. That level of commitment was fascinating. We were just one of many, many things that he's got going on, so his bandwidth is really just incredible. It's not about being a control-freak, it's about challenging conventions and moving ideas forward all the time.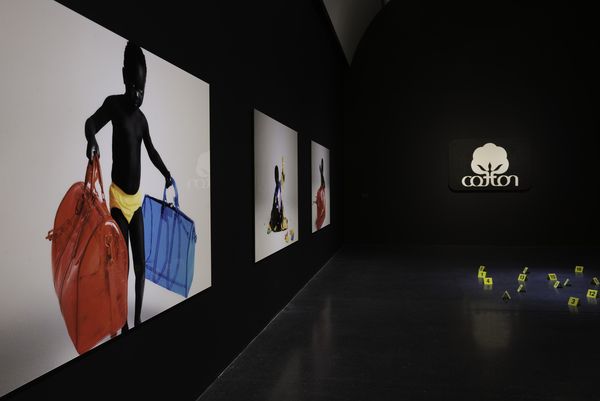 Installation view, Virgil Abloh: "Figures of Speech", MCA Chicago June 10 – September 22, 2019 Photo: Nathan Keay, © MCA Chicago.
P: Virgil is from the Chicago area, and lives there now. Did that influence your decision to show his work?
MD: His "Chicago story" was certainly key in our early decision to do this. It gives the exhibition real meaning and resonance here. We want to be seen as a museum that celebrates the best work and artists being produced here in Chicago. To have a Virgil Abloh show happen somewhere else before it happened here would have been a tragedy. So even three years ago, there was a certain urgency on our part, even though it was still seen as a very speculative idea. When we first started talking to other museums about it, they had a really hard time understanding what this would be, didn't know exactly who he was. I am personally very committed advancing the notion that artists can live here in Chicago and have international careers, without needing to go to New York or Berlin or something like that.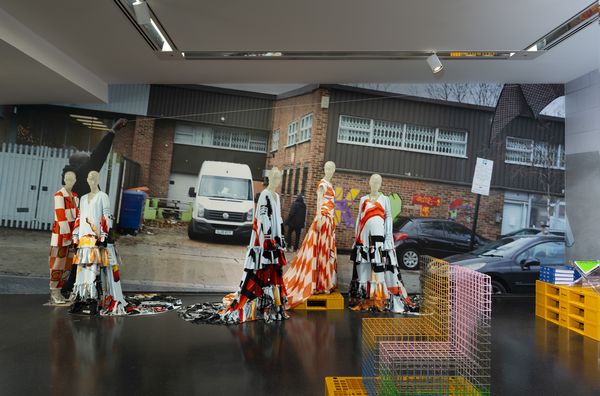 Virgil Abloh × MCA pop-up store, "Church & State," MCA Chicago. Photo: Peter McCullough, © MCA Chicago.
P: Museum exhibitions on clothing and fashion aren't necessarily a new thing, but a lot of museums like to draw a hard line between what they're doing and the commercial world of art and design. In this show, that wall comes down a bit. Is that something that comes with Virgil's work, or is this really the future of the museum?
MD: I have two ways of thinking about that. First of all, Virgil's medium is clothing. So, it's more consumable than art or sculpture. But at the same time, those mediums are so commercial as well! We don't think of the MCA Chicago as a place where "accessible" things are for sale. But you can in fact go out and buy a Kerry James Marshall painting--if your checkbook can handle it.
I do think museums can have a blind spot in that capacity, to somehow think that this work is more commercial than the leading art star that commands millions of dollars at auction. It's a weird inherent bias that we carry around. The audience of people who can live with and enjoy the work of blue-chip artists in their home is so small. With Virgil, even though the price point of Off-White is high, his work--especially with Nike for instance--is so much more accessible.
At the same time, I've curated shows of furniture designers where you can walk right into the gift shop and purchase an example of the work you just saw. This concept was also pioneered by Takashi Murakami, in creating work at such a wide range of price points and access levels. We saw huge success in selling his products and toys when we had his show here, so this wasn't our first time wading into that territory.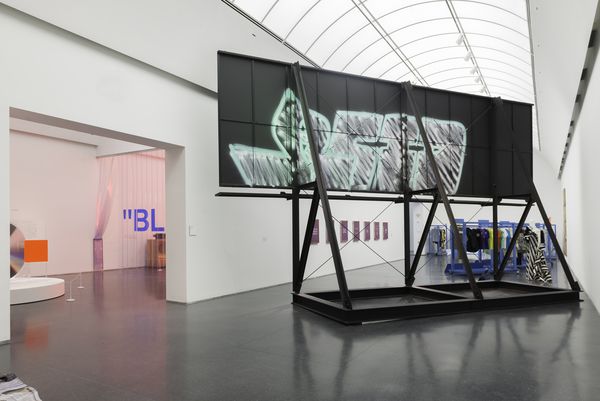 Installation view, Virgil Abloh: "Figures of Speech", MCA Chicago June 10 – September 22, 2019 Photo: Nathan Keay, © MCA Chicago.
P: You mentioned earlier that when you first started reaching out to other museums, they didn't quite know what to think. Is this exhibition traveling after it's run ends in Chicago?
MD: Yes! We're putting together a really robust tour. It's going to the High Museum in Atlanta next, then the ICA in Boston and after that it will go to the Brooklyn Museum. We're just now starting to work on some international venues after Brooklyn, which will be great.
P: So you know what's next for your show-- what do you think is next for Virgil himself?
MD: I think he's having a really good time making objects. He's still had only one solo show in a gallery, so I would definitely look out for more of that. I wonder if there might be more projects, like what he did with IKEA, that could bring him into more mass-market arenas. He's got such an appetite, and I wonder if he could even take on yet another fashion brand. But I'm sure it would need to offer a completely new and exciting for him. I joked to him that maybe choreography is next--anything is possible.