Set designer and artist Gary Card
PHILLIPS: How did you get your start as a set designer? Was there any particular person or event that inspired that path for you?
GARY CARD: I became a set designer entirely by accident. In fact, when I started I didn't even know that it was an actual job. My biggest leg up came from working with Nicola Formichetti in the mid-noughties. I messaged him on Myspace and asked if he'd be interested in using any of my work in his editorials, and soon after I was featured in almost every shoot he worked on, providing headpieces, masks, strange props, sculptures and finally set pieces for Vogue Japan, Dazed and Confused and AnOther Magazine. From there, I started making commercial work for his clients like Uniqlo, Comme des Garçons and Lady Gaga. It all happened very organically, I was extremely lucky.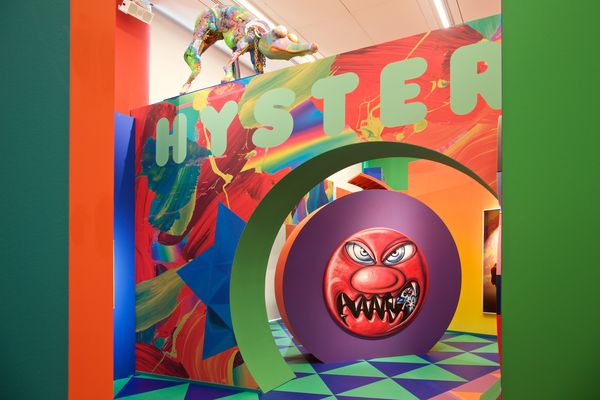 HYSTERICAL installed at Phillips in London, featuring work by Kenny Scharf
P: You work closely with a lot of major fashion brands--was that your original plan, or did you branch out from the worlds of theatre or film?
GC: I really didn't have a plan. I was talented but didn't really know what to do with it, all I knew is that I wanted to live in London. I studied theatre design but had no real ambition to work in theatre. I had never even seen a piece of theatre when I began my college education.
I just wanted to go to Central Saint Martin's. As a kid growing up in the 90s, Central Saint Martin's seemed to be the coolest place in the world; I idolized Alexander McQueen and read The Face religiously. It seemed like everything that excited me came from CSM, it didn't really matter to me what I studied there, I just wanted in! Theatre did give me a good understanding of a broad range of skills though, a lot of which became indispensable when I started working in the fashion industry.
P: What was the intention behind your design for the Berkeley Square space? What elements of the architecture or location inspired your design direction?
GC: My ambition was to make an environment that brought together some of the world's most influential contemporary artists, creating a unifying installation around the work that became a piece in itself.
Ultimately I wanted to make something accessible, infectious and fun, something that the audience could explore and interact with. Art shows can be quite intimidating, my ambition was to create a show that invited the audience to play and have fun: the show is loud and raucous, we even have a Hysterical playlist playing throughout the show. I'm not saying this should be the case with all art shows moving forward, but it was definitely fun to take the concept of the austere art show and turn it on its head.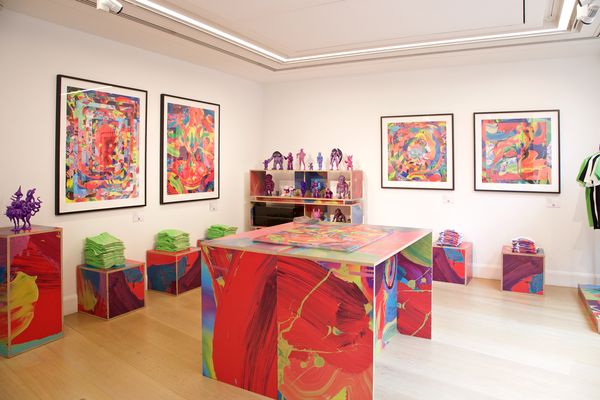 The HYSTERICAL store at 30 Berkeley Square
Accessibility was also the idea behind the store. Keith Haring would always have a gift shop at his shows, I always loved the idea that you could take a bit of his show with you, regardless of your income, from a fridge magnet to a poster, everybody could be a part of it. I love the inclusivity of his work. so when we proposed this idea to Phillips that was an element I really wanted to pursue
One of the fantastic things about working with Phillips on this project was that they gave me so much creative freedom to experiment with this concept and the physical space to create it. The gallery is one of the best spaces in London, so I was hugely inspired by the sheer scale of the gallery. It meant I could design an interior concept that the audience can truly explore and get lost in: creating rooms, windows and corridors that lead to works, allowing the audience to view the work in completely different ways each time.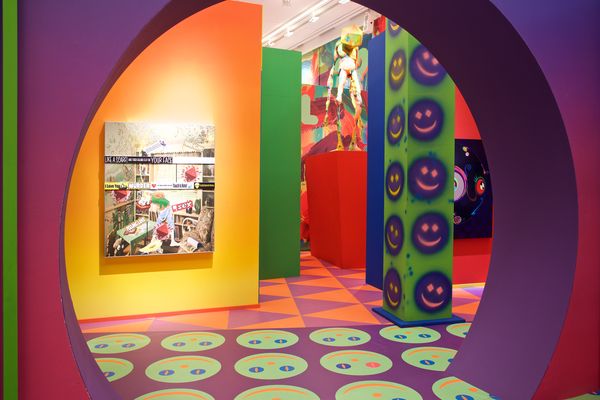 HYSTERICAL installed at Phillips in London, featuring work by Jordan Wolfson
P: Tell us more about the exhibition's title, HYSTERICAL.
GC: From the beginning of this process, I knew I wanted a word that felt visceral and manic. The word Hysterical evoked imagery of laughter and joy but also frantic panic and mass chaos, the kind of conflicting feeling I get when I look at the work of Paul McCarthy. That felt like the essence of the exhibition's identity, the title came to me almost immediately becoming central to the show's philosophy.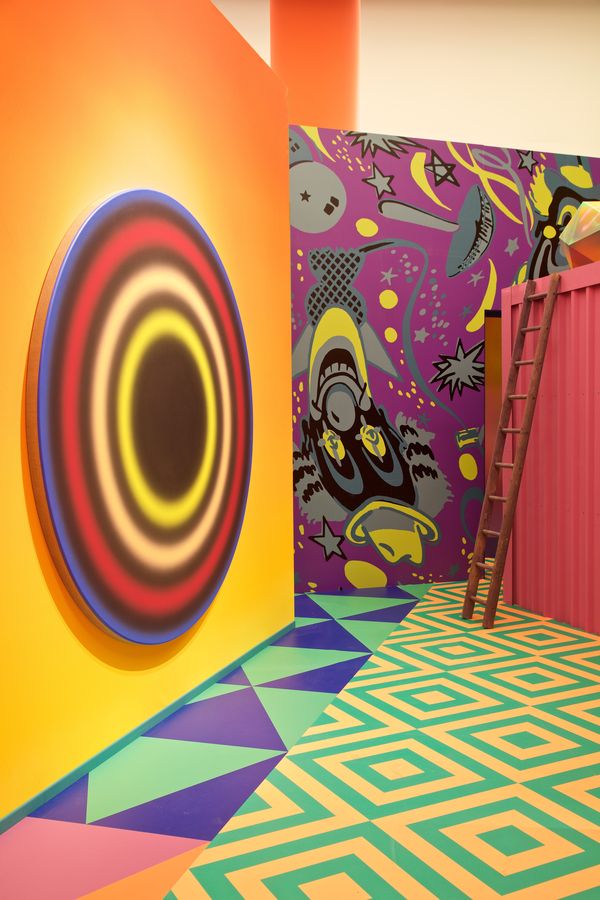 HYSTERICAL installed at Phillips in London, featuring work by Ugo Rondinone
P: Your installation is also the backdrop for several works available for private sale. How do these pieces interact with the space, and what was the intention behind which works were included?
GC: I have always been interested in the concepts of high art and low art, and the space between them. What makes something high art? Many artists that I admire seem to be exploring this division through the use of cartoon imagery, illustrators such as Robert Crumb and Basil Wolverton have explored this world for 40 years and are now being reassessed as serious artists worthy of their place in the canon. George Condo, Paul McCarthy, Ugo Rondinone, all artists who inspired my work, have drawn on inspiration from pop culture to explore ideas of great depth and feeling. McCarthy for me, in particular, has chosen to scratch beneath the joyful, seemingly harmless exterior of our favorite cartoon icons to reveal subjects that make his work so unsettling. Younger artists like Jordan Wolfson and Jamian Juliano-Villani are picking up that mantle.
This exciting and inspiring moment in art has brought me to the world of Hysterical, a cartoon funhouse, that extenuates the vibrancy of our curated pieces as well as heightening their inherent menace. It highlights my interest and demonstrates my inspiration and vision.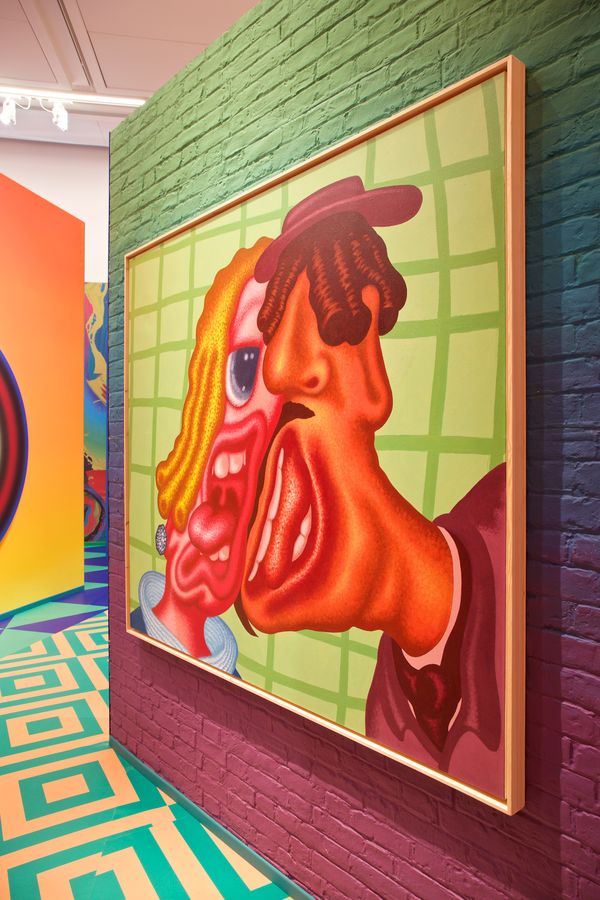 HYSTERICAL installed at Phillips in London, featuring work by Peter Saul
I'm lucky enough to have 3 of my paintings in the show, surrounded by work that has served as my greatest inspiration. The cartoon mania of Kenny Scharf, the comic immediacy of Peter Saul, the wild imagination of Takashi Murakami, this is the kind of work I adore and create.
P: As an artist, what is the best part about living and working in London?
GC: This is a tough one because I've lived in London my entire adult life, so it's all I know. Probably the creative freedom to do whatever you feel passionate about, this show is a great example of that. I'm not sure galleries in other cities would have been brave enough to take this project on.
P: What's next for you in the second half of 2019?
GC: I've been working on a series of figurative sculptures for a couple of years now, so I'll be continuing those. Also, I have a new series of paintings featuring Smudge (the smiling face heavily featured in the show) they should be ready by the end of the year. I've got a few new toys currently being produced in Hong Kong, so I'll be overseeing those for the next couple of months.