Faye Wei Wei regards her newest work in neon, Frail Silver of the Climbing Stars
London native Faye Wei Wei is part of a new wave of passionate young artists breathing new life into painting. After graduating from the Slade School of Fine Art in 2016, she's gone on to expand her practice internationally as her vibrant, large-scale work has gained recognition.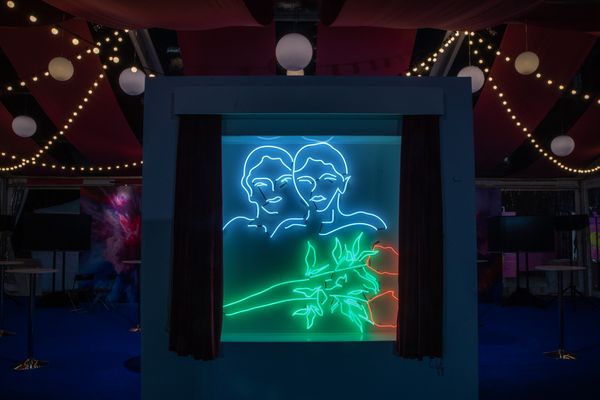 Faye Wei Wei Frail Silver of the Climbing Stars, 2019
As part of our support for the British Council of Hong Kong's SPARK Festival, Phillips joined forces with Faye to commission an original piece, entitled Frail Silver of The Climbing Stars. Her first attempt at working with neon, the choice of medium is highly symbolic for Hong Kong, which was once famous for its illuminated street signs. With the rise of new technologies, neon sign making has become a dying art, and SPARK pays homage to the creativity and skill of the artisans whose work once lit the city's streets.
The artwork is on display at the British Council in Hong Kong, where Phillips will hold a charity auction later this year. All proceeds from the sale will be donated to the British Council to support creative programs to help develop young talent. Following her piece's completion, we sat down with Faye to get her thoughts on this latest project, what makes her feel creative and how it felt to return to her family's ancestral home.
PHILLIPS: When did you first start painting? Which artists provided the most inspiration as you were developing your practice and whilst you were doing your BFA at London's Slade School?
FAYE WEI WEI: At school in London we were encouraged to use oil paint from a very young age. I learned the beauty of the material, how it wanes and waxes with the merging of different goos, turpentine and liquin and stand oils lending to the way you desire a mark to be formed on the surface of the canvas. The first painting I made and loved was of a crustacean, a pale yellow little crab-like creature, I was very drawn to the different wrinkles and bumps and the cloudy softness of its shell, a thin chalky thing that once encased a scuttling crab. I learned a lot about the subtleties of color, the potency of a palette too and I still do, but I learned from then, to handle paint almost in tune with the feeling of drawing.
At the Slade I was fascinated by a lot of artists in lots of differing pathways. I thought a lot about painting as a form of dance, performance, a very intimate ritual with the surface of the canvas, large in scale to permit the stretching of my body and my arms in an arch above my head and dipping to form bellowing pillowy soft shapes below. I admired Ana Mendieta and Pina Bausch, I was in love with a ballerina boy at the time and his film making and performance inspired me a lot. In terms of painting, I was looking at Cy Twombly, Ida Ekblad, Charline Von Heyl, Pierre Klossowski, Piero della Francesca, and mainly the works of my contemporaries as we sipped wine and talked about art all day long.
P: Your work often seems to allude to romance and mythology. How would you describe it?
FWW: I think I am concerned with painting as a means of an emotional expression, love and romance and muses come into it a lot. Mythology I would use more allegorically, in that it is more of a personal mythology I am working with, the language of symbols that relate to memory or rituals in my own life--these things painted with my own hand in my own language I hope can trigger an emotional response in my viewers. I want to make paintings about pleasure about seduction about the intensity of mark making and a love and respect for the material.
P: How do you approach creating new work? What's your preferred setting when you're sitting down to sketch?
FWW: I love it most when I'm in my studio, my own sanctuary filled with my books and drawings and objects and it's certainly very useful to have my own work surrounding me--it sort of triggers new work to be born. I believe it makes the language tighter and the themes more supportive of each other, a lineage between each painting to make the work flow as a singular body of work. At the same time, I love to do residencies and work in foreign lands, travelling is so fulfilling to my eyes, it allows me to constantly be stimulated by new visions and new faces that seep into my portraiture work. It's amazing when you come across a new face, a new muse to be obsessed by.
P: You're best known for your figurative paintings on large canvases. How was this commission different knowing that your work would be transformed into a new medium?
FWW: It was such a wonderful new challenge to work in neon: the way I approached it was imagining it as a drawing made from light. A glass tube encasing a river of stars. I did a lot of drawing, hours and hours trying to figure out the most desirable composition. I rarely collaborate with other creatives so it was really such a treat to let go a little and place the work into the trust and hands of the Hong Kong neon masters.
P: Hong Kong has a storied history with neon sign-making. Did you work directly with the fabricator of your piece and what was that like?
FWW: I worked with a neon specialist in London, a beautiful old workshop in east London. The neon master there collaborated with me for a day, we workshopped and produced a 1:1 scale technical drawing that the masters in Hong Kong would be able to read and interpret. With neon you have to consider the limitations of the line, how to have expression in the eyes and lips of the figures without relying on the subtle changes in mark making as you would have the luxury to achieve through paint, I had to strip back the paintings to a linear form, trying not to lose the emotional reading of the face.
P: Your parents are from Hong Kong, but you grew up in London. Now that you've spent more time in Hong Kong, how would you say it compares to London or even New York as a city? And as a cultural center?
FWW: I adore Hong Kong, in a sense it feels like home--it was particularly meaningful for me to come back to Hong Kong as an adult, I hadn't been in this city for 6 years. I spent summers in Hong Kong as a child, I don't think I fully understood or took in the beauty of this city until I grew up. When you're a kid, your view of the city is more low down, quite literally because of your height, my most vivid memories here are from when I was really young, 6 or 7, I remember things like the shy plants that lined the roads, I would walk along and brush my fingers over their leaves and be delighted by their movements.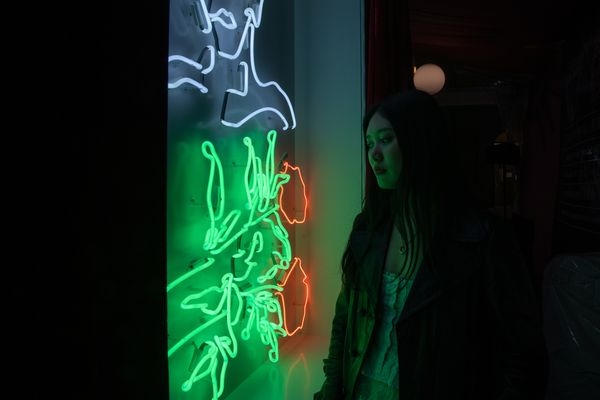 Faye Wei Wei regards her newest work in neon, Frail Silver of the Climbing Stars
As an adult I look upwards, my view of this city is formed by the cinema, Wong Kar Wai's movies and films like Blade Runner make me see my parents' hometown as a glorious futuristic utopian looking city-- it's amazing how great cinema and art changes your perception of the world. I will always love London and New York, but there is something ancient feeling and overwhelmingly romantic about Hong Kong. I love being able to speak Cantonese and to use that part of my brain to make meaningful connections with my friends here. The creative scene is growing here and its exciting to witness the amazing work of some of my contemporaries here. It has been an honor to return to my ancestral roots and build a relationship with the city and the people here and to be able to work here is a dream. I'm glad we made up before it was too late, before I was too grown.
With neon you have to consider the limitations of the line, how to have expression in the eyes and lips of the figures without relying on the subtle changes in mark making as you would have the luxury to achieve through paint.
P: What's next for you in 2019?
FWW: I am curating my first show in June at Cob Gallery in London. It's a painting show in full admiration of the painters I love and look up to. It's so exciting to have an opportunity to write and gather my friends and look at coherent themes between the painters I find really amazing right now. I'm also publishing a book in Paris of portraiture, doing a solo show and a two person show with my best friend and amazing artist Jonathan Small.
P: Can you imagine experimenting with other new mediums – whether industrial or unusual – after this commission?
FWW: Absolutely! I feel endlessly excited to work in new mediums now and I definitely want to make more neons!