Damien Hirst Bodies, 1989. Estimate: £1,200,000-1,800,000.
Phillips is proud to announce The Robert Tibbles Collection: Young British Artists & More, a multitude of YBA treasures to be sold across the London auctions of 20th Century & Contemporary Art in February 2020, as well as New Now, Photographs and Editions. The collection includes seminal works by Damien Hirst, Gilbert & George, Gary Hume, Michael Craig-Martin, Sarah Morris and Julian Opie, among others – often acquired directly from the artists or galleries the same year of their creation. The 30 works in this collection are expected to realize a total in the region of £4 million, with a festive preview of highlights set to transform the windows of 30 Berkeley Square from 20 December to 6 January.
A bond salesman for many years, Robert Tibbles' collecting journey began at the genesis of a movement that transformed contemporary British art, and ushered a novel artistic language built on rebellion and audacity. A principal author of this movement was Damien Hirst, whose degree show in 1989 marked the beginnings of his 'Medicine' series. Named after the 12 tracks from the Sex Pistols' UK debut album, the show featured the first four from a suite of 12 cabinets, created using empty medication packages. Robert Tibbles acquired Bodies – one of these four seminal works – in 1989 from Karsten Schubert, for the mere sum of £600, marking him as the first collector of Hirst's work. The work captures the genius of Hirst's artistic investigation, and its provenance tells a story of passion, trust and vision. In the three decades since it was purchased, Bodies has only been shown three times, at the Museo Archeologico Nazionale, Naples; L&M Arts, New York; and finally, in 2012 at Tate Modern, London.
Robert Tibbles, said, "The collection has filled my head and my heart. I have been incredibly lucky to have been shown fantastic stuff whilst in a position to buy it, and to put this collection together. It is great the idea that these works will go on to new owners, and I hope they are able to enjoy them just as much as I have."
Cheyenne Westphal, Global Chairwoman, said, "Robert is one of the most visionary and forward-thinking collectors of his generation. He was the first person to buy Damien Hirst alongside Charles Saatchi, and collected on the grounds that you buy a work of art because you respond to it, and because you love it. Robert saw something that others did not, and the result is an unrivaled collection that captures a defining moment in the history of contemporary British art. Works of this caliber are a rarity in the market, and we are incredibly excited to present collectors and admirers with a unique opportunity to see these works in person."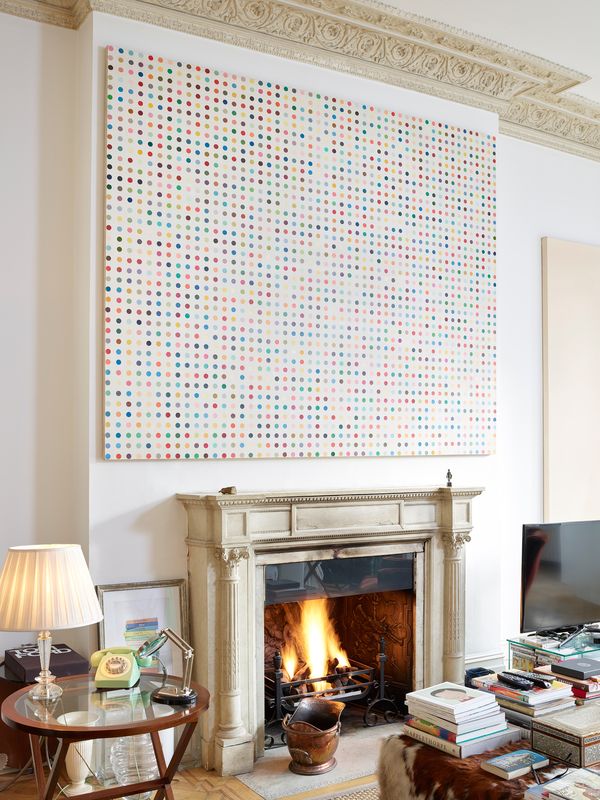 Damien Hirst Antipyrylazo III, 1994. Estimate: £900,000-1,200,000.
Cool Britannia: The Robert Tibbles Collection comprises a total of six works by Hirst. Antipyrylazo III, 1994, is an early example of his 'Spot Paintings', and has been hanging above the collector's fireplace since he purchased the work from Jay Jopling the same year of its creation. Featuring a joyous amalgamation of 2,050 hand-painted spots, Antipyrylazo III sits within Hirst's investigation into the medical realm. Hirst pairs the work's obscure and esoteric title with an image that is clear and recognizable to all: candy-like spots multiplying with jubilant energy.
To create that structure, to do those colours, and do nothing. I suddenly got what I wanted. It was just a way of pinning down the joy of colour — Damien Hirst
Further works include a leading example of Hirst's 'Spin Paintings', titled Beautiful tropical, jungle painting (with pink snot), 1997 (estimate: £270,000-350,000). With its luxurious splashes of color, the work conjures a wondrous explosion that departs from the artist's usual intentness on order, repetition, and quasi-scientific formulaism. Two works that sit in eerie conversation with one another are Summer Breeze, 2002 (estimate: £250,000-350,000), and Aids/The Martyrdom of Saint Matthew/Hatred, 2003 (estimate: £80,000-120,000). Capturing Hirst's preoccupation with life and death, Summer Breeze depicts a clear blue sky scattered with butterfly wings glued to the canvas, whereas Aids engulfs the viewer in darkness, with thousands of flies trapped behind glass.
The collection includes two monumental paintings by Michael Craig-Martin, the mastermind behind this new generation of artists and Hirst's former teacher at Goldsmith's College, London. Full, 2000, is likely to set a world record price for Craig-Martin when it is auctioned on 13 February 2020. By theme of appropriation, each object references seminal art-historical icons: Jasper Johns' paintbrushes, Marcel Duchamp's bottle rack, Man Ray's metronome, and Craig-Martin's very own symbols, including a glass of water and a ladder.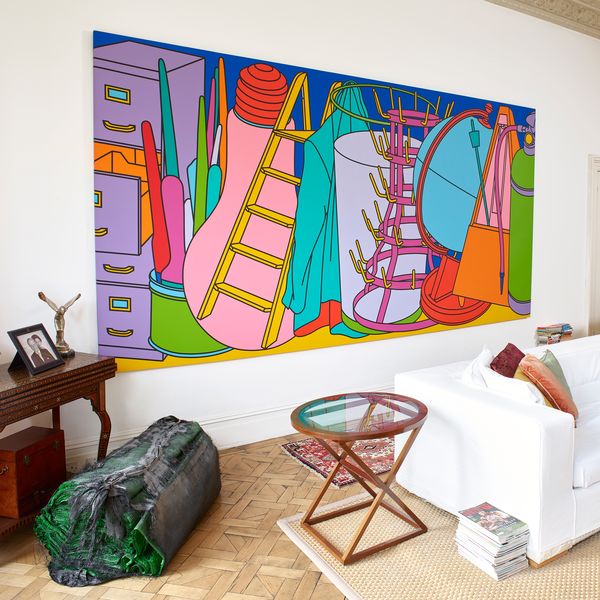 Michael Craig-Martin Full, 2000. Estimate: £80,000-120,000.
During his collecting years, Robert Tibbles met Michael Craig-Martin through Karsten Schubert, and one of his most exciting purchases was when he commissioned Narrative Painting, 1993-94 (estimate: £30,000-40,000). The commission followed Craig-Martin's show in Paris in 1993, where he had painted the walls of each room a different color, with one image on each wall. Craig-Martin asked Robert if he'd like the same concept for his London home, but as Robert was moving the artist produced a canvas with a large expanse of pink to symbolize one wall, and an eighth of yellow to symbolize part of another wall. Robert Tibbles said, "Michael then included a book because he always said if you want to be a really serious Contemporary Art collector, Robert, you cannot have curtains or books. And then he included the back of a canvas to show I am a collector, which was sweet."
City Fairies, 1991, is a vast double portrait characteristic of the work of Gilbert & George (estimate: £120,000-180,000). Between the two artists, at the core of the photographic construction, lies an image of Liverpool Street Station. This is particularly meaningful as Robert Tibbles worked there for over two decades at UBS. At the time of its creation, City Fairies was a very controversial work. Each artist is birthing the other through the mouth, haloed from beneath by their exposed buttocks, and flanked by aggrandized flees on both sides of the composition.
20th Century & Contemporary Art Evening Sale
Auction: 13 February 2020
30 Berkeley Square, London
20th Century & Contemporary Art Day Sale
Auction: 14 February 2020
30 Berkeley Square, London