Julie Mehretu Conjured Parts (eye), Ferguson, 2016, ink and acrylic on canvas, 84 × 96 in., The Broad Art Foundation, Los Angeles, © Julie Mehretu, photo by Cathy Carver
Uniting nearly 40 works on paper with 35 paintings dating from 1996 to the present, Julie Mehretu is the first-ever comprehensive retrospective of the artist's career, covering over two decades of her critical analysis of history, geopolitics, diaspora and displacement through an artistic language of abstraction, architecture, landscape and, most recently, figuration. Born in Addis Ababa, Ethiopia, Mehretu received her MFA from the Rhode Island School of Design, and, among numerous honors, is a recipient of a MacArthur Foundation "Genius Grant" (2005) and a U.S. State Department National Medal of Arts (2015).
PHILLIPS: How did you first discover Julie Mehretu's work?
CHRISTINE Y. KIM: I was hired as a Curatorial Assistant at the Studio Museum in Harlem in May 2000 by Lowery Stokes Sims and Thelma Golden who had started as Director and Deputy Director, respectively, earlier that year. Julie Mehretu was one of the three new artists-in-residence who started that September. This vital residency is a cornerstone of the Studio Museum's program, and has been supporting black and Latinx artists since the late 1960s, when artists of color were not being supported or shown at major museums around New York City. I met many artists that I have worked with through this incredible program, such as Dave McKenzie, Kehinde Wiley, and Wangechi Mutu.
It was thrilling to witness Julie's development in the residency program and to include her work in "Freestyle," the first of the "F" shows showcasing work by emerging black artists, that fall. Her work was also in the artist-in-residence exhibition (with Senam Okudzeto and Nadine Robinson) the following summer, for which she completed her first wall drawing. From the beginning, I felt very compelled by Julie's dynamic use of layering and image-making, whether on the wall, paper, or canvas, whether through acetate on the overhead projector, transparent sheets of mylar, or on both the acrylic-and-silica layers on the paintings, and the metaphoric and conceptual relationships to mapping, stratification, and time. I have also always been drawn to the ways in which she harnesses and develops different possibilities, methodologies, and languages in painting, drawing, and printmaking to arrive at abstraction. I have been working on Julie's mid-career survey at LACMA for six years, but in reality, we have been working toward it for almost two decades.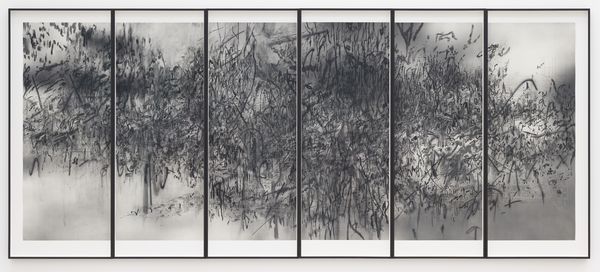 Julie Mehretu Epigraph, Damascus, 2016, photogravure, sugar lift, aquatint, spit bite aquatint, open bite, 8.1 × 18.8 feet, Los Angeles County Museum of Art, gift of Kelvin and Hana Davis through the 2018 Collectors Committee, © Julie Mehretu, photo © Museum Associates/LACMA
P: The show includes works in different mediums and periods in Mehretu's career. What are some of the common threads running through the works included?
CYK: Throughout her career, Julie Mehretu has worked in painting, drawing, and printmaking, and all three have their own unique possibilities for abstraction that are explored in this exhibition. Julie has been able to focus on the mark and how marks manifest differently in these mediums, such as the "X" form that appears as a minuscule repeated mark in her early analysis drawings, or as a straight-edged X across a canvas like in "Indigene/Origine" or with looser, more gestural lines and marks in watercolor, ink, colored pencil, graphite, or even in spray, like the Xs you'll see in the newest painting in the show, "Haka (and Riot)." Julie has also incorporated different types of marks and gestures using multiple printmaking techniques such as dry-point etching, photogravure, sugar lift, open-bite, spit bite, etc. in a single work like "Epigraph, Damascus." Exploring the use and relationships among these mediums is important in her practice.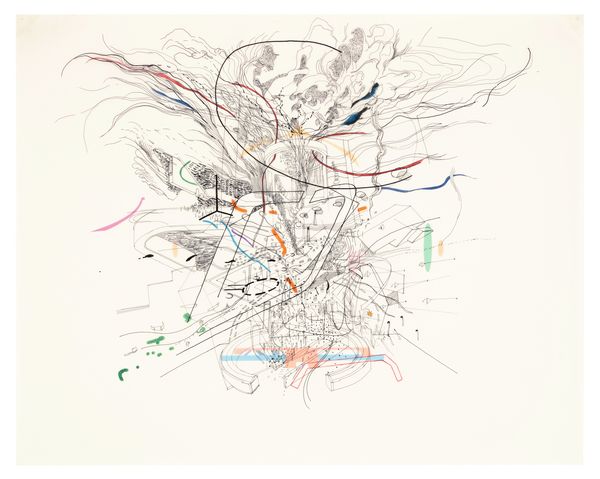 Julie Mehretu Untitled, 2000, ink, colored pencil, and cut, paper on mylar, 18 × 24 in., private collection, © Julie Mehretu, photograph by Cathy Carver
P: What were the benefits of co-curating this exhibition with the Whitney Museum in New York?
CYK: Julie Mehretu has been based in New York since 1999, when she had a studio in Bushwick, followed by the artist-in-residence program at the Studio Museum, so it was ideal to partner with a major institution in New York. The Whitney is a museum that has both challenged norms and been challenged as an institution. It's where Thelma Golden, mentor to both me and Rujeko Hockley, organized influential shows like "Black Male" and the 1993 biennial, which changed the course of contemporary art for artists of color and had a profound impact on my early career.
Julie was also very involved in the catalogue design, and everyone who worked on it is based there: the designers Joseph Logan and Katy Nelson, along with the Whitney's research and rights teams, who worked on the extraordinary chronology spreads in the catalogue and directly with the copy editors and the many writers, including Fred Moten, Andrianna Campbell, and Adrienne Edwards. Last but not least, it has been a pleasure to work with Rujeko, assistant curator at the Whitney, with whom I share a special history at the Studio Museum, where she was a curatorial assistant from 2005 to 2007.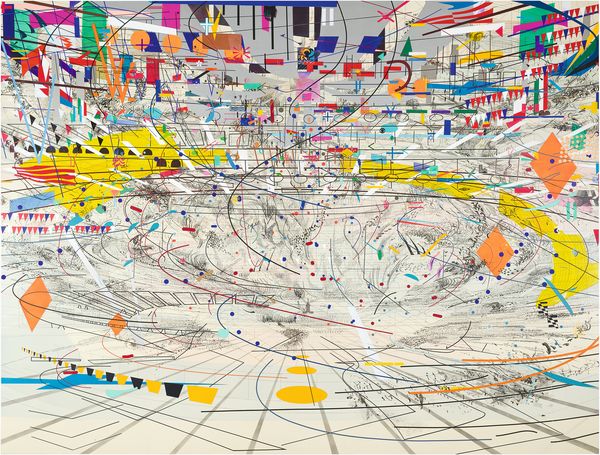 Julie Mehretu Stadia II, 2004, ink and acrylic on canvas, 108 × 144 in., Carnegie Museum of Art, Pittsburgh, gift of Jeanne Greenberg Rohatyn and Nicolas Rohatyn and A. W. Mellon Acquisition Endowment Fund 2004.50, © Julie Mehretu, photograph courtesy of the Carnegie Museum of Art
P: Mehretu's work is abstract, yet unmistakably political. What do you believe it says about today's world?
CYK: I was recently in the galleries doing a walk-through with a patron who immediately remarked on how all of these paintings have connections to certain moments in contemporary world history—the Arab Spring uprisings, the Occupy Movement, Black Lives Matter, and others. Julie and I talked a lot about how to address them in the catalog and on the wall texts, how to draw connections and create contexts that do not supersede or distract from the experience of looking and seeing. However, perhaps more importantly for me, the work is really touching on aspects of human consciousness and the human condition, and that is something that artists throughout history have addressed in different ways, from the French Romantics to Chinese calligraphers, or from cave drawings to graffiti. The work is also deeply personal and introspective; much of Julie's process is about metabolizing and reflecting on images that hover in our consciousness today, such as the California wildfires or detention facilities along the US-Mexico border. These reflections on the human condition and humanity include the precarity, violence, and terror of our world today alongside the triumphs, expressions, and beauty, with complexity, multiplicity and radicality. And this itself is part of humanity, not just in 21st-century America but among diverse civilizations and communities: these types of complexities and contradictions have always existed. While we have language to talk about some of these issues, we don't have a set artistic language for it. Instead, it is constantly fluctuating, evolving, and can be developed through a multitude of forms such as choreography, dance, and poetry in addition to painting and visual arts.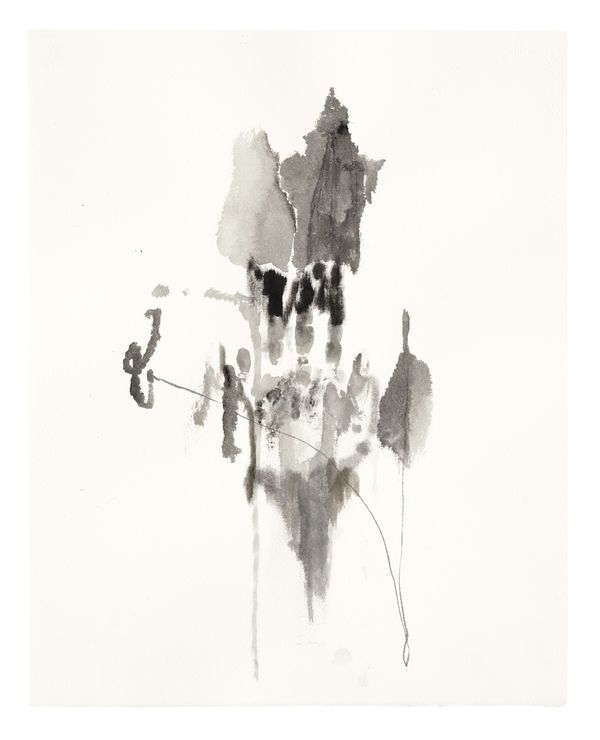 Julie Mehretu Untitled, 2014, ink on paper, 20 × 16 in., private collection, © Julie Mehretu, photograph by Berndt Borchardt
P: How has Mehretu herself influenced the process of this exhibition's creation?
CYK: Julie has been a frequent visitor to Los Angeles over the past ten or more years, working closely with Case Hudson at Gemini G.E.L. on a variety of prints. She was in Los Angeles during the James Turrell retrospective that I co-curated with Michael Govan in 2013. We spent a long time walking through the exhibition. In many of the immersive spaces, one needs to sit or stand for a certain duration so the eyes can adjust and the retina can respond to the quality, color, and intensity of light. The perceptual experience of those spaces implicates not just the eyes, but our brains, skin, and pulse. In the case of the "Perceptual Cell," one's body is slid into a sphere, and there is an experience using lights, frequency, and vibration that can bring the viewer to an alpha state, similar to what those trained in meditation are able to achieve. Turrell's work has an extraordinary ability to be transformative for an individual viewer. My conversation with Julie then led to how, and if, this is possible to achieve when looking at a painting and how exhibitions, through the selection of work, the arc of the narrative, the architecture of the space, the didactic elements can support these ideas which became the backbone for the exhibition early on.
Following the Turrell show, we had an Agnes Martin exhibition at LACMA that Julie saw as well. We walked through and talked about how, in certain light conditions, the lines in a painting begin to hover and vibrate after a certain amount of time looking, beholding. Then we started thinking about Julie's painting Mogamma (A Painting in Four Parts) from 2012, made for Documenta. We talked about painting and the possibilities for an immersive experience for a viewer folded inside four 12x15-foot panels, and how shifting perceptions, perspectives, and revolution could function. And from there we started discussing what a mid-career survey of her work could be and look like: how to slow down viewing, how to see detail and expanse at the same time, how to contextualize the work didactically, and how to show a progression over twenty-three years.
Finally, unearthing and viewing hundreds of her works in public collections, private homes, in storage and more, Julie had the opportunity to look in-depth at her own trajectory over the past two decades. The recent work is in part a progression that includes an introspection that working on this survey afforded and provided.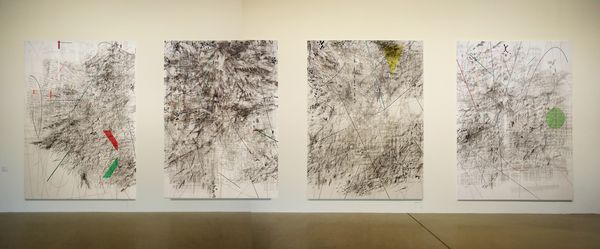 Julie Mehretu Mogamma (A Painting in Four Parts), 2012, installation view in Documenta 13, Kassel, Germany, 2012, © Julie Mehretu, photograph by Ryszard Kasiewicz, courtesy of the artist, Marian Goodman Gallery, New York, and White Cube
P: Can we expect this exhibition to travel once it's finished at LACMA?
CYK: Yes. The exhibition will be on view at the Whitney from June 26, 2020 - September 20, 2020. Then it will travel to the High Museum of Art in Atlanta where it will be on vire from October 24, 2020 - January 31, 2021 and then finally, it will travel to the Walker Art Center in Minneapolis, which is where Julie had her first solo exhibition in 2003 and be on view from March 14, 2021- July 11, 2021.
Learn more about Julie Mehretu at LACMA >