"Attention is what Condo's figures initially demand, located as they are between the grotesque and the comic, protagonists caught between comedy and tragedy."
— Margrit Brehm
A whimsical example of George Condo's skilful bridging of history and contemporaneity, tradition and irreverence, comedy and tragedy, The Dreamer features one of the artist's most iconic and well-loved characters, the clown. Few artists have dedicated their careers as singularly to one genre as Condo has to portraiture, and his recurring portrayals of the psychologically and socio-politically charged figure of the joker or the clown has long been a powerful vehicle through which he probed the complex depths of the human psyche. In fact, Condo clown-ified his entire cast of wacky characters – be it priest, cardinal, chef, waiter, nude, or debutante – by enlarging body parts, exaggerating, deforming, or rearranging features, and squashing faces into unrecognition. In manipulating the visual appearance of his subjects, Condo reveals the infinitely complex paradoxes and contradictions of human nature, presenting his subjects at their most vulnerable and human.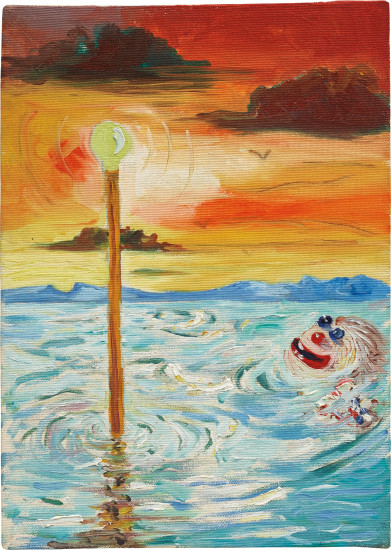 Condo has painted clowns as early as the mid-1980s. Drawn to the endless enquiries posed by the aesthetics and formal considerations of the Old Masters, Condo emerged on the New York art scene at the time alongside contemporaries such as Jean-Michel Basquiat and Keith Haring and swiftly developed a distinctive visual lexicon that was unmistakably his own. In a lively fusion of Old Master subject matter and Cubist deformity, Condo's singular portraiture constructed a labyrinthine amalgamation of style that is expressive, replete with rich art historical references, and which masterfully deconstructs the complex workings of the mind, the psyche, and human perception.