Banksy, Kate Moss (Purple/Orange), 2005. Editions London. Sold for £239,400.
As 2022 comes to a close, we look back at the stories that made this a year to remember at Phillips. Spanning the globe and crisscrossing through paintings and interviews and everything in between, these are your standout features and visionary voices.
Favorite Photographer: Ellen von Unwerth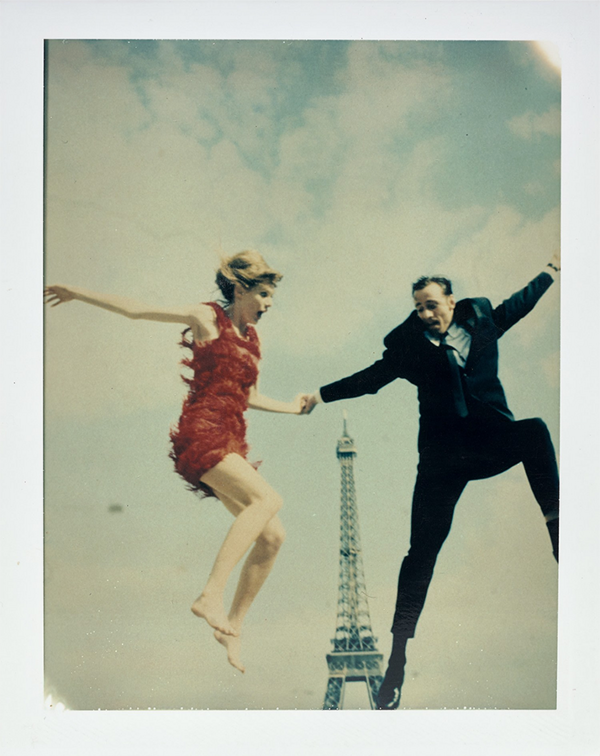 Ellen von Unwerth, Jump Over The Eiffel Tower, 1987. Photographs London. Sold for £6,300.
Trends come and go, but when it comes to photography, Polaroids are forever. Along with a New Now collection of famed Andy Warhol "Big Shot" works, Ellen von Unwerth's ULTIMATE collection in Phillips' November London Photographs Sale showed that the classic Polaroid format holds a special place in our hearts.
Discover More from Photographs >
Favorite Color: Blue
Not just any shade: International Klein Blue (IKB) had us pondering how we interact with color and the depth of meaning revealed by a single hue. The power of color is in its ability to operate at once as a sensation and a cultural perception; to be its own language yet remain unspoken; and to be both physical and allusive. In the words of French Cubist Fernand Léger, "Man needs color to live; it's just as necessary an element as fire and water."
Favorite Watch: George Daniels' Yellow Gold Wristwatch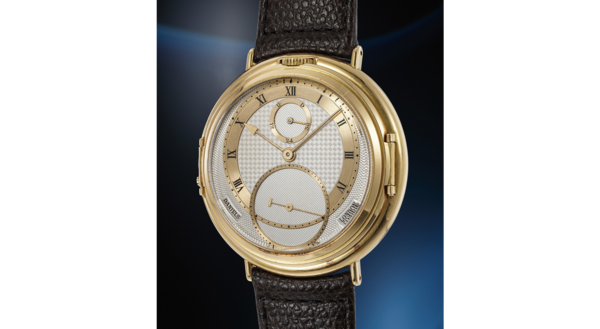 George Daniels, A unique, historically important double sided yellow gold wristwatch with power reserve, day, and date, 1992. The Geneva Watch Auction: XVI. Sold for CHF 4,083,500.
Remaining in George Daniels' personal collection for many years, this watch represents his complete vision of craft — every component of the watch handmade with meaning and purpose — and is one of only two made entirely by his hand. Enthusiasm led to an intense bidding war, after which the watch soared above its estimate of CHF 1 million, selling to a bidder in the room for CHF 4,083,500.
Favorite Influencer: Victoria Tang-Owen
In 2019, Phillips unveiled a groundbreaking concept at our Hong Kong auctions: the Pantone Room, a custom-designed space displaying a curated selection of fine art, functional furniture and conceptual works from our 20th Century & Contemporary Art & Design Day Sale, giving visitors an immersive experience that a gallery alone cannot provide. This year, we partnered with Victoria Tang-Owen, Founder & Creative Director of Victoria Tang Studio & Thirty30 Creative, for the inaugural Pantone Room. Inspired by Samual Butler, Victoria chose Pantone 130 C, the color of autumn nectar.
Favorite Playlist: Phillips Los Angeles
We celebrated our move out west to the Los Angeles sunshine with a playlist by Matthew Siskin. Enjoy the tunes while those of us in New York and London wipe the snow off of our parkas:
Discover More from Phillips Los Angeles >
Favorite Designer: Finn Juhl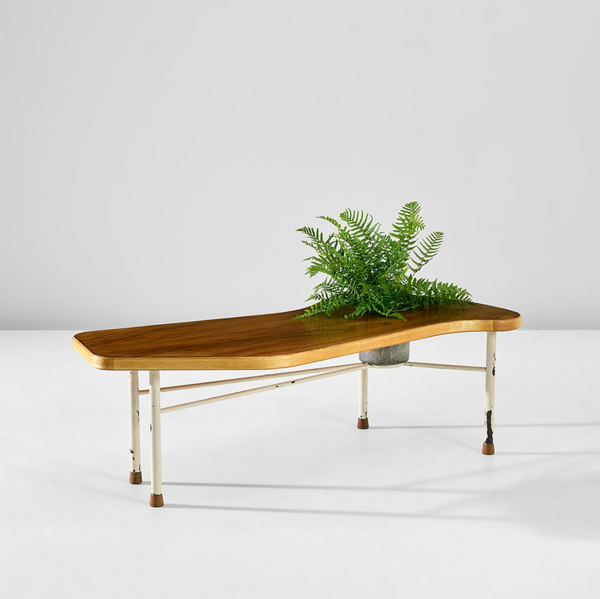 Finn Juhl, Rare coffee table, circa 1941. Design London. Sold for £30,240.
The storied Danish architect, designer, and interior trailblazer was a standout in severeal sales this year on both sides of the Atlantic. Phillips' Regional Director for Scandinavia, Kirsten MacDonald, spoke with Design Historian Christian Holmsted Olesen, to get his insights on an exceptional Juhl table and explored the groundbreaking development of Danish Modern furniture.
Favorite Astronaut: Joan Miró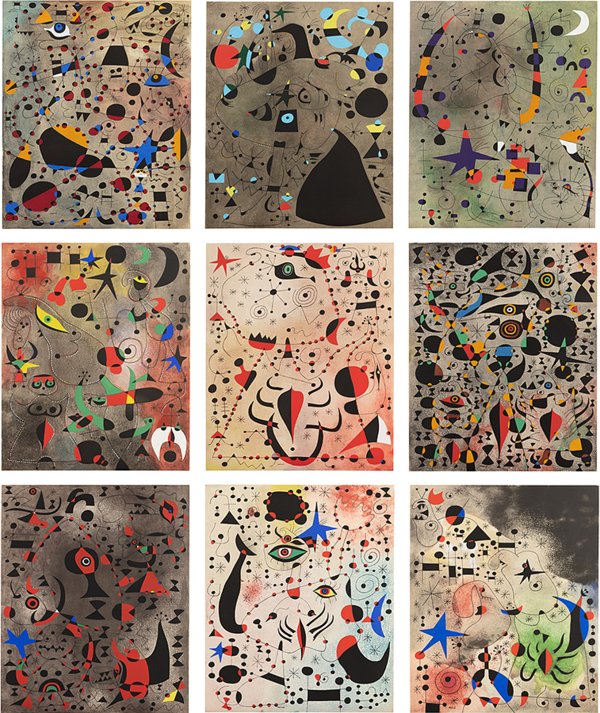 Joan Miró, Constellations (M. 260, C. bks 58), 1959. Editions & Works on Paper New York. Sold for $37,800.
"Where do we come from?"
"How big is the Universe and what is its fate?"
"How do stars and planets form?"
"Are we alone?"
Asked by astrophysicists and artists alike, these questions have kept humanity busy for a very long time. Luckily for us, Ravit Helled was on hand to bridge both discilpines in an outstanding look at Miró's Constellations.
Favorite Video: Jean-Michel Basquiat 'Untitled' | New York | May 2022
From the esteemed collection of Japanese entrepreneur Yusaku Maezawa, Untitled is one of Jean-Michel Basquiat's greatest masterpieces. Executed in 1982, the watershed year which shot the artist to international stardom, this tour de force is from a small series created in Modena, Italy, where Basquiat visited at the invitation of the dealer Emilio Mazzoli during two periods in the early 1980s. The work sold for $85,000,000, a high water mark for Phillips in 2022.
Discover More from 20th Century & Contemporary Art >
Favorite Highlights: New York Watch Auction: SEVEN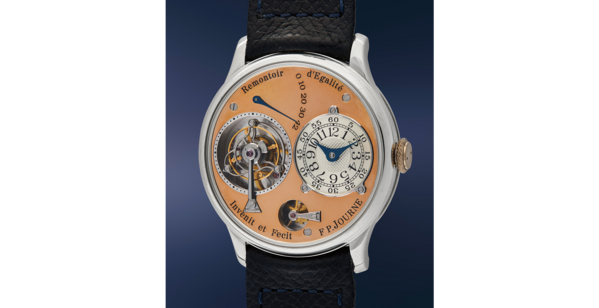 F.P. Journe, A very early, highly important, and extremely rare platinum tourbillon wristwatch with remontoir d'egalité, pink gold dial, and certificate of authenticity, numbered 038, circa 1999. Watches New York. Sold for $1,240,000.
The New York watches team picked their personal favorites from the New York Watch Auction: SEVEN, and each one had us looking at our watch rolls in envy.
Favorite Sneak Peak: Artists to Watch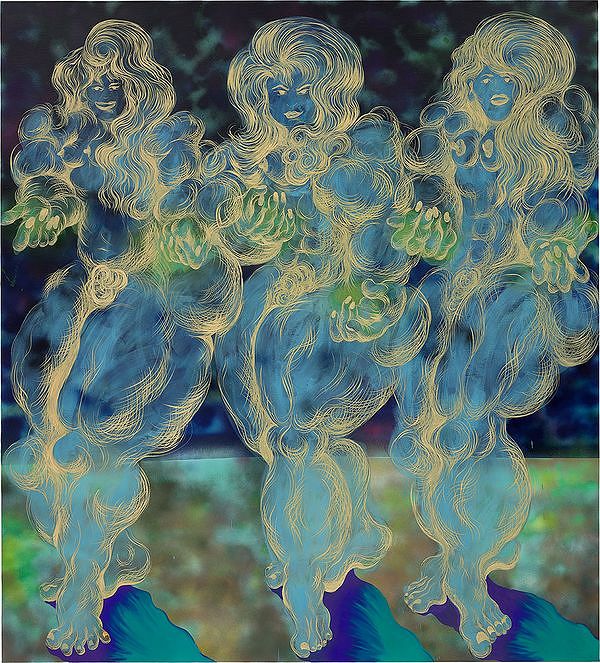 Ana Benaroya, Be My Baby, 2019. New Now New York. Sold for $115,920.
Emerging artists grabbed headlines throughout the auction calendar, and nowhere did they shine brighter than in our Artists to Watch series. From New York to London and Hong Kong, these artists brought new names to the fore.
Favorite Day Job: Auctioneering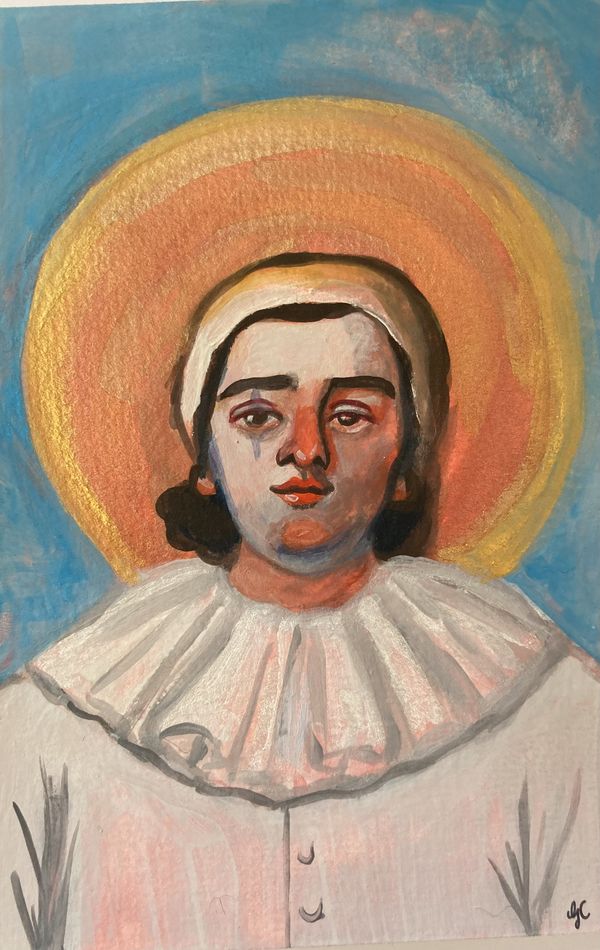 Gabi Cirocco, Pierrot. @gabicirocart on Instagram.
The funny thing about being an artist with a day job is that sometimes art is your day job. Phillips proudly put on our 2022 Staff Art Show, a showcase of creators across the business whose works demonstrate that special special sense of immediacy shared by all emerging artists.
Favorite Specialist Profile: Kirsten MacDonald
Our regional director for Scandinavia, Kirsten MacDonald, talks about her passion for art, our partnership with ARoS and how she started working in the auction world.
Favorite Celebrity Cameo: Josh Brolin on George Condo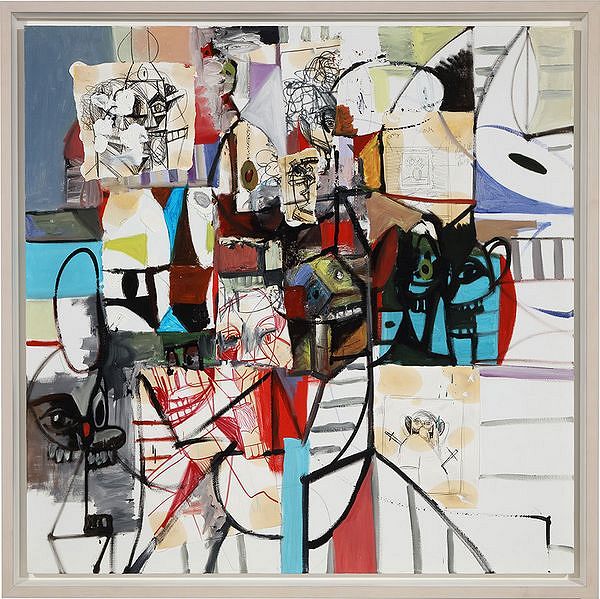 "As all relationships are different — some lasting, and others wanting to move on — sometimes paintings get bored with just me and whomever else in my vicinity is gawking at them, and they beg for new company. This George Condo, specifically, has ignited artists that have passed through my home into new perceptions regarding their own work; churning up how they might approach their next paintings or utilizing some electricity that was held over from the time they spent inhaling it at my home. The painting longs, it tests and it plays. It's always been a piece of music for me and, as my life is very much a nomad's life, I feel that this piece of music needs to be played constantly, and continue to lend itself, as those pieces in those museums and galleries did for me as a teenager."
Favorite Subject: Flowers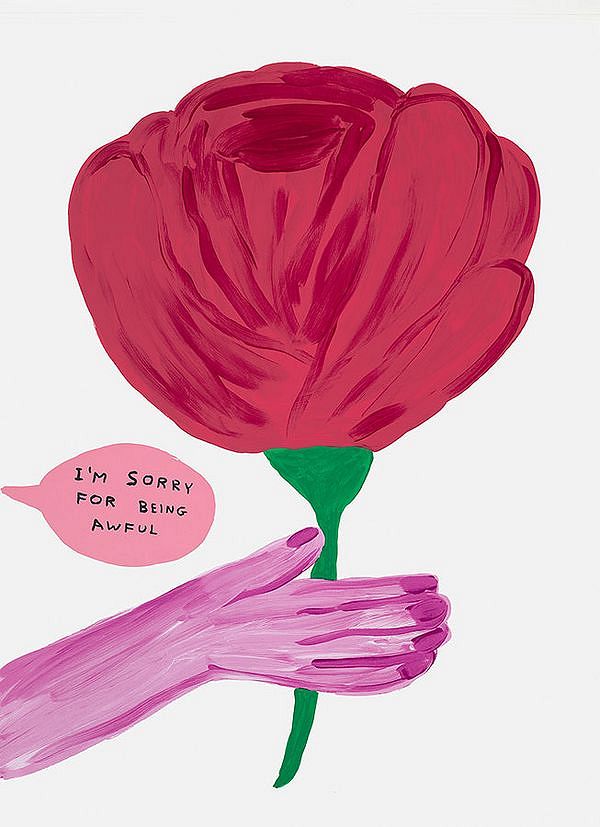 David Shrigley, I'm Sorry For Being Awful, 2018. Editions London. Sold for £3,528.
In imagining the role of flowers in the everyday lives of some of our favorite artists, David Shrigley was our perfect apologist: There's something to be said for the single-flower apology. A bouquet – for the righteous few who have never had to grovel at the feet of love – spreads atonement thinly and mawkishly over a dozen stems, turning an intimate whisper into a waving shout over a crowd. No one ever means it with a bouquet.
Favorite Accessory: Van Cleef & Arpels' Precious Puppy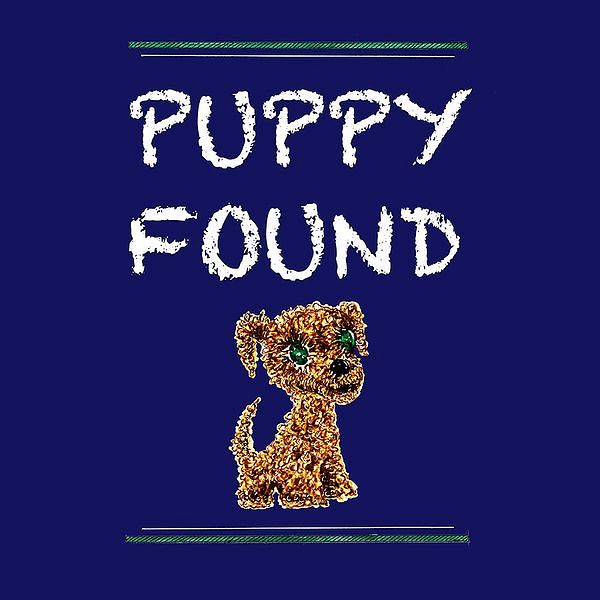 Van Cleef & Arples, Gold, Emerald, and Onyx Brooch, 'Puppy', circa 1960. Jewels New York. Sold for $78,120. Illustration: B. O'Brien.
In the feel-good story of the year, Van Cleef & Arpels' missing Precious Puppy was finally found. But the question is: where in the world had he been? Phillips' Jewels New York team investigated the whereabouts and world travels of this precious pup.

Favorite Short Story: "Alma and The Night"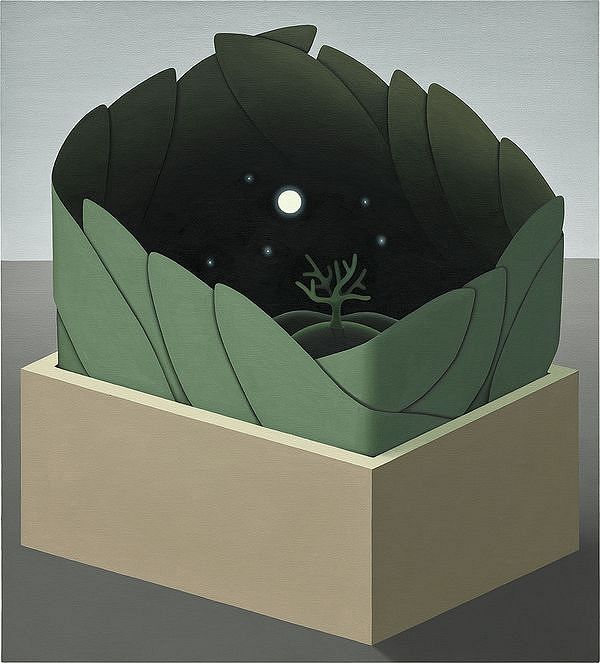 Emily Ludwig Shaffer, Bay Leaf Wrapped Night, 2018. New Now New York. Sold for $40,320.
From The Prompt, Marie-Helene Bertino served up a recipe for magic realism inspired by Emily Ludwig Shaffer's Bay Leaf Wrapped Night.
Discover More from The Prompt: A Short Fiction Series for Authors Inspired by Artists >
Favorite Dinner Host: Wifredo Lam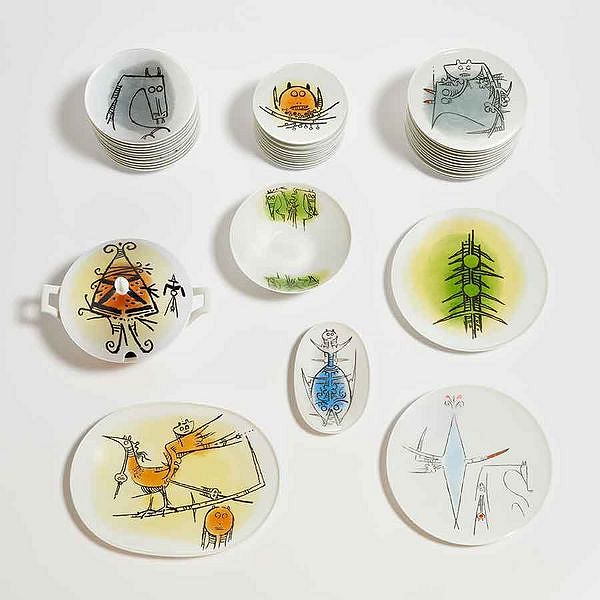 Wifredo Lam, Porcelain Dinner Service Set, circa 1970. Editions Southampton. Sold for $27,720.
In theory, any Surrealist dinner is a potluck, isn't it? There's only so much the host can do to prepare when the guests aren't exactly reading Emily Post's etiquette books, so the key is to be open and convivial. And there's the doorbell. It's André Breton, of course.
Favorite Zodiac Sign: The Tiger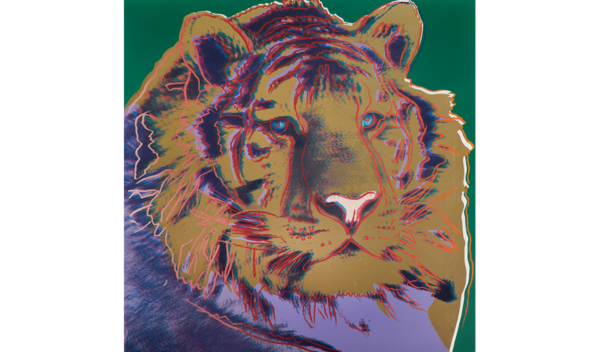 Andy Warhol, Siberian Tiger, from Endangered Species (F. & S. 297), 1983. Editions & Works on Paper New York. Sold for $403,200.
2022 marked a ferocious year, and in this Year of the Tiger, we celebrated the bold and adventurous artists who emulate the Chinese zodiac's fiercest creature.
Favorite Band: The Beatles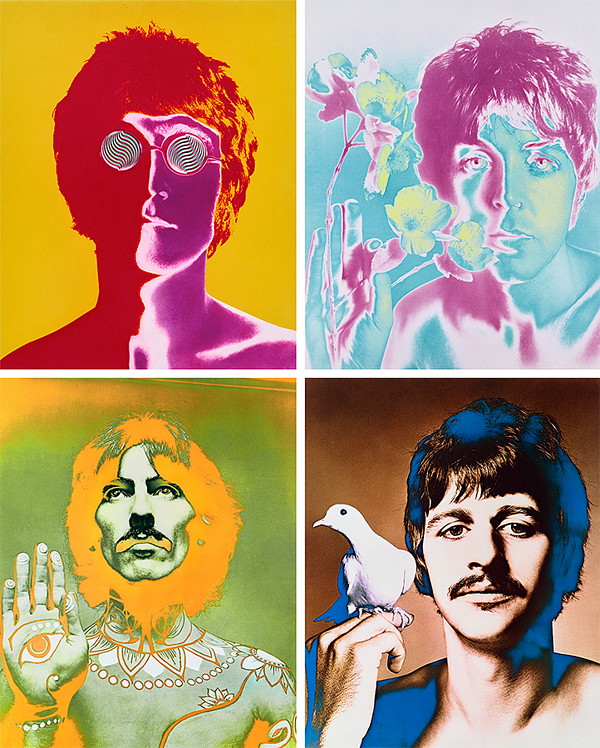 Richard Avedon, The Beatles Portfolio: John Lennon, Ringo Starr, George Harrison and Paul McCartney, London, August 11, 1967. © The Richard Avedon Foundation. Photographs London. Sold for £809,000.
Issued in a discrete edition and rendered in the intensely saturated colors of the dye-transfer process, Richard Avedon's portraits of The Beatles leverage the photographer's unfailing eye for the cultural moment and capture the genre-defying impact of four of the 20th century's most significant musicians. The musicians and the photographer were at the height of their abilities when they came together in a penthouse studio in Thompson House, London, in August of 1967, to make these images, and the resulting portraits represent a collaboration of visionary proportions.
Recommended Reading
Top Lots: Phillips 2022 in Review >
Phillips 2022: Best Year Ever >