Wifredo Lam, Porcelain Dinner Service Set, circa 1970. Editions Southampton.
Among the great and perhaps underappreciated multi-disciplinary artists of the 20th century, Wifredo Lam seamlessly blended elements of Cubism, Surrealism, and Afro-Cuban art in a fluid practice that encompassed painting, sculpture, printmaking, and ceramics. Born in Sagua la Grande, Cuba, Lam was of mixed Chinese, European, Indian and African descent, and the artist's own background informed his unique, hybrid style. He synthesized abstraction and figuration, myth and the everyday, forming a syncretic visual language that juxtaposed human elements with plants and animals in anthropomorphic ways, contrasting dense compositions and simple forms to magical effect. While a student in Spain, Lam met Pablo Picasso, who would go on to become a great supporter and mentor, introducing him to the artists and writers of the time. Lam's time in Europe expanded the framework of Surrealism while developing his own polymorphic methods of figuration and abstraction with of Afro-Cuban and Surrealist influences.
Lam's Porcelain Dinner Service Set is a brilliant example of his melding of genres into a singularly progressive style. This signed and numbered edition of one hundred set of forty-two porcelain dishes, produced by FAC/ACF, Fabbrica Albissola Ceramiche, is impressive for its range of colors and forms, spanning from Cubist shapes to Surrealist characters and all housed on traditional dinnerware as an almost inversion of the formal evening service. With that in mind, let us imagine a dinner with some of the artists Lam encountered during his years abroad, using the Porcelain Dinner Service Set as the table setting. In theory, any Surrealist dinner is a potluck, isn't it? There's only so much the host can do to prepare when the guests aren't exactly reading Emily Post's etiquette books, so the key is to be open and convivial. And there's the doorbell.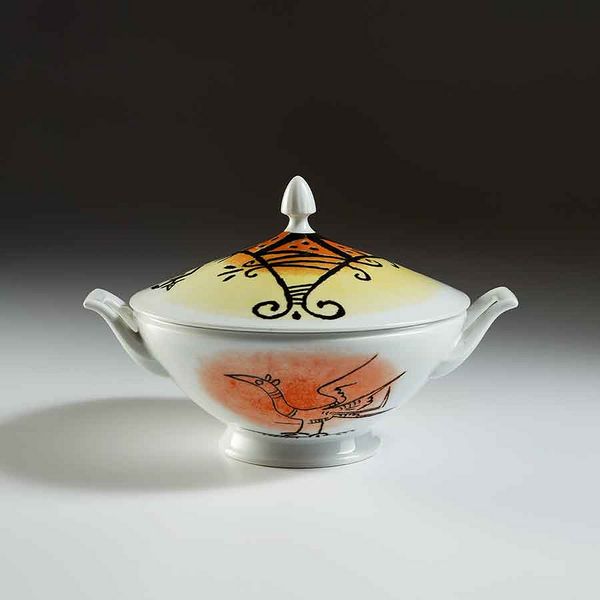 Wifredo Lam, Porcelain Dinner Service Set (detail), circa 1970. Editions Southampton.
André Breton arrives first and gravitates toward the tureen – not because of its colorful similarity to the cover of his most famous novel, Nadja, but rather owing to the name of the lidded ceramic piece, and the writer has come to play word games. Tureen, he says, comes either from the archaic French terrine, a kind of circular dish, or perhaps in honor of the great 17th century marshal Turenne. So, then: something ancient, or something militaristic. Ah! Why not both? A Trojan Horse! In this innocuous vessel he will hide the – and he pauses for effect – fire of war. All this to say he has brought a spicy soup.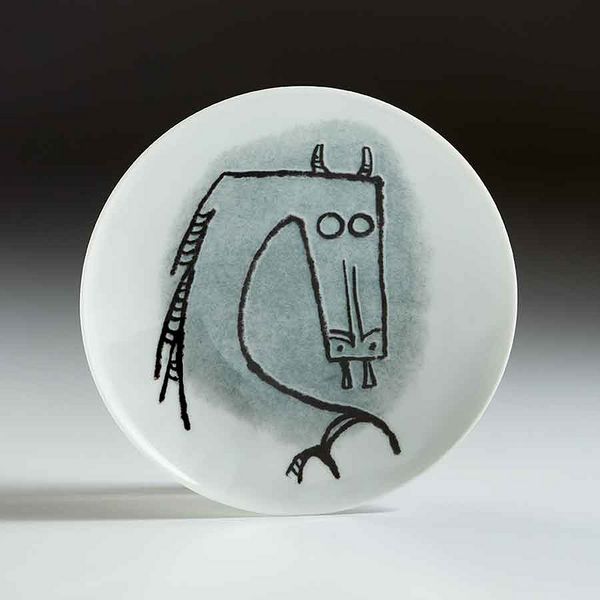 Wifredo Lam, Porcelain Dinner Service Set (detail), circa 1970. Editions Southampton.
There's a clattering noise outside the door, followed by the unmistakable sound of an oaken cane punching along a foyer. It's Salvador Dalí, being led by a phalanx of lobsters. None are to be eaten; all are to be seated. His contribution is a set of twelve confectionary windmills for the guests to enjoy between courses, and only if they are served on the horse plates. There is but one horse to the Surreal mind, he claims, and that is the great Rocinante. For it is not feet which lead Don Quixote to the giants, but hooves, and it is not his strength that powers his lance, but the momentum of his horse. The animal is a force-multiplying machine unlike any other, and to defeat these giants on these plates is to share the victory.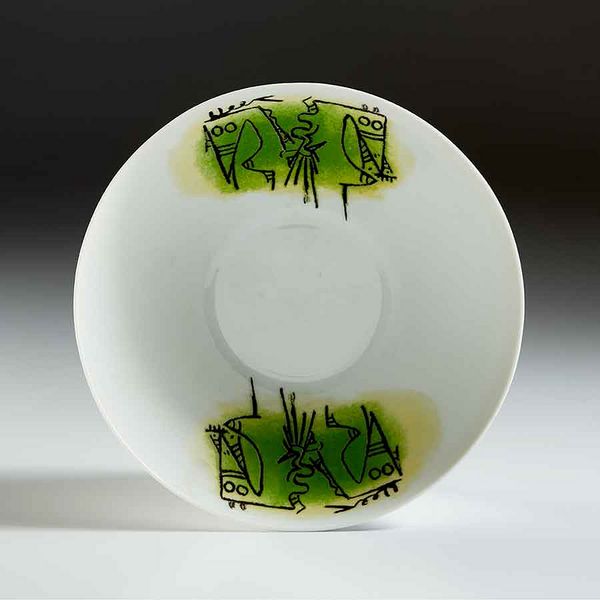 Wifredo Lam, Porcelain Dinner Service Set (detail), circa 1970. Editions Southampton.
As something of the elder statesman of the dinner party, Pablo Picasso finds Dalí's statement myopic. In addition to Rocinante, he says, there are three more to consider: Hippocampus, who led Poseidon's chariot, Pegasus, and Marengo, Napoleon's warhorse. These are the horses of sea, air, and land, with Cervantes' providing one for the frontier of the mind. Which is why he brought a meal that comprises all four locations: Catalan sausage with fish, beans, and a handful of grapes plucked from a vine hanging in the wind; something simple but meaningful, easy to eat and digest, and perfect for a small bowl with a little bread to soak up the sauce.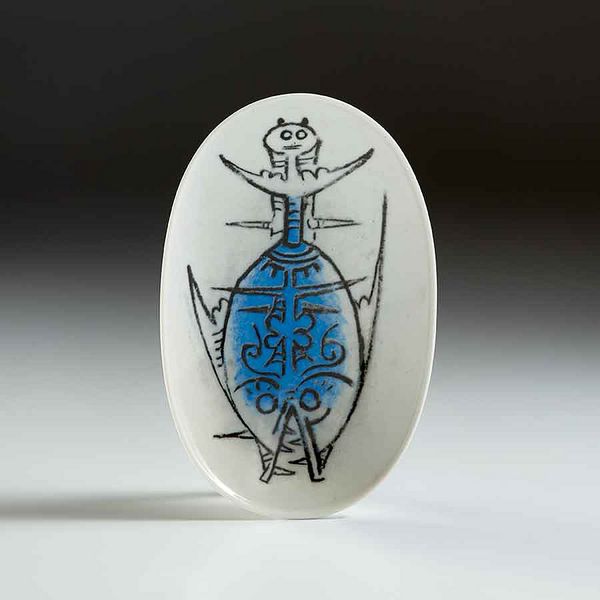 Wifredo Lam, Porcelain Dinner Service Set (detail), circa 1970. Editions Southampton.
René Magritte took the late train from Brussels and crashed right through Gare Montparnasse, but still managed to take in the sights before dinner. He arrives with fish caught straight from a particularly overcast sky, which he says gives them a more robust, oily flavor that pairs well with Pinot Gris. Careful not to submerge them, as they will drown. They need a little air and their gills need to decant after falling out of the clouds. Still, though, he will accept any serveware, as long as the dishes are face-down and the food is facing away from the guests.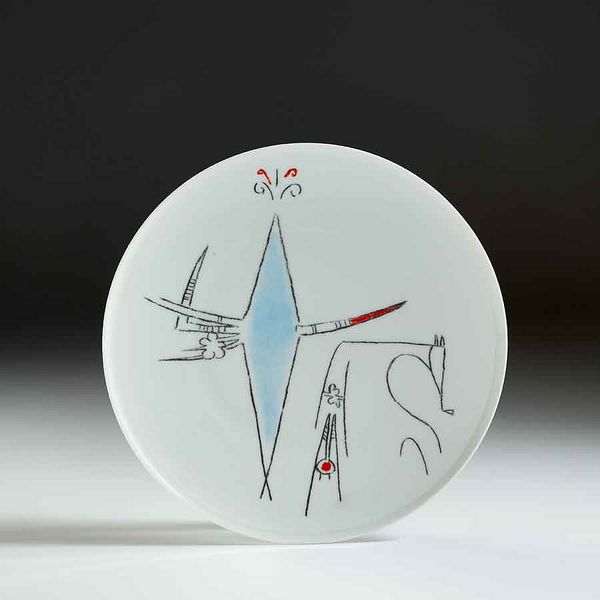 Wifredo Lam, Porcelain Dinner Service Set (detail), circa 1970. Editions Southampton.
Last to arrive despite living the closest is Max Ernst, who needs a hand with his valise. It's filled with various mollusks, from periwinkles to conches, and what looks like a hundred or so unidentifiable bivalves, which he says aren't for eating, they're for a painting idea. He likes the sky-blue of the serving plate and thinks the shells will stand out nicely arranged around it. By this point the others are getting hungry and restless, save for Picasso, who ate beforehand, knowing full well how the evening would go. Before he can get started, though, Dalí's lobsters have noticed their favorite snacks and swarm Ernst's bag. They tear through the leather and knock over a candelabra, starting a small but contained fire in the corner of the room. Rather than tend to it, the artists all set up their easels.
---
Recommended Reading