Austyn Weiner, Working Through Not Knowing A Damn Thing About Any Thing, 2020. 20th Century & Contemporary Art Evening Sale, London.
Austyn Weiner
Executed on a monumental scale, Working Through Not Knowing a Damn Thing About Anything marks the Evening Sale debut of artist Austyn Weiner. With a background in photography, Weiner works across a wide range of mediums — including oil paint, crayon, and charcoal — to deconstruct physicality and feeling into sensual forms. Driven by an autobiographic urge, her supercharged palette references the richly saturated colors of her childhood in Miami. Weiner studied photography and painting at the University of Michigan before relocating to Los Angeles in 2016, where her painterly language embraced a more expressive mode of abstraction. "Most of the time, I approach a painting with no idea as to what it will be," she says. "But once in a while it hits like an arrow, and I know exactly what this work needs to become." Weiner's work has been the subject of several solo shows, including her first solo show at Journal Gallery in New York in 2019, and most recently at Carl Kostyál in London and Bill Brady Gallery in Miami.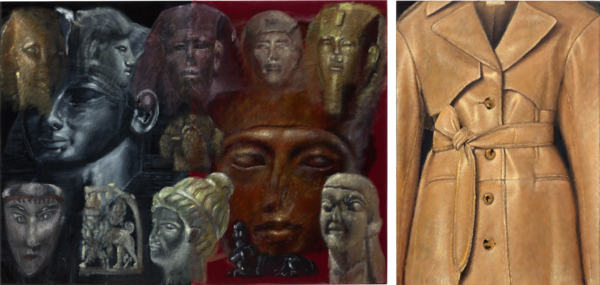 Issy Wood
An interdisciplinary artist at the vanguard of the 21st century's revival and reinterpretation of Surrealist themes and motifs, London-based Issy Wood specializes in making the familiar strange. At once utterly contemporary and out of time, her canvases make surprising juxtapositions between temporalities, compounded by the artist's use of her grandmother's ornaments, old auction catalogues, iPhone photographs, and music as her source material. "Both painting and producing music deal with layers, scrapping the parts you don't want, and happy accidents," she says. A child of the 1990s, she is well-schooled in the constant flow of decontextualized images and information that characterizes the digital age, resulting in darkly imaginative paintings that have brought notable critical acclaim. Wood earned her BA in Fine Art and History of Art at Goldsmith's in 2015 and an MA from the Royal Academy Schools in 2018, during which time she staged her first solo show at Carlos/Ishikawa in 2017. Wood's work has since been shown at Beijing's X Museum, as well as in a solo show at JTT in New York in 2020.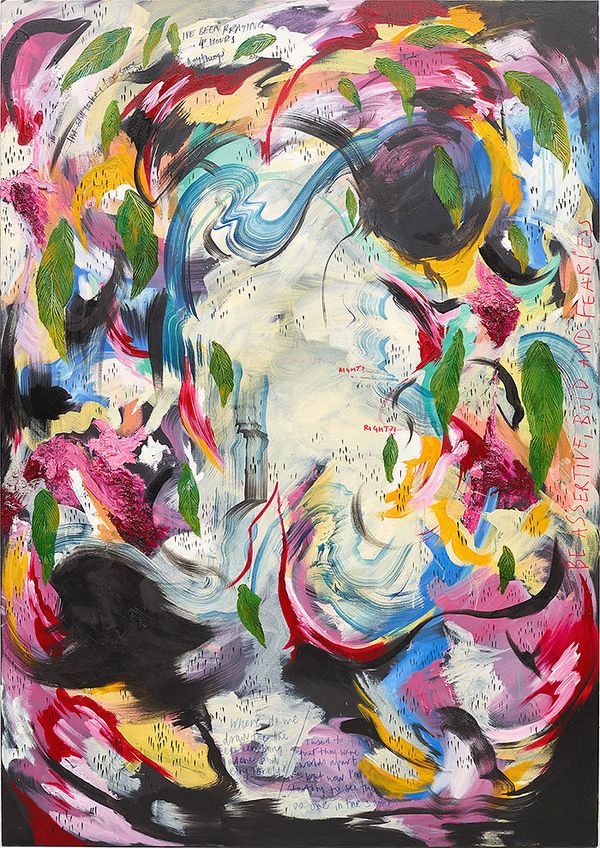 Michaela Yearwood-Dan
Diaristic and deeply personal, British artist Michaela Yearwood-Dan's paintings record her reflections on race, class, and gender, and environmentalism. She incorporates botanical motifs and forms in lush, all-over environments that are as contemplative as they are visually compelling. Seen here, Coping Mechanisms is a work of high intensity that combines text and gestural mark-making in exuberant and expressive passages of vibrant color. Yearwood-Dan's large-scale canvases nod to the all-over compositions of Cy Twombly, although where Twombly's references looked back to a classical past, Yearwood-Dan's are rooted firmly in the present moment, incorporating song lyrics, drafted notes of text messages never sent, and her "conversations" with Apple's virtual assistant, Siri. "I'm most proud of my choice to move away from figurative work, to integrate text and make my vulnerability visible to my audience," she says. Yearwood-Dan has been celebrated with several solo exhibitions between New York and London. This year, Tiwani Contemporary celebrated the artist with a solo exhibition, and in 2021 she was the subject of another solo exhibition at Marianne Boesky Gallery.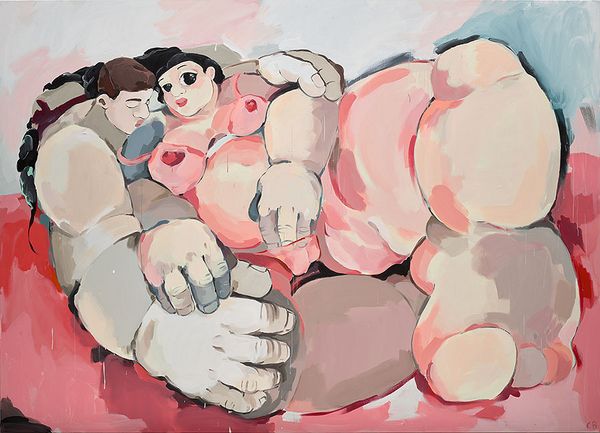 Cristina Banban
Spanish artist Cristina BanBan's evocative portrayal of the female form celebrates women and the spaces they occupy. Depicting her subject's bodies as enveloping the entirety of the canvas, BanBan subverts established notions of patriarchy and confronts the traditional male gaze. Her works combine classical training from the University of Barcelona with an interest in Japanese Anime to stylize and enlarge aspects of the body in an expressive representation of complex emotions. "Hands are my favourite part of the human body, after the teeth," she says. "Playing with hands brings movement into the painting. It doesn't matter if the subjects are in relaxed positions, hands always create a dynamic composition." Currently based in New York City, BanBan has quickly attracted international praise with exhibitions worldwide, including multiple solo exhibitions at Perrotin in Shanghai in 2021 and Perrotin in Paris in 2022. BanBan recently set her personal auction record at Phillips's March 2022 auction in London.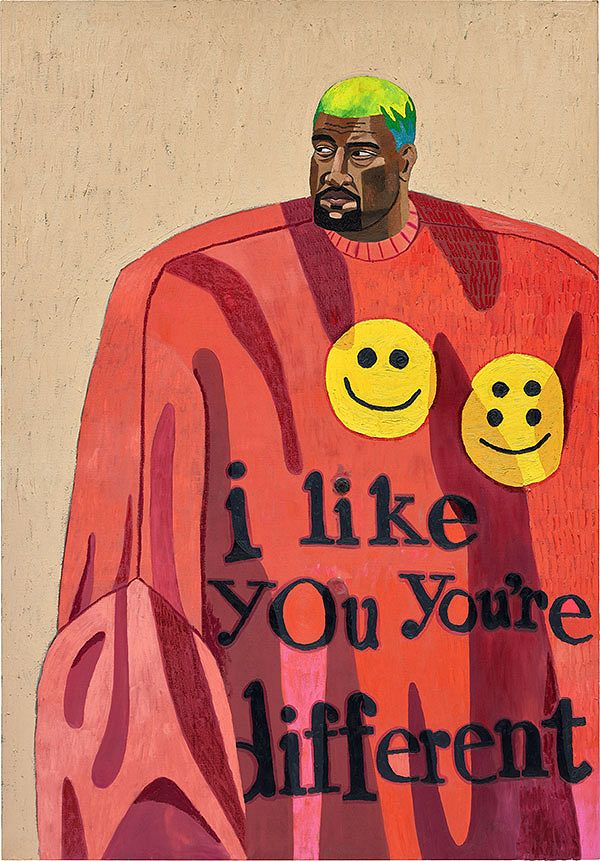 Julian Pace
Based in Los Angeles, self-taught artist Julian Pace's interrogates themes of celebrity worship, identity, and self-absorption through large-scale portraiture. In both their treatment and content, Pace's portraits clearly demonstrate his deep interest in art history and the figure of the artist, underpinned by several formative years spent in Florence. Working primarily in traditional mediums and within the historical contexts of the genre, Pace places his portraits of contemporary celebrities alongside reinterpretations of some of the most immediately recognizable images from the Western art historical canon. "I think I'm more interested in the human form and the people rather than who they are necessarily," Pace says. Marking the artist's auction debut, the present work portrays Kanye West through Pace's characteristically exaggerated proportions, bold angularity, and highly textured application of paint. Included in his recent exhibition "Julian Pace: Some Paintings" at Simon Simchowitz Gallery in October 2021, Pace's portrait of West captures both the graphic quality of his practice and the intersection of traditional conventions of portraiture and mass media.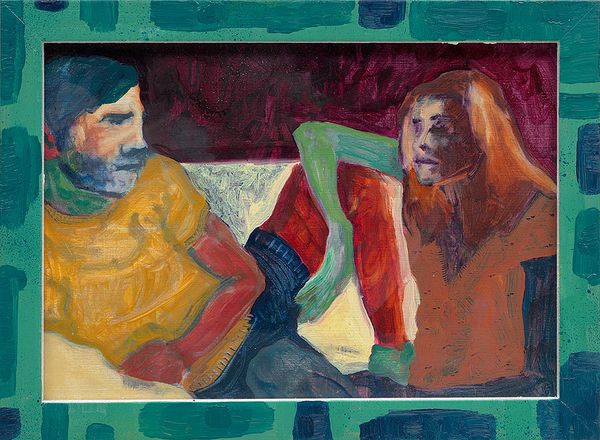 Antonia Showering
Stylistically recalling the dreamlike landscapes of Hurvin Anderson and Peter Doig, British artist Antonia Showering's paintings play with personal memories, merging meaningful moments over into shifting emotional landscapes. "My paintings try and explore how memory works through stacking lots of recollections on top of one another," she says. Built up in velvety layers, her paintings often feature figures drawn from her family and those she has loved, not reflecting a physical likeness but recording the impressions of deep feelings and desires. Disarmingly intimate and pervaded by a poignant nostalgia, Showering balances emotion with an interpretative openness, endowing her figures with ambiguity. Living and working between London and Somerset, Showering earned an MFA from the Slade School of Art, London in 2018 and a BA (Hons) from City and Guilds of London Art School in 2016. Recent exhibitions of Showering's work include an online solo presentation with White Cube in 2020 and this year's solo exhibition "Mixed Emotion" at the Timothy Taylor gallery.
Discover More from 20th Century & Contemporary Art >
---
Recommended Reading
The Rothko Effect: Why Does Art Move Us? >