Pat Phillips, A Horse With No Name, 2019. New Now New York.
Pat Phillips
Pat Phillips' A Horse With No Name may be read as referencing the popular 1972 song by folk band America — an apt parallel for an artist examining his experiences as a Black man in the American South. Born in England and raised in Louisiana, Phillips combines his background as a graffiti artist with a focus on figuration to create surreal canvases layered in symbolism and meaning. The result is both intimate and universal, addressing personal and shared narratives of race and class. "My interest in cultural and subcultural Americana is not only a way to have more inclusive conversations through recognizable imagery," he says, "but a way to address our own ignorance." Phillips quickly gained recognition in 2019 when he was included in that year's Whitney Biennial. Earlier in 2022, his work was the subject of Consumer Reports, a exhibition scrutinizing the wealth gap and society's relationship to goods, at the Jeffrey Deitch gallery.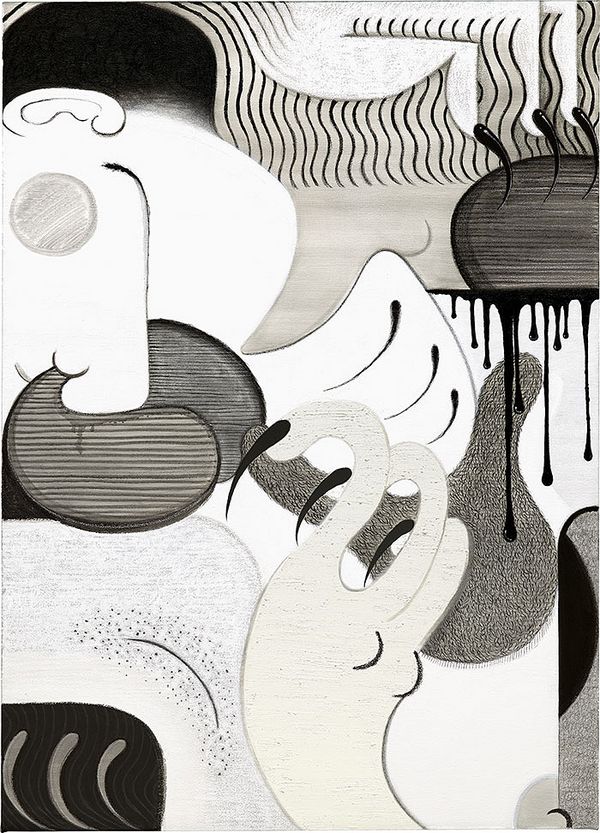 Cindy Ji Hye Kim, Sore Throat, 2018. New Now New York.
Cindy Ji Hye Kim
At once sinister and amusing, the complex works of New York-based artist Cindy Ji Hye Kim explore personal psychological narratives — memory, fate, light vs dark, humor vs horror — which she renders with a playfully animated hand. Trained at the Rhode Island School of Design and the Yale School of Art, Kim creates her darkly poetic imagery in grisaille, a monochromatic drawing method traditionally associated with engraving. In Sore Throat, she combines multiple painterly and illustrative mediums: oil, acrylic, ink, charcoal, and graphite. "I think graphite has a wonderful combination of both shyness and aggression compared to other colors," Kim says. "It shines and fades in unexpected places." Earlier this spring, Kim made her auction debut at Phillips in London following a sprint of recent solo exhibitions, including at Rodolphe Janssen and Casey Kaplan.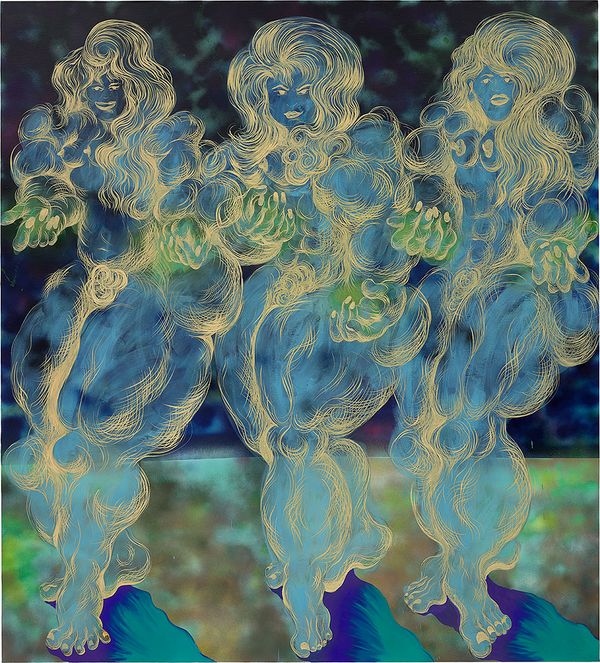 Ana Benaroya
Recontextualizing the trope of the female nude, Ana Benaroya paints vibrant, muscular figures imbued with a sense of strength and desire. Her style is rooted in a love of classic comics and cartoon characters, like Spider-Man and the Teenage Mutant Ninja Turtles, which she juxtaposes with traditional notions of femininity. "These characters I paint, there's nothing bashful about them," the artist says. "Their bodies exist exactly as they want them to. Their limbs have no limits; they have no shame." An MFA graduate of Yale, Benaroya currently works from her studio in Jersey City, New Jersey, with recent shows at Venus Over Manhattan and the Green Family Art Foundation in Dallas, Texas.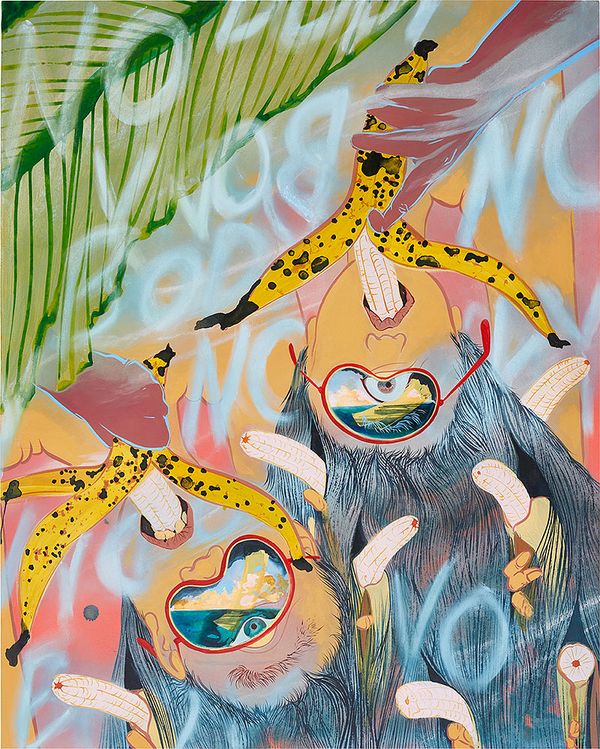 Tammy Nguyen, Upside Down and Eating, 2018. New Now New York.
Tammy Nguyen
Multimedia artist Tammy Nguyen works at the intersection of visual and written language, drawing from her own writing to examine the connections between myth, history, and geopolitics. Her dense, graphic canvases, like Upside Down and Eating, engage with cultural and political structures by obscuring the divide between subject and environment, fiction and truth. Originally from San Francisco and now working in New York City, Nguyen received her BFA from Cooper Union and MFA from Yale, which she followed with a Fulbright scholarship to study lacquer painting in Vietnam. In 2016, Nguyen founded Passenger Pigeon Press, an independent imprint dedicated to artist books and cross-disciplinary projects. Now represented by Lehmann Maupin Gallery, Nguyen recently featured in Wonder Women, an exhibition of works by Asian American and diasporic women and non-binary artists, at the Jeffrey Deitch gallery. She is currently showing at the 2022 Berlin Biennale.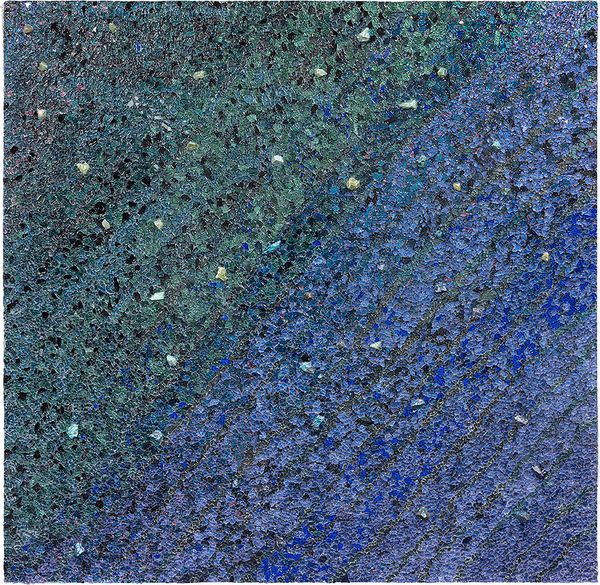 Alteronce Gumby, I heard colors, I saw songs, 2021. New Now New York.
Alteronce Gumby
Bronx-based artist Alteronce Gumby challenges his viewer to reconsider accepted meanings of light, color, and materiality — particularly historical narratives of the color black. "It's culture, it's my family, it's music... I started really thinking about how [artists] have portrayed the color black and how art history has been dealing with the color, especially in a monochromatic sense," Gumby says. His work destabilizes not only societal norms, but scientific and spiritual considerations as well, based in his theories of energy and the cosmos. Inspired by Sir Isaac Newton's discovery of natural light filtered through a prism to create a rainbow, Gumby incorporates ground glass into his paints — often applying the pigment to his canvasses directly with his hands — to distort the changing conditions of light. In I heard colors, I saw songs, he further enhances the effect with gemstones. Gumby graduated from the Yale School of Art and recently opened his first solo show, The Color of Everything, at Nicola Vassell Gallery in New York City.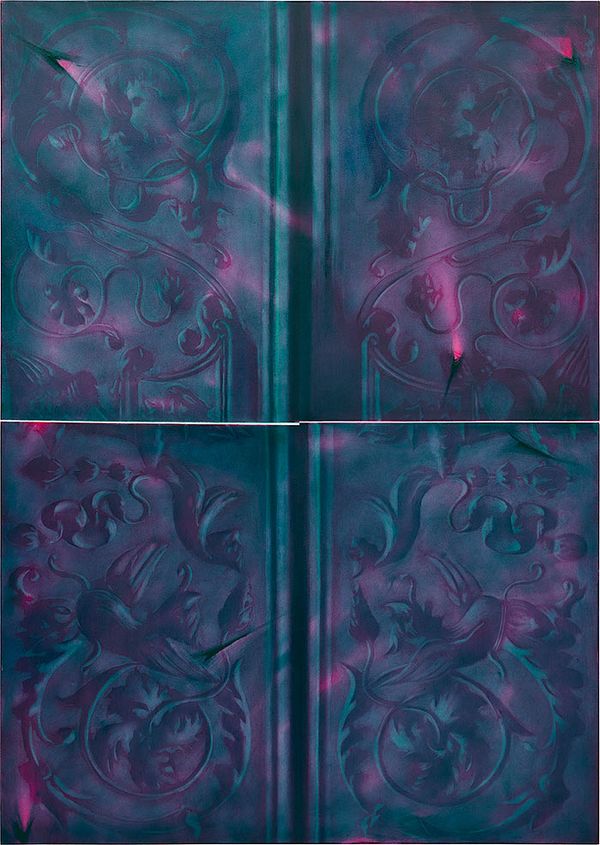 Louise Giovanelli
Light also plays a central role in Louise Giovanelli's work. Her paintings often reflect the sheen of everyday objects derived from images she sources from film stills, social media, classical sculpture, and architecture. For each canvas, Giovanelli builds up to six layers of paint, a process that she explains "is quite similar to that of the Old Masters, with a thin glaze of underpainting, which, when left untouched, lets light reflect through the white gesso." Rather than recalling the Old Masters however, Giovanelli's works offer a new way of looking at the canon of Western art — cropping her subjects into repeated motifs to imply a lack of access, intentionally ambiguous and open to narrative interpretation. After studying at Städelschule in Frankfurt am Main in 2020, Giovanelli recently exhibited at White Cube and GRIMM Gallery. She lives and works in Manchester, UK.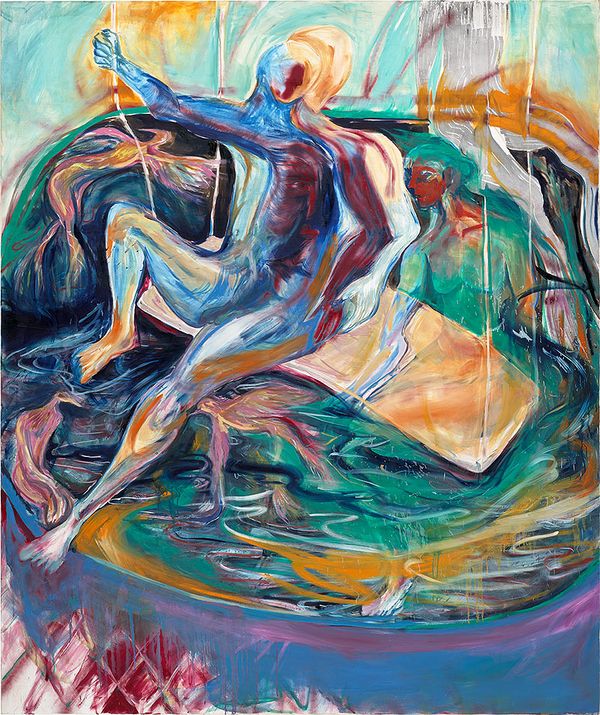 Kristy Chan, The Bathtub I've Always Wanted No. 15, 2019. New Now New York.
Kristy Chan
Split between Hong Kong, where she was born, and London, where she studied, Kristy Chan investigates ideas of movement, sensation, and change. Her work documents how the immediate environment shapes her subjects — whether figures or fabricated objects, such as the bathtub in The Bathtub I've Always Wanted No. 15. She aims to capture a sense of spontaneity, guided by the experiences of the moment in which she is working, a practice she describes as "appreciating things around you and also appreciating weird and random thoughts that you have, because that is creativity right there, and you just have to harvest it." Chan received her MA at Sotheby's Institute of Art, and this year follows recent group exhibitions — including our New Romantics show in Seoul — with residences at CoGalleries in Berlin and The Cabin in Los Angeles.
---
Recommended Reading
The Rothko Effect: Why Does Art Move Us? >
The Art Lover's Guide to Porto >