By Arthur Touchot
Listening to Rolex enthusiasts talk about their favorite Daytona models can be a little intimidating. Actually, it's downright confusing. What do big red floating pandas have to do with Rolex's chronograph? Nothing, really, but learning how to speak 'Daytona' is crucial if you want to understand what makes one model different from another, especially since the features these words define provide clues about when the watches were made, and where they were delivered. We thought we'd go through some of the highlights from Daytona Ultimatum to explain where these terms come from, and what they actually mean. You'll see it's actually pretty straightforward.
Big Red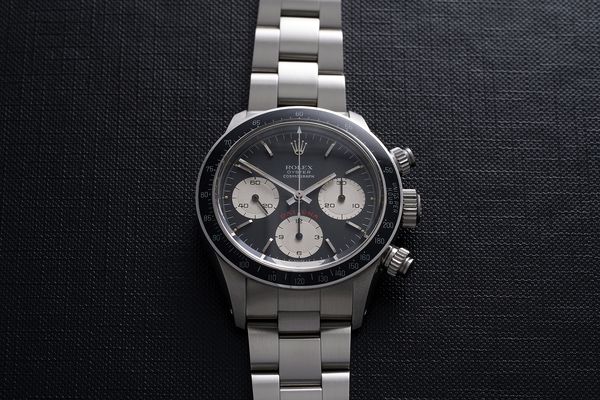 'The Big Red' Ref. 6263 is lot 22 of the Daytona Ultimatum auction
One of the most beloved features in the Daytona family is the red 'Daytona' signature found on the dial above the sub-dial with hour counter at 6 o'clock. Found on both the black and silver dials of later examples of the references 6263 and 6265 with screw-down pushers, they are known as 'Big Red' Daytonas. Highly sought after and collectible, it's one of many eye-catching details that pretty much defines Daytona collecting.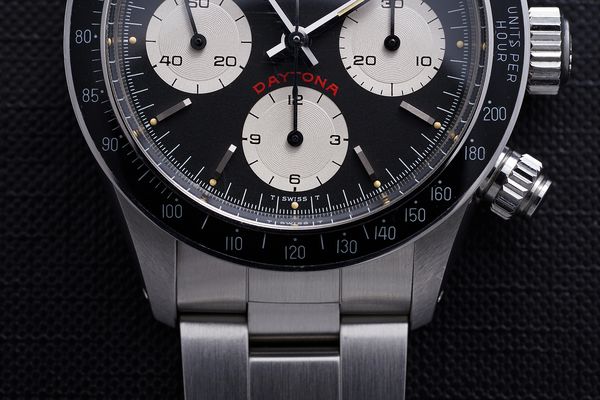 Double Swiss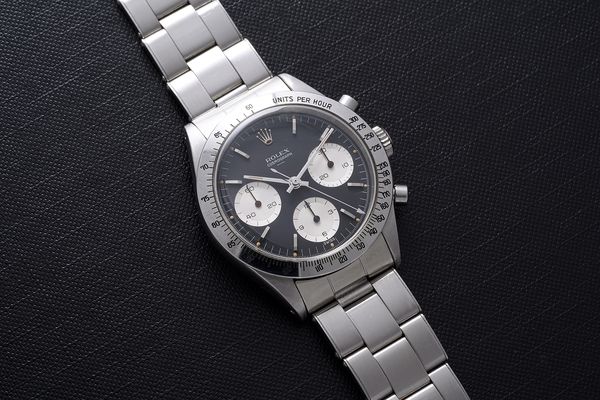 'The Ancestor' Ref. 6239 is lot 23 of the Daytona Ultimatum auction
Seen on the earliest examples of the Cosmograph Daytona launched in 1963, a 'Double Swiss' is a dial that has been stamped twice because the large bezel of the new Cosmograph covered the part of the dials which had been previously stamped with a "Swiss" designation — incorrectly confirming to the design specifications of the pre-Daytona reference 6238. Rolex had to re-print these dials with an additional "Swiss" designation in order to be visible. Today, these "Double Swiss" dials are very collectible, as it signals very early examples of the coveted reference 6239.
Floating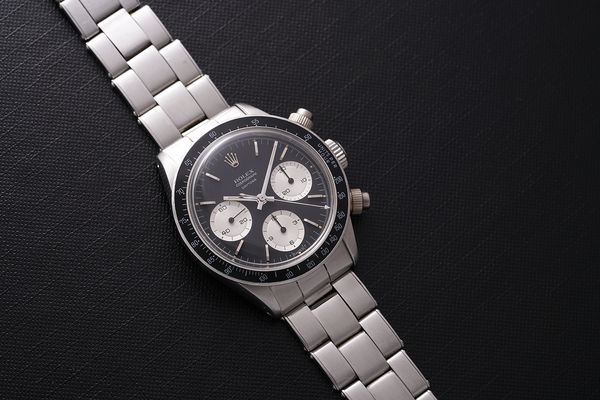 'The Greystone' Ref. 6240 is lot 11 of the Daytona Ultimatum auction
A line of text is 'floating' when it appears to be detached from other text, such as the Rolex signature, at 12 o'clock. The term is typically used for dials with a floating 'Daytona' but can also be used when other lines of text are detached, such as the floating 'Cosmograph' designation in the earliest examples of the first self-winding Daytona — the reference 16520. Dials with a floating 'Daytona' are extremely desirable because there are so few examples.
JPS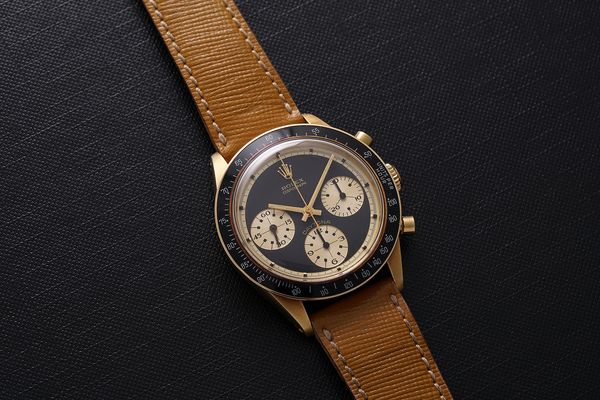 The 'John Player Special' Ref. 6241 is lot 24 of the Daytona Ultimatum auction
A "John Player Special" is a Daytona made in yellow gold and fitted with a black 'Paul Newman' dial with gold script. These are incredibly rare, and beautiful, and have nothing to do with John Player & Sons per se. Instead, they are so named because these colors are reminiscent of the color scheme on the Lotus Formula 1 cars of the 1970s, which were then sponsored by cigarette maker Imperial Tobacco, which owned the John Player & Sons label.
"Oyster Sotto"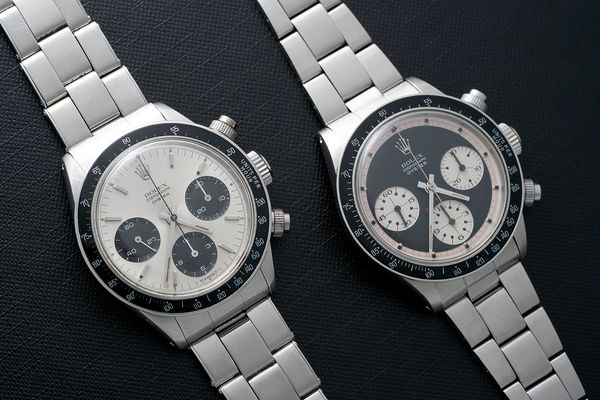 'The Oyster Sotto' Ref. 6263 (right) is lot 14 of the Daytona Ultimatum auction
It just wouldn't be a complete list without a little Italian. "Oyster Sotto" literally means "Oyster Underneath" and it is used to describe a 'Paul Newman' Daytona dial that has the Oyster designation beneath the word "Cosmograph" at 12 o'clock. Sounds basic, but it also happens to be the configuration of the very first Paul Newman-style dials made for Oyster-cased Daytonas, so owning a watch with that dial is a sign that you're in the know.
"Oyster Split"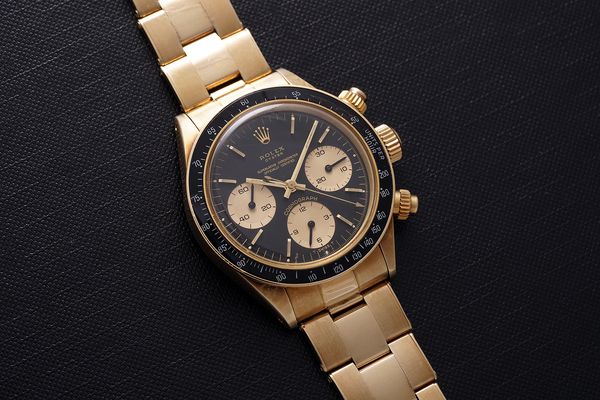 'The Staccato' Ref. 6263 is lot 28 of the Daytona Ultimatum auction
If there's one thing that Rolex enthusiasts obsess over, it's the position of the lines of text on a dial. We've already discussed single line breaks, or 'floating' Daytonas. Here's another configuration, with gaps between multiple lines of text. Known as an "Oyster Split", this type of dial found on some gold Cosmograph Daytonas, which also features a smaller "Oyster" designation, is among the rarest type of Daytona dial.
Paul Newman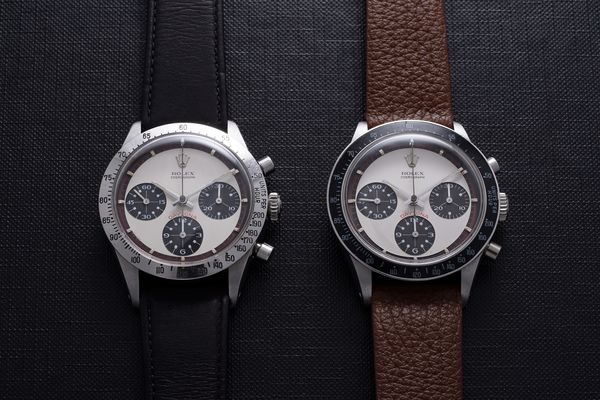 A Paul Newman dial is a type of dial made specifically for the Daytona, which Rolex used during a short period of the model's production cycle. Called 'exotic' dials by Rolex, they were made by Singer, a dial manufacturer, and they came in multiple styles. For steel watches, they were predominantly offered either in black with white sub-registers or in white with black sub-registers. These were distinct from the classic Daytona dials in many ways, from the type of font used for the numerals to the sunken outer seconds track that matched the color of the subdials (with red seconds track on the earliest examples). These dials became known as 'Paul Newman' dials after images of the American actor wearing a reference 6239 with an exotic white dial motivated the growing wristwatch collecting community to name them after the famous actor in the mid-1980s. That very watch became the world's most expensive wristwatch sold at auction after Phillips in Association with Bacs and Russo sold it for $17.8M in November 2017.
Panda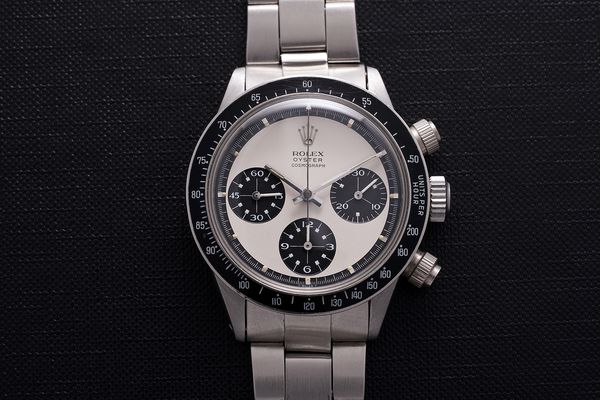 'The Ricciardi Panda' Ref. 6263 is lot 17 of the Daytona Ultimatum auction
Today, the word 'Panda' is used to describe any chronograph dial that is white with black sub-registers, since those features resemble a panda's face, but when it comes to the Daytona (which is defined by its use of contrasting black and white colors), the term applies ONLY to reference 6263 or reference 6265 models fitted with a white Paul Newman dial with black sub-dials and white outer seconds track. That's it. Other Daytona watches with that same configuration don't get to be called after the black and white bear.
Retailer-Signed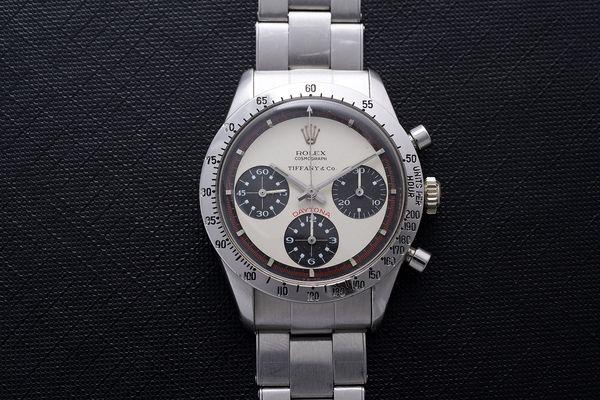 This Tiffany signed Ref. 6239 is lot 218 of the Geneva Watch Auction: SEVEN sale
A Daytona is 'signed' when it features the name of the retailer through which the watch was originally sold. The most well-known signature is the Tiffany & Co. stamp, used when a watch was sold via the New York-based jeweler. However, Rolex sold watches via other famous retailers in order to increase their market reach, including Serpico Y Laino in Venezuela and Joyeria Ricciardi in Argentina. Not all watches sold through retailers have stamps on the dials — which is precisely what makes these valuable. Adding even more appeal and interest, many of these watches feature hand-engraved inventory numbers on the underside of their lugs.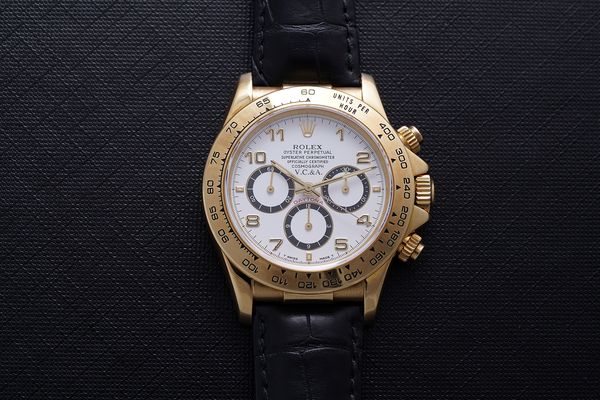 'Le Roi Soleil' Ref. 16518 is lot 18 of the Daytona Ultimatum auction
Sigma Dial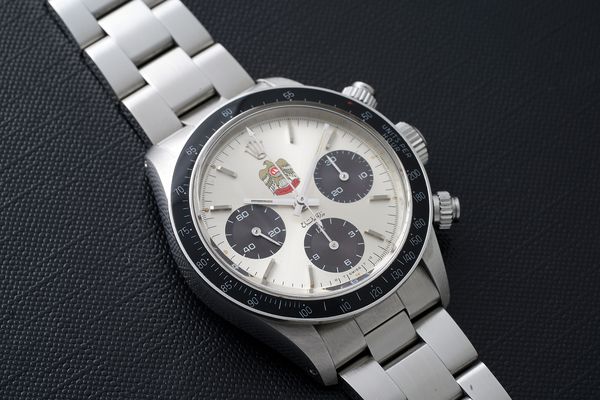 The 'Quraysh Hawk' Reference 6263 is lot 13 of the Daytona Ultimatum auction
A 'Sigma Dial' is a dial with indexes and hands made from solid gold. Sigma dials can be fitted on stainless steel or gold models. A sigma dial is always identified by the presence of small Greek 'Sigma' letters surrounding the "Swiss" or "Swiss Made" indications. Only watchmakers belonging to l'Association pour la Promotion Industrielle de l'Or (APRIOR) chose to distinguish such dials with Sigma letters.
Tropical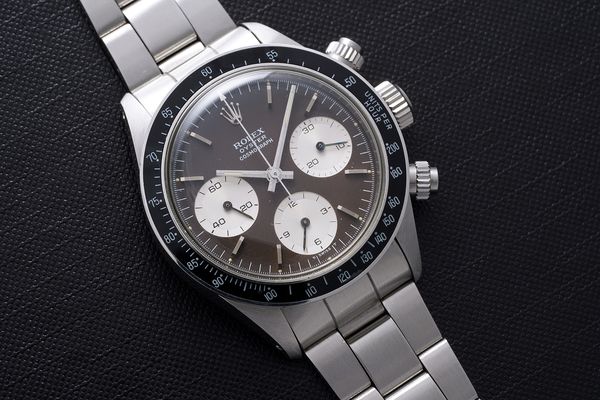 The 'O Paulistano' Ref. 6263 is lot 16 of the Daytona Ultimatum auction
A dial becomes 'tropical' when its color changes from black to brown, and yes, technically this is a type of aging or non-humidity-based deterioration of the dial sometimes caused by UV rays, but Rolex collectors don't care because they pretty unanimously agree that 'tropical' dials are visually more interesting and appealing. It's important to note that all dials that are partially black can go tropical, so a Daytona with a black dial and white sub registers can be a tropical Daytona, but so can a Daytona with white dial and black sub registers.
Underline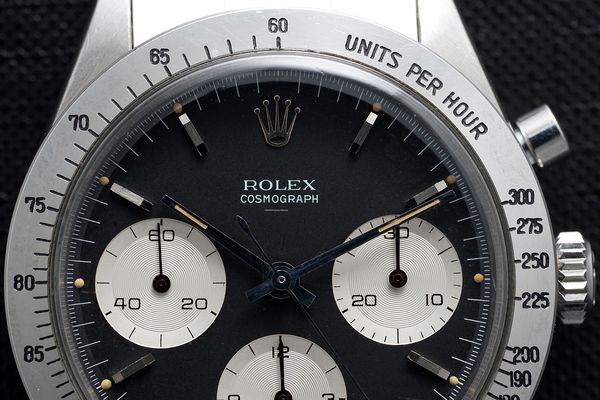 'The Ancestor' Ref. 6239 is lot 23 of the Daytona Ultimatum auction
This one's easy. An 'underline' is a dial which features a short line underneath the text at 12 o'clock or 6 o'clock. We're not 100 percent sure why Rolex introduced this indication, but its arrival coincides with the introduction of tritium on the dial, which replaced the use of the more radioactive radium, and scholars believe this was one way for the manufacturer to indicate the shift in a clear and systematic way. Adding more weight to the theory, the underline vanished from Rolex dials when the use of tritium became consistently indicated by two small –T– letters surrounding the "Swiss" designation at 6 o'clock.