Saleroom view of Jean-Michel Basquiat's Flexible, which went on to become the top result for a Basquiat work at auction in 2018
1. Highest auction sale total in Phillips' over 200-year history
We kicked off the season with the highest grossing auction since Phillips was founded in 1796, achieving £97.8 million ($135 million) with our London Evening Sale this March. Exceeding last year's results by nearly seven times, the sale set an impressive auction record for Mark Bradford's landmark Helter Skelter I, 2007, from the collection of John McEnroe, which was acquired by the Broad Museum in Los Angeles. The highlight was undoubtedly Pablo Picasso's La Dormeuse, which soared to £41,859,000, well beyond its estimate of £12-18 million.
The London sale was followed by our record-breaking New York Evening Sale in May, which set auction records for Robert Motherwell, Pat Steir and Cory Arcangel.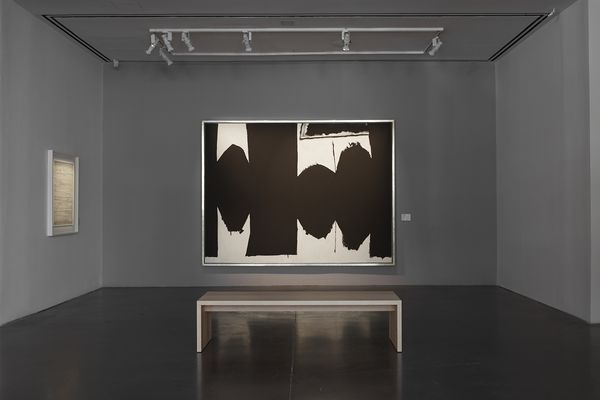 Robert Motherwell's At Five in the Afternoon, 1971. Sold for $12,690,000, a new auction record for the artist.
2. Phillips continues to expand female leadership
Following the appointments of Cheyenne Westphal, Marianne Hoet, Miety Heiden and Dina Amin in 2017, Phillips' team of art world power women continued to grow in the past year. In London, Rosanna Widén joined at the beginning of the year as Specialist. Recent additions in New York include Cathy Elkies as Chief Marketing and Business Development Officer, Jeannette van Campenhout as Latin American Specialist and Takako Nagasawa as Senior Vice President and International Specialist.
In Asia, Isaure de Viel Castel was appointed Head of Department in Hong Kong and Wenjia Zhang became regional director based in Shanghai. In Paris, Clara Rivollet also joined as an International Specialist to support sales in Asia.
3. Modern Art proves to be a winning formula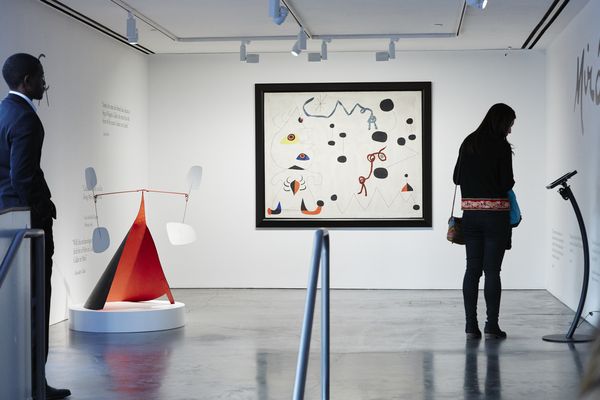 Gallery view of Joan Miró's Femme dans la Nuit, which sold for $22,590,000 against an estimate of $12-18 million
Our increased commitment to modern art proved to be a winning formula this year. Following in the heels of our successful sales of masterworks on paper by Pablo Picasso and Henri Matisse from the Aberbach Collection in November 2017, we offered Pablo Picasso's La Dormeuse, 1932 and Henri Matisse's Nu allongé (Aurore), 1907, in our London Evening Sale in March: La Dormeuse achieved £41,859,000, well beyond its pre-auction estimate, and Nu allongé (Aurore) sold for £14,859,000 against an estimate of £5-7 million. The year ended with a bang when Joan Miró's Femme dans la nuit achieved $22,590,000 after a fiercely contested bidding battle in our New York Evening Sale in November.
Art historian and curator Dr. Charles Stuckey discusses the importance of 'Femme dans la nuit', which, painted on the first day of spring in 1945 Barcelona, was part of an ambitious series Miró created against the backdrop of World War II.
4. Selling the top Jean-Michel Basquiat work of 2018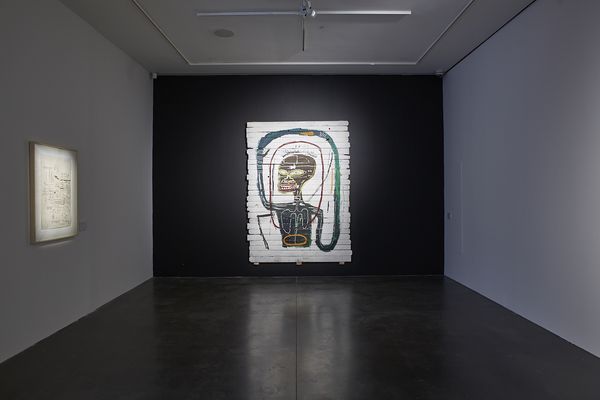 Jean-Michel Basquiat's Flexible, 1984
Phillips was the auction house of choice for the Estate of Jean-Michel Basquiat in bringing Flexible, 1984, to auction. The highest-value and largest work to ever have been offered by the Estate, Flexible sold for over $45 million in our New York Evening Sale in May—making it the fourth-highest auction record for Basquiat and the absolute stand-out Basquiat of the year.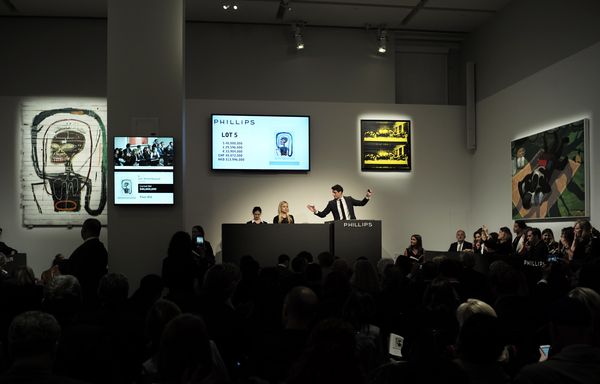 Principal auctioneer Henry Highley brings down the hammer on Jean-Michel Basquiat's Flexible, selling for $45,315,000
5. The Karshan Collection: Bringing one of the most significant collections of modern and post-war works on paper to auction
A major highlight this year was securing over 150 works from the Estate of Howard Karshan for sale throughout the Fall 2018 and Spring 2019 seasons. Over the course of nearly fifty years, Howard Karshan and his wife, Linda, assembled one of the most significant collections of modern and post-war paintings and works on paper. A true ode to the intimacy and unique sensibility of drawing, it encompasses an incredible array of works by artists ranging from Alberto Giacometti, Pablo Picasso, Jackson Pollock, Willem de Kooning, Sam Francis and Cy Twombly to Gerhard Richter, Georg Baselitz and Bruce Nauman, among many others.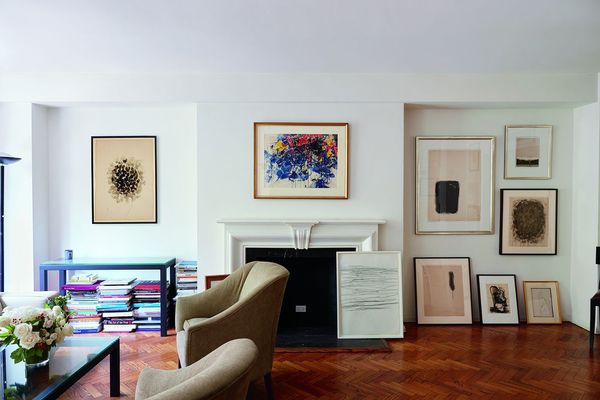 Interior view of Linda and Howard Karshan's New York home
6. Record-breaking year for KAWS at Phillips
Having long championed KAWS' work, we were excited to see the remarkable success the artist achieved at auction in 2018. Within just one year, the price level for KAWS' work has soared to new heights. After achieving the top two world auction records for KAWS in the same London Day Sale this March, Phillips again broke the artist's record in our New York Evening Sale in November. The painting UNTITLED (FATAL GROUP), 2004, set the world record of $3,495,000 against an estimate of $700-900,000 and CLEAN SLATE, the monumental 25-foot sculpture greeting visitors outside in our New York plaza, holds the third highest auction result for KAWS at $1,995,000.
KAWS CLEAN SLATE, 2014
KAWS UNTITLED (FATAL GROUP), 2004, now the world auction record for the artist at $3,495,000
7. Phillips introduces online-only sales to its platform
The launch of Unbound in October marked an exciting step forward for Phillips. Headed by Katherine Lukacher, the new series of online-only sales of contemporary artworks, editions and photographs represents the first auctions of their kind at Phillips — providing a new way to engage with emerging collectors around the world. This series represents Phillips' continuing commitment to digital avenues, as 27% of all lots in our 2018 auctions sold online across the world, amounting to over $50 million in total online sales: an increase of 55% from 2017.
8. Phillips' Art for One Drop auction raises $8.8 million for safe water initiatives in Latin America
In September, Phillips presented Art for One Drop, a charity auction benefitting the international nonprofit One Drop. Founded in 2007 by Cirque du Soleil-founder Guy Laliberté, One Drop helps provide access to clean water and sustainable sanitation to impoverished communities worldwide while bringing a unique "Social Art for Behavior Change" approach to all its projects.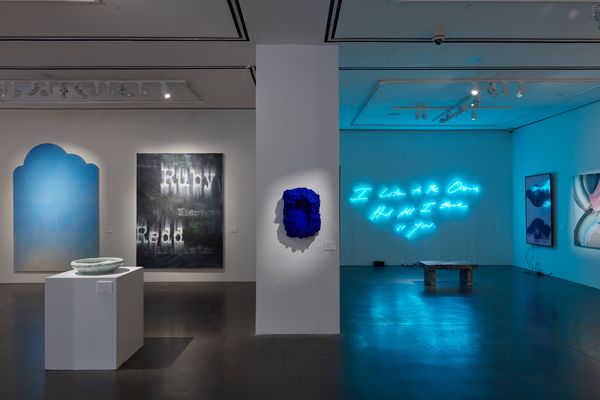 Under the direction of renowned curator Philipp Kaiser, Art for One Drop brought together 51 works by contemporary artists and broke its fundraising record by raising $8,797,600 for One Drop's safe water initiatives in Latin America. Auction records were set for Nicolas Party, Anne Imhof, Nairy Baghramian and Rita Ackerman.
9. Phillips' exponential growth in Asia
2018 was a year of unparalleled momentum in Asia, starting with the opening in March of our new headquarters and exhibition space in the prestigious art district's St. George's building in Central Hong Kong. Our May sales achieved some of the highest-ever auction results for Phillips in the region, led by our sale of Zao Wou-Ki's 04.01.79 for HK$69.9 million — the highest price ever achieved for one of our auction lots in Asia — and the single owner group, The Pioneers of Modernism: A Selection from the Scheeres Collection, which was 100% sold.
This November also marked our inaugural Day Sale in Hong Kong, which achieved a 91% sell-through rate by value and attracted widespread interest from our clients around the world. It was coupled by a diverse Evening Sale, which, among other notable results, set a new artist record for African American painter Stanley Whitney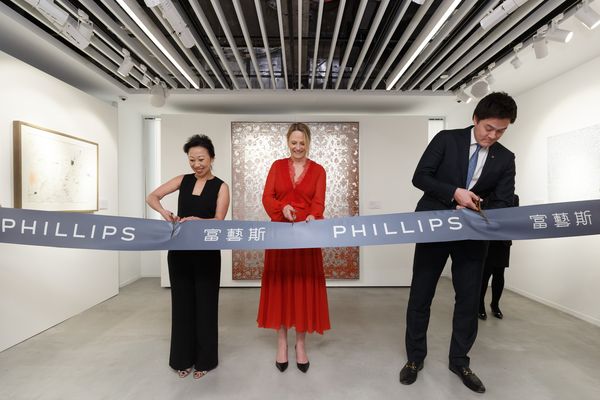 Chairman Cheyenne Westphal and Deputy Chairman Jonathan Crockett participate in the opening ceremony for Phillips Hong Kong at 14/F, St. George's Building in March 2018
10. Latin American Art is incorporated in our 20th Century & Contemporary Art sales
Responding to the increasingly globalized market for Latin American art, at the start of 2018 we fully incorporated our Latin American sales into our Day and Evening Sales of our 20th Century & Contemporary Art. Having again and again set auction records for Carmen Herrera in past years, this November we set a new auction record of $2,655,000 for the pioneering artist, with Herrera's seminal painting Blanco y Verde, 1966.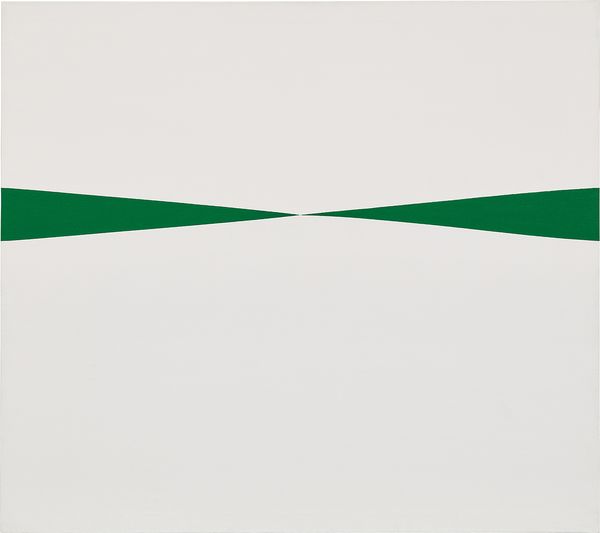 Carmen Herrera's Blanco y Verde, 1966
11. Art Matters with Arnold Lehman
This year we debuted Art Matters, a series of unique panel discussions moderated by Arnold Lehman, Phillips' Senior Advisor and Former Director of the Brooklyn Museum. Initially conceived as a four-part conversation series, it has now become a fixture at Phillips that continuously sheds light on the current state of contemporary art in conversation with some of the most renowned artists, gallerists and curators. Participants in 2018 included gallerists Jack Shainman and Yancey Richardson, artists Robert Longo, Joel Shapiro and Hank Willis Thomas as well as curators Donna De Salvo and Charles Stuckey.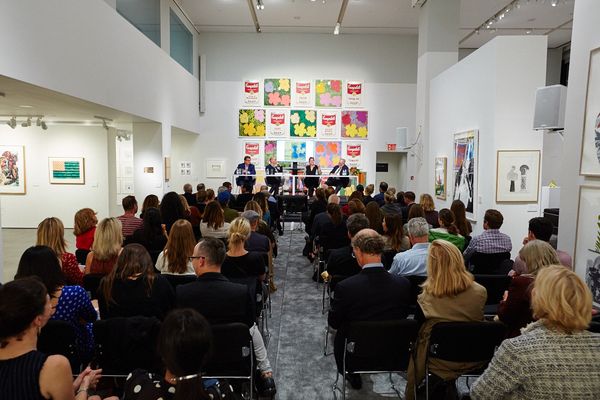 Phillips' Arnold Lehman leads a panel discussion on Andy Warhol
On the occasion of Phaidon's new Andy Warhol catalogue raisonné, and the major Warhol retrospective at the Whitney Museum of American Art, Lehman hosted Andy Warhol: A Conversation with Donna De Salvo, Chief Curator and Deputy Director for Programs at the Whitney Museum of American Art, art critic Blake Gopnik, and the Andy Warhol Foundation's Vincent Fremont.
12. PHILLIPS X is launched
This summer we launched PHILLIPS X, a new exhibition platform at forefront of contemporary art, design and culture. Through ongoing curated programming and immersive exhibitions coupled with private sales, we conceived PHILLIPS X to go above and beyond to highlight the work of notable artists and innovators of the 20th and 21st centuries. Our exhibitions span the globe: from Carlos Cruz-Diez: Luminous Reality in London to Banksy: Who's Laughing Now? in Hong Kong, which attracted over 2,000 visitors in its first week of opening in mid-November.
Gallery view from Carlos Cruz-Diez: Luminous Reality in our London space
Honorable Mention: Deepening our commitment to cultural institutions and regions worldwide
Our ongoing support of cultural institutions remained a priority in 2018, as we expanded our arts partnerships program into new regions and deepened our commitment to the communities themselves. Along with supporting groundbreaking exhibitions and retrospectives, we spotlighted institutions within the context of the cities they are inextricably a part of. We engaged in dialogues with artists, curators, collectors and thought-leaders from institutions like LACMA, Whitechapel Gallery in London, The Bass Museum in Miami, Palazzo Strozzi in Florence and Harbour Arts Sculpture Park in Hong Kong.