Carmen Herrera Blanco y Verde, 1966
…to me it was white, beautiful white, and then the white was shrieking for the green, and the little triangle created a force field.
— Carmen Herrera
The most significant painting by Carmen Herrera yet to come to auction, Blanco y Verde exemplifies the achievements the pioneering artist attained in the 1960s. Painted in 1966, this work is one of only 14 known extant versions of Herrera's seminal Blanco y Verde series that she created between 1959 and 1971. The coveted series is now widely regarded as Herrera's most significant body of work in her nearly 80 year career, with such revered institutions as Tate, London, the Whitney Museum of American Art, New York, the Smithsonian American Art Museum, Washington, D.C. and the Museum of Fine Arts Boston, acquiring examples for their permanent collections in the past seven years. Remaining in Herrera's personal collection for over four decades, Blanco y Verde made its public debut at the Kunstsammlung Nordrhein-Westfalen, Dusseldorf, in 2017 as one of the major highlights featured in Herrera's watershed retrospective organized by the Whitney Museum of American Art, New York.
This December, Herrera's undisputed place within the annals of post-war abstraction will be further highlighted in the aptly titled exhibition Epic Abstraction: Pollock to Herrera at the Metropolitan Museum of Art, New York.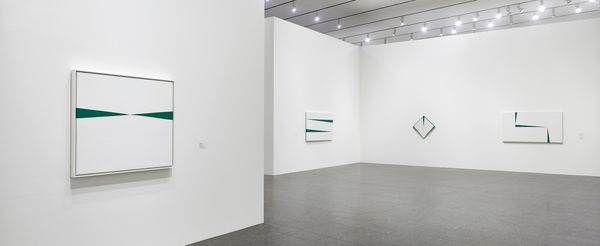 Installation view of Carmen Herrera: Lines of Sight at The Kunstsammlung Nordrhein-Westfalen, K20 at Grabbeplatz, Dusseldorf, December 2, 2017–April 8, 2018 (present work exhibited). Image Achim Kukulies, Düsseldorf, Artwork © Carmen Herrera
A perfectly calibrated force field of pure form and color, Blanco y Verde exemplifies how Herrera broke ground at the same time as artists like Frank Stella and Ellsworth Kelly. The series presents the culmination of Herrera's "process of purification" that she had started 16 years earlier, with her decisive move to geometric abstraction in 1950. After discovering the movements of Bauhaus and Russian Suprematism in Paris, Herrera returned to New York in 1954, a city she had first moved to 15 years prior, and continued to hone her distilled geometric compositions characterized by a precision of line and a dichromatic color palette.

Herrera had been highly respected in the cosmopolitan Parisian milieu, exhibiting work alongside Theo van Doesburg, Max Bill and Piet Mondrian, but found it harder to find a footing in the male-dominated New York art world as a female, Cuban immigrant artist. Despite close friendships with Barnett Newman and Leon Polk Smith, she worked in relative isolation and obscurity. She was occasionally included in exhibitions with a Latin American focus, yet, as she later stated, she felt "terrible about it. I don't want to be a Latin American painter or a woman painter…I'm a painter" (Carmen Herrera, quoted in Carmen Herrera, Lines of Sight, exhibition catalogue, Whitney Museum of American Art, New York, 2016).
I don't want to be a Latin American painter or a woman painter…I'm a painter.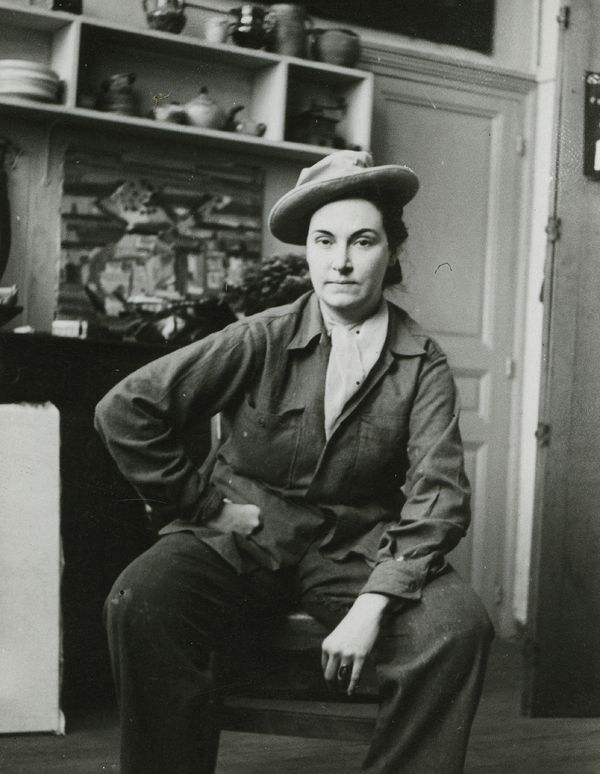 Carmen Herrera in Paris, circa late 1940s from the film The 100 Years Show. Image Alison Klayman © Carmen Herrera
And yet, as Hilton Kramer pointed out in 1968 upon seeing Herrera's work at the Center for Inter-American Relations in New York, "Though the purpose of this group exhibition is to report on the accomplishments of Latin-American artists living in New York, it is the New York rather than the Latin-American aspect of the enterprise that remains uppermost in the eye of the spectator…Miss Herrera works in a severe, very concise geometrical idiom with complete authority." One particular work, a Blanco y Verde, specifically led him to assert in The New York Times in January 1968 that it "is quite the best picture she has yet exhibited.".

More than 50 years later this series is now widely celebrated, particularly as it relates to Herrera's lifelong fascination with three-dimensional structures. As curator Dana Miller indeed observed for The Whitney Museum of American Art, New York, in 2016, "These particular Blanco y Verde paintings unfold in the same way sculpture does when circumnavigated; they only reveal themselves when seen in person." Subtle variations in the shape, scale and placement of green and white triangular forms pervade the series, with the compositions wrapping around all four edges of canvas. While demonstrating Herrera's goal of focusing the viewer's attention on the materiality of the painting-as-object, the triangular forms, as the artist recently allowed, also appear like cuts in the canvas — suggesting a three-dimensionality that projects outside the confines of the picture plane.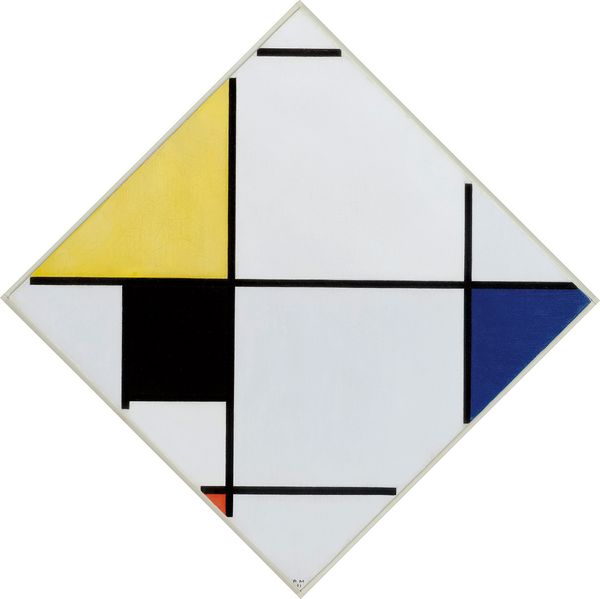 Piet Mondrian Lozenge Composition with Yellow, Black, Blue, Red, and Gray, 1921. The Art Institute of Chicago, Image Art Resource, NY
Employing the central tenets of drafting she had learned in her architecture classes at the Universidad de La Habana in Cuba, Herrera typically based the visual execution of her paintings on arithmetic calculations and meticulous preparatory drawings. The rectangular forms with wedge-shaped slices she imagined on paper clearly correlate to her Blanco y Verde series, as well as anticipate the rare group of Estructuras (Structures). Receiving her second grant from the CINTAS Foundation in 1968, Herrera hired a carpenter to help her actualize the "objectness" of her paintings in three dimensions, yet was forced to abandon the project in 1971 as funds began running low. Only very recently, starting in 2012, has Herrera once again been able to continue this sculptural vision.
Works such as Blanco y Verde from our 20th Century & Contemporary Art Evening Sale remained in obscurity for over four decades, carefully selected by Herrera to remain in her small home studio in New York. Unseen to the larger public for more than 50 years, Blanco y Verde exalts the unwavering vision of one of the hitherto most under-recognized abstract painters of the past century.