Mark Bradford Helter Skelter I, 2007, as seen in John McEnroe's New York residence
Josh Baer: John, you've collected quite a few works by African American artists like Jean-Michel Basquiat, Kara Walker, Robert Thompson, Glenn Ligon and others. Was that a conscious direction? How and why does that area seem to interest you?
John McEnroe: I felt like these artists' time had finally come. It feels like it's taken far too much time historically. Obviously, there are other great artists, but having lived the life I've lived, being around a lot of different people and traveling to a lot of different places, it became interesting to me to be part of what I felt was a new generation of artists who were really able to make a statement and change the way people were looking at art in general.
With Bradford, there's just something about him. I haven't known him that long, but I've had the opportunity to speak to him over the course of the last number of years. I remember how Annie Philbin, whom I know from way back when she was at the Drawing Center, was like, 'you gotta get a Mark Bradford.' And I think that's when subsequently you helped arrange that studio visit. He's very engaged and I just found his whole persona and being very appealing. It made me want to spend more time figuring out what you're actually looking at in his work. When you said you can get me one, but it's going to be the mother of all Bradford's, I was like OK. When we did go and see Helter Skelter, I remember just thinking to myself, 'oh my God, here we go again.'

JB: Does the work's particular title Helter Skelter mean anything to you?
JM: Titles of artworks have rarely meant much to me, but in this particular case it was almost like you couldn't avoid being affected by it. I like thought-provoking art; works that not make you take a good look at the work itself, but also at yourself and society. When I heard the name Helter Skelter, it obviously conjured up a lot of things: the Sixties, the Beatles, LA, and to some degree it also conjured up some of the craziness that went on in my own career, even if it wasn't anywhere near as crazy. So that initially made it attractive to me. I do like small paintings, but I also have this history of buying oversize monumental works because I find it magnificent if an artist can hold the wall as well as this particular piece does. What I love about this work is that every time you go up to it, you see something you hadn't seen before and experience something a little different. I really enjoy that when I look at a painting. All the effort of getting Helter Skelter was worth it just in order to be able really see the work. Finally seeing it in my loft was awesome. It took away the pain from the Kara Walker not being there, that Sugimoto...
JB: You've collected a number of monumentally large works of art before — like the seven-part, 50 foot Sugimoto or the Kara Walker you mentioned — all works that have wound up going one way or another to museums. Is that sort of the desire with the Bradford, that somehow it can get out there in a more public way?
JM: Yes, in many ways my tendency to buy large, expressive artworks has been driven by this idea that ultimately they would have a future life after being in my collection, hopefully in a way that's more public where more people can enjoy them. I wanted to have Helter Skelter with me a certain amount of time to get to know it better. Ultimately the most satisfying would be if Helter Skelter work was bought by or for an institution, or by collector who'd enjoyed it for a period of time like I did, with the work eventually ending up in a place where people were able to see and study it. I've seen enough art over the decades that it reminds me a little of my own sport where the level of accessibility is not what it can be. I've ultimately always had the idea that a fair amount of my artworks would eventually be in more public venues.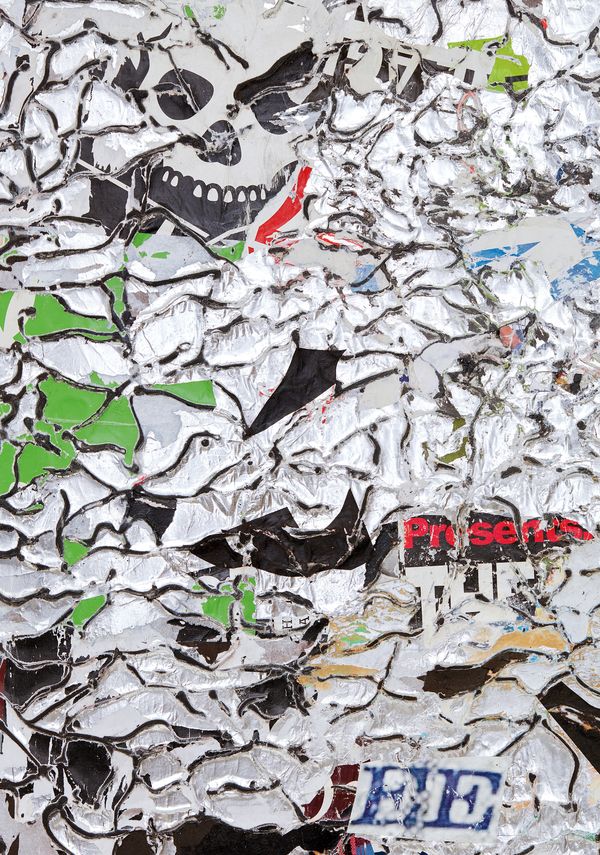 JB: You mentioned your career. How has being a world-class athlete — and I've actually heard that you're kind of a pretty fiery competitor — influenced the way in which you approach your art collecting and your relationship to the art world?
JM: Of all the vocations that I've been lucky enough to be around besides my own sport, perhaps the biggest affinity I felt was for artists. I probably relate to them the most because I feel like I understand what they're going through. I find that I'm in a sport where you're playing for yourself, where you're out there by yourself. There are similarities in the rewards if you are able to succeed at what you're trying to accomplish — whether it's me trying to win Wimbledon or whether it's an artist trying to hit on something different. For people to look at a painting and say 'Oh, that's so and so…that's, say, Mark Bradford' – that's quite an accomplishment if you consider the many centuries of people making brilliant art. To be able to find your own identity is rather amazing to me. I really respect the solitary part of that, the reward, the tension, the strain, the ups and downs, exposing yourself to people, when you could also go out there and, well, lay an egg if things don't go the way you want to. Having the nerve to do it all regardless — that's something that I really respect and can relate to. Even though I love a lot of different types of art, ultimately I find it to be most rewarding to be around living artists and experience what they have to offer — while I'm around, while they're around. It's more rewarding emotionally.
The mural-scale 'Helter Skelter I' (2007)…effectively lays LA out before the viewer with a lateral scope that dwarfs both Pollock and Barnett Newman, the two great masters of pictorial immensity.
—Robert Storr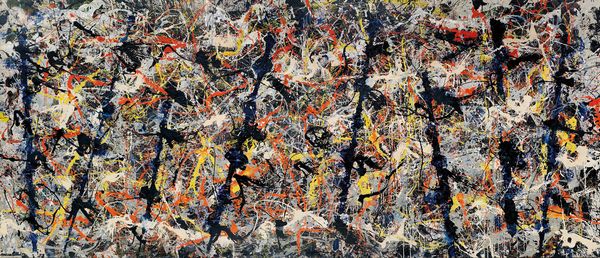 Jackson Pollock Blue Poles, 1952 © The Pollock-Krasner Foundation ARS, NY and DACS, London 2018. Bridgeman Images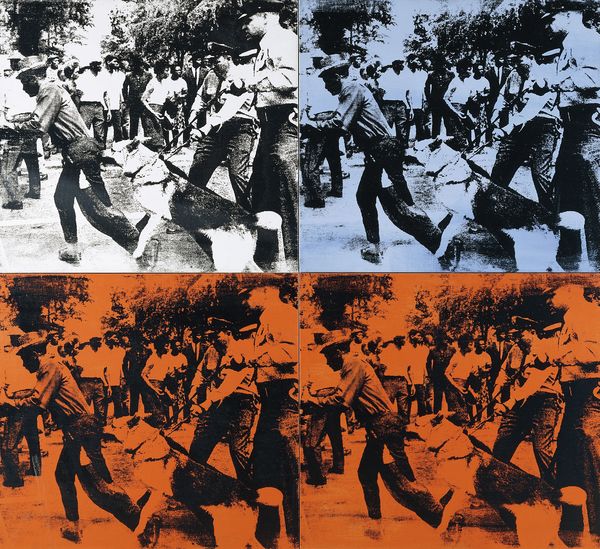 Andy Warhol Race Riot, 1964 © The Andy Warhol Foundation for the Visual Arts, Inc. 2018 / Licensed by DACS, London. Bridgeman Images
JB: It's interesting that you related yourself to an artist, which I thought was a really excellent observation. What would you say to somebody who would like to be a collector? If Rafael Nadal came to you and said, hey, I'd like to start collecting art, what advice would you give him from your decades of being involved in this?
JM: Wow, that's a good question. When I first started collecting, they didn't really have art fairs and I would mainly go to a lot of galleries, museums and artist studios and quite simply responded to what moved me and what I liked. Some people approach art more as a business, but I never really did that. Of course I feel like it's something that you want to succeed in, but ultimately it's about what brings me pleasure when I wake up in the morning. Right now I'm looking at my wall and I see a painting that brings me pleasure, that makes me think and takes my breath away. It allows me to take a step back from my own life. It's essentially about this sort of feeling of walking into a different world in a way. So to me, it's pretty hard to think of something that doesn't make me feel like I have my cake and eat it, too.
I feel like I've become more well-rounded by using a side of my brain that I really didn't use normally, you know. Even though I think there are similarities between artists and myself as a tennis player, there are different parts of the brain that are used — I'm not sure if mine's the right or the left, that sort of Type A, competitive type. Maybe there are more artists that are also like that than I realize, and maybe there is more competition involved in art then people make it appear. I find that interesting to think about because for me it's more black-and-white.
JB: It's interesting you mention that because it reminds me of a talk between Kerry James Marshall and ESPN sportswriter William C. Rhoden at The Met. One of Kerry's first statements went along the lines of, 'I love winning.'
JM: I think that's interesting because I would anticipate artists to be more competitive. They just don't want to admit it, whereas it's easier to be upfront about it for someone like myself who's in a sport where one person wins, and one person loses. Whereas I think it's trickier for artists without coming off as someone who is just doing it for reasons that maybe some people don't appreciate.
JB: They're competing for immortality.
JM: Well, if you're competing for something as big as that, then I suppose there's a tremendous reward, but there's also a lot of burden involved with that too. That's a pretty heavy thing to lay on yourself.