Ceramics by Hans Coper and Lucie Rie featured prominently in London last spring.
2017 was an outstanding year for Phillips Design. Our specialists circled the world in search of the best examples of twentieth-century design—from the Sheinbaum estate in California to early works by Shiro Kuramata from Tokyo, fine and rare examples of furniture and lighting sourced in Italy and important pieces by Jean-Michel Frank held in private European collections.
Likewise, as we turned to selling these rare handpicked works, our reach was no less global. We previewed highlights at our Paris gallery on Rue du Bac, sponsored design fairs from New York to Monaco and traveled to Hong Kong for our two 20th Century & Contemporary Art & Design Evening Sales, cementing our status as the only auction house in Asia to offer modern and contemporary art and design side-by-side.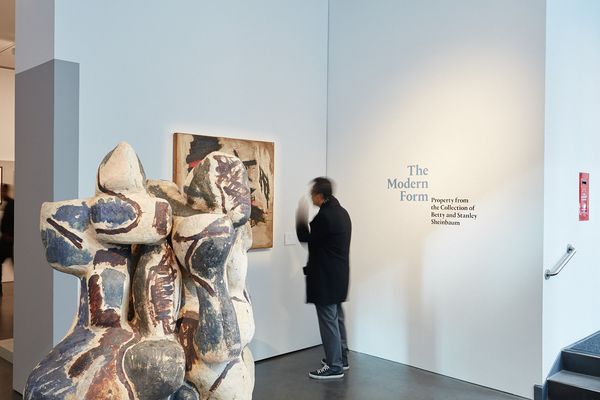 In the foreground, Peter Voulkos Rondena, 1958. Sold for $915,000.
Emerging as a major theme in the past year was French design, which dominated the top ten lists from all of our auctions. Top lots in this category included early works by Jean-Michel Frank, mid-century designs by Jean Royère, Jean Prouvé and Charlotte Perriand, as well as contemporary pieces by François-Xavier and Claude Lalanne. Also among our strongest lots were lighting designs by Alberto Giacometti; in particular, his plaster ceiling light achieved £2,045,000 in London. And then there were ceramics, as we saw continued success with prime examples by Hans Coper and Lucie Rie before a stunning result for "Rondena," an early monumental stoneware sculpture by Peter Voulkos, stole the spotlight in December.
Alexander Payne, our Deputy Chairman, Europe and Worldwide Head of Design, commented, "We achieved strong results in 2017 across our London, Hong Kong and New York sales. Our tightly curated and focused auctions inspire and draw new and existing clients to our sales. We had huge international reach and welcomed participation from across the globe. We are looking forward to our 20th Century and Contemporary Design sales in 2018 which will continue to present exceptional works to a global audience." As we enter the New Year, we take this opportunity to reflect on some of these most memorable moments and themes from 2017.
1. Global demand for French design
In 2017 we witnessed continued global demand for works by iconic French designers. Our Design team met this appetite by sourcing important works such as a Jean Prouvé demountable house (£665,000), which played host to a private dinner event inside our Phillips Berkeley Square galleries, a Prouvé "Cité" armchair from the designer's private collection (£317,000) and a pair of Jean Royère "Oeuf" chairs from the collection of Susie Tompkins Buell ($231,250).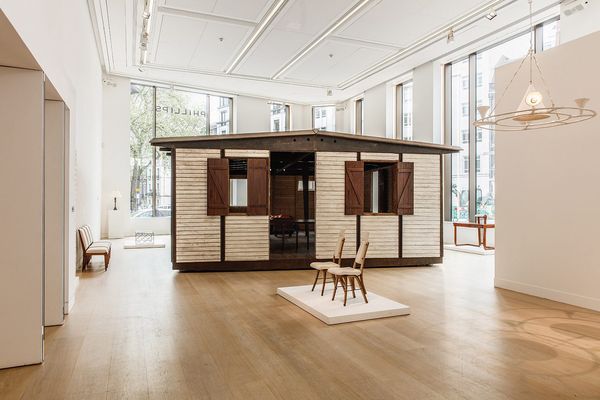 Installation view of the Jean Prouvé demountable house, Alberto Giacometti ceiling light and Carlo Mollino Turin chairs at Phillips Berkeley Square in London © Cereal Magazine
The year culminated with a spotlight on Jean-Michel Frank in our December Design Evening Sale: a rare mica-covered low table achieved $519,000 and an obsidian table lamp from the same private collection sold for $200,000. We were also honored to offer several works from the critically-acclaimed exhibition on Pierre Chareau organized by the Jewish Museum, as well as to have the opportunity to interview the show's curator, Esther da Costa Meyer, for Phillips.com.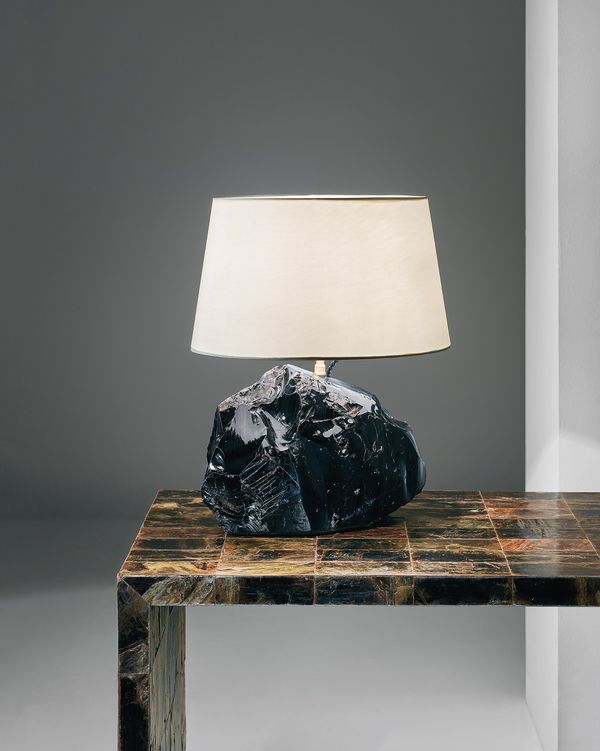 Jean-Michel Frank Low table, circa 1928, sold for $519,000; and Table lamp, circa 1925, sold for $200,000.
2. New auction record for Alberto Giacometti
2017 was a stellar year for the Swiss sculptor Alberto Giacometti. The Tate Modern presented the UK's first major retrospective of Giacometti in twenty years, this coming on the heels of a string of 2016 exhibitions devoted to him at the Yuz Museum in Shanghai, Musée Picasso in Paris and Gagosian Gallery in London.
In kind, we saw major success with the decorative works Giacometti produced early in his career at the behest of the designer Jean-Michel Frank. In Modern Masters, our first Design auction of 2017, we set a new auction record for a work of decorative art by the artist with the unique ceiling light he created for his friend, the publisher Tériade (£2,045,000). That same day, a "Tête de femme" table lamp achieved £437,000. As a fitting bookend to the year, we completed 2017 with a trio of works by Alberto Giacometti from two private collections: an early "Figure" floor lamp designed for the couturier Elsa Schiaparelli ($325,000); a "Trépied à feuille" table lamp ($212,500); and a pair of terracotta candle holders ($137,500).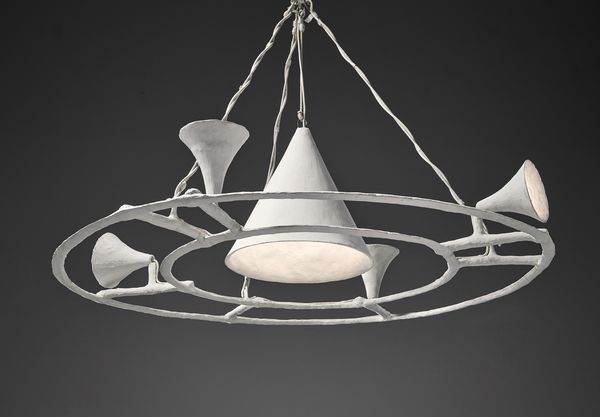 Alberto Giacometti Unique and large conic chandelier with four small cones, from the Tériade apartment, Paris, circa 1954. Sold for £2,045,000.
3. Increased recognition for ceramics
Ceramics are central to Phillips Design and a consistent focus for our team of international specialists. We've been delighted to see increased recognition for the medium—in the form of exhibitions and publications—in the greater art world this past year. "Things of Beauty Growing": British Studio Pottery" opened in September at the Yale Center for British Art featuring the work of Lucie Rie and Hans Coper. Our London auction in the spring opened with 32 ceramic works from the collection of Venezuelan arts patron Fina Gomez, while our fall sale set a new record for a thistle form by Hans Coper (£131,250). We concluded the year with a timely panel discussion on contemporary art and ceramics in conjunction with the release of Phaidon's Vitamin C: Clay and Ceramic in Contemporary Art.
4. New auction record for Peter Voulkos
In December, the stage was set in New York for Peter Voulkos. We were thrilled to see market enthusiasm for the ceramist and sculptor propel 'Rondena', a monumental stoneware sculpture that Voulkos completed in 1958, to a new auction record of $915,000—beating the artist's previous auction record nearly nine times over and almost doubling the previous best result for twentieth-century American ceramics at auction, which came at Phillips with a Ken Price 'Pink Egg' in 2014.
This record occurred in the context of a renewed focus on Voulkos' early sculptures, with the exhibition Voulkos: The Breakthrough Years having recently presented at both the Museum of Arts and Design in New York and the Renwick Gallery of the Smithsonian Institution in Washington, DC. According to Meaghan Roddy, Phillips' Senior International Specialist, Americas, "Ceramics are such an integral part of American art history, and works by artists like Peter Voulkos were major contributions to the cultural landscape. We're so pleased to see the recognition on the secondary market that this category has long deserved."
5. The Estate of Betty and Stanley Sheinbaum
Led by the record-breaking sale of 'Rondena' by Peter Voulkos, American ceramics had a banner day on 12 December with the white-glove sale of works from the Collection of Betty and Stanley Sheinbaum. This estate was part of a company-wide collaboration spearheaded by our Los Angeles team. Spanning Abstract Expressionist paintings, Pablo Picasso ceramics and post-war design, the collection has featured prominently in our 20th Century & Contemporary Art, Editions and Design sales across New York, London and Hong Kong.
6. Hong Kong
Phillips has been steadily expanding its presence in Asia for the past three years, and has identified Design as a key emerging market in the region. According to Marcus McDonald, International Specialist, "The selection of Design included in the Phillips Hong Kong auctions resonates with Asian clients, reflecting their refined design sensibilities, appreciation of modernist beauty and reverence for the superb craftsmanship of works executed either by Danish cabinetmakers or Italian manufacturers, who collaborated with the most influential and revered architects of Denmark and Italy." To this end, our November Evening Sale in Hong Kong set a new auction record for a pair of Finn Juhl FJ45 armchairs (HK$937,500) and boasted a 100% sell-through rate for Italian design.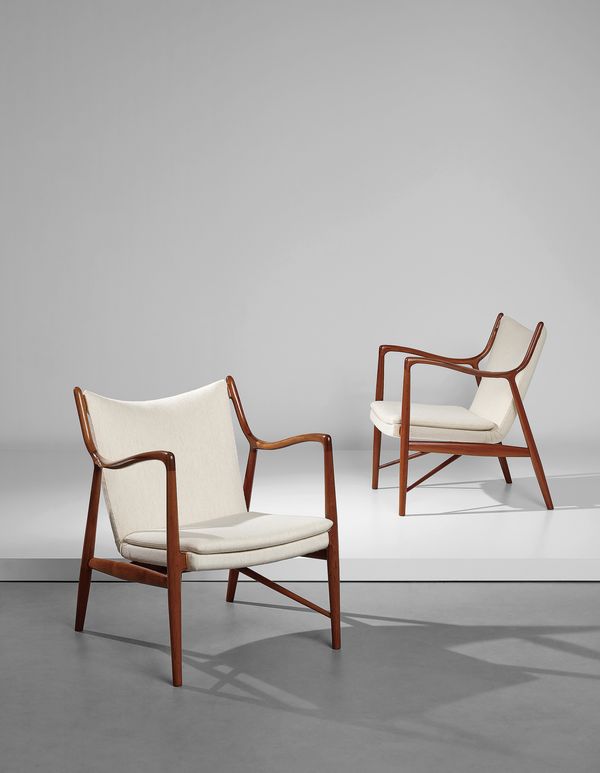 Finn Juhl Pair of armchairs, model no. FJ 45, designed 1945, produced 1950s. Sold for HK$937,500.
7. Strength in Italian Design
Phillips remained the market leader for fine and rare Italian design. In addition to our success introducing Italian design to the emerging Asian market, we also achieved strong results in London and New York. We were honored to sell a rare pair of Carlo Mollino chairs designed for the Lattes Publishing House (£239,000) in April in London as well as a Ponti/Fornasetti "Madrepore" dining table and armchairs for $125,000 in June in New York.
Looking ahead, our team has been busy securing loans of past Phillips offerings to the forthcoming exhibition on Gio Ponti, scheduled to open at the Musée des Arts Décoratifs in Paris, in October 2018.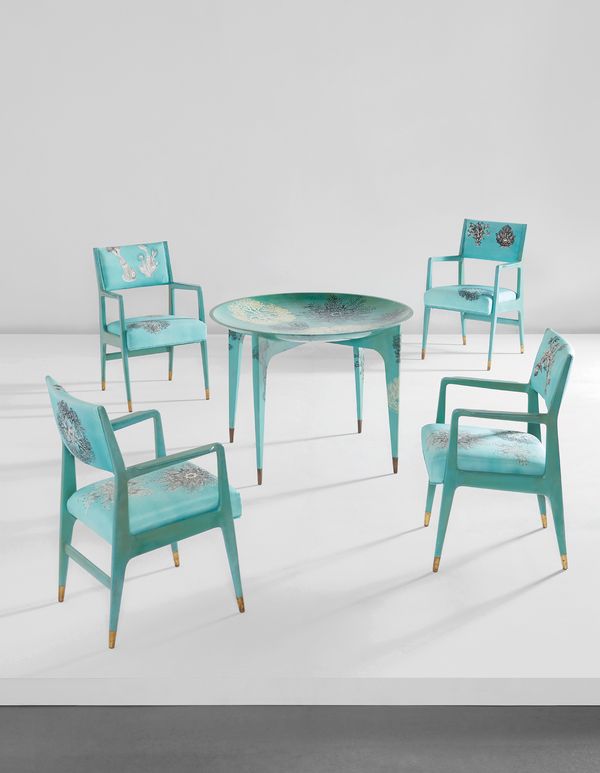 Gio Ponti and Piero Fornasetti Unique "Madrepore" dining table and set of four armchairs, circa 1950. Sold for $125,000.
8. Joris Laarman
In April, we were delighted to achieve £341,000 for a Joris Laarman "Bridge" table executed in 2010, the second-highest auction record for Laarman. It closely trailed the designer's top work at auction, a "Bone chair" also set at Phillips one year prior (£344,500). Laarman's work figured in a number of international design exhibitions this past year, including Joris Laarman Lab at the Cooper Hewitt, Smithsonian Design Museum in New York.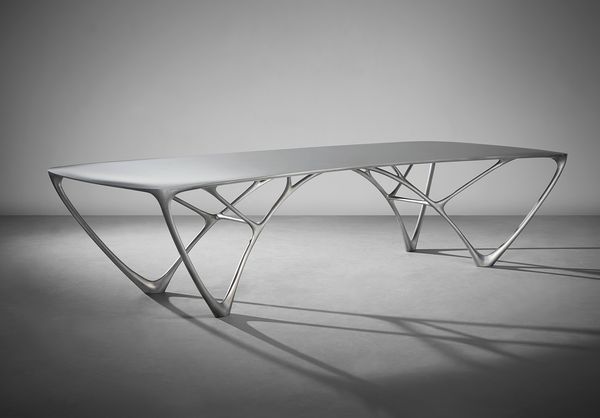 Joris Laarman Important 'Bridge' table, 2010. Sold for £341,000.
9. Sponsorship of the Salon Art + Design Fair
In November, we sponsored the renowned Salon Art + Design Fair in New York, a showcase of international galleries specializing in both fine and decorative arts at the Park Avenue Armory. Alexander Payne, our Worldwide Head of Design, served on the honorary committee, and Phillips' support for the fair became a key moment for engaging with a diverse group of global collectors.
10. Sponsorship of Nomad
In April, we sponsored Nomad, a new model for design fairs launched by Giorgio Pace and Nicolas Bellavance-Lecompte. For this exclusive, invitation-only event, a small number of galleries occupied various rooms and spaces at La Vigie, Karl Lagerfeld's former Monaco residence. The show will travel each year to a different location of architectural significance.
For next year, Phillips has partnered with the firm ARTinD to produce a limited-edition collection of seven hand-woven carpets, each designed by a renowned architect. The collection will be exhibited at Nomad St. Moritz from 8-11 February and will be offered in an online-only sale concurrent with our London Design auctions.