The Jewish Museum's Pierre Chareau: Modern Architecture and Design brings together over 180 objects related to the career of the French designer, who created avant-garde furnishings and interiors for the intelligentsia of interwar Paris. Culled from private and public collections across Europe and the United States, the pieces come to life in the captivating exhibition design by firm Diller Scofidio + Renfro, who incorporated virtual reality and other immersive devices — The New Yorker called it "a rare achievement."
Phillips' Kimberly Sørensen spoke with the exhibition's curator, Esther da Costa Meyer, Professor of the History of Modern Architecture, Princeton University, to learn more about the cultural milieu Chareau belonged to and why he is such a major figure in the history of modern design.
Kimberly Sørensen: Pierre Chareau is best remembered for the Maison de Verre, the home/medical office he completed for Jean Dalsace and his wife Annie Bernheim Dalsace in Paris in 1932. In a nutshell, why is this building so important to modern architecture?
Esther da Costa Meyer: The Maison de Verre defies definition. What was new at the time was the structural transparency — a steel skeleton, left exposed and partly highlighted in red — and a glass curtain wall (that is, non-load-bearing). Industrial materials were used throughout the house: rubber tiles, duralumin surfaces, mass-produced spotlights, louvers. Everything is revealed: pipes, electrical conduits, I-beams.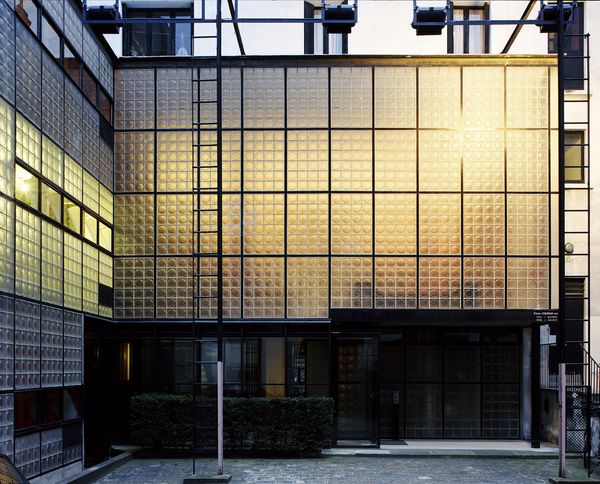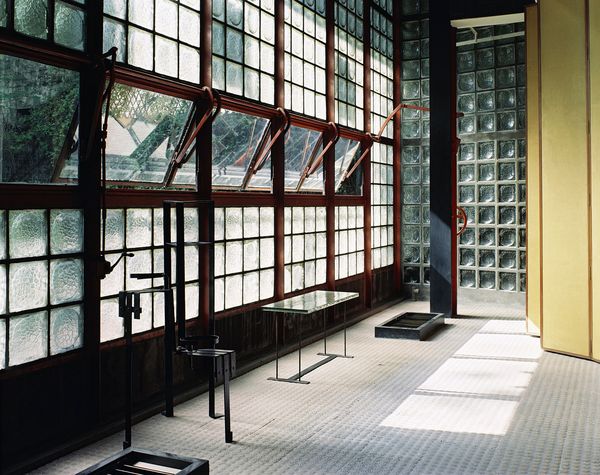 Pierre Chareau (French, 1883-1950) and Bernard Bijvoet (Dutch, 1889-1979), Maison de Verre, 1928-1932. Photograph © Mark Lyon
In the interior, space is fluid. Instead of masonry walls, sliding partitions and perforated screens allow space to flow from front to back of the house. At the same time, this nod to modern industrial materials co-exists in tension with Chareau's beautiful bespoke furniture pieces. The house is full of ingenious devices, executed by Louis Dalbet, like the retractable staircase in Madame Dalsace's boudoir which connects to the master bedroom above, or the clunky mechanism to open windows in the grand salon. Stairs, cupboards, windows and walls swivel out, pivot and slide — very much like Chareau's furniture. Yet these devices often exceed function; they are beautifully-designed pieces of hardware rather than mechanisms that fulfill a need.
KS: Speaking of tension, I have to ask about the Dalsace's top-floor tenants. Due to the fact that they refused to vacate the pre-existing eighteenth-century building, Chareau had to design a structure that could slide under the top floor and between the walls of the adjoining buildings. It's absolutely brilliant, but it must have been a nightmare for the tenants during construction! Did you come across anything in your research that sheds light on how they felt about Maison de Verre?
EdCM: There was indeed an old lady who rented the top floors, but by the time the first two scholarly books came out, she had long since passed. (One hopes she was deaf, and liked levitating…)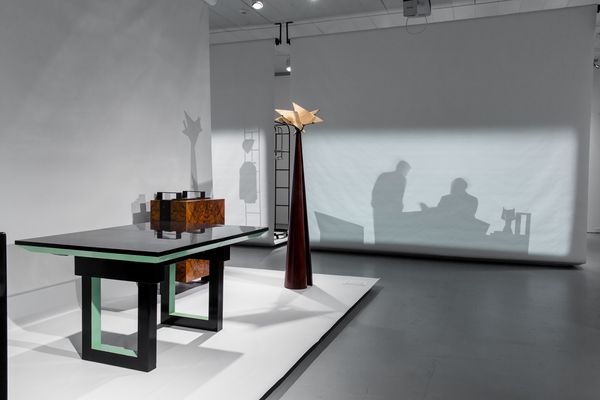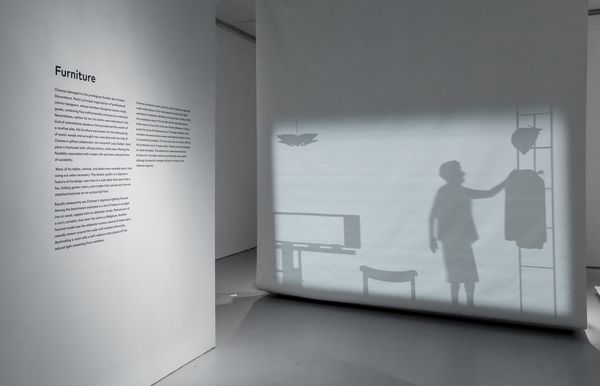 Installation views of the exhibition Pierre Chareau: Modern Architecture and Design, November 4, 2016 – March 26, 2017, at The Jewish Museum, NY. Photo: Will Ragozzino/SocialShutterbug.com. Exhibition design by Diller Scofidio + Renfro.
KS: Indeed! Upon entering the exhibition at the Jewish Museum, one is first confronted with a dimly lit room partitioned by scrims projected with the silhouettes of people moving around Chareau interiors. It feels very intimate and even a bit voyeuristic, like entering the inner sanctum of Chareau's elite clientele. Was this intentional? How did you decide the role and form that technology should take in the exhibition?
EdCM: The role of technology was decided entirely by the architects, Diller Scofidio + Renfro, who did a phenomenal job. The idea in this part of the exhibition had to do with the situation of Chareau's furniture today, when no original interiors survive, and the pieces have been scattered far and wide, often ending up in museums, private collections or with art dealers. Each piece once had a specific function as part of a whole environment authored by Chareau, whereas today they are often displayed as stand-alone museum pieces with no use value.
Given this situation, the exhibition's films are meant to evoke the life that once swirled around these pieces: a young woman putting on make-up, another polishing silverware, an older woman having a coffee while waiting for someone who does not show up. Yet these films work curatorially on another level. These spectral shadows also recall the disappearance of a group of patrons who were persecuted, their possessions confiscated.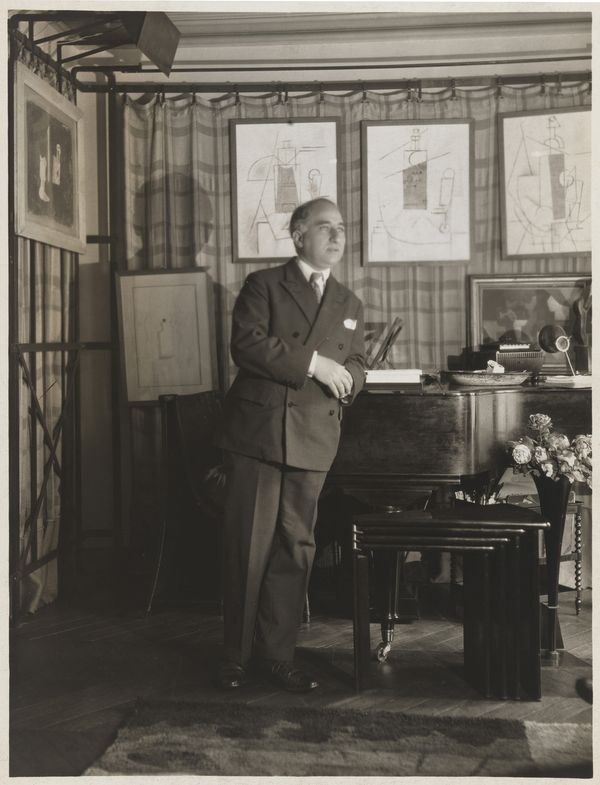 Thérèse Bonney (American, 1894-1978), Chareau in his Paris apartment at 54 Rue Nollet, c. 1927. On the wall behind him are works by Picasso and Lipchitz. Gelatin silver print, 8 3/8 x 6 ½" (21.3 x 16.5 cm). The Museum of Modern Art, New York. Architecture & Design Study Center Accession Number: ADD 1117. Image provided by The Museum of Modern Art / SCALA / Art Resource, New York
KS: The exhibition makes the point that the innovative, modernist designs that Chareau produced both for salons and private commissions would not have been realized if it were not for the support of his patrons, many Jewish, who belonged to the progressive haute bourgeoisie of interwar Paris. Why did this particular set of patrons connect with Chareau — what did he have to offer them?
EdCM: Both Chareau's mother and his wife were Jewish but there was a lot more that bound him to his patrons. Both Pierre and Dollie Chareau were cultivated, and loved art, music, dance and literature. Their own home was not too different from those of some of their best clients: it was the site of concerts, avant-garde film projections and poetry readings. In addition, both husband and wife were progressive, and often espoused the same anti-fascist causes as many of their friends, signed the same political petitions and sent money to the same philanthropic causes.
KS: Was this something new or particular to the era, having such close relationships with one's patrons that aligned not just aesthetically but also ideologically?
EdCM: Architects and designers often have close relationships with patrons, but in the 1930s, the rise of fascism, anti-Semitism and the later outbreak of WWII strengthened the bonds between Jewish artists, architects and their clients, driving many of them to new forms of cooperation and militancy.
Chareau straddled the divide between tradition and modernity, though he was one of the leaders of the decorative artists' modernist wing.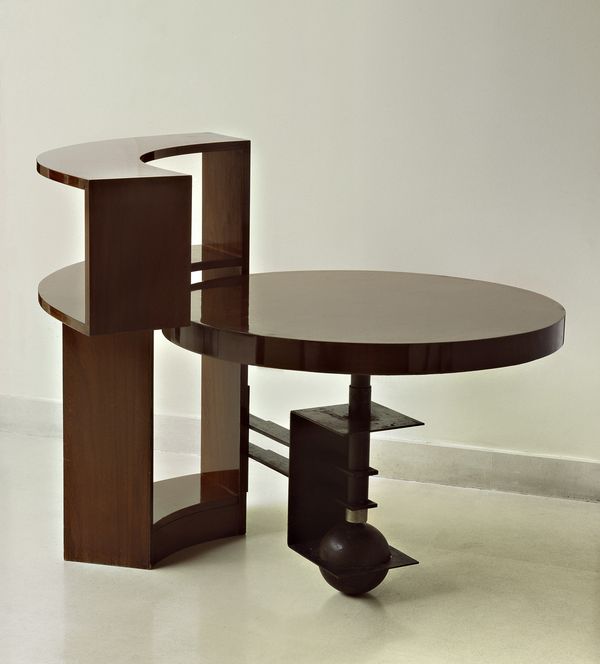 Table and bookcase (MB960), c. 1930, designed by Pierre Chareau, walnut and black patinated wrought iron; Bookcase: 36 ½ × 45 ¼ × 8 in. (92.7 × 114.9 × 20.3 cm); table: 23 ½ in. (59.7 cm) high, 33 ¾ in. (85.7 cm) in diameter. Vallois, Paris. Photograph by Ken Collins, image provided by Gallery Vallois America, LLC
KS: Many of the objects in the exhibition have kinetic components, such as the fabulous walnut table and bookcase, the writing surface of which swings out from a massive wrought iron hinge on an oversized ball-shaped foot. On the one hand, it reminds me of eighteenth-century French mechanical furniture by makers such as Jean-François Oeben — like Oeben, Chareau was making precious, hand-crafted furniture for distinguished clients. On the other hand, Chareau was a modernist working in the same time and place as Le Corbusier, who declared that "A house is a machine for living in." How did Chareau define his aesthetic and his mission as an architect? How did he compare to his peers?
EdCM: The great French designers of the 1920s loved eighteenth-century furniture, that other golden age of the French decorative arts. (Émile-Jacques Ruhlmann was often compared to Jean-Henri Riesener.) Many of Chareau's pieces, and even their terminology, such as the chauffeuses, reflect the allure of great names like Boulle, Riesener or Oeben. Like them, he was producing luxury goods for the elite. At the same time, both Chareau and his more progressive patrons felt the social pressures of the new age which called from simpler and more affordable furniture. He always straddled the divide between tradition and modernity, though he was one of the leaders of the decorative artists' modernist wing.
After the depression, all the artistes décorateurs suffered. The princely elites that commissioned entire suites from them were no longer capable of supporting their former lavish lifestyles. The need to broaden their designs to make them more affordable pushed many of the French designers towards metal, in hopes of mass-producing their designs. But the French furniture makes, unlike the Germans, were not interested in mass production. Thus, even the tubular steel furniture of Le Corbusier, Charlotte Perriand and Pierre Jeanneret, not to mention Chareau's own metal furniture, was luxurious, though less expensive than the furniture veneered in precious woods.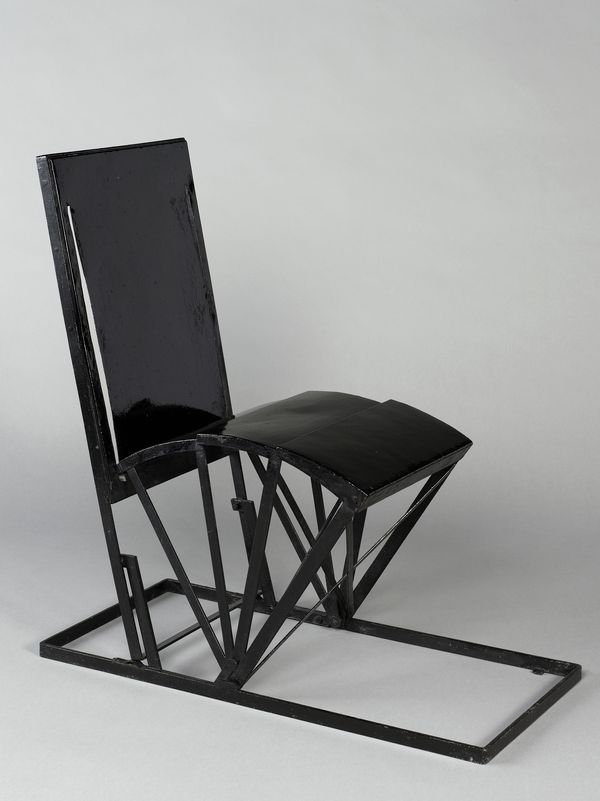 Folding chair (MC763), 1927, designed by Pierre Chareau, metal and paint, 29 1⁄2 × 31 1⁄2 × 14 1⁄8 in. (75 × 80 × 36 cm). Centre Pompidou, Musée National d'Art Moderne, Centre de Creation Industrielle. Paris. [Anonymous] gift in 2008. Photograph by Bertrand Prévost, image provided by CNAC / MNAM / Dist. RMN-Grand Palais / Art Resource, New York
KS: This custom metal furniture, which also extended out into Chareau's interiors in the form of room dividers, built-in units, bookcases and staircases, would not have been possible if it weren't for his partnership with the ironsmith Louis Dalbet. How did Chareau meet Dalbet and begin collaborating with him?
EdCM: It is believed that Chareau met Dalbet, an ironsmith of virtuosity, in the annual Salon des artistes décorateurs of 1922. A year later, they began to collaborate, not only on furniture and lighting fixtures, but on the interiors of the Grand Hôtel de Tours and, above all, on the Maison de Verre. Dalbet is now credited as one of the "authors" of the Maison de Verre, alongside Chareau and the Dutch architect Bernard Bijvoet, as a plaque outside the house attests. The two men obviously had enormous influence on one another and respected one another greatly — Chareau challenging Dalbet with unprecedented designs, and Dalbet underscoring the properties and limits of different methods and materials, thus leading Chareau to change some of his ideas.
KS: How has Chareau influenced subsequent architects and designers? I assume there must have been a period of "rediscovery," given the fact that so many things were dispersed due to the circumstances of World War II?
EdCM: That's a very interesting question! Chareau was extremely influential in the 1920s until the depression swept away the affluent classes who could afford to furnish their lavish homes exclusively with bespoke goods. He and his peers were forced to change direction. In recent years, of course, things have changed. The number of Chareau collectors has soared, as they now come from all over the world. There are hardly enough pieces in the market, and prices have gone through the roof. As a result, a gallery in Paris is turning out copies of his work using modern materials and technologies. This is not the same as "influence," of course, which can co-exist with originality. In this other sense, the work of Dakota Jackson comes to mind. There is a real kinship with Chareau which does not stamp out Jackson's own imaginative vocabulary.
With regard to the Maison de Verre, the impact was immediate and can be seen in the work of several architects, including Le Corbusier himself, Paul Nelson (USA), William Lescaze (Switzerland and the USA) and Paul-Amaury Michel (Belgium). World War II interrupted this process. After the first postwar decades, the famous house by Chareau and Bijvoet was "rediscovered," and many architects began referencing it in their projects, including, among others, Tadao Ando and Hiroshi Nakamura (Japan), Renzo Piano (Italy), Glenn Murcutt (Australia) and Wiel Arets (Holland).
'Pierre Chareau: Modern Architecture and Design' is on view at the Jewish Museum through 26 March 2017.