From our April sale of 'Modern Masters', this spectacular ceiling light is one of three unique plaster ceiling lights that Alberto Giacometti created for his close friend, the editor Tériade. Originally installed in Tériade's dining room in his apartment on rue de Rennes in Paris, it is exceptional in its originality but also in its large size, spanning 129 cm in diameter. The other two smaller ceiling lights hung in villa Natacha, Tériade's seaside residence in Saint-Jean-Cap-Ferrat: one in the famous 'Matisse' dining room (now at the Musée départemental Matisse, Le Cateau-Cambrésis) and the other, 'Petit Lustre avec Figurines' in the salon, which sold in October 2007.
Giacometti treated plaster as a noble material, valuing it for its malleability and sense of fragility.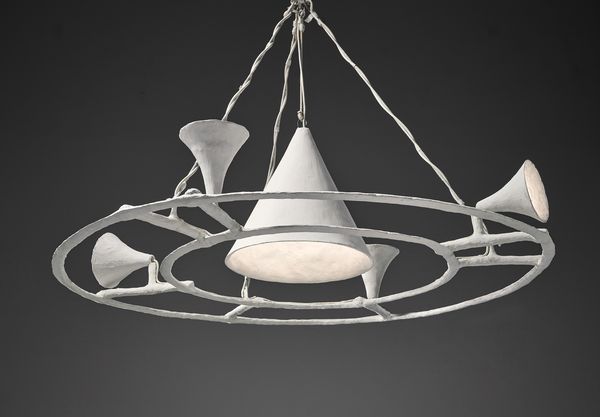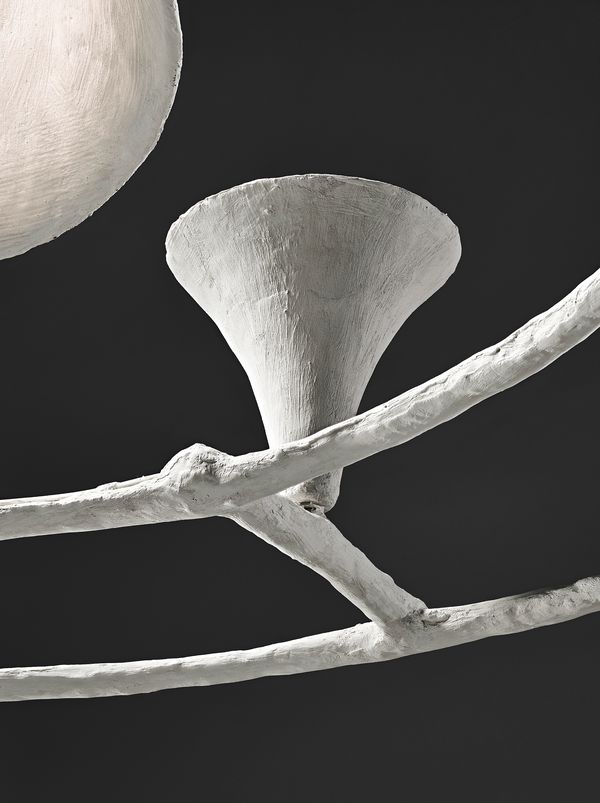 Alberto Giacometti Unique and large conic chandelier with four small cones, from the Tériade apartment, Paris, circa 1954
For most sculptors, plaster is an intermediary material used in the lost wax process. Giacometti, however, treated plaster as a noble material, valuing it for its malleability and sense of fragility. The filmmaker Ernst Scheidegger, who documented Giacometti's studio from the 1940s-1960s, also highlighted plaster's natural tendency towards chiaroscuro: "As a white material, plaster is superbly well-suited to bringing a figure to life using light and shade...the plaster casts reproduced Alberto's work in a much more differentiated and lively way than many of the bronzes could." Giacometti in fact chose to apply a matte-white patina to some of his bronzes, such as Femme couchée qui rêve (1929), an interesting reversal, with bronze imitating a supposedly more base material.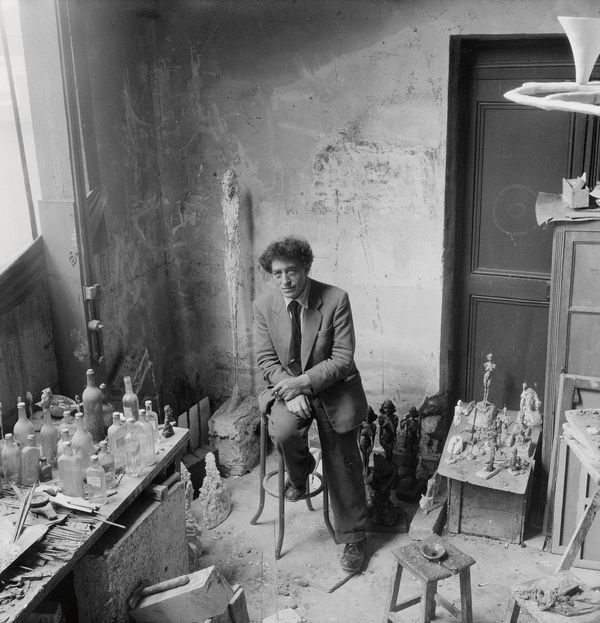 Alberto Giacometti at his studio with the chandelier from the sale © The Estate of Alberto Giacometti (Fondation Giacometti, Paris and ADAGP, Paris), licensed in the UK by ACS and DACS, London 2016
This ceiling light would have been created in much the same way as Giacometti's plaster sculptures; as Scheidegger described his working method, "Diego set up a wire frame — an armature — which the brothers discussed together, and then Alberto began to work on it with plaster." Scheidegger went on to describe Giacometti's chaotic studio on rue Hippolyte-Maindron: "There were piles of plaster scraps and chaos reigned. In the middle of this muddle Alberto continued to work imperturbably, as if it was nothing to do with him." Indeed, a Denise Colomb photograph from 1954 shows this work hanging above Giacometti in his studio, the artist perched on a stool and surrounded by plaster figurines, tools and fragments.

Giacometti had begun designing plaster lighting in the late 1920s, a period of intense collaboration with Jean-Michel Frank. The designer is believed to have discovered Giacometti's work at the 1929 Salon de Tuileries exposition held at the Palais de Bois. Giacometti went on to design over seventy objects for Frank, including seventeen lamps, eleven floor lamps, thirteen vases, ten wall lights and other small accessories.
Among the more notable Frank interiors to include Giacometti designs were Elsa Schiaparelli's showroom on Place Vendôme (1934); Jean-Pierre Guerlain's apartment (1935) and Jorge Born's villa, Buenos Aires (1939). Giacometti assigned equal importance to his decorative works and sculptures. As he explained in a 1962 interview with André Parinaud, "For my livelihood, I accepted to make anonymous utilitarian objects for a decorator at that time, Jean-Michel Frank...it was mostly not well seen. It was considered a kind of decline. I nevertheless tried to make the best possible vases, for example, and I realized I was developing a vase exactly as I would a sculpture and that there was no difference between what I called a sculpture and what was an object, a vase"!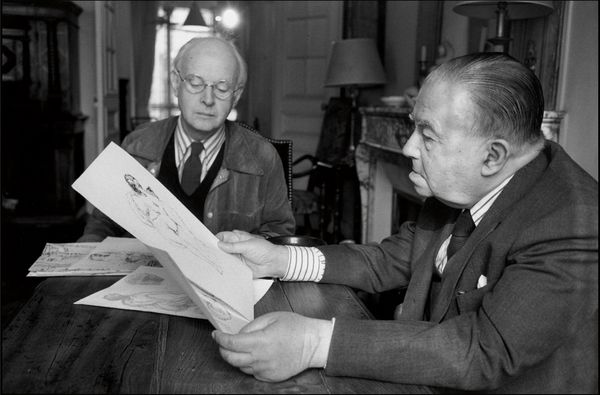 (Above) Henri Cartier-Bresson Alberto Giacometti at his studio on Rue Hippolyte Maindron with French publisher E. Tériade, 1952 © Henri Cartier-Bresson/Magnum Photo; (Below) Martine Franck Tériade and Henri Cartier-Bresson depicted with the present lot in situ, Tériade's apartment, Paris © Martine Franck / Magnum Photos
Following his collaboration with Jean-Michel Frank, Giacometti continued to produce decorative objects, but only for very close friends such as Tériade. Only an exceptional person could have forged such strong friendships with the most important, innovative and exacting artists and writers of the twentieth century, and Tériade was an editor who facilitated the publication of Chant des morts by Reverdy and Picasso, Cirque by Chagall, Divertissement by Rouault, L'enfance d'Ubu by Miró, Paris sans _n by Giacometti, Poème de l'angle droit by Le Corbusier, Images à la sauvette by Cartier-Bresson and Jazz by Matisse, inevitably playing a powerful role in the evolution of the modern art book. He also boasted friends in poetry and photography circles including Hemingway, Sartre, Cartier-Bresson and Blumenfeld.
In addition to the three plaster ceiling lights, Tériade owned bowls, floor lamps and a 'Flambeau' table lamp which Giacometti included, rather prominently, in the foreground of a portrait of him from circa 1939.