As we look ahead to 2017 and a new auction season, we reflect on the paintings, the partnerships and the people that made 2016 a memorable year at Phillips. Our evening sales in New York, London and Hong Kong generated huge excitement, and we were particularly pleased to test the masterpiece market with Roy Lichtenstein's famously vandalized Nudes in Mirror, 1994, which had undergone a meticulous restoration and sold for $21.5 million.
We broadened our expertise in 2016 with important hires across several departments and geographies, and we look forward to new additions to the Phillips family in the coming year. Further yet, we anticipate continued growth in Asia as we see a transformation in the buying habits of Asian collectors, who are becoming increasingly interested in art and design from around the world.

—Ed Dolman, Chairman & CEO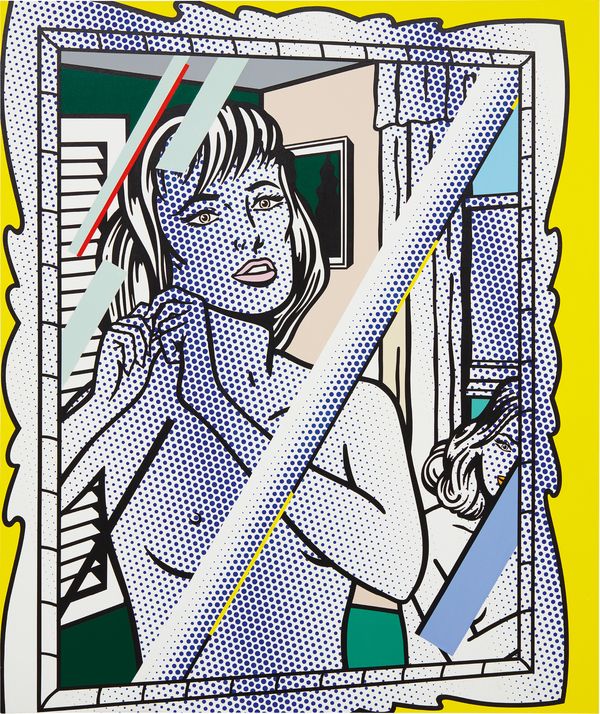 Roy Lichtenstein Nudes in Mirror, 1994
Our season started swiftly when January's Editions sale achieved its highest every total in London, highlighted by Expressionist works by Andy Warhol and Roy Lichtenstein that parodied the visual language of their predecessors and translated them to Pop. Fresh interest in American and European leaders of the twentieth century was a continued theme: In February it was Italian post-war art that stole the show in London, led by Piero Manzoni's Achrome, which sold for £5.6 million, and an untitled work by Mimmo Rotella which set a new world record at auction selling at just over £1 million.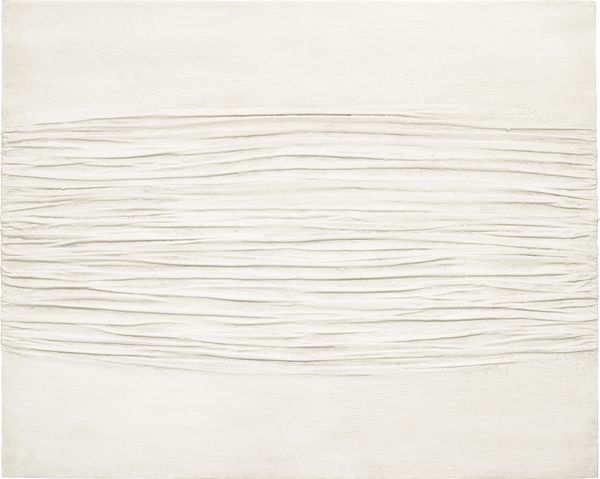 Piero Manzoni Achrome, 1958
To celebrate the centenary of British Vogue, we were honored to present a curated selection of photographs by some of fashion's most renowned artists, including Steven Meisel, Peter Lindbergh and Nick Knight — each work notable for its rarity and exclusivity. (We revisited our 'ULTIMATE VOGUE' series come the fall with 'show-stoppers' by Mario Testino, Irving Penn, Patrick Demarchelier and other collaborators from the career of Phyllis Posknick, Vogue's former Executive Fashion Editor.)
Also last spring, Phillips Geneva recorded its second-ever 'white glove' sale with 88 epic stainless steel chronographs achieving a combined total of over $33 million. Twice that evening we broke our own record for any Rolex watch at auction. In addition to this thematic sale, we auctioned watches with royal provenance: a group of Audemars Piguet, Patek Philippe and Rolex "Khanjar" watches originally commissioned by the Sultan of Oman, His Majesty Sultan Qaboos bin Said al Said.
Back in New York, Brice Marden's 'Star (for Patti Smith)', 1972-'74 — an abstract interpretation of a portrait capturing the distinctive spirit of rock star and writer Patti Smith — fetched nearly $6 million while a late 1980s Jeff Koons from his 'Banality' series sold for $5.8 million.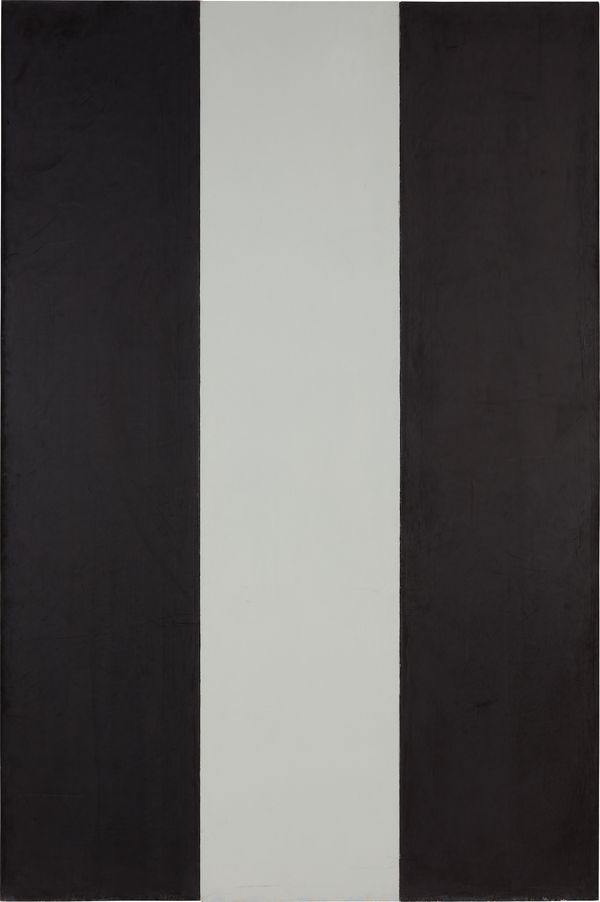 Brice Marden Star (for Patti Smith), 1972-74
Phillips was as active in the auction room as outside of it, with key collaborations across Europe, Asia and the Americas affirming our commitment to the world's preeminent museums and public galleries. It was digital that drove our attention as we sponsored Whitechapel Gallery's London exhibition 'Electronic Superhighway (2016-1966)' and partnered with them to co-commission a new online work by Swedish contemporary artist Jonas Lund. The resulting piece, Fair Warning, invited the audience to react to more than 300 questions, provoking their expectations around data collection in "the age of metrics and quantification."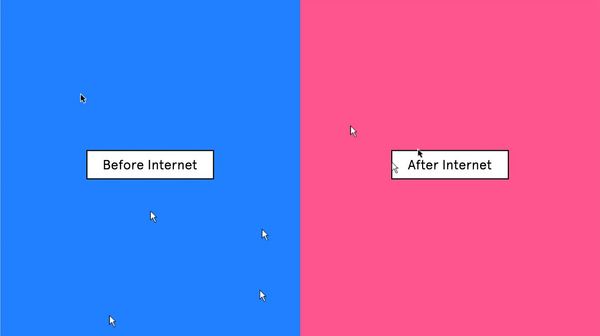 Jonas Lund Fair Warning, 2016 © the artist
We simultaneously celebrated the opening of the world-class new San Francisco Museum of Modern Art with its Modern Ball 2016; the opening of the new Tate Modern with the creation of a special magazine with Art Review; and the Design Museum, London with 'Time for Design', a benefit auction curated by the museum's visionary director Deyan Sudjic which featured rare works by Ron Arad, Ross Lovegrove, Wendell Castle and Zaha Hadid among others. In Los Angeles, our support of a major Robert Mapplethorpe retrospective co-organized and exhibited at LACMA and the J. Paul Getty Museum saw us in conversation with LACMA curator Britt Salvesen to discuss the photographer's legacy.
Phillips Berkeley Square kicked off its summer season by playing host to 'Late Hepworth', a specially curated exhibition in celebration of The Hepworth Wakefield. Presenting the many achievements of this award-winning museum and honoring its landmark anniversary, the show highlighted the most prolific and creative period of Barbara Hepworth, a pioneer who formed her own sculptural language within a male-dominated Modernist genre.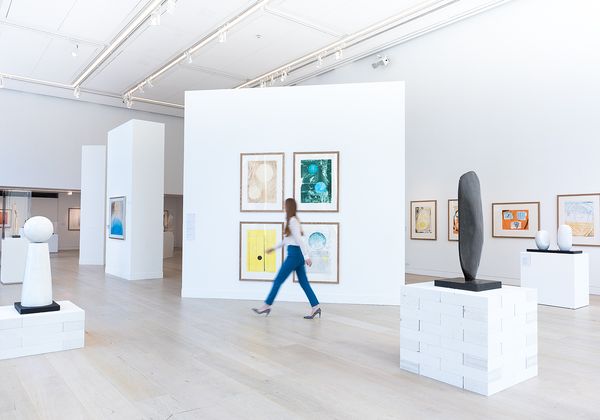 Exhibition view of 'Late Hepworth', summer 2016
Our fall auction season was enhanced by stunning collections from a wide variety of collectors: In September, a Finnish economist and venture capitalist on the board of the Dia Art Foundation, Pentti Kouri, shared his singular aesthetic with Italian Arte de Povera and other large-scale minimalist sculpture; and in Photographs, the cinematic collection of Georges Bermann, influential producer for the likes of Bjork and The White Stripes, featured sophisticated range and depth; while Ruth Ansel, a former art director for Harper's Bazaar and Vanity Fair favored by Richard Avedon, presented her personal collection of photographers with whom she collaborated, including Avedon, Diane Arbus, Annie Leibovitz and Bruce Weber.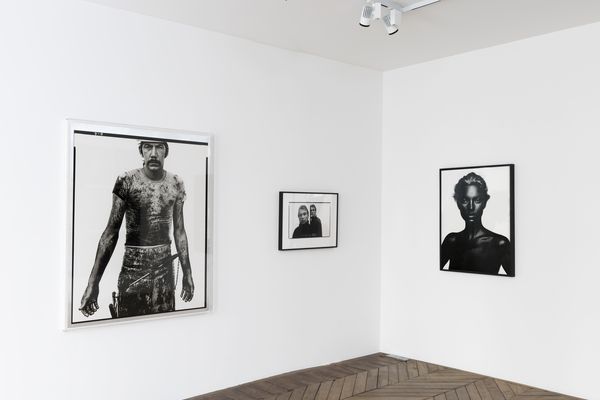 Highlights from the Photographs collection of Georges Bermann at Phillips Paris
For New York's Evening Sale of 20th Century and Contemporary Art, American fashion designer and pop art-enthusiast Tommy Hilfiger offered pieces by Jean-Michel Basquiat, Jean Dubuffet, Damien Hirst, Keith Haring and Andy Warhol from his Manhattan and Miami homes. The platform allowed Hilfiger to reminisce on his friendship with Andy Warhol in the 1980s, which fueled his passions for collecting and decorating with art.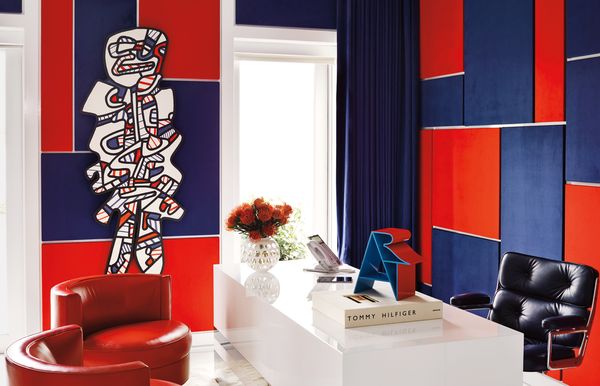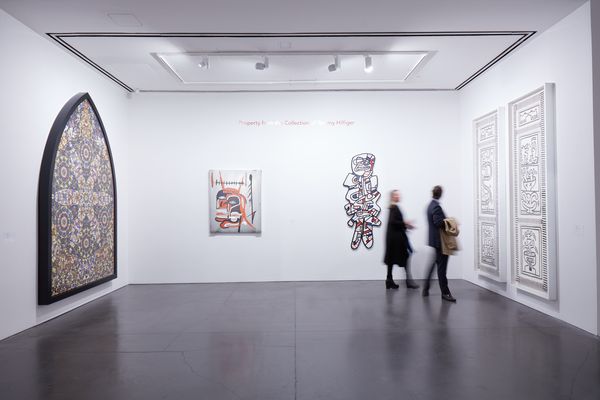 Property from the collection of Tommy Hilfiger, including Damien Hirst, Jean-Michel Basquiat, Jean Dubuffet and Keith Haring
While Ruth Ansel talked photos in a unique conversation via email with Jack Pierson, we had an enlightening conversation of our own with Adam Fuss about his personal approach to the medium prior to our Photographs sale in London in November. That same month, Madonna, Kate Moss and other fashion icons came together in celebrating artist duo Mert & Marcus at Phillips Berkeley Square. Our curated selling exhibition, 'Mert & Marcus: Works 2001-2014', opened at Phillips Berkeley Square in London before traveling to Paris.
Later that month, a provocative painting of a German warplane by Gerhard Richter led our New York season of 20th Century & Contemporary Art, achieving over $25 million. Representative of Capitalist Realism, the German answer to Andy Warhol's Pop Art of the West, Dϋsenjäger, 1963 compelled collectors with its heady and complex mix of excitement and terror, evolution and destruction.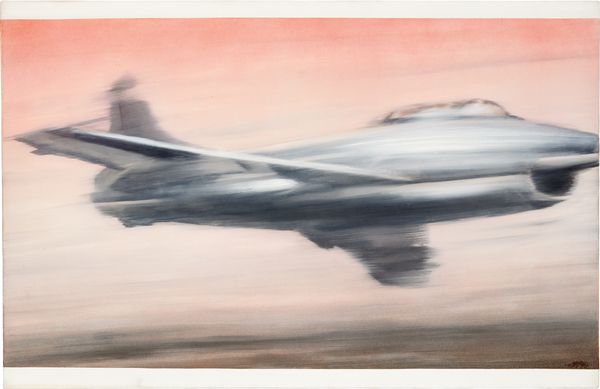 Gerhard Richter Dϋsenjäger, 1963
Other leading highlights included the restored 1994 Roy Lichtenstein from his late 'Nudes' series, an 'AbEx' painting by Clyfford Still from the peak of his career and David Hockney's monumental, 21st-century landscape The Gate. The diverse range of masterworks achieved exceptional prices alongside Hilfiger's blue-chip collection. Dr. David Anfam, the preeminent authority on Abstract Expressionism, spoke in depth about Still's 'Untitled', 1948-49 prior to our sale: Anfam consults for Denver's Clyfford Still Museum and co-curated the Royal Academy of Art's landmark 'Abstraction Expressionism' show that we sponsored in London.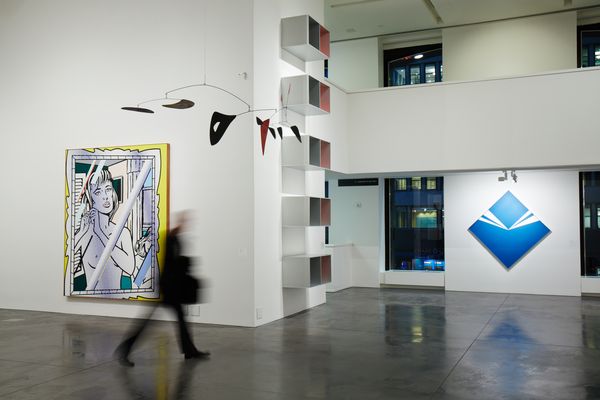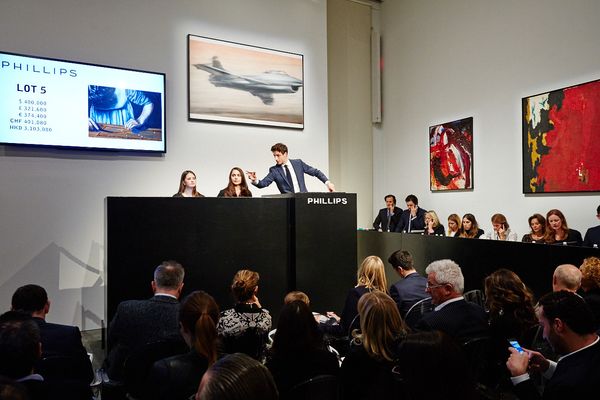 Installation and auction views of 20th Century & Contemporary Art in New York
The momentum continued with our Latin American art sales setting two new world auction records for Latin American female artists Carmen Herrera and Mira Schendel, each achieving $970,000. The sale was led by a 100-year-old Cubist portrait by Diego Rivera — of one of his many lovers, the Russian painter Marevna.
Patek Philippe turned heads at our fourth Geneva watch sale when an extremely rare Reference 1518 in stainless steel — one of only four known to be made — became the most expensive wristwatch ever sold at auction at over $11 million. This model was one of a trifecta of Patek Philippe ref. 1518s, also presented in yellow and pink gold that weekend. While Patek solidified its lofty status as market leader in high-end Swiss watchmaking, it was Rolex that grabbed the spotlight when we presented a curated sale of 38 historic Rolex wristwatches in Hong Kong.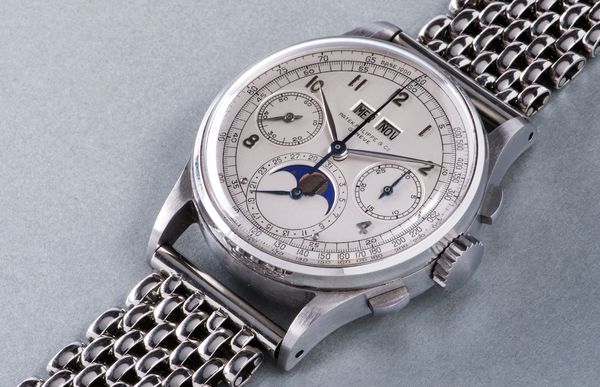 Patek Philippe Ref. 1518 in stainless steel, the most expensive wristwatch sold at auction
November in Hong Kong also marked our debut of Contemporary Art, Design and Jewellery sales in the region. Roy Lichtenstein's 'Landscape with Grass', 1996, from his series 'Landscapes in the Chinese Style', was the fitting East-meet-West centerpiece. The saleroom was also ignited by 10-minute bidding wars for works by younger artists who are gaining global recognition in the art market: Adrian Ghenie with his surreal 2009 portrait of 'Elvis', and Nick Knight with a photograph for German designer 'Jil Sander'.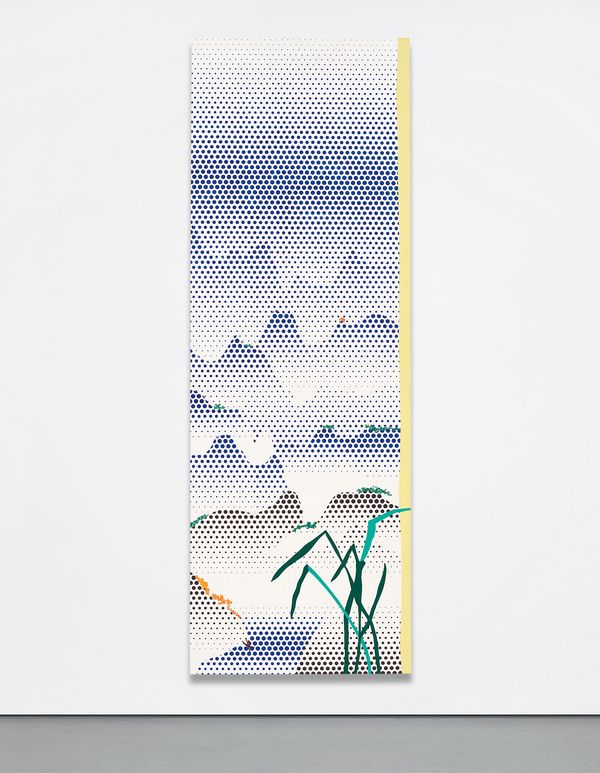 Roy Lichtenstein Landscape with Grass, 1996
The presentation of important design alongside contemporary art made for a more unique sale format in Hong Kong. Collectors sought iconic examples of mid-century design, like Finn Juhl's 'Chieftain Chair', in addition to the more playful contemporary creations of Brazil's Campana Brothers.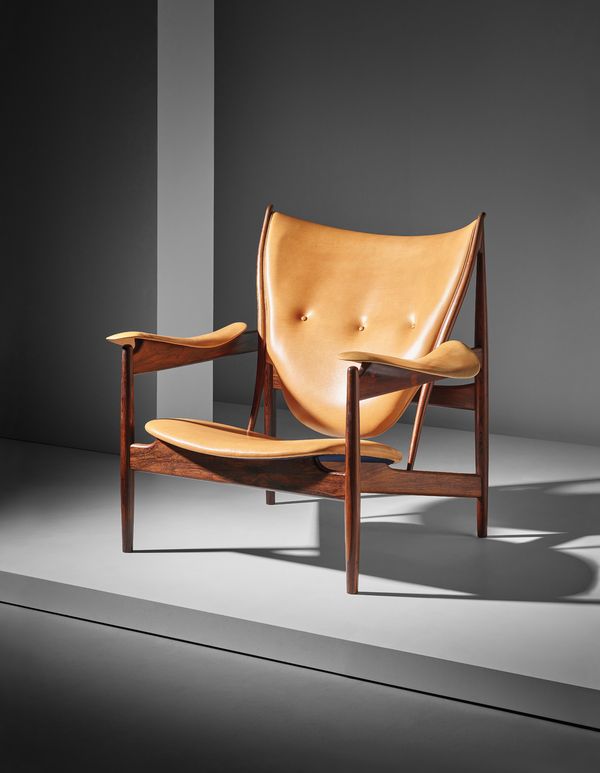 Finn Juhl Early and rare 'Chieftain' armchair, model no. FJ 49 A, circa 1950, from our Hong Kong Evening Sale
The year came to a close with New York Design which saw new world auction records set for studio ceramist Lucie Rie and Italian lighting specialist Gino Sarfatti, among others. The final major private collection presented at Phillips in 2016 was that of a true connoisseur, interior designer and architect Lee F. Mindel, whose Manhattan loft boasted rare furniture by the likes of Antoni Gaudí, Jean Prouvé and Ettore Sottsass.
Browse Phillips' spring sale calendar here.