Jean Dubuffet's Le Gommeux, 1972 in Tommy Hilfiger's Miami home.
Since launching his namesake brand in 1985, Tommy Hilfger has become globally renowned as the pioneer of "classic American cool" style, fusing East Coast Classics with a laidback West Coast twist. Inspired by iconic pop culture and Americana heritage, the designer and his brand are driven by an ever-optimistic vision to break conventions and celebrate individuality.
Hilfiger's career in fashion began as a high school student in 1969 when he opened his first store. Ten years later, he moved to Manhattan to pursue a career in fashion design, and in 1985 his namesake brand launched with a single menswear collection.
As he built his career, Hilfiger surrounded himself with creativity, in every sense. He ran in the same circles as Andy Warhol in the 1980s and began to educate himself on fine art. In the years since, he has built one of the most signifcant contemporary and pop art collections in the country. He and his wife Dee Ocleppo Hilfiger continue to expand and showcase their collection in their New York and Miami homes.
"Collecting pop and contemporary art has been one of my true passions in life. After meeting Andy Warhol in the '80s, I became inspired by the works created in the pop art era — from Warhol himself and also by visionaries including Basquiat, Dubuffet and Haring. I'm excited to be able to share these important works with others who can be inspired by their brilliance as I have for so many years."
—Tommy Hilfiger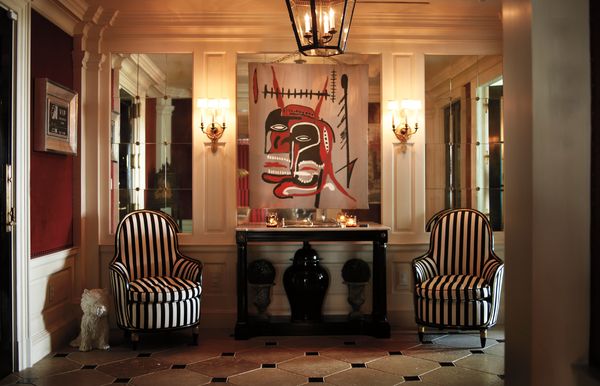 Jean-Michel Basquiat's Untitled (Devil's Head), 1987 in Tommy Hilfiger's New York apartment.
Seen above in one of Hilfiger's homes, Jean-Michel Basquiat's Untitled (Devil's head) was painted in 1987, just a year prior to the artist's untimely death, and exhibits the artist's distinct aesthetic vision and subject matter: the skull. Basquiat offers two mirrored skulls in black, white and blazing red, one echoing the other in asymmetric balance. In their rendering, these bare-teethed skulls, executed in the artist's characteristic, active brushwork, interplay against a lustrous metallic background. Conceived at the end of his career, this work occupies a unique space as the millennium neared, provoking us to reflect on the changed nature that Basquiat's work took towards the end of his practice.
Indeed Untitled (Devil's head) pulls from the same themes evident in the artist's very last painting, created just a year later in 1988, Riding with Death. In 1987, the artist had just witnessed the death of his dear friend and contemporary Andy Warhol, and was just a year from his own.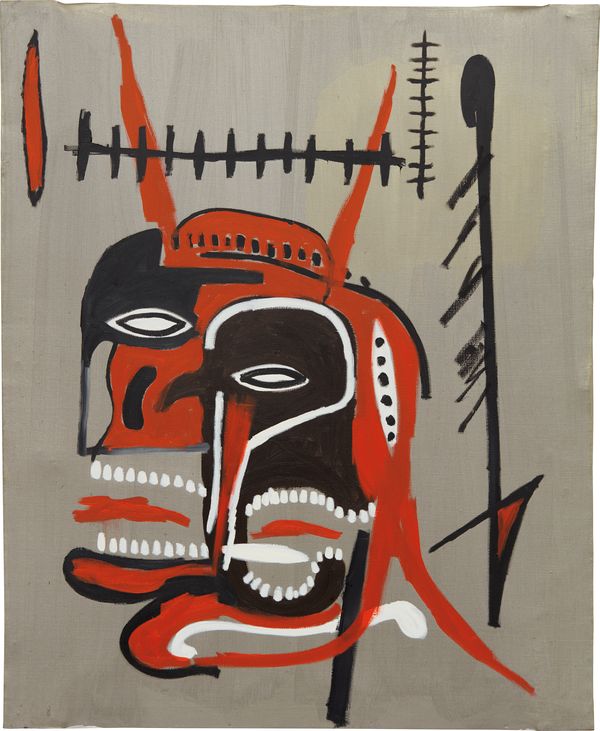 Jean-Michel Basquiat Untitled (Devil's head), 1987
The skull harkens back to one of Basquiat's first sources, a book on anatomy given to him by his mother in 1968 after surviving an almost-fatal car accident. While abstract, Basquiat's skulls are rendered with a semblance of scientific accuracy in their structure and emphasis on the individual parts that make up the body, evident here in his rendering of the teeth and nasal cavities. Like Francis Bacon, there exists a psychological pulse in the stylized way that this anatomical influence was expressed, belonging to the unique intersection of abstraction and figuration. In Untitled (Devil's head), Basquiat also harkens back to the art historical canon with which he was so fascinated, not only in the tribal motifs exhibited in the contours of the skulls' heads and the arrow-like lines framing the composition, but also in the metallic surface of the background, which recalls Renaissance compositions and Byzantine mosaics.
The amalgamation of influences Basquiat refers to are, in typical fashion, infused with the urbanization of 1980s New York City, however they appear to be distinctly different from the frenetic canvases of Basquiat's early works. Here, Basquiat rejects background noise of text and music for sublime reflection. As such, the composition of open-mouthed devils reflects not only the artist's inspirations but also speaks to the autobiographical nature of his work, perhaps acting as a metaphor for the artist's late life. As Phoebe Hoban explains in 1998's Basquiat: A Quick Killing in Art: "In Basquiat's paintings, boys never become men, they become skeletons and skulls...His work is the ultimate expression of a profound sense of 'no there there,' a deep hole in the soul."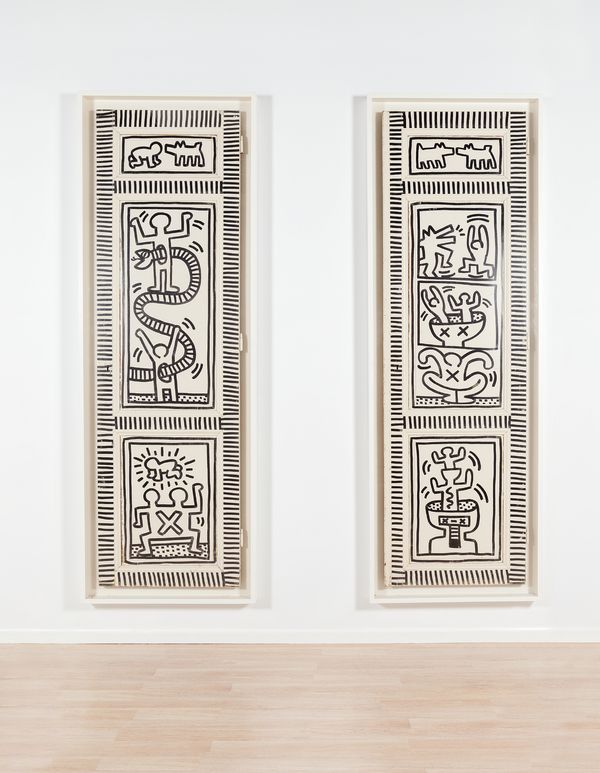 Above: Andy Warhol Cowboys and Indians, 1986; Below: Keith Haring Snake and Man; Dogs and Men, 1983
Drawing on a long art-historical lineage of adorning various architectural elements, in particular doorways and portals, Keith Haring brought the form into the contemporary era with two works from the Hilfiger collection, Snake and Man and Dogs and Men, both from 1983. The duo represents one of the most personal works in the artist's short yet prolific oeuvre, as he very rarely accepted private commissions.
Featuring the familiar pop iconography pervasive within his multifarious practice, the doors are one of many found surfaces that the artist painted on throughout his career. Haring saw empty walls as opportunities for drawing and for performance, as evidenced by his famous subway drawings from the early 1980s. The subway drawings were a rehearsal for later works, and the inception of his interpretation of drawing as a form of performance and expression: for Haring, "it was a whole sort of philosophical and sociological experiment." (Keith Haring, quoted in David Sheff's "Keith Haring: Just Saw Know," Rolling Stone, August 10, 1989)
Inspired by the street art which surrounded him in 1980s New York, Haring employed the steadfast technique of graffiti in his contour illustrations of repeated lines and miscellaneous shapes. Haring's motifs are simultaneously abstract and representational, scenes stripped
of ornamentation down to their most elemental components. A contemporary manifestation of ancient imagery, Haring's composition on doors spans the ages, bridging exterior and interior, and relates man to beast. Such was typical of Haring's imagery, which he described in Rolling Stone as being, "…representational of human and animal. In different combinations they were about the difference between human power and the power of animal instinct." This defined vocabulary would become a hallmark of Haring's career, whether rendered in public or private; on canvas, paper or tarp; cow-hide, mannequin or door.
Haring painted only a handful of private commissions throughout his career, many of which were begun in an effort to decorate the homes of close friends. Seeing such vacant space, pregnant with the opportunity for artistic expression, Haring could hardly resist the inspiration to adorn. While Haring was living in Paris, he was asked by his friend Claude Picasso, the son of that most famous of 20th century artists, to paint the doors of his daughter Jasmin's bedroom. As he described, "Keith attacked the problem head on, just as my father would have done…my father would look at a blank canvas, go up to it, then start painting without stopping. When he stepped back, the painting would be finished. And that's just how Keith approached Jasmin's door. He just stayed close, close to the door, painting it from top to bottom—bending on his knees, and never once stepping back to see how it looked." Indeed Haring approached that project, as well as Snake and Man and Dogs and Men from Hilfiger's collection, with inimitable virtuosity and spontaneity indicative of his practice.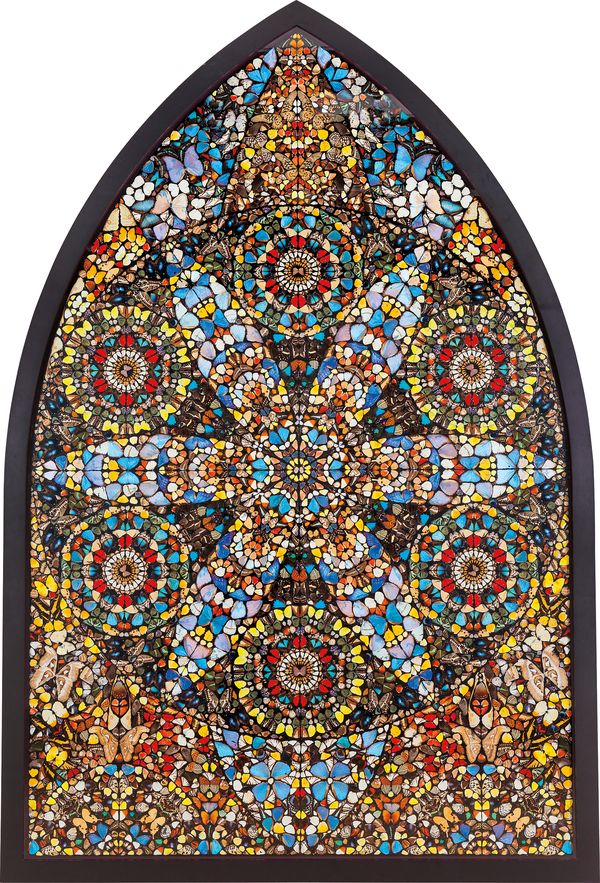 Damien Hirst Disintegration - The Crown of Life, 2006
Inspired by the surface decoration on a Victorian tea tray, Damien Hirst's Kaleidoscope series began in 2001. This particular work, the last from Hilfiger's collection to be offered in our Evening Sale, was created five years later and displays Hirst's mastery of this technique. The Crown of Life, 2006 is comprised of Hirst's most desired medium: butterflies. Appearing throughout Hirst's various bodies of work, butterflies interest him because of their exquisite beauty, which remains, even in death. Constructed in the shape of a classical church stained glass window, the butterflies lie in a very precise pattern to mimic the sun-illuminated colored glass.
Hirst's Kaleidoscope paintings are created by laying colorful butterfly wings into household paint and arranging them according to a very specific pattern, laid out and executed by Hirst. While the complete series is inspired by the religious iconography of stained glass, some of the pieces even reference specific, existing windows in churches throughout London. The work's spiritual nature is conveyed not only through its title, which refers directly to a line in the Bible, James 1:12, but also the symbolism of the butterfly.
This promise of life and resurrection is illustrated in the physical life of a butterfly. In antiquity, the image of the butterfly emerging form the chrysalis stood for the soul leaving the body at death. In Christian art the butterfly is a symbol of the resurrected human soul. The life-cycle of the caterpillar, chrysalis and butterfly symbolizes life, death and resurrection. As Hirst himself explains, "The death of an insect...still has this really optimistic beauty."
The Crown of Life, 2006 beautifully conveys Hirst's obsession with color and light and the dichotomy of life and death, elegance and obscenity, immortality and extinction.