Lucas Arruda Untitled, 2014. Estimate: $80,000-120,000.
20th Century & Contemporary Art Evening Sale, New York.
Amoako Boafo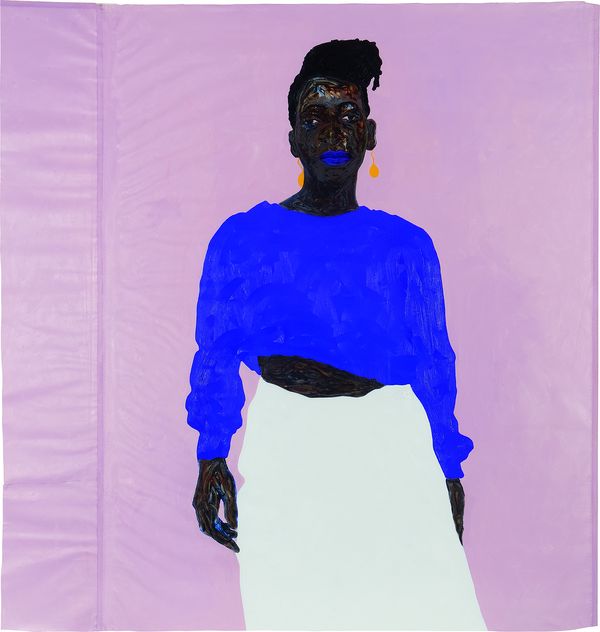 Amoako Boafo Joy in Purple, 2019. Estimate: $50,000-70,000.
Executed in luscious blues, browns, and violets, Joy in Purple exemplifies the investigation of black representation and identity explored in Amoako Boafo's Black Diaspora series. Usually painting friends or people in his community, this series is according to the artist, "first a celebration of blackness and second a form of documentation." Coalescing his Ghanaian heritage with European art history, Boafo thrusts members of the African Diaspora into traditional modes of Western portraiture through a visual lexicon that is his alone. Boafo uses brushes to render the monochromatic backgrounds and his figure's clothing, but he paints the subjects themselves directly with his fingers. "I am trying to find ways to celebrate individuality, which is reflective in my technique," he says. "When I paint with my fingers, I have less control, which I believe is beneficial."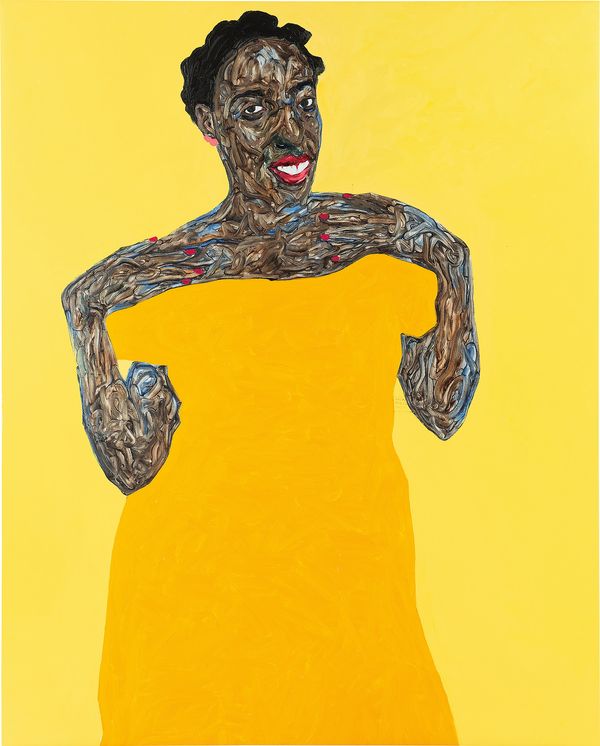 Amoako Boafo After the nail color, 2018. Estimate: $50,000-70,000.
Boafo's After the nail color, 2018, is another stunning example of the artist's distinctive style of portraiture. Boafo describes his oeuvre as being dedicated to the celebration and documentation of the black experience; a topic which the artist feels has otherwise been brashly misrepresented throughout art history. Despite being only 36 years old, preeminent institutions—such as the Solomon R. Guggenheim Museum, New York, and the Albertina Museum, Vienna—have rapidly begun acquiring his work. His paintings are rare-to-market, and Phillips achieved the world record for the artist this past February in London.
Lucas Arruda
Bridging abstraction and figuration, the landscapes and seascapes of Lucas Arruda's paintings recall the Romantic sublime, as epitomized by 19th-century landscapes, through a contemporary lens. In Untitled, Arruda presents us with what appears to be a blue sea cloaked by a stormy grey foreboding sky. Intended to more closely represent the landscape of the artist's imagination than real environments, Untitled and Arruda's other meditations comprise the Deserto-Modelo series that the artist has been working on for the last decade. This long-term investigation of painting's nature is on one hand influenced by the writings of Brazilian poet João Cabral de Melo Neto and Dino Buzzati's 1940 book O Deserto dos Tártaros, but Arruda was also inspired by a wide range of artists such as Alfredo Volpi and Agnes Martin. Evocative of so many pictures—an ocean by J. M. W. Turner; a misty beach scene by Armando Reverón; James Abbott McNeill Whistler's Nocturne: Blue and Silver – Chelsea, 1871 at Tate, London— Untitled encourages the viewer to examine nature through the astute and diverse eyes of the artists we so admire.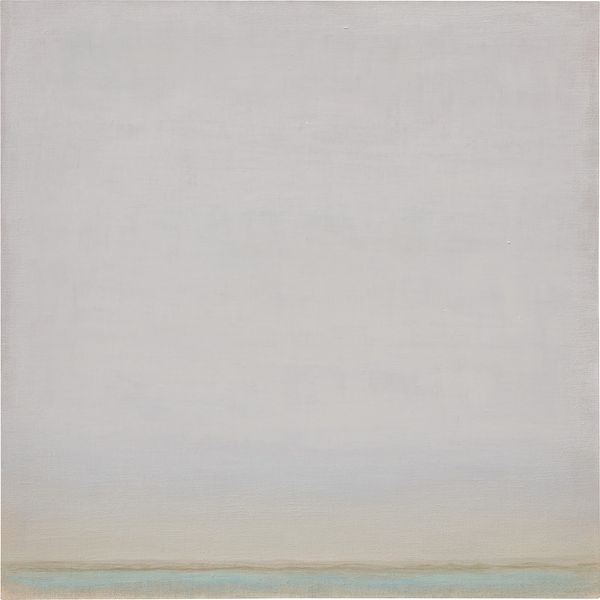 Lucas Arruda Untitled from the series Deserto-Modelo, 2012. Estimate: $60,000-80,000.
Despite being only 37 years old, Arruda has already received widespread institution and critical recognition for his exquisite land- and seascapes. His first large-scale institutional solo show, Deserto-Modelo, was at the Fridericianum in Kassel, Germany last year, and works by the artist are already in the permanent collections of J. Paul Getty Museum, Los Angeles; Fondation Beyeler, Basel; the Rubell Family Collection, Miami; and the Pinacoteca do Estado de São Paulo in Brazil. Well-known in his native country of Brazil, Arruda has catapulted to international acclaim after shows at David Zwirner in London in 2017 and New York in 2019. With his paintings rare to market, this is only the fifth Deserto-Modelo at auction. Phillips achieved the world record for the artist this past February in London.
Otis Kwame Kye Quaicoe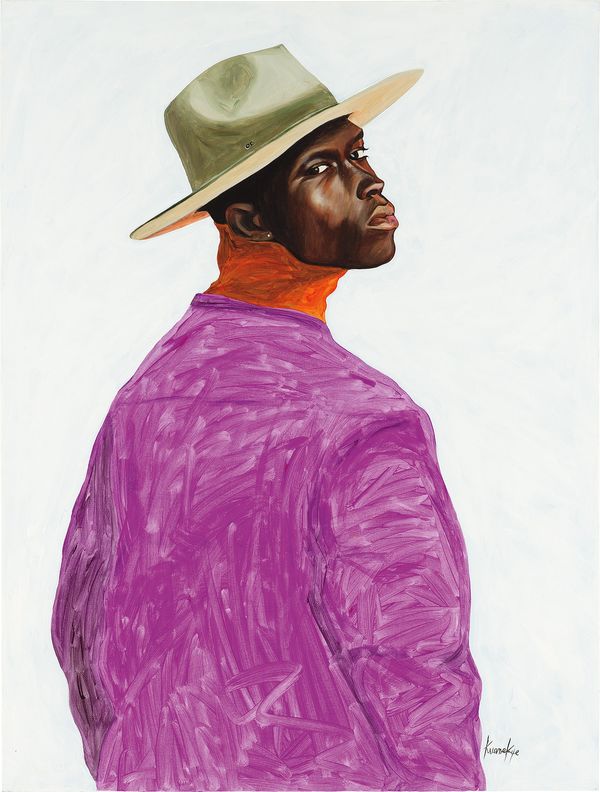 Otis Kwame Kye Quaicoe Shade of Black, 2018. Estimate: $20,000-30,000.
Evoking the postmodern, realist portraiture of Barkley Hendricks and Kerry James Marshall, Otis Kwame Kye Quaicoe's luminous, bold paintings of black men and women exude a sense of pride and aristocratic dignity. Born in Accra, Ghana, but now living and working in Portland, Oregon, he usually depicts his friends (from real life or those he met online) or people he encounters on the street in classically derived poses. Shade of Black is a work from Quaicoe's series of cowboys, and likely portrays model David Theodore, who wore a similar ensemble for a 2019 photoshoot. As all of the artist's figures, the present subject is depicted with conspicuously vibrant sartorial choices, donning a bright purple jacket atop a tangerine turtleneck, outfitted with a straw yellow cowboy hat. The lush treatment of these garments harmonizes with Quaicoe's rendering of black skin—replete with golden, coral, and burgundy tonalities. Quaicoe's paintings are influenced by hand-painted Ghanaian film posters from the 1980s and 1990s, which is clear in the compositions of the canvases, usually featuring a single figure against a monochrome impasto-rich expanse. Quaicoe's work is incredibly rare-to-market, and Shade of Black represents the artist's debut at auction.
Christina Quarles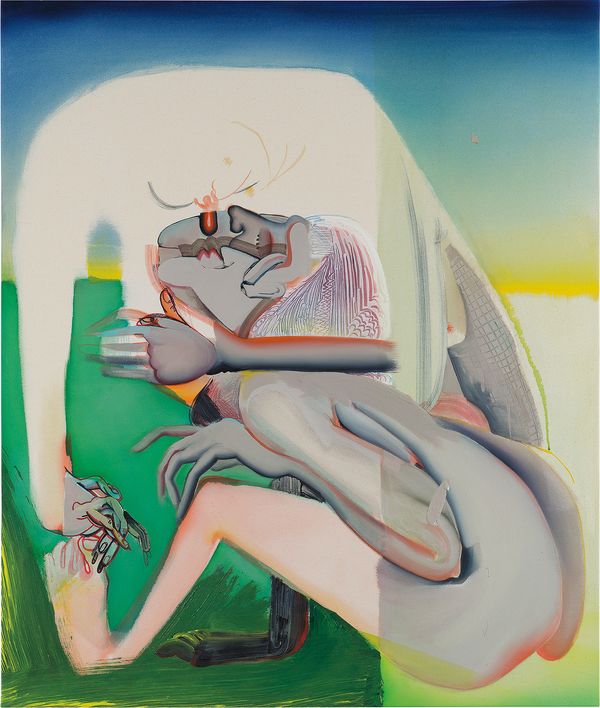 Christina Quarles Placed, 2017. Estimate: $70,000-100,000.
A superb example from an artist rare to auction, Placed exemplifies Christina Quarles' fresh painterly approach to universal themes of identity and sexuality, which has earned her a reputation as one of the most innovative voices of her generation. In her launch to widespread acclaim over the last three years, the painter has enjoyed international museum attention, and her unique vision will be celebrated in a major solo exhibition at the Museum of Contemporary Art Chicago next year. This global recognition—virtually unprecedented for an artist only 35 years old—has translated into her status as one of the most sought-after painters among her contemporaries. Only three paintings by Quarles have ever been offered at auction, with Phillips having achieved the artist's current record price in 2019.
Robert Nava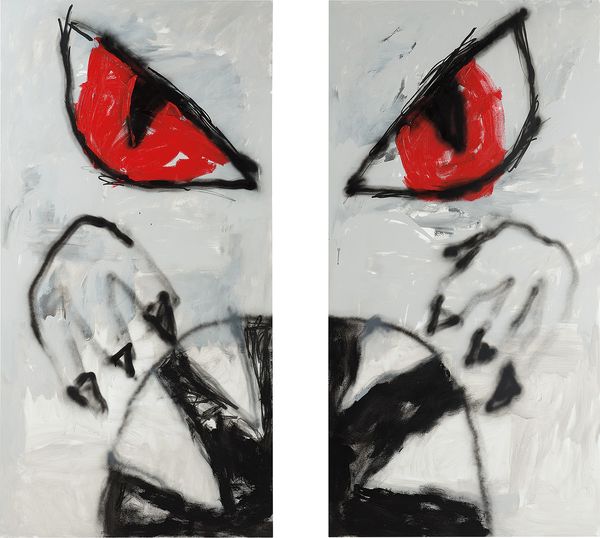 Robert Nava The Tunnel, 2019. Estimate: $40,000-60,000.
Evoking ancient hieroglyphics, Robert Nava's mythical monsters teeter between commemorative gravitas and childlike levity. Intrigued by the mystery inherent to viewing ancient images, such as those in cave painting, when viewed within a contemporary context, the artist envisions enigmatic creatures with untold stories. Nava's approach was informed by myriad influences spanning art history, from the Old Masters to Huma Bhabha, ancient art—primarily Egyptian, Mayan, and Sumerian—to Vincent van Gogh. Interested in the soul and immense impact of the these images, Nava also became obsessed with the "mistakes" he found in the works by this diverse selection of creators. "And even looking at a Renaissance painting, I would be looking for error, like mistakes were more alive to me. By drawing things 'incorrectly,' I found more things to do in that realm," Nava explained. "So that's why I find it more interesting and why I draw and paint like this. It's been like that since probably 2007 or 2008, but now it's getting really refined, and I know what I want to do more."
Nava's exhibitions at Night Gallery, V1 Gallery, and Sorry We're Closed were sold out, and The Tunnel marks the artist's auction debut.
Titus Kaphar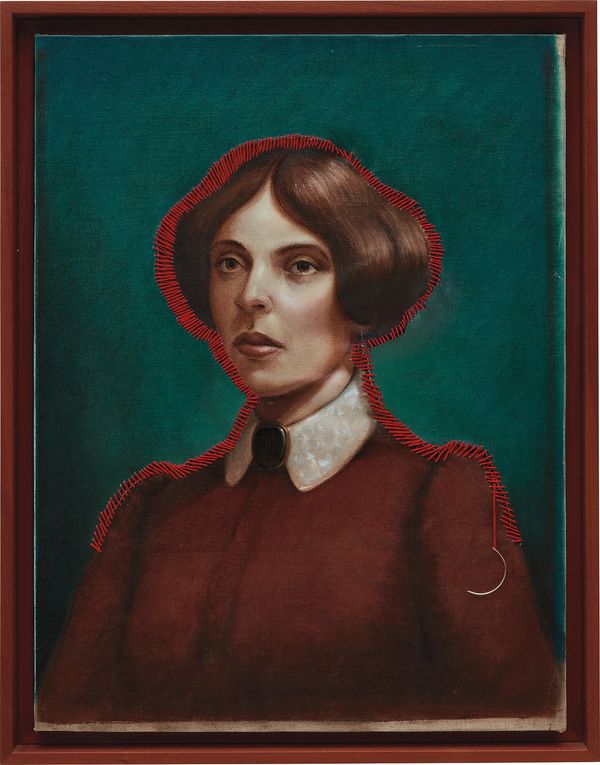 Titus Kaphar Untitled (red thread lady), 2013-2018. Estimate: $40,000-60,000.
Titus Kaphar's work questions the nature of history and its representations in the past and today. By altering the materiality of his paintings, sculptures, and installations, Kaphar subverts conventional understandings of historical representations and exposes the uncomfortable and troubling realities of the racism in America's past. This is the artist's first auction season since joining Gagosian's roster of artists.
Coalescing fact and fiction, Titus Kaphar's much-acclaimed Vesper Project explores the precariousness of memory and social constructions of identity. After mistakenly recalling an experience with an aunt that never occurred, the artist—whose work is often informed by the perennial destructiveness—began to communicate with a character in his work, named Ben Vesper. Their five-year-long fictional exchange is documented by a series of letters, journal entries, and other ephemera regarding Vesper's family history on the project's website. This experiment evolved into an installation set in an actual 19th-century house, in which Untitled (red thread lady) was hung on the wall, and is Kaphar's most exhibited—and arguably most famous—body of work.
Jonathan Lyndon Chase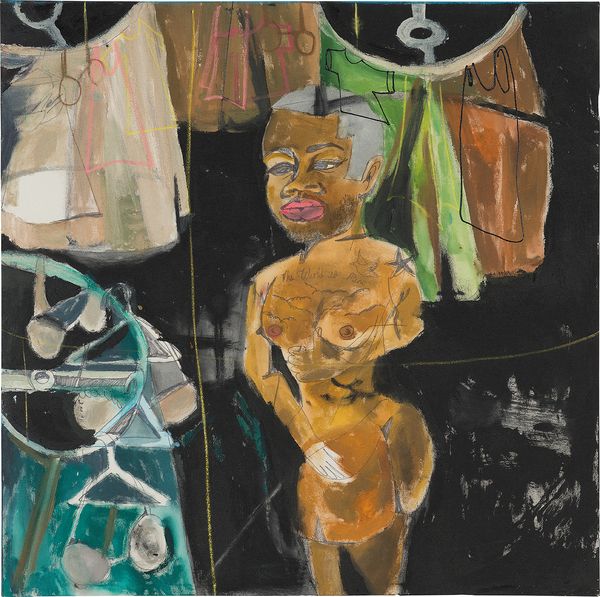 Jonathan Lyndon Chase Clothes Shopping, 2018. Estimate: $10,000-15,000.
Jonathan Lyndon Chase directly addresses his personal history and manifests the complex matters of race, gender, sexuality and class across his practice. His work encourages viewers to confront their preconceptions and the ways in which subjective social constructs affect the way we live. By initiating this introspection, Chase contributes a new narrative to contemporary discourse and inspires viewers to do the same. In Clothes Shopping, Chase explores the ways by which traditional notions of masculinity can be challenged and overturned. His subjects are black queer figures that incorporate a compositional fantasy informed by his own life experiences in pornography, books, social media, and dreams. Last November, Phillips set the world auction record for Chase with the work rose petals on bed.
Noah Davis

Noah Davis 100 Years of Entertainment 1-5, 2008. Estimate: $120,000-150,000.
Painted in 2008, Noah Davis' 100 Years of Entertainment 1-5 is a characteristic example of the artist's lush, moody paintings of themes representative of African American life. Davis's decadent brushwork portrays the quotidian reveries of the urban dreamer; his surreal, sensitive works are marked by an unexpected optimism and their gentle immersion of the viewer into the somnambulistic world of the artist's musings as much by their velvety surfaces. As such, the present work vividly portrays five vignettes consisting of various forms of entertainment in intense detail. Davis' studies of various forms of enjoyment attest to the universality of our means of amusement and to the artist's skillful rendition of his subjects. As Helen Molesworth proclaims "Oh man, Noah Davis: That work speaks for itself." Earlier this year, Phillips set the world auction record for Davis in our March New Now sale.
Vivian Springford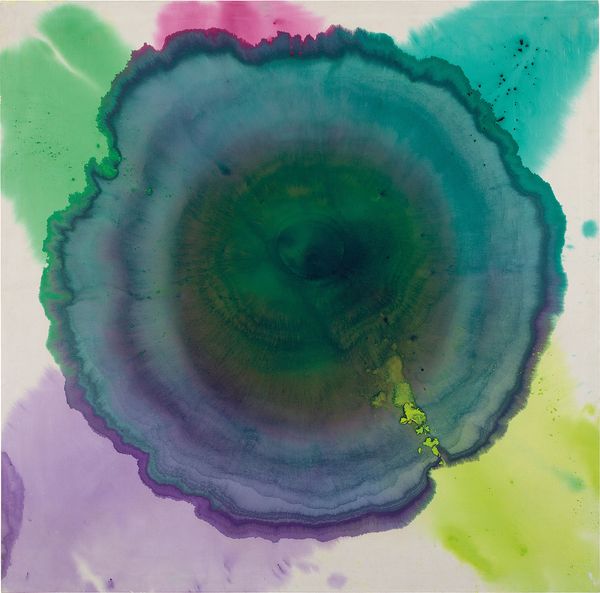 Vivian Springford Untitled (Tanzania Series), 1972. Estimate: $60,000-80,000.
Untitled (Tanzania Series)'s bold concentric pooling of pigment is wholly representative of Springford's signature "one-shot" paintings, which are created in a single attempt without edits or alteration. By the 1970's Springford had developed her distinctive technique for staining her raw canvases with thin washes of pinks, blues and greens, in a method that almost mimics the application of watercolor. The present work's brilliant hues and organic pattern work in tandem with the delicacy and thoughtfulness of Asian artistry to form an awe-inspiring burst of passion.
Bold in approach and vision, but timeless in appeal, Springford's compositions are finally receiving long-overdue popular and critical acclaim. With more international exhibitions of her work on the horizon, Springford's place in the canon of postwar abstract painting is certainly being sealed. This is only the fifth painting by the artist to come to auction, the last three of which were all sold within the last year and a half.
Matthew Wong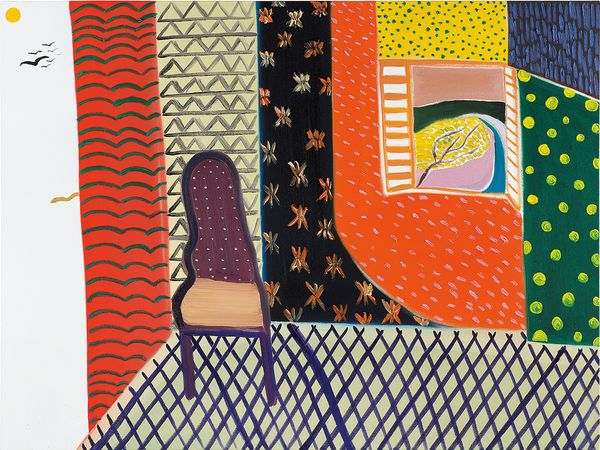 Matthew Wong Mood Room, 2018. Estimate: $60,000-80,000.
Matthew Wong's refulgent paintings are prisms of art history. From Chinese literati painting to the expressive brushwork of Vincent van Gogh and Chaim Soutine, the Nabis and Henri Matisse's fervor for color to the gestural approach of the Abstract Expressionists, numerous influences are palpable in his vibrant vignettes. An enigmatic, psychologically-charged depiction of a space of the artist's imagination, Mood Room is a superb example from the brief yet profound body of work Wong executed before his untimely death last year.
A self-taught artist, it wasn't until 2012 that Wong first began to experiment with drawing. "At first I just bought a cheap sketch pad along with a bottle of ink," Wong said, "and made a mess every day in my bathroom randomly pouring ink onto pages — smashing them together — hoping something interesting was going to come out of it." The artist's mother recalled that "he would go to libraries and study all the masters—Picasso, van Gogh, Matisse," and participated in Facebook communities of artists who introduced him to new techniques and ideas. Among these online friends included painters Peter Shear and Brian Calvin, and prominent art dealer John Cheim even counseled Wong on which oil paint to try.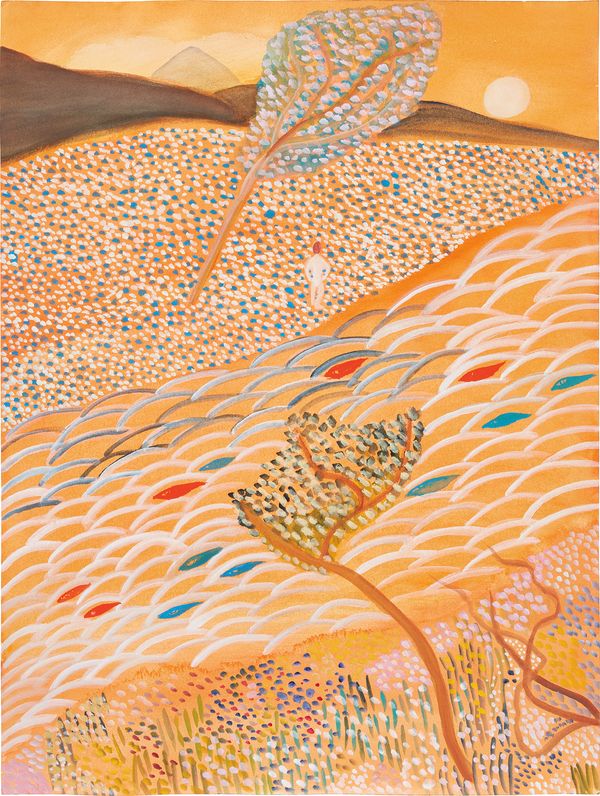 Matthew Wong Landscape with Young Bather, 2018. Estimate: $20,000-30,000.
Landscape with Young Bather, 2018, also epitomizes Wong's celebrated landscape paintings informed by modernist traditions. Replete with rich color and pattern, the present work nods to the hypnotic pointillism of Georges Seurat and the moody skyscapes of Vincent van Gogh. Here, the lone, almost indiscernible figure, further enriches the meditative quality of this work on paper as he moves in tandem with the rhythmic waves of his surroundings.