1. Passion & Humanity: The Susie Tompkins Buell Collection
Susie Tompkins Buell in her San Francisco home. Photo credit David Butow/Redux.
The auction highlight of the 2019 photographs market was Phillips' April sale of Passion & Humanity: The Susie Tompkins Buell Collection, with sell-through rates of 96% by lot and 97% by value which, along with our spring Photographs sale, totaled $10,490,875. Amassed by Esprit and The North Face founder Susie Tompkins Buell, the collection focused on photography's ability to synthesize aesthetic and social concerns. The sale set records for works by Tina Modotti, Margaret Bourke-White, and Consuelo Kanaga, and demonstrated the continuing strength in the market for such classic photographers as Dorothea Lange, Edward Weston, Edward Steichen, and Alma Lavenson.
2. New World Auction Record Achieved for Renowned Photographer Helmut Newton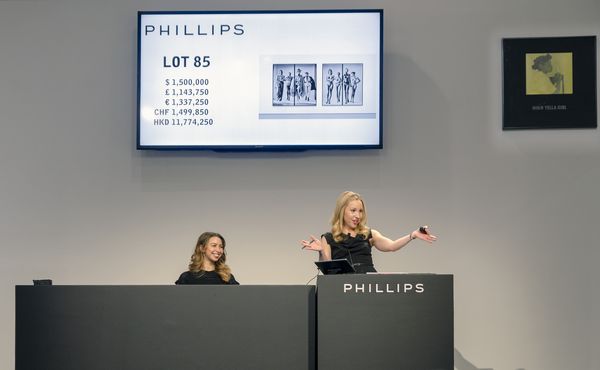 Auctioneer Sarah Krueger brings down the gavel on a new world auction record. Photograph by Stephen Perloff for The Photograph Collector.
Phillips has long held a commanding lead in the market for the work of Helmut Newton, fashion photography's brilliant provocateur and master of outré elegance. In our April 2019 auction, we had the privilege of offering a life-sized four-panel version of Sie Kommen, Paris, his masterful diptych of models on the move, both dressed and undressed. Acquired directly from the photographer in the 1990s, this work is phenomenally rare in this large format. After spirited bidding in the auction room, it sold for $1,820,000, far surpassing its $600,000-800,000 estimate and nearly doubling the previous auction record (also held by Phillips).
3. Success in London with ULTIMATE & Debuting New Talent at Auction
ULTIMATE, the curated selling platform unique to Phillips Photographs London, continued to show strength this year as we achieved a 92% sold by value rate. This included exceptional prices for sold-out works by Japanese artists debuting at auction: Eiji Ohashi's poignant Roadside Lights #001, 2017, and Hiroki Inoue's stunning Fox Chase: Wherever you go, I will follow!, 2016, both far exceeding their pre-sale estimates.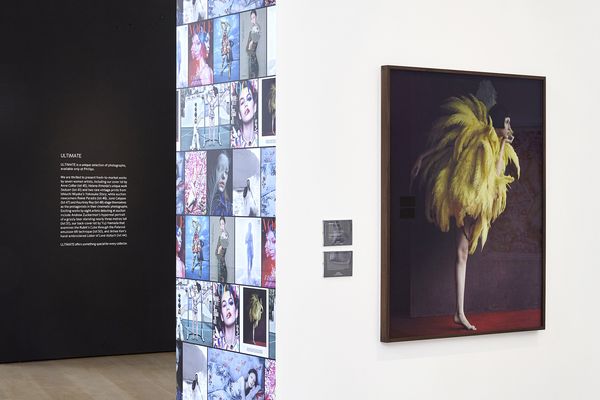 Works from ULTIMATE Editorial, including Julia Hetta's Untitled, 2015, on view in our London galleries.
In May, we presented ULTIMATE EDITORIAL, a curation of 10 captivating photographs by today's leading forces in fashion, including Steven Meisel and Steven Klein, which was 100% sold and successfully debuted 4 new artists at auction.
Works from ULTIMATE continued to grace the covers of the Photographs catalogues, with strong results achieved in May for Anne Collier's arresting Folded Madonna Poster (Steven Meisel), 2007 and in October for Wolfgang Tillmans' introspective apple tree (f), 2004.
For the 5th edition of In Conversation, Pieter Hugo discussed his Kin series, the story behind his featured work Green Point Common, Cape Town, and what photography means to him. Such collaboration is fundamental to the continued success of ULTIMATE, and Phillips looks forward to future alliances with artists and their representation.
4. Strong Results for Early 20th Century Photography in Europe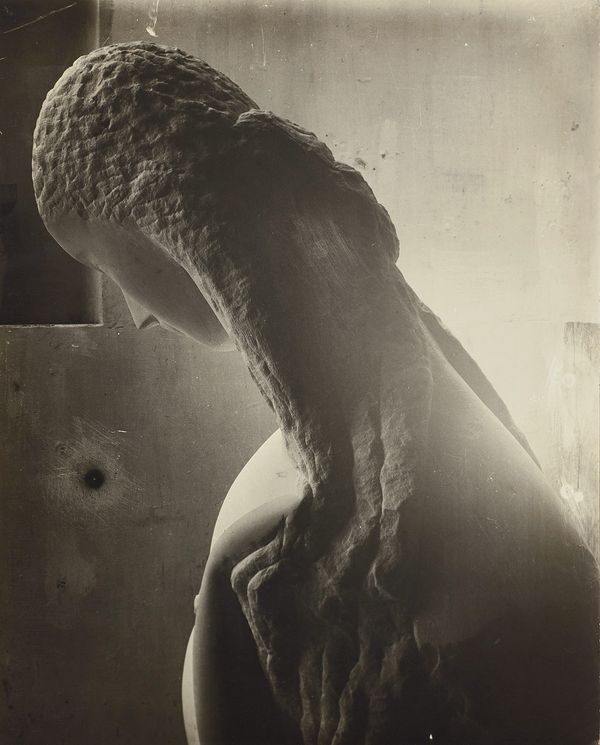 Constantin Brancusi Femme se regardant dans un miroir [Woman looking into a mirror], 1909.
In 2019, Phillips was proud to offer important early 20th century works that revealed Modernism's impact on photography: Constantin Brancusi's expressive Femme se regardant dans un miroir [Woman looking into a mirror], 1909, and Stanislaw Ignacy Witkiewicz's compelling Self-Portrait, 1912-1914. Leading the May sale, Man Ray's La Prière, printed on linen, far exceeded its pre-sale estimate and sold for £100,000, demonstrating that the Surrealist photographer's work continues to resonate with collectors worldwide.
5. Partnerships with World-Class Museums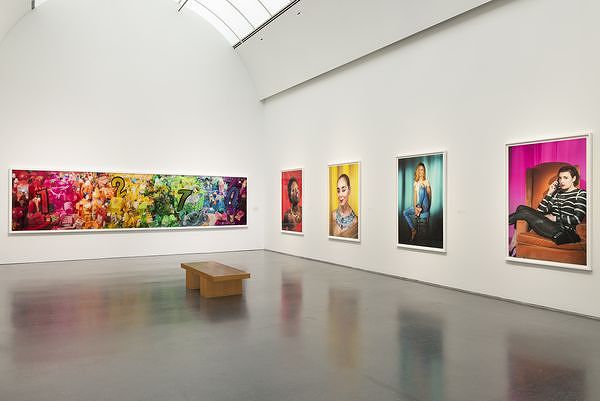 Installation view, Laurie Simmons: Big Camera/Little Camera, MCA Chicago
February 23 - May 5, 2019. Photo: Nathan Keay, © MCA Chicago.
In 2019, Phillips was thrilled to partner with two American institutions on their retrospectives for contemporary female photographers. Laurie Simmons: Big Camera/Little Camera opened at the Museum of Contemporary Art, Chicago in February. With galleries dedicated to all of Simmons' major bodies of work­­—including Cowboys (1979), Tourism (1983–84), Walking & Lying Objects (1987-1991), and The Love Doll (2009–11), this dynamic exhibition offered an insightful exploration into this multifaceted artist who considers herself "neither a feminist nor a photographer." Also opening earlier this year with Phillips' support was Sally Mann: A Thousand Crossings at the Museum of Fine Arts Houston, the third of five international venues for the artist's first career retrospective. This exhibition beautifully examined the connections between family, home and history that are seen throughout her work.
6. Instagram Takeover by Photographer Juno Calypso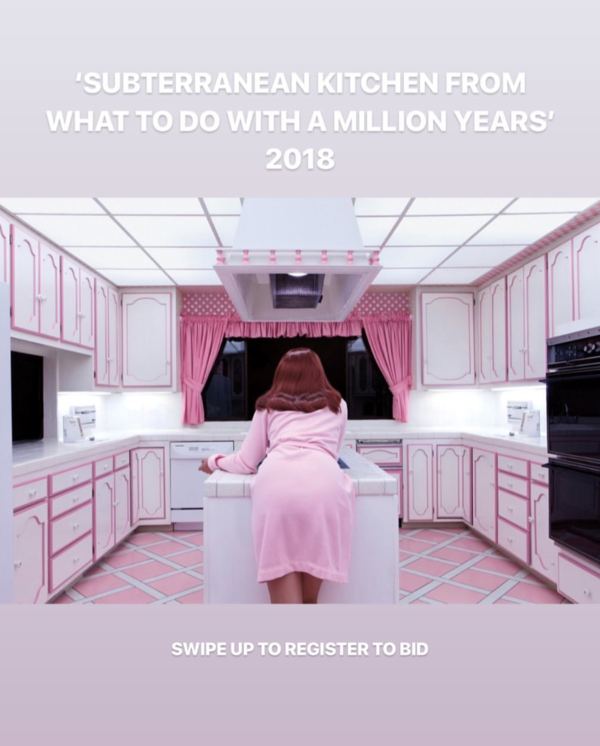 A slide from Juno Calypso's takeover of the @phillipsauction Instagram.
We were delighted that Juno Calypso took over Phillips' Instagram account in May as part of ULTIMATE. The work offered, Subterranean Kitchen, 2018, was created during her three days in isolation – eating, sleeping, filming and photographing herself – in an unoccupied, 15,000-square-foot 1970s Cold War bunker. This cinematic photograph of Calypso in a pink dressing gown, shot from behind as she leans against the island in the pink-and-white kitchen and looks out at the pitch-black windows, has become the most desired image from her series What To Do With A Million Years.
7. Whoopi Goldberg's Collecting Insights
Phillips was thrilled to partner once again with gallerist-extraordinaire Peter Fetterman on Artist | Icon | Inspiration, an auction that explored the role of women throughout the history of photography. Included were established marquee names such as Diane Arbus and Carrie Mae Weems alongside cutting edge work by Zanele Muholi and others. Noted enthusiast Whoopi Goldberg visited the exhibition and spoke with us about her approach to collecting photography.