ULTIMATE EDITORIAL celebrates the power of collaboration in 10 captivating photographs by today's leading forces in fashion. From legendary photographer Steven Meisel to rising star Txema Yeste, our 10 featured artists together represent four decades of image-making.
The images we have carefully chosen were created for editorial and appeared originally in magazines such as Vogue, LOVE and Numéro. In our curation, these photographs stand alone as works of art that can be described as timeless, powerful, distinctive and intoxicating. The model is a key collaborator and serves as inspiration for the creative vision. The subjects in our photographs, including considerable star power from Naomi Campbell to Liu Wen, have forged strong relationships with the artists that continue to this day.
All 10 featured works have been printed and released for the first time for ULTIMATE EDITORIAL and are either completely unique or from an edition of one in a unique size. The extraordinary caliber of these photographs is a testament to the power of collective creativity.
Txema Yeste Bird of Paradise, 2016
Txema Yeste created this exquisite portrait of Dutch beauty Roos Abels for the December/January 2016-17 issue of Numéro. Here, we see an angelic face partially concealed by a delicate peacock feather; the resulting effect is that of a uniquely ethereal image that immediately transports us to a timeless dimension. Yeste has chosen to print this photograph using the laborious dye transfer process, which possesses a greater color range and tonal scale than any other photographic process. The unique dye transfer print featured here is remarkable in its depth and beauty. Yeste's work is widely published in such influential magazines as Vogue, Vanity Fair, Harper's Bazaar and Numéro and he has shot campaigns for many top brands, including Armani, Roberto Cavalli, Lancôme and Viktor & Rolf. His work has been exhibited internationally, including ArtisTree's Beyond Fashion in Hong Kong (2019) and is held in the collection of the Museu del Disseny de Barcelona.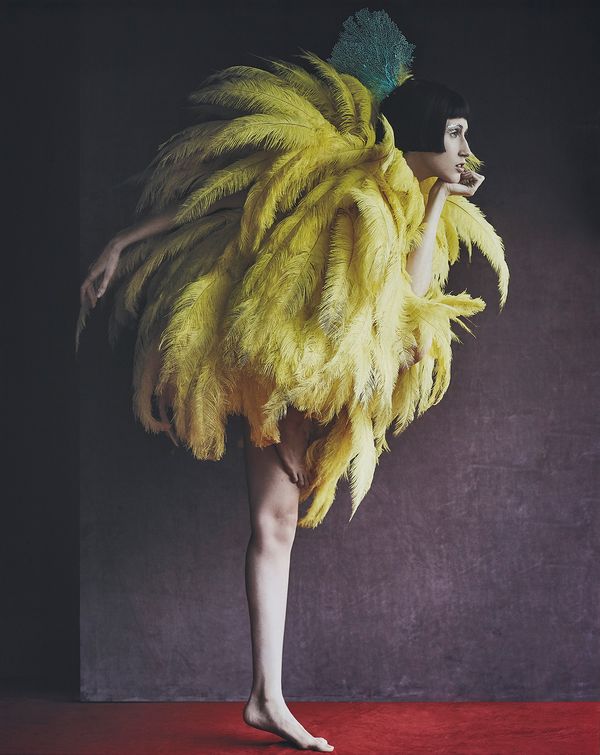 Julia Hetta Untitled, 2015
Julia Hetta's distinctive use of light, color and texture is evident in this enchanting photograph featuring Anna Cleveland, the daughter of 1970s supermodel and Dalí muse Pat Cleveland, shot for the Spring/Summer 2016 issue of AnOther Magazine. Here, the otherworldly model is portrayed as a fantastical creature; wearing a yellow-plumed ostrich feather dress, she stands in a flamingo's one-legged stance with her arm and neck extended in opposite directions, her chin resting on her beak-like hand. Her contours delineated against the dark background highlight Hetta's dreamlike vision in which reality and fantasy fuse together harmoniously. Based in Stockholm, Hetta has photographed for such leading publications as Vogue, Vanity Fair and AnOther Magazine and her work has been exhibited internationally, including Foam's 2014 exhibition Don't Stop Now: Fashion Photography Next, which showcased next-generation photographers working in fashion today.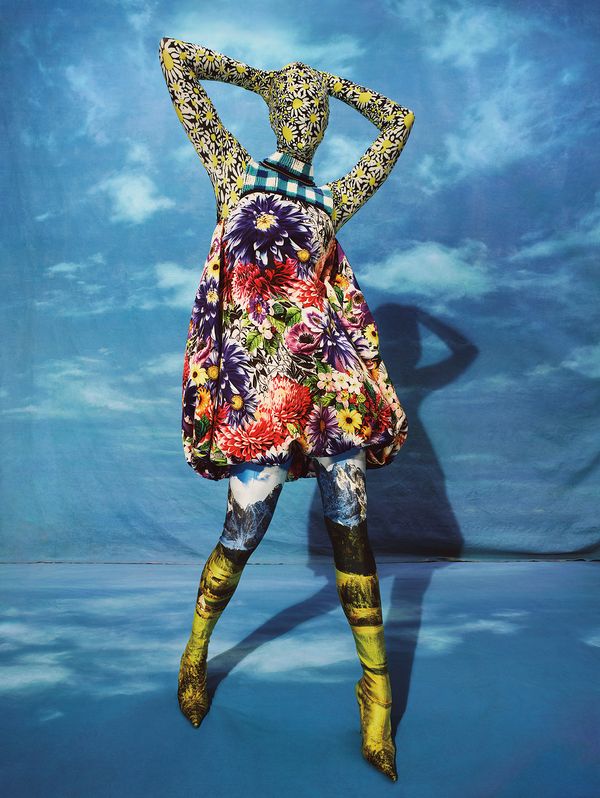 Emma Summerton Kloss & Quinn, 2018
Emma Summerton unveils her whimsical vision with a carefully crafted floral celebration for Vogue Spain's June 2018 cover story, featuring Karlie Kloss. In the present work, Karlie is presented as a faceless mannequin, covered head to toe in a patchwork of brightly coloured, elaborately patterned textiles. Fabric printed with a sky motif is used as the backdrop, as well as on the floor, transforming the studio into a surreal setting. The fascinating interplay between art and artifice, as seen here, is a distinctive element in Summerton's photographs. Collaborating regularly with such leading publications as Vogue, i-D, Self Service and Dazed & Confused, Australian-born Summerton divides her time between London and New York. Her work has been exhibited internationally, including ArtisTree's Beyond Fashion in Hong Kong (2019) and the upcoming Body Beautiful: Diversity on the Catwalk at the National Museum of Scotland opening in May 2019.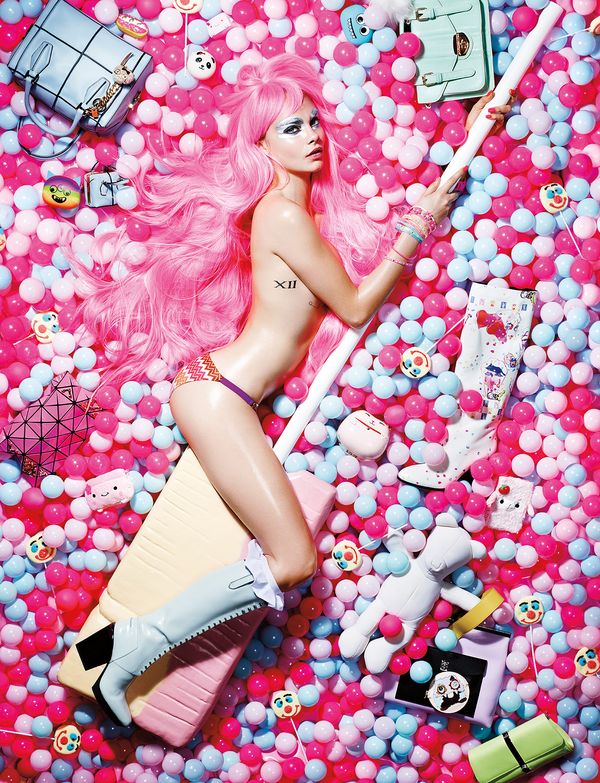 Liz Collins Cara Sweetie, 2014
The idiosyncratic vision of Liz Collins comes to life in this tantalizing and playful photograph of Cara Delevingne taken for the Fall/ Winter 2014 issue of LOVE. As the opening image of the editorial 'Sweetie', a wilful, half-naked Cara wears a bubble-gum pink wig and pale blue leather boots, while straddling a giant Drumstick lolly amid a sea of candy-coloured balls, bags and lollipops. Collins began her career in 1990s London, working for British magazines Dazed & Confused and The Face at a time when only a few women photographers were active in fashion. She works across the spectrum of the international fashion press, including Vogue, LOVE, Elle and Harper's Bazaar, and her commercial clients include Guerlain, Givenchy, YSL and Chloé. Collins's work has been exhibited internationally, including New York's MoMA and New Museum.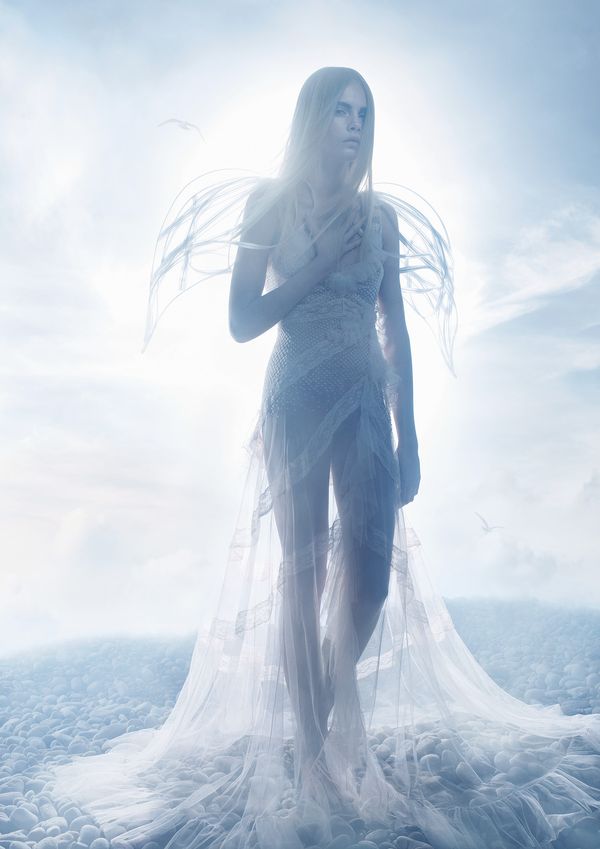 Sølve Sundsbø Cara, 2011
Sølve Sundsbø took this ethereal photograph of Cara Delevingne for Vogue China's December 2011 issue, closing Cara's breakthrough year as a model. In this stunning image, Cara personifies an angel fallen on earth, wearing an almost entirely transparent dress complete with a pair of wings, a halo of light delicately outlining her heavenly aura. 'Although relatively unknown,' remembers Sundsbø, 'you could feel the energy and potential in her.' Just one year following this collaboration, Cara won 'Model of the Year' at the 2012 British Fashion Awards. Sundsbø successfully works across a range of platforms from photography and fashion to music and film, winning an Emmy® award in 2011 for 'Fourteen Actors Acting', a video project for The New York Times. He has exhibited internationally, including his 2018 solo show Beyond the Still Image at Palazzo Reale in Milan, and his work is held in the collection of the National Portrait Gallery, London.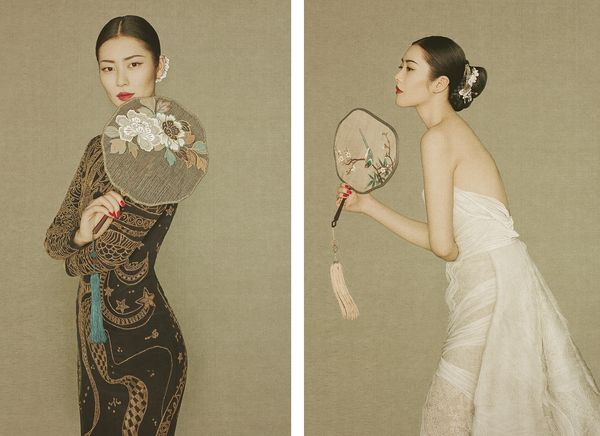 Sun Jun Looking Through The Glass, 2015
Fashion, photography and traditional Chinese painting seamlessly merge in these striking images created by Sun Jun for the December 2015 issue of Harper's Bazaar China, featuring Chinese supermodel Liu Wen. In this unique diptych, imbued with a visual sensibility that is distinctively Chinese, the elegant figure of Liu Wen is delineated against a textured background. The tasselled fans with their fine embroidery of natural motifs reinforce a sense of a timeless aesthetic. This diptych represents Sun's unique image-making process whereby the photograph is superimposed with hand drawn elements. One of China's leading artists in fashion, Sun began learning the art of traditional Chinese painting at the young age of seven. A graduate of China Academy of Art, the Shanghai-based artist collaborates regularly with such leading publications as Vogue, Harper's Bazaar, Cosmopolitan and L'Officiel.
Erik Madigan Heck Dior Couture, 2014
Transporting the viewer to a bygone era, this image by Erik Madigan Heck was created for Town & Country's December 2014 editorial 'Dreamcatchers', featuring hypnotic Polish beauty Kasia Jujeczka. In Heck's distinctive approach to image-making, photography and painting intersect: 'Paintings make me think more abstractly about my photographs,' explains Heck, 'They aren't as limited as photographs are – they are physically built rather than taken, so to speak.' His painterly aesthetic is seen in his treatment of colour and pattern; the pale blue and the florals in the present work function to flatten the picture plane. Heck is a regular contributor to The New York Times Magazine, Vanity Fair, TIME and The New Yorker and in 2013 became one of the youngest artists to receive ICP's Infinity Award. His first monograph Old Future was published by Thames & Hudson in 2017 and his work has been shown internationally, including Foam's 2014 exhibition Don't Stop Now: Fashion Photography Next.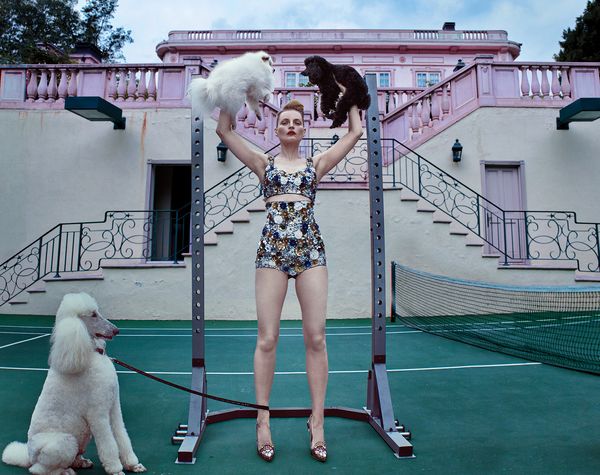 Steven Klein Guinivere at the Pink Mansion, Beverly Hills, 2017
Taken on the tennis court of a Versailles-inspired mansion in Los Angeles, this captivating photograph by Steven Klein shows Guinevere van Seenus getting busy on a training day with her four-legged friends. Wearing a Dolce & Gabbana bustier top, briefs and high heels, Guinevere displays athleticism, lifting two dogs as hand weights, with a white poodle leashed to her leg. A variant was published in the January 2018 issue of Vogue US to illustrate an article on how the wellness craze has extended from humans to their pets. Klein is one of the most innovative and provocative artists working in fashion today. His image-making is grounded in reality but the template is constructed with elements of allure and ironic humour as seen here. His work resides in several public collections, including London's National Portrait Gallery and V&A and New York's International Center of Photography.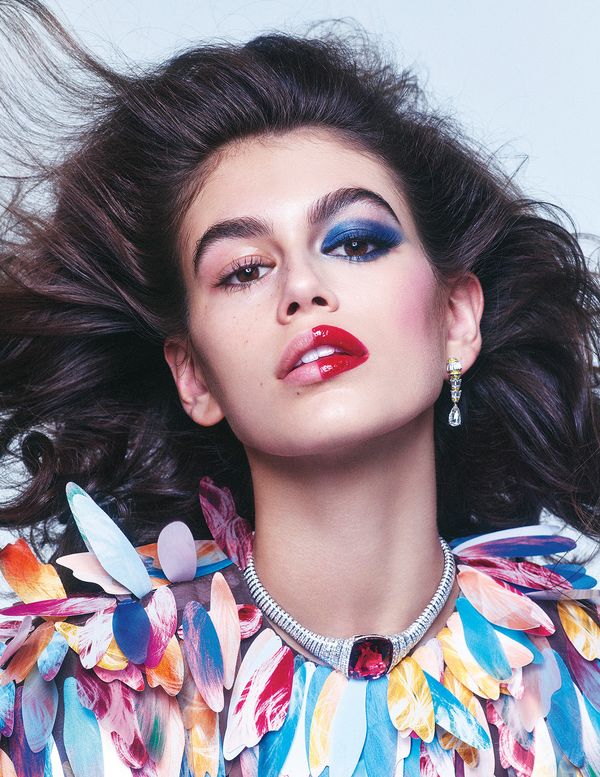 Mikael Jansson Kaia Gerber, Paris, 2018
Of the 13 photographs taken by Mikael Jansson for Vogue Paris's October 2018 cover story, the present work, featuring rising model Kaia Gerber (daughter of Cindy Crawford), was selected as the official cover. Here, Jansson captures Kaia's transformation from day to night: on the left, she wears natural makeup and no earring; on the right, she wears metallic blue eyeshadow, glossy red lipstick and a single diamond drop earring. This duality has been skillfully rendered by Jansson in this bold, playful photograph. Throughout his long career, which began with assisting the legendary Richard Avedon in New York in the late 1980s, Jansson has shot for such leading publications as Vogue, W, Harper's Bazaar and Interview. His work has been featured internationally, including MoMA's 2004 exhibition Fashioning Fiction in Photography since 1990 and his 2007 solo show and monograph Speed of Light at Stockholm's Kulturhuset Stadsteatern and published by Steidl.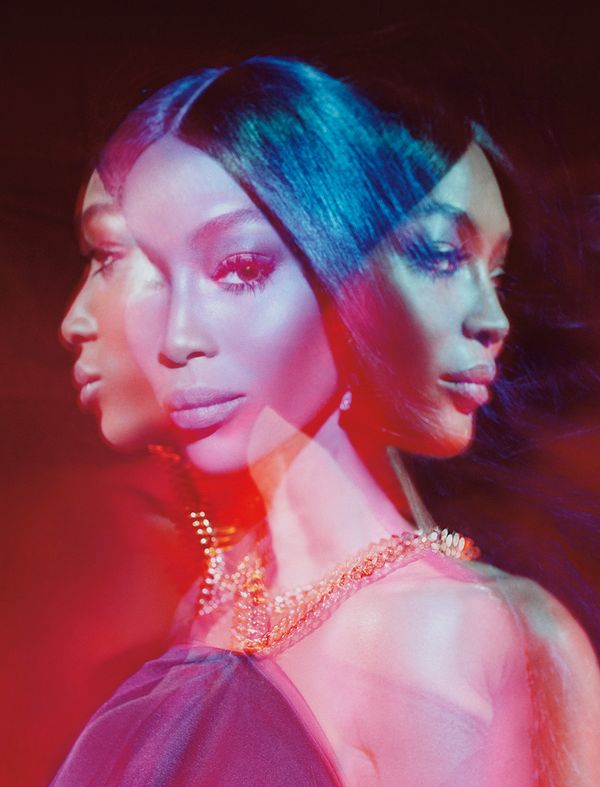 Steven Meisel Naomi Campbell, New York City, 2019
The March 2019 cover of British Vogue celebrates the power of creative collaboration between two legends of fashion – image-maker Steven Meisel and supermodel Naomi Campbell – who have defined key moments in our social history and visual culture for over 30 years. 'When Naomi works with Meisel,' describes Editor-in-Chief of British Vogue Edward Enninful, 'she practically becomes a teenager again, shy and focused … They know each other so well that they don't really need words.' Here, through multiple exposure and deliberate blurring, Meisel has created a surreal composition. A master storyteller, he perfectly captures Naomi in all her majestic elegance as 'a genuine icon' in this enchanting three-sided portrait.
For his homage to Naomi, Meisel takes us back to the very beginning of their relationship and gives us a rare glimpse into their friendship:
"This image is a portrait of one of the strongest, most inspiring, driven and uniquely talented humans I have been blessed to know. Naomi told me recently that we've been working together for over 25 years, which in itself seems incredible. I remember so well the first time I saw her face. It was in an issue of French Elle. She jumped out of the page with that smile, something so real. So I tore out the page and kept it. Soon after that I booked her for American Vogue. She turned up at the studio, it was the first time we met, hair back, shy, quiet and head-to-toe in black Azzedine. From that very first job together, she's always given 100%, always on time, always professional however insane things got around us, and it's been that way ever since. I love Naomi and above all, she's a loyal and loving friend."
Throughout his multi-decade career, Meisel has continued to cast his spell over our cultural consciousness, shooting inspiring covers for Vogue internationally since the 1980s, as well as creating visionary campaigns for such leading designers as Prada, Loewe, Valentino and Calvin Klein.