Hiroki Inoue Fox Chase: Wherever you go, I will follow!, 2016
In this edition of ULTIMATE, we are thrilled to present eight auction newcomers, each bringing a unique perspective not seen before at Phillips. Exciting works by these artists include Andrew Zuckerman's hyperreal portrait of a grizzly bear standing nearly three meters tall (lot 51), our back-cover lot by Yuji Hamada that examines the Rubik's Cube through the Polaroid emulsion-lift technique (lot 50), and Jinhee Kim's hand-embroidered Labor of Love diptych (lot 44).

Jinhee Kim Labor of Love 001 & 002, 2016
A handwritten poem Jinhee Kim discovered on one of the many old postcards she had collected from flea markets was the inspiration behind her hand-embroidered Labor of Love diptych. Her painstaking creative process involved photographing 40 postcards, depicting such ordinary scenes as mountains, lakes and buildings and digitally assembling them into two grids of 20 postcards each, which she then printed as two separate photographs. Using pale colored threads, Kim embroidered by hand the found poem – O weep O curse for love tho' sometimes it be good / take all the stars from up above and throw them out to sea / O sing O dance for love tho' it may sometimes end / fetch all of the stars from out of the sea and give them to a friend – over the postcard images. In photographing the postcards, the artist flattens them into one plane, which in turn heightens the three-dimensionality of the embroidery. For Kim, the use of the hand in embroidering the photographs "connotes personal memories and is also a non-linguistic way of communicating." Seoul-based Kim has won several awards, including the 2011 Sajin Bipyong Award, and has been selected for a number of photo festivals, including the 2015 Seoul New York Photo Festival. Her work is held in the collection of the Kiyosato Museum of Photographic Arts in Japan.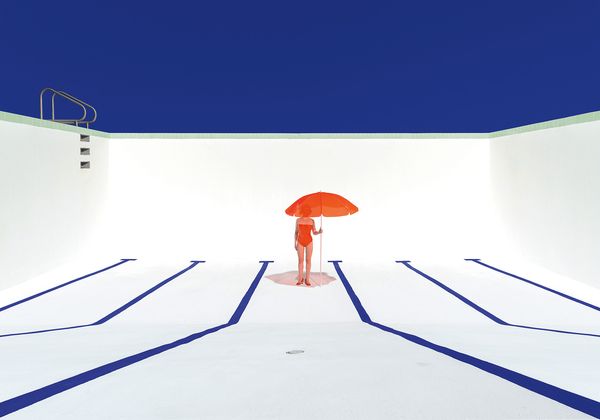 Reine Paradis Empty Pool from Jungle, 2015
For her first series Jungle, Reine Paradis stages herself as the protagonist, bringing to life the dreamlike scenes she has previously sketched. This performative aspect is key to her image-making process: "It is a necessity for me to 'live' the scene in order to transmit the original vision completely." In Empty Pool, offered here, a setting that we normally associate with water and movement is transformed into one of emptiness and stillness. Applying hyperreal colors and fictional touches to real locations, in this case, an empty public pool in Los Angeles, Paradis playfully explores the boundaries between reality and fiction. She self-published her first monograph Jungle in 2017 and her 2019 feature documentary Queen of Paradis – on the making of her latest series Midnight – has won 'Best Feature' at the LA Indie Film Festival.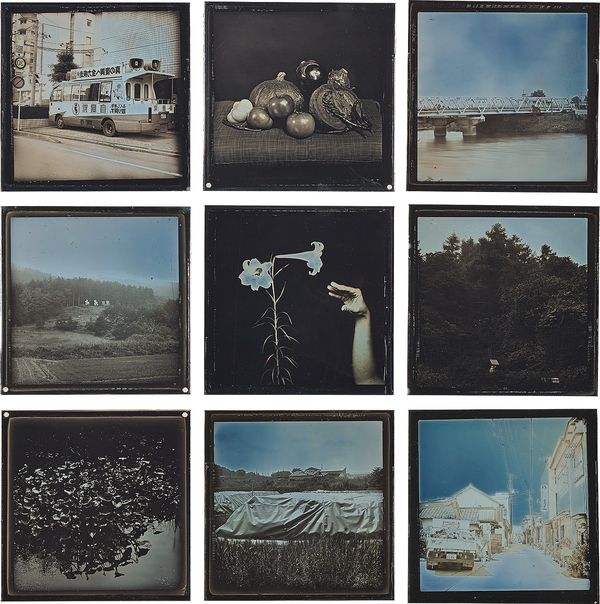 Takashi Arai Fukushima, 2016-2017 from Daily D-Type Project, 2016-2017
Since the 2011 Great East Japan Earthquake that triggered a meltdown at the Fukushima Daiichi Nuclear Power Plant, Takashi Arai has continued to photograph Fukushima using the daguerreotype process as part of his Daily D-type Project, which he had begun earlier that same year. Aiming to record the effect of this disaster on daily life in Fukushima, Arai renders his own perspective onto small metallic plates, measuring 6.3 x 6.3 cm. The nine unique daguerreotypes, presented here, were selected by the artist and together reveal a personal narrative of daily life in present day Fukushima. The eerie blue, resulting from intentionally overexposing the plate, casts a ghostly atmosphere over the seemingly deserted scenes. Arai's work has been exhibited internationally in numerous museums, including Yokohama Museum of Art and SFMOMA, and resides at Tokyo Photographic Art Museum; MEP, Paris; Musée Guimet, Paris; and MFA, Boston.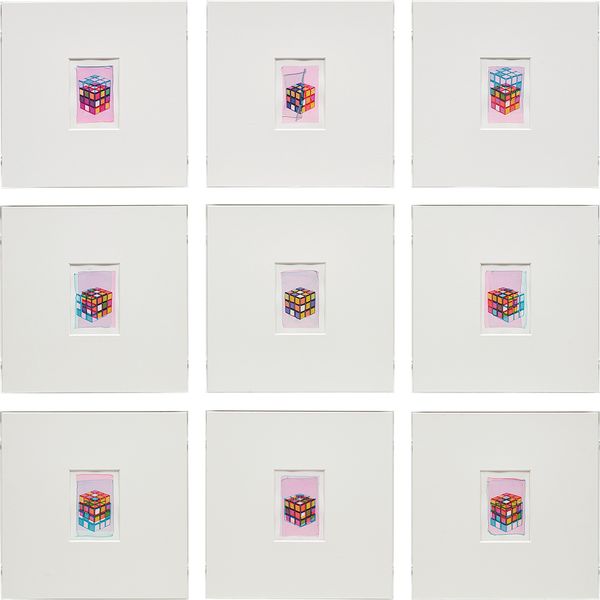 Yuji Hamada cube from C/M/Y, 2014
For cube, offered here, Yuji Hamada chose the Rubik's Cube as his motif and created nine unique prints using the Polaroid emulsion-lift technique. His meticulous image-making process involves immersing Polaroids in water to lift off separately the cyan, magenta and yellow emulsion layers, which he then overlays in different combinations onto watercolor papers. "It is tough working with sensitive, skin-thin layers," explains Hamada, "but overlaying the different coloured layers makes me feel as though I'm silkscreen printing." Hamada's playful interpretation of the iconic 3-D puzzle epitomizes his continued exploration of color and shape; his process of deconstructing and reconstructing the original image has resulted in entirely new images. The present work is part of his ongoing C/M/Y series in which he questions the act of seeing through his photographic experimentation. Hamada has published four photobooks – photograph (2014), C/M/Y(2015), BRANCH (2015) and Broken Chord (2017) – and has won several awards, including Magenta Foundation's Flash Forward Competition in 2011 and 2013.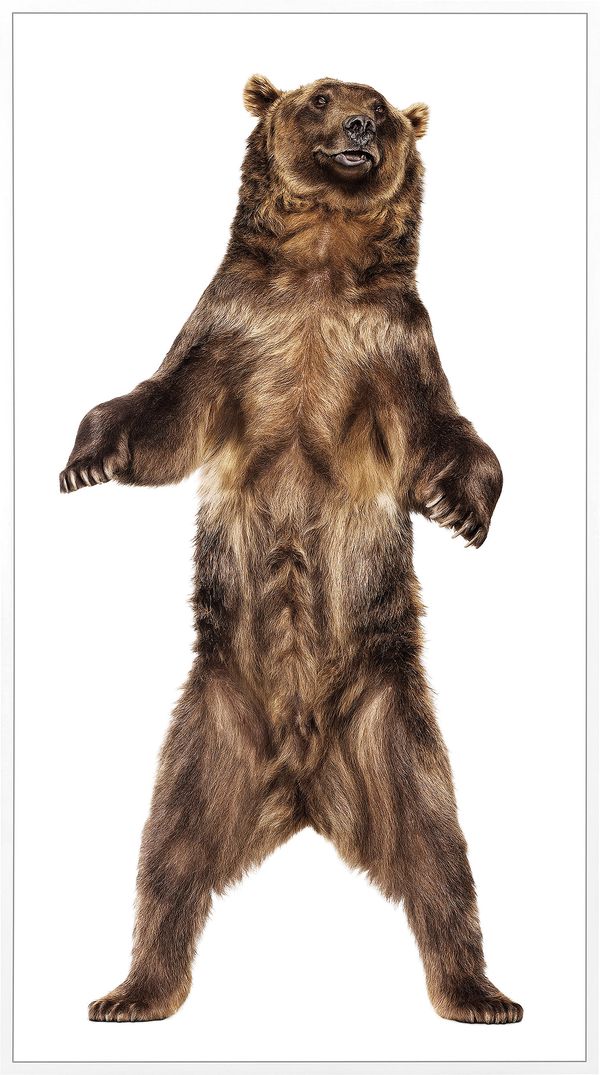 Andrew Zuckerman Grizzly Bear 26, 2009
Exploring the intersection between nature and technology, Andrew Zuckerman presents here a hyperreal portrait of a grizzly bear, standing nearly three meters tall against a stark, white backdrop. What appears at first to be a straightforward photograph of an animal uncovers, on closer investigation, his meticulous image-making process, which combines aesthetic sensibilities with technical innovations. To create this image, Zuckerman first photographed the bear on location in Montana, using his signature white backdrop to remove the animal from its environmental context. Back in his New York City studio, he used advanced imaging technology to add details to the photographic image, resulting in a resolution that surpasses all existing in-camera technology. Lastly, the final image was UV printed directly onto Dibond in 1:1 scale. In addition to multiple books, his immersive investigation of the natural world has been presented in three volumes published by Chronicle: Creature (2007), Bird (2009), and Flower (2012). Works from Creature have been exhibited at Kunsthal Charlottenborg, Copenhagen and the Nevada Museum of Art, Reno.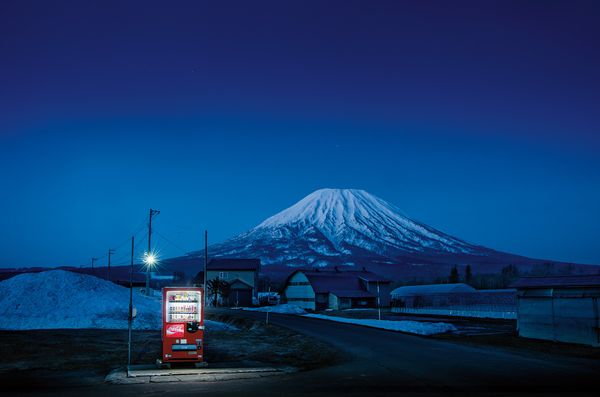 Eiji Ohashi Roadside Lights #001, 2017
The ever-present vending machine is a staple of Japanese landscape and can be found alongside nearly every road, illuminating the streets at night. One winter night, Eiji Ohashi was caught in a snowstorm and it was only with the help of these glowing appliances that he managed to navigate his way home. Since then he has travelled around his home country to photograph vending machines, resulting in his ongoing Roadside Lights series. "[The vending machines] work tirelessly, whether it is day or night, but once their sales drop, they are taken away," notes Ohashi, "If they do not glow and shine, they will stop existing. There might be something human about them." He has been the recipient of numerous awards, including the Moscow International Foto Awards (2016), photo-eye Best Books (2017) and the Special Photographer Award at the 34th Higashikawa Awards (2018).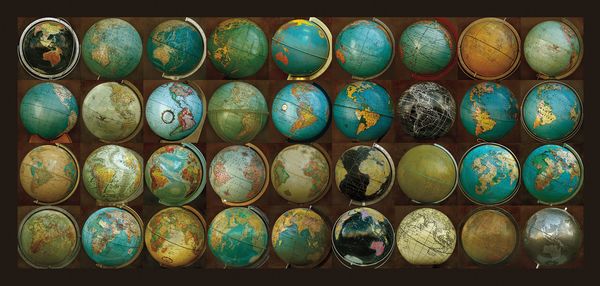 Choi Youngdon a day, 2008
36 different globes at 36 different longitudes mark the passing of a single day in the present work by Choi Youngdon. Working over an eight-month period in 2008 while living in Canada, he collected 36 globes made in the 20th century from antique shops around Toronto then photographed each globe at a 10-degree difference in longitude, finally assembling the images as a single photograph to represent a full rotation of the Earth. For Choi, "the passage of time in this full rotation discloses the idea that physical time flows equally wherever we live, whenever we live." In this work, the artist presents a new way to visualize and consider existence, seeking to interrogate how we use time. His work has been exhibited internationally, including Korea's Hangaram Art Museum and Gwangju Museum of Art, as well as the National Museum of Indonesia in Jakarta.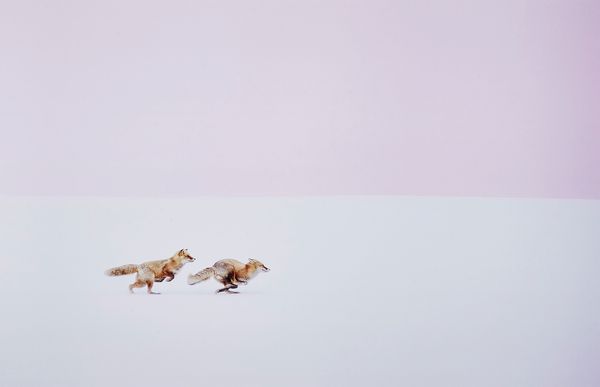 Hiroki Inoue Fox Chase: Wherever you go, I will follow!, 2016
This photograph of two red foxes racing across the snowy landscape in Hokkaidō, Japan won Hiroki Inoue the 2016 National Geographic Travel Photographer of the Year Award. While driving along the snow-covered wheat field in Biei, Hokkaidō, Inoue unexpectedly heard the barking of foxes through his open window. He quickly parked his car, set up his camera and photographed the wild foxes whose voices seem to echo, "Wherever you go, I will follow!" The beautiful pinkish hue of the sky is a natural phenomenon caused by the light lingering in the eastern sky immediately following sunset. Using the stunning landscape of his homeland as his starting point, Inoue seeks to appreciate and capture those brief, unpredictable encounters with the elusive foxes – richly symbolic animals within Japanese folklore. His works have been widely exhibited in Japan, and in 2017, National Geographic published his first photobook Follow Me, featuring his photographs of Hokkaidō's wild foxes in winter.