Pieter Hugo 'Green Point Common, Cape Town,' 2013
Born in 1976, Pieter Hugo grew up during apartheid South Africa, turning 18 in 1994 – the year in which legislated apartheid ended and Nelson Mandela came to power. A self-taught photographer, he was given his first camera, a gift from his father, around the age of 12 and turned to photography as a means of looking and questioning on his own terms. After starting his career in photojournalism during which time he honed his technical skills, he soon centered his creative output on personal projects. Over the last two decades, Hugo has continued to address the structures of social storytelling in his work, focusing his lens on the periphery of society not only in his native country and in Africa but also in the United States, China, and most recently, Mexico.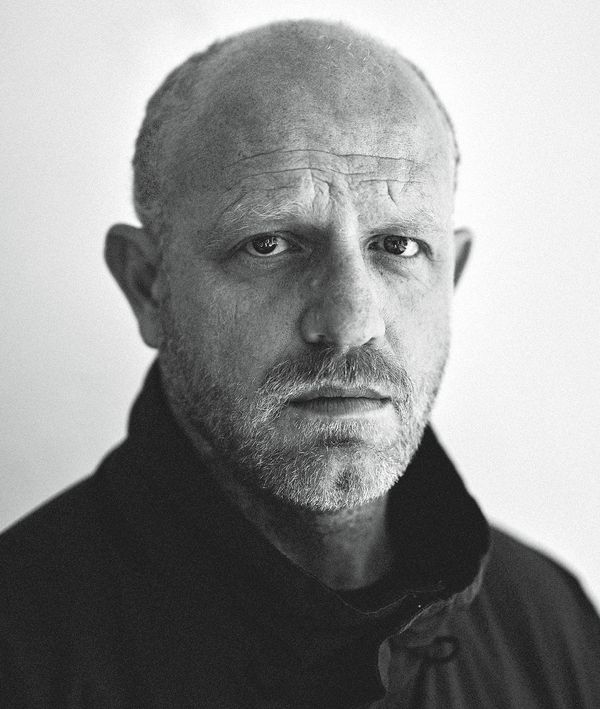 Artist Peter Hugo © Faseeh Morris
'Kin,' South Africa, 2006-2013
YUKA YAMAJI: Let's talk about 'Kin,' which was your first major project to focus on personal themes of 'home', 'kin' and your place within the South African narrative. It comprises portraits, landscapes and still lives created over an eight‐year period from 2006 to 2013. Would you take us back to 2006 and talk about what led you to this self‐reflective project?
PIETER HUGO: In 2006, the seeds of it were planted, but it really gained impetus and crystallized around the time that my wife became pregnant with our first child in 2009. I think that it's part of getting older. I'd been leading quite an itinerant life with my photography, practicing my craft and my art. And with getting married and eventually having a kid, I needed to start thinking about dropping an anchor somewhere, which brought on a bunch of questions and insecurities relating to being in South Africa and my relationship with South Africa.
YY: So in 2006, did you already know you were starting this series called 'Kin?'
PH: No, but I had been taking photographs which I felt compelled to make, but not knowing what it would necessarily fit into. So, they were the first bones of what was later to become the corpus of 'Kin.'
YY: Around the same time as 'Kin,' you started 'Messina/Musina' (2006), another South African project, and during the eight years working on 'Kin,' you also worked on other projects: 'The Hyena & Other Men' (2005‐07) and 'Nollywood' (2008‐09) in Nigeria, 'Permanent Error' (2009‐10) in Ghana and 'There's a Place in Hell for Me and My Friends' (2011‐12) in South Africa. How was this process?
PH: Those other projects were very much defined in many ways before I even started, whereas 'Kin' was a more organic process. The parameters around those projects were more clear. 'Kin' is a much more sprawling and introspective work.
YY: How did working on 'Kin' influence your other projects and vice versa?
PH: I always work on a bunch of projects at the same time – a couple of things on the stove – so I'm pretty good at keeping them apart. I think broadly no matter what project it is. I'm dealing with certain themes, so no matter the mode of expression, I think some of the questions one is asking are always consistent in a way.
YY: Is 'Kin' the longest series to date in terms of the number of years spent photographing?
PH: That's definitely the longest series to date, yes.
YY: And how did the project end? Did it come naturally to its end?
PH: It naturally ended, very much so. I find that generally with projects, they finish or resolve when the way I'm looking changes. There's a certain vocabulary that one uses … restrictions and boundaries that you impose on yourself when you work on a project. It's an emotive feeling, more than anything else … you feel you just can't do it anymore.
YY: In the foreword to the book 'Kin' (Aperture, 2015), you wrote that after having worked on this project for eight years, you were "more confused and more at odds with [your] 'home.'" Do you remember that?
PH: I do remember that, I still feel very confused. [Laughs]
YY: So this statement continues to ring true? How do you see your relationship with South Africa today, six years after the completion of 'Kin?'
PH: More than ever, there's not a day that goes by that I don't have existential thoughts about being here. At first, one sets out with wanderlust, curiosity and a desire to find answers through your craft, but you soon realize, as John Szarkowski said, that there's not enough film in the world to be able to fulfill those questions.
I think a big part of being an artist is that you give yourself riddles and you try and solve these riddles through making work … not always solving them though. [Laughs] There's some sort of comfort in the process of it.
YY: Your children are still young, but in terms of their relationship to South Africa, do you see that it's very different for them than it was for you?
PH: It is very different. This place is still very problematic. You don't have an authoritarian government based on racialism classification anymore, but you have other problems, such as crime, extreme poverty and unemployment. My children have been growing up with these realities and have to figure them out for themselves. You can try and help them, but anywhere in the world, you're going to have these issues.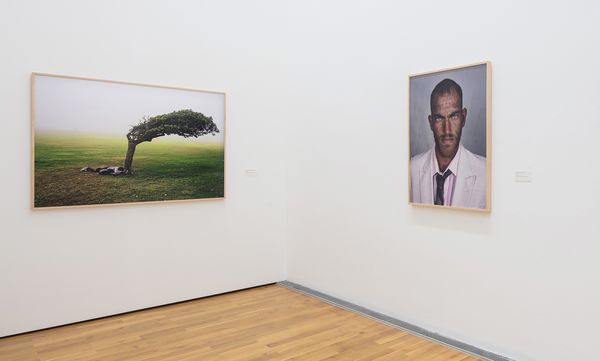 Installation shot, 'Pieter Hugo: Between the Devil and the Deep Blue Sea,' Kunstmuseum Wolfsburg, 2017
'Green Point Common, Cape Town,' 2013
YY: Your featured work in ULTIMATE is 'Green Point Common, Cape Town,' created in 2013, for 'Kin.' What is the story behind this particular photograph?
PH: This was taken in the winter … you can see that the grass is super green and we get hit by huge storms. In Green Point, there's a promenade next to the sea, and on that day, it was just before a storm and this big fog was pulling in. I often go for walks on this promenade, and that day, I happened to take my camera with me. I don't think I shot many pictures that day.
YY: This is an enduring image that stays with you for a long time after you've seen it. When you saw this picture through your viewfinder – the solitary leaning tree offset by the horizontal figure, the background concealed in dense fog – did you sense that you had 'the shot'?
PH: I know when I saw that man lying next to a windswept tree, many of my preoccupations came together. I definitely knew that I had a strong image there.
YY: While the identity of the lying figure, who appears to be sleeping beneath a wind‐bent tree, is ambiguous, I think about what you have said in previous interviews about the first photograph you've ever printed – a portrait of a homeless person lying on the street – and that it's still the same picture you're taking today.
PH: Yes, I think you need to have certain themes and preoccupations that run through your work, no matter where it is. I just thought it was especially poignant with this series because it's so close to home and so in-depth.
YY: This image was created in the final year of the 'Kin' series. What place does it hold within the wider body of work?
PH: It's such an emblematic picture of that series. I think that this picture coalesces many of the themes in that series … there's so much happening in it. It's so graphic and so simple.
Image-Maker
YY: What drew you to the medium of photography?
PH: It's probably one of the few things that I'm good at. [Laughs] When I grew up, everything we saw and heard was mediated. I had a desire to look critically and to look for myself. Photography in many ways is a great excuse to do that.
YY: How does your background in photojournalism inform your image‐making process?
PH: Photojournalism wasn't the right fit for me but it was a great way to learn and refine my craft. I developed quite a skillset as a photojournalist which is invaluable. I do find documentary or journalistic themes inspiring and they might act as a catalyst for my projects.
YY: Since 2014, you have worked in places as far afield as California, China, and most recently, Mexico. Did you have a desire to photograph outside South Africa and Africa?
PH: Oh, absolutely. I think that if one has to be reductive about my work, it deals with the notion of the outsider, the marginalized, the periphery of society. When you work alone in a place where you are not from, you get an incredibly heightened sense of awareness because it's not familiar and I enjoy that.
YY: Are there similarities or differences in your approach and process when photographing in and outside Africa?
PH: The experience of photographing people is so different from person to person, whether it's at home or abroad. I just try and be respectful to the people I photograph.
Going back to 'Kin,' I think what separates it from the other works is that there's something very personal. There's something personally probing and argumentative and sad in it – melancholic is maybe a better word – that isn't in so many of the other works made abroad. 'Kin' is much closer to home and is a body of work that was made at a time when I felt that I didn't really have a choice about making it. There was an urgency to it, even though it took forever to make it.
YY: Lastly, what does photography mean to you?
PH: It is about the act of looking. Good art changes the way we look. It's about being present. It gives you the space to have an incredibly intense engagement with the world and with people that you normally would not have. That's my answer.