JBS Brian. Photo: Pak Khei
Skateboarder, entrepreneur, entertainer — in Hong Kong, few people are as synonymous with local street culture as Julian Brian Siswojo, also known as JBS Brian.
The Indonesian-born triple threat has been a fixture in the Hong Kong street scene since he moved to the city as a teenager and started skateboarding. Today, he's the owner of skate shop 8FIVE2 (named after Hong Kong's area code) and the retro barbershop Handsome Factory. He also acts, raps and is one-sixth of the hip-hop group 24HERBS. He's worked with the likes of Nas and Snoop Dogg, he's done tie-ups with Vans, Thrasher and Carhartt, and he is an avid collector of sneakers and streetwear.
In this interview with Phillips, JBS Brian talks about his influences, the intersection between contemporary art and street culture, and what it means to be a collector. He also shares some of his favorite artists from our 24/7 Online Auction.
PHILLIPS: You're a fixture in the Hong Kong street scene. Can you talk a bit about how you got into street culture?
JBS BRIAN: I started skateboarding in 1988. It's the street skateboarding style that I am into and live my life around. The clothing, the magazines, the videos, the music that I listen to revolve around the skateboarding culture. Skateboarding culture and street culture will always come hand in hand because we skated on the streets on a daily basis.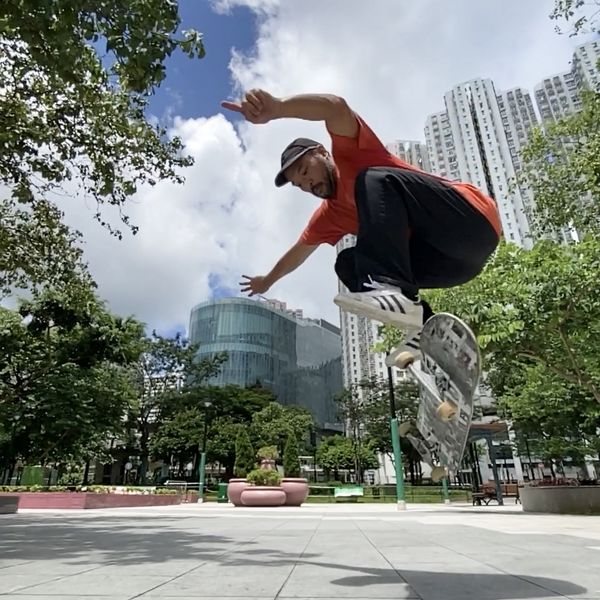 JBS Brian says skateboarding was his entry point into street culture.
P: There are increasingly collaborations between street culture and contemporary art. I'm thinking Trevor Scott x George Condo, Takashi Murakami x Virgil Abloh, and street artists like Invader and KAWS. What's your view on this intersection between street culture and art?
JBS: Many of these artists are from the streets. That's why they can all connect. Not to sound biased, but skateboarding is the greatest thing ever to exist, and that's why all creatives are drawn to it.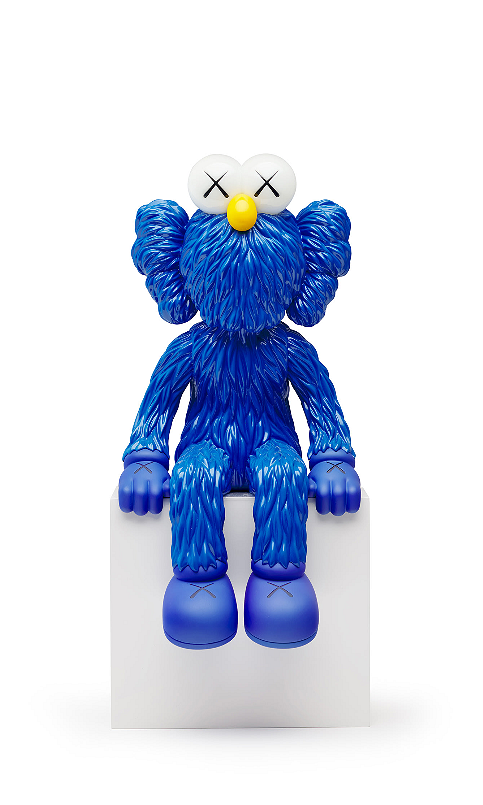 KAWS, SEEING, 2018
Estimate: HK$300,000-500,000 (US$38,500-64,100)
Lot 17, 24/7: Online Auction, July 21-28
P: 8FIVE2, Handsome Factory, 24HERBS — they're all very different ventures. How do you see them fit together?
JBS: They're all related. I opened 8FIVE2 in 1999 and through the shop, I met a lot of like-minded people. In 2002, Conroy Chan, now one of the members of 24HERBS, came to the shop looking for me to set up a federation for us all to promote more skateboarding, surfing and BMXing in Hong Kong. There wasn't much hip-hop in Hong Kong at the time, so I approached Conroy to start a hip-hop group. Hence, 24HERBS was born in 2006.
In 2015, my partner and I decided to open a barbershop because Hong Kong didn't have any proper classic barbershops at the time. I contacted my friend Kenta, who's a skateboarder from Canada, and he introduced me to Jon Roth, the owner of Crows Nest, the most amazing barbershop in Canada.
Jon helped us out immediately, and later, we found out that he knew of me from 8FIVE2 because Jon is a skateboarder himself and also a professional snowboarder. So all these three things — 8FIVE2, 24HERBS and Handsome Factory — have come into fruition from my skateboarding lifestyle.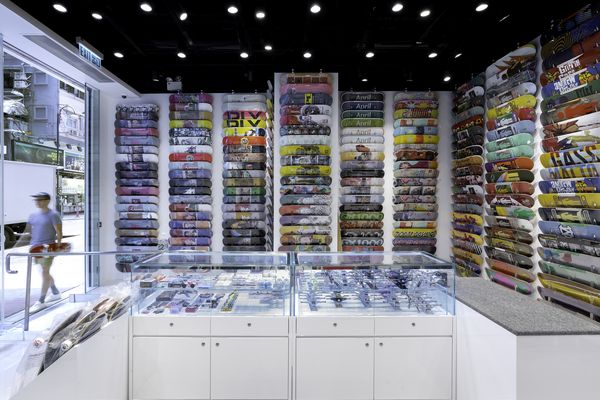 The 8FIVE2 skate shop in the Mong Kok neighborhood of Hong Kong.
P: What do you collect? Can you share your collecting journey with us?
JBS: I collect sneakers, skateboards, caps/hats and skate videos. As a skateboarder, you always go through your shoes very quickly, so it's a habit in the beginning to always have two to three pairs for skateboarding. But my love for sneakers started when my mom bought me my first pair of Nike Vandal Supremes in 1984. I was in awe. I remember the Nike shoebox had "Pronounced Nai Ki" written on it, and I was drawn to it.
I had always wanted to buy sneakers when I was 14, 15 years old but couldn't afford it, and when I started 8FIVE2 in 1999 and started making some dough, I went nuts, buying around 30 pairs a month, no joke. My craziest point was owning more than 1,000 pairs of shoes.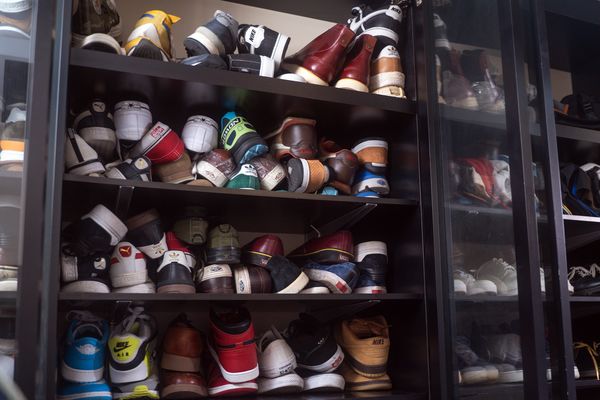 JBS Brian's personal sneaker collection.
A few years ago, I had to donate around half of them due to lack of space. That's one bad thing about collecting stuff and living in Hong Kong is we don't have enough space. Right now, I have about 600 pairs and counting.
The one thing I never threw away is my skate video/DVD collection. I have maybe 90% of skateboard videos made worldwide because whenever I travel, I always buy local skate videos, whether it's in Japan, South Korea or Thailand. I always support skateboarding videos no matter what because I know they put their blood, sweat and tears into making a skate video.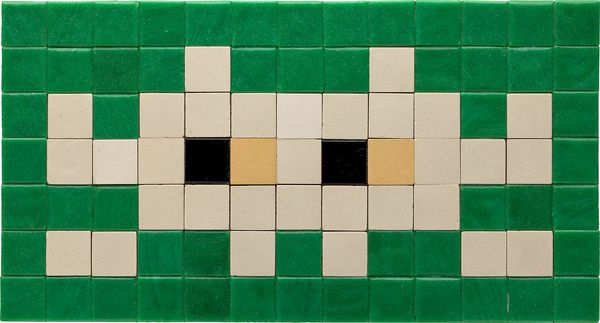 Invader, TK-64, 2010
Estimate: HK$220,000-320,000 (US$28,200-41,000)
Lot 21, 24/7: Online Auction, July 21-28
P: Who are some of the artists in our 24/7 sale that inspire you the most and why?
JBS: Jonas Wood, Invader, Murakami. Banksy, for sure. I am a huge fan of Banksy because he's extremely creative with great messages in his art.
And KAWS because of his earliest work where he took the Calvin Klein ad with Kate Moss on it and put his own twist on it. Then he put the ad back to where it belonged — on the streets of New York. Genius.
Discover More from our 24/7 Online Auction >
---
Recommended Reading
Alice Neel at The Met: In Conversation with Curators Kelly Baum and Randall Griffey >
How to Read Art Like a Tarot Card >