Alice Neel, Jackie Curtis and Ritta Redd, 1970. Oil on canvas. 60 x 41 7/8 in. (152.4 x 106.4 cm). The Cleveland Museum of Art, Leonard C. Hanna, Jr. Fund © The Estate of Alice Neel.
On view at The Metropolitan Museum of Art until August 1, Alice Neel: People Come First is an exhibition where beauty, struggle, survival, and intimacy coexist. The retrospective is the first in twenty years, firmly and finally demonstrating Alice Neel's place in the art historical canon. The evening preview and virtual opening earlier this spring were sponsored by Phillips.
What the exhibition does especially well—beyond showing off Neel's ability to translate feeling into brushstroke—is trace Neel's commitment to proto-intersectional values. Described by Hilton Als as "an essayist on canvas," Neel is a rare artist who pulled together narratives from sitter and artist, from reality and impression, in a way that feels holistic, humanistic, and true. We sat down with the exhibition's curators, Kelly Baum and Randall Griffey, to learn more about Neel's unique approach to portraying people, curating an exhibition during the height of the pandemic, and what makes Neel a radical, rather than avant-garde, artist.
---
PHILLIPS: Do you want to start with the big picture? How did you get started on the exhibition?
KELLY BAUM: Randy and I have been working on the show for only two years, so we didn't have a lot of lead time and had to really dive in quickly. It was a really intense process. The idea for an Alice Neel retrospective was suggested to us by our department chair, Sheena Wagstaff, and when she did, all the curators jumped up and supported it. I think it was approved for the calendar shortly thereafter. We all knew it was the right time for a Neel retrospective. Neel was on the tip of so many artists' tongues, and we were seeing her paintings and drawings around the city, but we weren't seeing too many of them, so there was a hunger for more. But then, quarantine, COVID, the murder of George Floyd, and all the events of the last year made the exhibition so much more meaningful. Its impact has as much to do with Neel as it does with everything that New Yorkers have endured over the last several months.
RANDALL GRIFFEY: Over the last 20 years, since the last retrospective, Neel's career has also been parsed into smaller pieces, often oriented to subject matter or location or place of execution. This was one of the reasons Kelly and I realized that it was time to put all the pieces back together, to show bodies of work from Neel's career that people don't know. One of our favorite walls is a wall of works on paper from the mid 1930s that are really intimate, erotic, and irreverent. The exhibition features many paintings by Neel that are immediately recognizable as such, but it also showcases works by her that I think are new to people. It's that balance, I think, that is one of the successes of the exhibition; that you're giving the public what they want and expect, but we're also providing lots of surprises.
KB: We also wanted to emphasize what a political creature Neel was, that she practiced politics in all kinds of ways. She was embedded in various social justice movements, but her political convictions play out in even very private, autobiographical works. Randy made the great distinction recently that we're not claiming that Neel was an avant-garde artist, in the tradition of Marcel Duchamp. In some ways, she was a very traditional easel painter. But within the art world in which she circulated, she was a radical in what she painted, how she painted, how she lived her life. All those choices involved breaking rules and defying expectations. Avant-garde? Probably not, but radical? Definitely.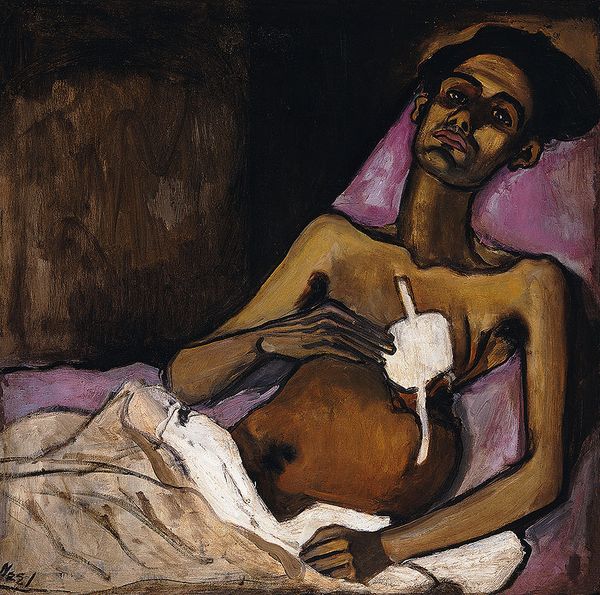 Alice Neel, T.B. Harlem, 1940. Oil on canvas. 30 x 30 in. (76.2 x 76.2 cm) National Museum of Women in the Arts, Washington, D.C., Gift of Wallace and Wilhelmina Holladay © The Estate of Alice Neel.
P: The way you brought that out in the show feels very direct in a way that you don't often see with an artist that is this traditional, and even with some of the more progressive exhibitions over the past few years, there's usually a coding, a covering up of the language. That is so not the case here. What were the discussions like around how forthright you decided to be?
RG: You mean, calling out capitalism in the introduction? [laughs] No, thank you, that's actually great to hear that it comes through so clearly, because it was a priority for us. It's one of the many reasons we have that communist and leftist periodical literature and journalism throughout the exhibition. We feel like the paintings themselves are political, even if they're not often explicitly political. Her modus operandi was politicized and humanistic.
KB: Yes, I feel like we don't beat around the bush. She joined the Communist Party in 1935. She was an active member of leftist circles. She believed in the ethics and philosophy of communism, although she clung to the movement too long, even into the `50s and `60s after it began to lose its moral authority. But the communism that Neel grew up with in the 1930s was one that was surprisingly intersectional. It addressed issues around not just class but gender and race as well. The early communist movement was very engaged with civil rights, too. And I think that all of this accounts for Neel's intersectional approach to injustice and makes her, in a way, a kind of pioneer. Part of her frustration with second generation feminism was that it didn't take class and race into account, that it reduced all politics to gender, and she always believed that there was more at play in discrimination.
RG: Kelly writes in her catalogue essay about how Neel's feminism was a red feminism, which created the rub she experienced with `70s feminists. She was intersectional before intersectionality was au courant.
P: Were there circumstances when she was growing up that made her so open-minded to this point of view? I imagine it wasn't necessarily popular.
KB: Especially in suburban Philadelphia.
RG: That's a really good question. It's hard to pin down all origin stories so precisely. Neel recollected that her mother was cultured in a certain way, had loved music. But also, it was her mother who said you're a girl, what do you think you're going to do in life? It's not like her mother was this great, pure inspiration to go off and have an unconventional artistic life, but I think it's sort of both of those roles. It was exposure to some kind of culture with regard to music, but also the flip side of that was keeping her in her place for being a girl. And that's what she rebelled against. She repeated that story often.
KB: That's right, and I also wonder—not that much is known about the year Neel spent in Havana, Cuba, with her husband, Carlos Enriquez, but it just seems like it was transformative in really important ways. Carlos's family was very wealthy, they wouldn't stay wealthy, but they were very wealthy when she arrived. And that wealth made her uncomfortable. When she was in Cuba, she was also exposed to avant-garde art for the first time, as well as to left wing thinking. While in Cuba between 1926-27, she and Carlos would leave the family compound and travel deep into the city to paint pictures of its inhabitants, especially people of color and the poor. I think that that was the first moment when she embedded herself in a community that was, to a certain extent, defined by economic lack, and that was impacted by racism. She also tells a story, late in life, as she's thinking about burnishing her reputation as an artist, and an empath, she writes about the custodians who clean the school where she worked in Philadelphia. She mentions feeling sympathy for them, being more curious about their lives than those of her teachers and fellow students.
RG: We do explore some of the limits and the subject positions Neel had relative to her sitters, especially her sitters of color, because she had limits, like we all do. Limits of tolerance, limits of acceptance. It's not meant to take anything at all away from Neel, who did have deep empathy for those different from her, no doubt, but you have to acknowledge some privilege relative to certain demographics that she painted. So we tried to attend to that responsibly.
P: Did her subjects speak of having sat for her? Could you paint the experience of sitting for Neel?
RG: It's tough to generalize, but by most accounts, she was very chatty. Very entertaining. But she also extracted a lot of information from her sitters, by probably asking questions, and in some cases, asking questions that caught people off guard. I feel like she enjoyed kind of putting them off balance, that would then kind of precipitate the way she painted them. Is that fair?
KB: I think that's totally fair. Neel was tough. In some circumstances, she would present a kind of quirky, grandmotherly facade, but she was sharp, and she could be combative. In a video recorded a few years ago, art historian Linda Nochlin talks about how grueling Neel's sittings could be, especially if you were a mother sitting with a child for hours. Neel's paintings weren't produced quickly, so it required a serious commitment of time and energy from the sitter. So it could be intense.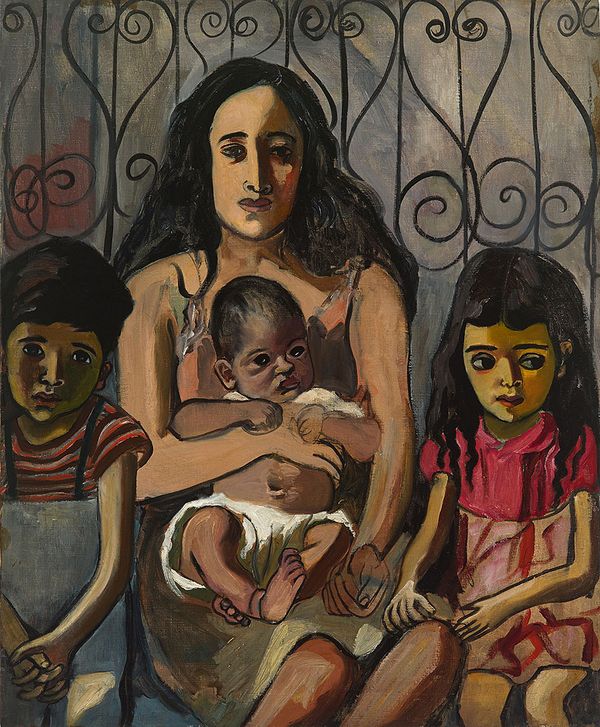 Alice Neel, The Spanish Family, 1943. Oil on canvas. 34 x 28 in. (86.4 x 71.1 cm) Estate of Alice Neel. © The Estate of Alice Neel.
P: I guess that's another way in which Neel's privilege probably comes out—the power dynamic with the sitter.
KB: Yes, somebody asked me today if I felt like she had cajoled her housekeeper, Carmen, into sitting for her. Carmen did work for her, and that is a situation where relative privilege comes into play. Carmen was a person of color, Neel was white. But it's also hard for me to see Neel really twisting someone's arm, forcing them to sit. And so, the picture she ended up making of Carmen and her daughter Judy doesn't look like a picture of a woman who was forced to do something she didn't want to do. In this and other pictures by Neel, a social contract is created the moment a sitter enters her home and sits down in a chair. It's a commitment, and it's a commitment on both sides. Neel talked about feeling lonely and empty after her sitters left. She speaks about these sittings as ones of intersubjective union, but there's some tension in as well. I think we should be wary of romanticizing those hours people spent sitting for Neel. All kinds of feelings passed between artists and sitters: sometimes sympathy, interest, curiosity, and other times suspicion and maybe frustrations.
P: Let's talk about about her depictions of mothers. In the show, you draw a contrast between her and someone like Mary Cassatt. To what extent was Neel intentionally correcting this narrative of what is the truth of motherhood versus being in a position to actually depict it truthfully, that maybe wasn't possible in the 19th century?
KB: That's a good question. Neel represented motherhood as an act of labor, and I really think she understood motherhood through the lens of communism and feminism. It was the communist as much as the feminist in her that understood motherhood is a form of uncompensated labor and work. The mothers in her paintings and drawings are always shown working: holding, nursing, caring for their children, Neel usually described motherhood in very factual, concrete terms. Why do you paint so many images of pregnant women, she was once asked. Because it's a fact of life, and everyone before me was too much of a sissy to represent pregnancy in paint. She believed motherhood was deserving of recognition in art, but not romanticization or idealization.
RG: We don't know that she was deliberately offering a foil to Cassatt. I mean, on one level, Cassatt was just irresistible in this context, and her imagery does start to look like a foil. It's more nuanced than that, but Cassatt's mothers tend not to be working. They're tidy, the babies are usually contained, well-behaved. Not very naturalistic. Neel was allergic to that idealization.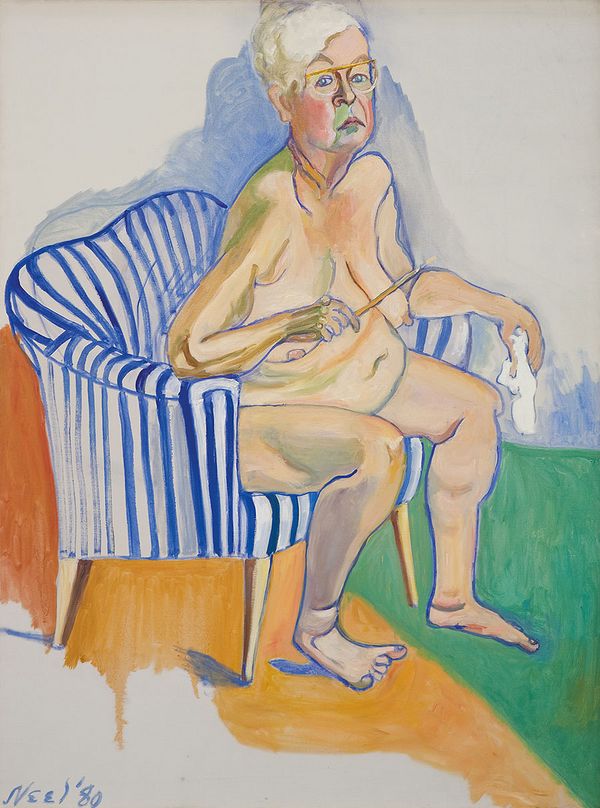 Alice Neel, Self-Portrait, 1980. Oil on canvas. 53 1/4 x 39 3/4 in. (135.3 x 101 cm). National Portrait Gallery, Smithsonian Institution, Washington, D.C. © The Estate of Alice Neel.
P: How many of the 2020 terms started to seep into your brain as you were working on this? Things like work from home, burnout, languishing—we have this new vocabulary that seems applicable to Neel's work. How did that factor into the curatorial process?
RG: The first phrase that comes to mind is social justice. I don't know if that's a particular part of Neel's life that would have been called out quite as strongly before George Floyd's murder, and every other horrible thing that happened last summer and since then, frankly. But social justice is a key theme throughout.
KB: The term "intersectionality" was something that helped me to understand Neel's politics, and especially her feminism. Randy and I started writing the catalogue really in earnest the same weekend the state shut down in March 2020. We had taken our trips, done our research, collected our archival materials and photographs, and we were just preparing to dig into our essays when the museum closed. So for the next six months, we focused on Neel: she became a lifeline for us. And I think in ways conscious and unconscious, everything we experienced during that period was filtered into Neel. I found working on Neel to be very cathartic, kind of stabilizing. You know, I think Randy said this the other day, it gave him a reason to get up every morning. [laughs]
RG: Admittedly, my saying that was a bit dramatic, but not untrue.
KB: It was true. I mean, we had something to do and, and we knew shortly after the museum closed that this project would not be one to be either postponed or canceled. We knew it was on, fingers crossed, and we were determined to get the book done.
RG: It made a difference that I was getting up every day to work on Neel, under the circumstances we were all enduring. Because she acknowledges suffering. But she's an exemplar of survival, so you kind of get both sides of that coin. That is one of the reasons that people seem to be really moved by it, because she meets you where you are.
P: One of the really nice things about her work is that abstraction and realism, exhaustion and optimism, are not opposed in any way. They smeld together without posing any sort of dichotomy. It's just one. This is life.
KB: Actually, I love that. Exhaustion and optimism can coexist in the same person at the exact same second, and that's what Neel captures in every one of her works, along with this really wonderful balance between abstraction and figuration.
P: And one of the reasons the show has caught fire is that it's just so fantastic. It was something to look forward to, a reason to leave my apartment. We needed it.
---
Recommended Reading
In Conversation: Hong Kong Street Legend JBS Brian on Art, Skateboarding and Collecting >