Emily Mae Smith, Waiting Room, 2015. Estimate $40,000 - 60,000. 20th Century & Contemporary Art Evening Sale New York.
Louise Bourgeois and the Tower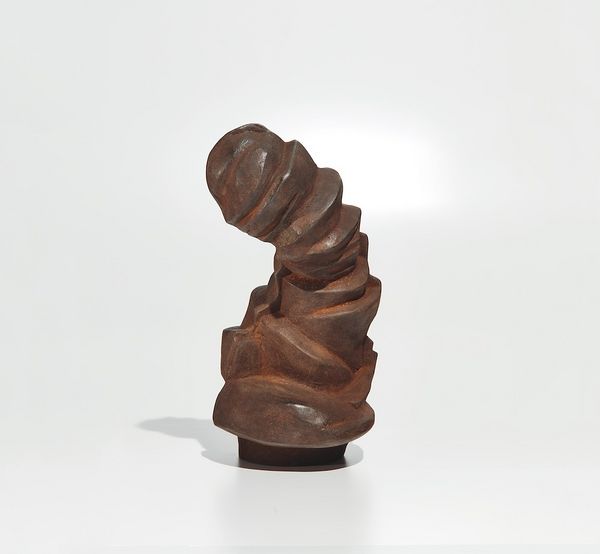 In Tarot, there lies the possibility of dual or multiple meanings, opposing or reinforcing outcomes depending on the reader's circumstances. In Louise Bourgeois' Labyrinthine Tower, are the artist's gyrating shapes slowly slithering upward or gradually melting? The Tower card asks the reader to consider: Could you be building something up or is something in your life about to suddenly crumble? Ultimately, the card represents change or a dynamic shift in structure, just as Bourgeois' Labyrinthine Tower appears to be going through its own metamorphosis.
Richard Prince and the High Priestess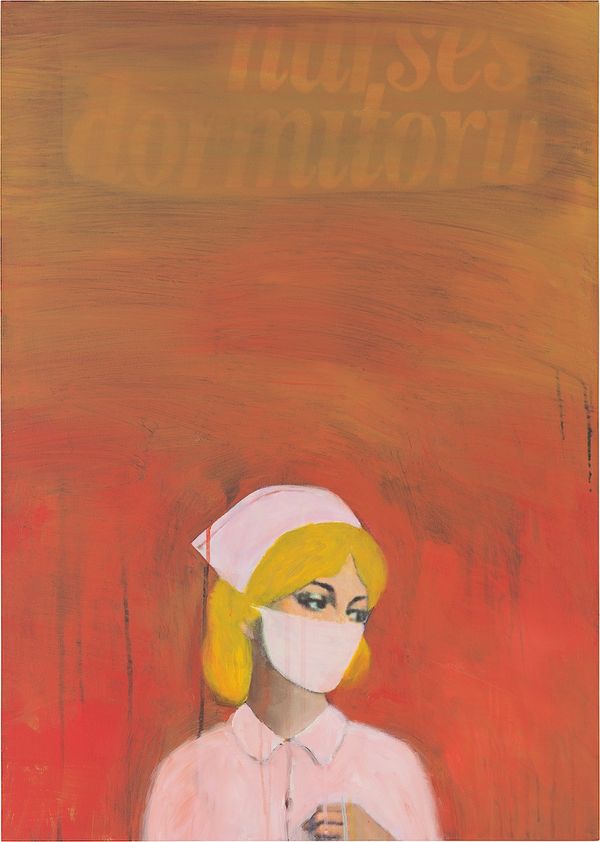 Sometimes, when you pull a card can be just as important as what the card actually depicts. Richard Prince often uses borrowed imagery to critique American iconography, symbols, and ideas. By remixing, recontextualizing and reconsidering his appropriated images, his works offer up new meaning or critique depending on when and where we look at them. In Nurses Dormitory #3, Prince shows us a pulp romance nurse from 1962 in this work from 2003. Our nurse has time traveled, and so, her role shifts in the public's subconscious. Today, in 2021, Prince's nurse melds with the images of the nurses around the world who continue to save the planet from Covid-19. Nurses Dormitory #3 is our High Priestess, the female guardian of Tarot. She is powerful, graceful, calm and unquavering in her role. She is there to protect. Could you use protection or might you be the force in someone else's life to offer help?
Emily Mae Smith and the Wheel of Fortune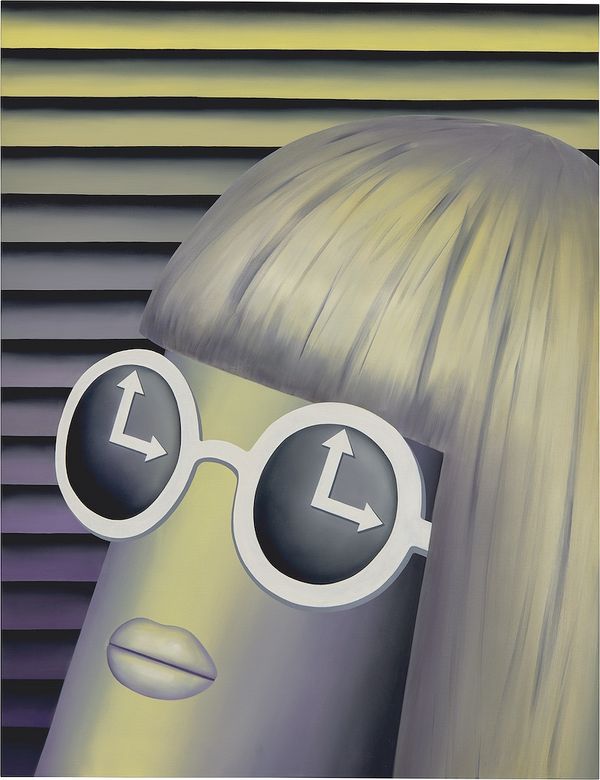 Emily Mae Smith's iconic broom figures always seem to be frozen or suspended in time. Never sweeping, they are often depicted lounging, looking, or in our painting, Waiting Room, waiting. Often depicted without a human figure focal point, The Wheel of Fortune card depicts a wheel spinning up above in the cosmos. Smith's clocks and the card's wheel both ask the viewer to consider the concept of time, motion, and fate out of our hands. In readings, The Wheel of Fortune card may be interpreted to mean pulling back, being still and trusting destiny. In Smith's painting, we also have no choice but to be still and wait it out, no matter how hard we stare at the clock.
Toyin Ojih Odutola and the World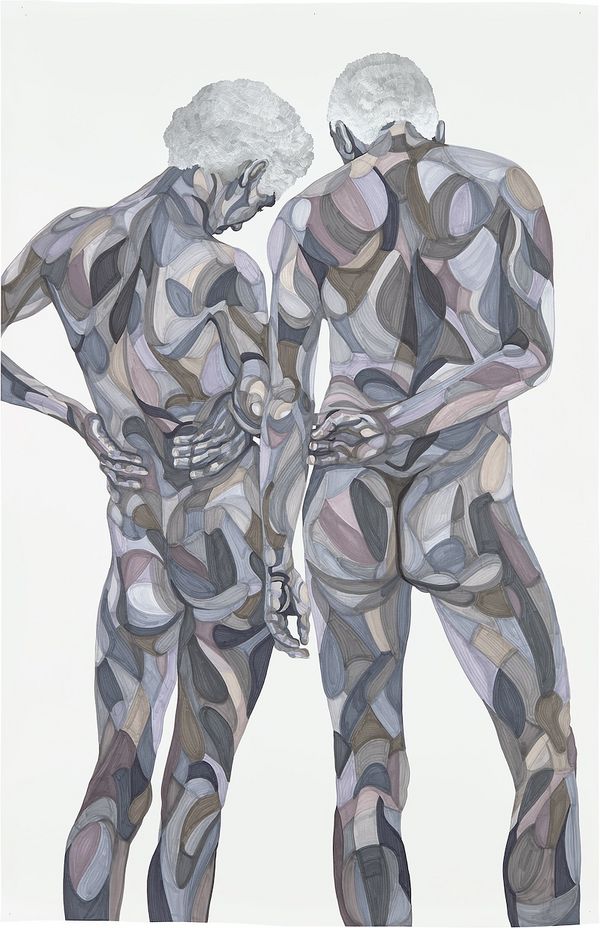 Toyin Ojih Odutola's works exist in a liminal space, while also marking out distinct realities in each nook and cranny of texture, light, and color. "When I draw the skin of my subjects, I really want people to travel throughout them. The surface isn't something I trifle with," the artist has said, embodying the ephemeral balance of The World. Simultaneously ever-changing and static, the World represents a kind of enlightenment, a peacemaking and wholeness that comes with accepting transience.
Titus Kaphar and Strength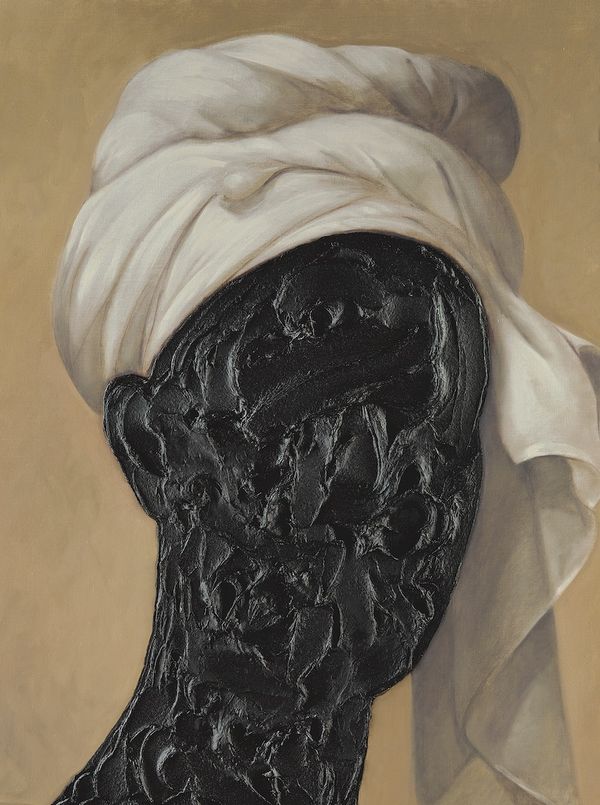 Is it presence or absence? As a painter, Titus Kaphar reconfigures classical representation to challenge what we think we know about history (and, of course, the history of art). By placing Black figures in poses and contexts in which they have traditionally been sidelined, Kaphar forces us to ask whether what we're seeing is a re-inscription, blankness, or correction—what does it mean to be visible?
Jeff Koons and the Hermit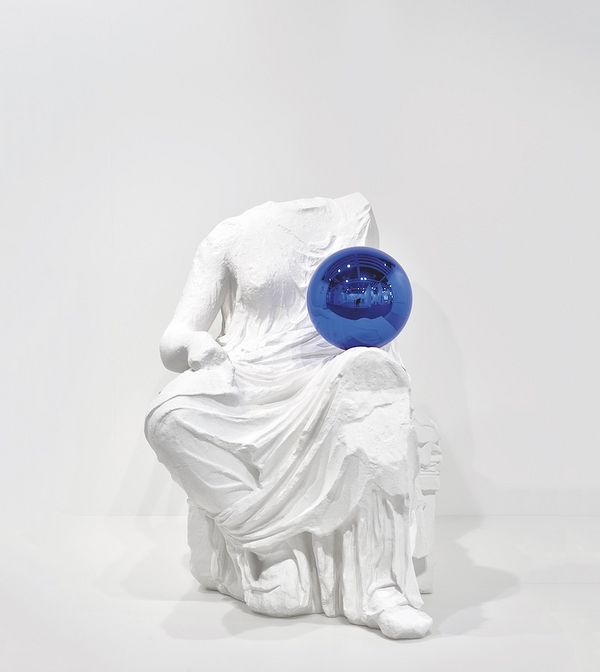 Usually depicted lighting their path with a lantern, the hermit is a wanderer in search of enlightenment and true self-knowledge. Likewise, Jeff Koons' Gazing Ball series, for all its art historical allusion, is genuine; the series refuses to take itself too seriously as it skewers an ambiguous space between popular artifacts and high art. The participatory element of Koons' work—the requisite questioning of the viewer's role in the gazing ball—embodies the soul-searching that comes from removing oneself from society. Who are you within the gazing ball?
Andy Warhol and the Moon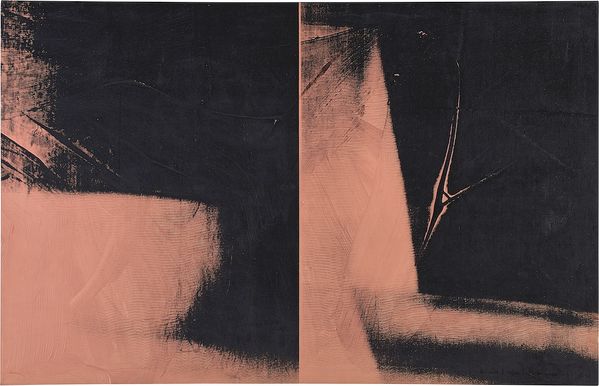 Oh, Andy Warhol, forever the purveyor of enigma, always emphatically subversive. Shadow (Double) luxuriates in reversal; the shadows are primary subjects rather than secondary. The Moon card too can bring you clarity and understanding, but it is just as likely that it may deceive you, hold secrets, or push you towards uncertainty. The Moon, like Warhol, forces you to question your own distinctions—and how you may be undermining yourself with your attachment to an artificial reality.
Discover More from 20th Century & Contemporary Art >

Global Gallery Tour 20th Century & Contemporary Art
Join us on a virtual global gallery tour of Phillips' upcoming 20th Century and Contemporary Art auction being held in our brand new, state-of-the-art gallery at 432 Park Avenue in the heart of New York City. This sale features masterpieces by David Hockney, Wayne Thiebaud, Vija Celmins, Gerhard Richter, Mark Rothko and many more.
---
Recommended Reading
Whose Histories Should Be Commemorated? >