La Fondation Maeght. Photograph by Olivier Ansellem. Archives Fondation Maeght.
The Giacometti: A Family of Creators / 3 July-14 November 2021
Affirming our commitment to supporting the world's leading cultural institutions, Phillips is proud to sponsor La Fondation Maeght's landmark exhibition The Giacometti: A Family of Creators. Opening 3 July 2021 through 14 November 2021, this unique exhibition highlights the multifaceted creativity of the famous Giacometti family: an artistic dynasty of painters, sculptors and architects.
The exhibition takes as a its starting point Alberto Giacometti — the most famous member of the family, whose emblematic, threadlike sculptures are recognised worldwide — showcasing his work alongside that of his father Giovanni and his cousin, Augusto, both major figures in Swiss painting at the start of the 20th century; as well as his two brothers, Diego, a talented sculptor and designer, and Bruno, renowned for his contributions to post-war Swiss architecture. Bringing together the Giacometti family's work for the first time in France, the exhibition offers audiences the opportunity to discover the talent and artistic influence of each member of this remarkable family in their respective fields; and explores their place in 20th century art history, their inter­family relationships and the enduring influence of Stampa, the hamlet in the Val Bregaglia (Bergell Valley) in Switzerland, that was their home.
"Phillips is incredibly honoured to support La Fondation Maeght for this hotly anticipated show," says Cheyenne Westphal, Phillips' Global Chairwoman. "The work of Alberto and Diego Giacometti has played an integral role in Phillips sales and it is exciting to shine a long-overdue spotlight on the other key players whose works have collectively left a lasting impression on the canon of art history."
Visit La Fondation Maeght to book tickets to the exhibition >
---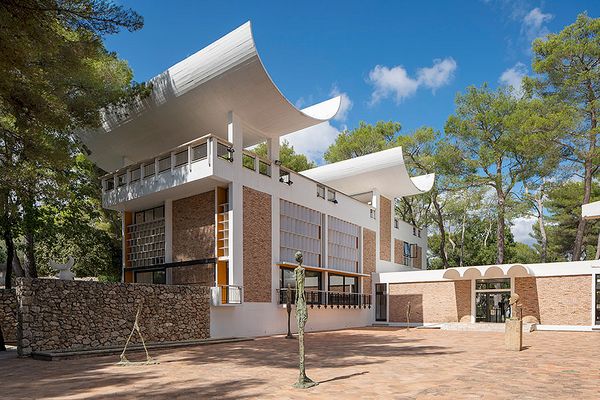 La Fondation Maeght. Photograph by Olivier Ansellem. Archives Fondation Maeght.
An Exceptional Place For Modern Art
Some of the biggest names in 20th-century European sculpture, including Georges Braque, Joan Miró and Alberto Giacometti, came together to help create La Fondation Maeght, which has become France's most important art foundation and is among the world's leading cultural institutions. La Fondation was established by Aimé and Marguerite Maeght, a visionary couple who were publishers and art dealers, and who represented and were friends with some of the most important artists of the era, including Braque, Miró and Giacometti, as well as Alexander Calder, Fernand Léger, Marc Chagall, and many others.
La Fondation Maeght was opened on 26 July 1964 by Charles de Gaulle's legendary Culture Minister Andre Malraux, a close friend of the Maeghts. It was France's very first private art institution and was modeled on American institutions such as the Solomon R. Guggenheim Foundation, the Barnes Collection and the Phillips Collection, which the couple visited during their frequent trips to the US in the 1950s.
After the couple's youngest son, Bernard, passed away from leukemia in 1953, fauvist and cubist artist Georges Braque prompted Aimé and Marguerite to imagine a new place for art in their property in the village of Saint-Paul de Vence on the French Riviera. Painters and sculptors worked in collaboration with the Catalan architect, Josep Lluis Sert, to create a place where art, nature and architecture blended in perfect harmony. Highlights include the Giacometti Courtyard, featuring an exceptional ensemble of sculptures by the Swiss artist, the Miró Labyrinth, a whimsical sculpture garden, monumental mural mosaics by Marc Chagall and Pierre Tal-Coat, a pool designed by Braque as well as a mechanical fountain designed by Pol Bury.
Visit La Fondation Maeght for more information >
---
Meet the Giacometti Family
As Phillips supports La Fondation Maeght's landmark exhibition 'The Giacometti: A Family of Creators', get to know the members of the family that shaped modern art.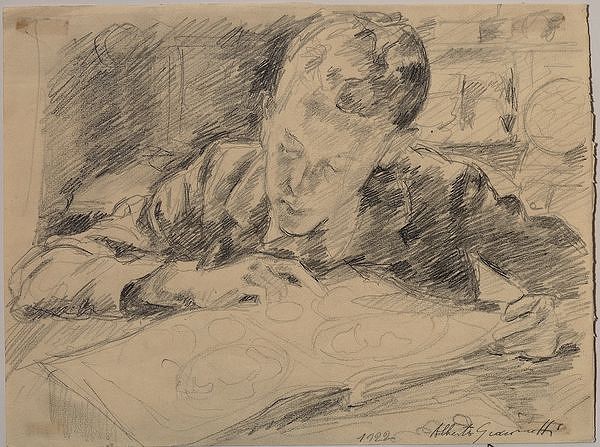 Alberto Giacometti, Bruno à l_Atlas et au Violon, 1922 Galerie Maeght© Succession Giacometti (Fondation Giacometti, Paris et ADAGP, Paris) 2021.
---
Recommended Reading
The Legendary Origins of a 'Grecque' Table Lamp >
The Art Lover's Guide to River Towns >