Hannah Martin, "Possession Gold Cuff" with Coloured Diamonds in 18k Rose Gold. $12,835 USD. Flawless X Vivarium: Woman to Woman.
Written by Vivienne Becker

When you consider the jewel as a symbol of power, it stands to reason that historically, it was men who wore the finest, biggest, and most imposing jewelry; crowns, collars, girdles, and chains were the prerogative of kings, princes, potentates, and warriors. Women, royal, noble, or mistresses, wore jewels, but it was really only in the Renaissance that the great power-brokers Elizabeth I, Catherine de Medici, and later Marie de Medici, rivaled or even overtook their royal predecessors in bejeweled finery. They covered themselves in sumptuous, precious jewels as shows of power, wealth, and unassailable authority.
Attributed to Nicholas Hilliard, Elizabeth I (The Pelican Portrait), c.1573–1575. Walker Art Gallery, Liverpool (WAG 2994).
Later Louis XIV, the Sun King, dazzled in diamond-buttoned coats; 18th and 19th century dandies wouldn't be seen without an exquisite cravat pin; and Maharajahs wore their lavish jewels with such magnificence that their innate style remains an enduring inspiration. Fast forward, and the 1970s craze for men's jewelry was an outward sign of social, cultural, and sexual revolution.
So, jewelry for men is nothing new; and as much about freedom of self-expression as it is about a gendered balance of power. Yet today's huge and high-profile vogue for men in jewels is more about power-sharing, role-shifting, and androgyny. It's about the breakdown of stereotypes and liberation of jewel-rules, including the assertion through a jewel of masculine ownership of a woman. Most of all, it's a reflection and celebration of this moment's embrace of gender-fluidity.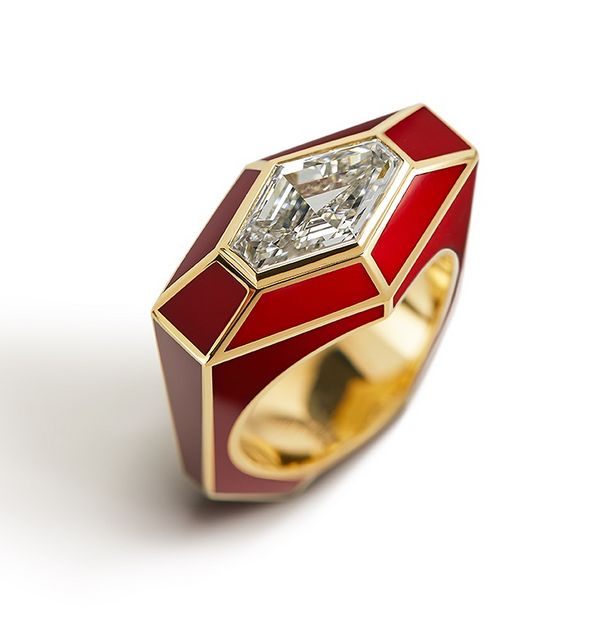 Ming, "Treasure Ring" with a 2.54ct Kite-Shape Diamond set in 18k Yellow Gold with Red Enamel. Estimate $31,800 USD. Flawless X Vivarium: Woman to Woman.
The most recent trend of men's jewerly started with bracelet-layering, then brooches and now men, especially on the Red Carpet, are wearing full-blown necklaces and fistfuls of cocktail rings – and it looks just right, elegant and individualistic. Hip Hop has had and is having a huge and empowering influence, giving us an unashamedly more-is-more vibe. Now Tiffany has launched a collection of engagement rings for men, while Boucheron—headed by two women, a creative director and CEO—is advocating High Jewelry for men, who now buy 50% of their High Jewelry collections.
Hannah Martin, one of our Woman to Woman designers, has always put gender fludity or as she calls it, "shades of gender," at the heart of her work. Her final dissertation at Central St. Martin's in 2005 was called The Peacock and the Lady Boy, and her very first collection was described as "luxury jewelry for men that girlfriends will steal." Today, she says her attitude and philosophy remain the same: "Awareness has changed, I haven't," she says. "The conversation about gender has grown beyond recognition in the last five years. I never did it for political reasons, I genuinely didn't understand why jewelry couldn't work for both men and women." Her distinctive, monumental, bold gold jewels, including the Possession bangle in Woman to Woman, have questioned the gender bias, just as her Ring of Fire challenges long-held traditions and associations of the diamond ring. Martin adds, "We're all more open-minded and just trying to take labels off everything."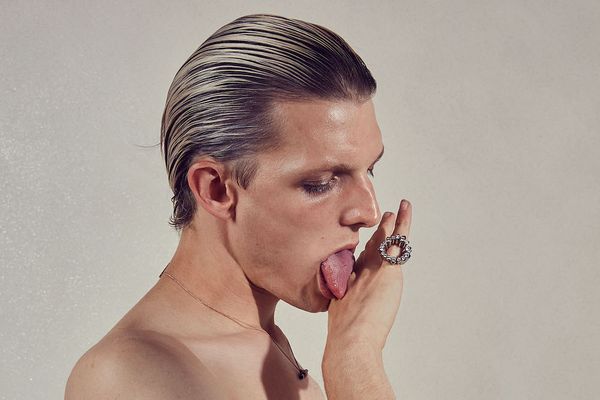 Hannah Martin, "Ring of Fire" Ring with Diamonds and 18k White Gold. Estimate $16,800 USD. Flawless X Vivarium: Woman to Woman.
Fashion's gender-fluid or gender-neutral approach has certainly encouraged the concept of jewels for men, although the genre has now progressed much further than the androgynous brand icons that have become so fashionable in the past few years—Cartier's Juste un Clou, Tiffany's T or Boucheron's Quatre, for example. Men now feel they can wear jewels that were once considered quintessentially feminine; that's the new freedom. We'd like to think that Woman to Woman offers this freedom, and jewels for everyone – Cora Sheibani's Cloud brooch, for example, that looks good one anyone's lapel, Boivin's rock crystal geometric brooch, Carnet's exuberant flower brooch (both perfect Red Carpet jewels), Solange Azagury Partridge's diamond Triangle necklace, worn inside a shirt collar, Ming's Treasure ring or Lauren Adriana's mechanistic-inspired Slice ring.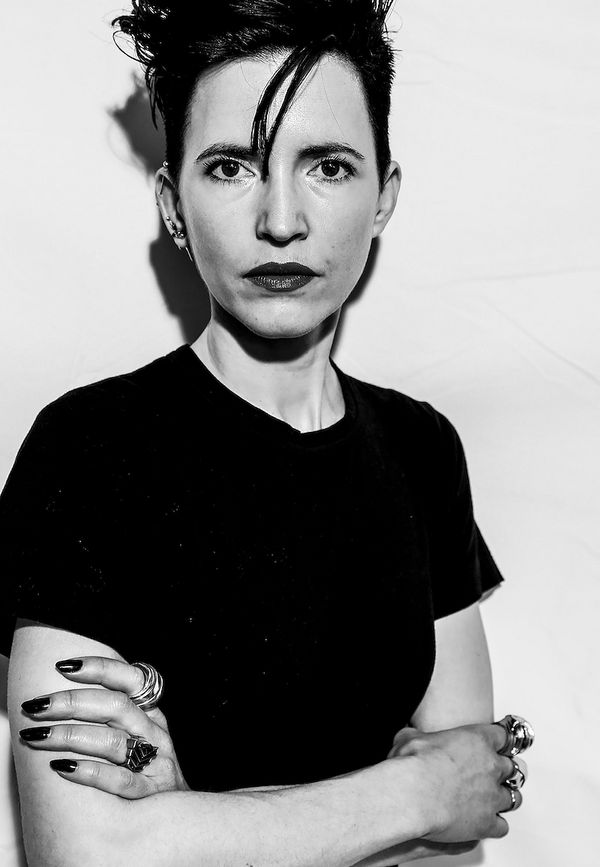 Hannah Martin. Photography by Derrick Santini.
Just as we've aimed to do with Woman to Woman, we believe gender-fluidity is generating a deeper exploration of the entrenched associations of the jewel with femininity, with masculine claims to women, or with the idea of jewels as a means of financial independence, as they were for the great Belle Époque courtesans. We're diving deep into the meanings of the jewel, from a symbol of power to self-expression, showing how jewels reflect changing roles and attitudes towards women and femininity. The striking Boivin chocolat onyx and diamond bracelet from 1929 is a perfect example: it marked the dramatic change from the cult of untouchable, corseted, white and lacy femininity that ruled the Belle Époque, to the powerful, determined, active womanhood of the 1920s and 30s. Sarah O'Brien, Phillips' International Business Development Director for Jewels, says, "Until recently, women almost never bought jewelry for themselves. It tended to be gifted and most frequently by men. At certain times and in certain countries (some still) men legally 'owned' the woman. So that jewelry is a medium in which gender has a particularly interesting thread and theme, for designer and wearer."
Discover More from Flawless: Woman to Woman >

Recommended Reading
Woman to Woman: A Powerful Voice in Jewelry >
Influencers Before Influencers >