Diana Vreeland.
Written by Vivienne Becker
In this later-than-usual Awards season, we've been watching the jewels on parade, looking for cues and clues, to see how, by whom, and with what, the jewels will have been worn. We were already entranced as Beyoncé appeared at this year's Grammys, wrapped tightly in black leather by Schiaparelli, matched by mega-oversized drop earrings that trailed over her shoulders, and then changed into glimmering silver matched by Lorraine Schwartz jewels. There's no doubt, she's one of today's jewel-influencers, and this month and next, I'm joining Phillips in looking at women—wearers and makers—making their voices heard, in the jewelry world. We've been looking at and thinking about the great jewel-wearers, both past and present: from Kate Moss, who buys and wears both antique and modern jewelry with equal style, or Julianne Moore and Angelina Jolie who both made emeralds modern object of desire, to Iris Apfel who loads and layers colors and materials; and then moving to the original, mid-20th century icons who were jewel-influencers long before the concept was a diamond-glint in a marketeer's eye. We're thinking about the ways in which jewels express personal style and status, but also how they reflect changing ideals of femininity, the changing role of women in society. We've come so far from the age or ages when a woman was a walking shop window for her husband's wealth, or when jewels signified male ownership or the success of the great Belle Époque courtesans.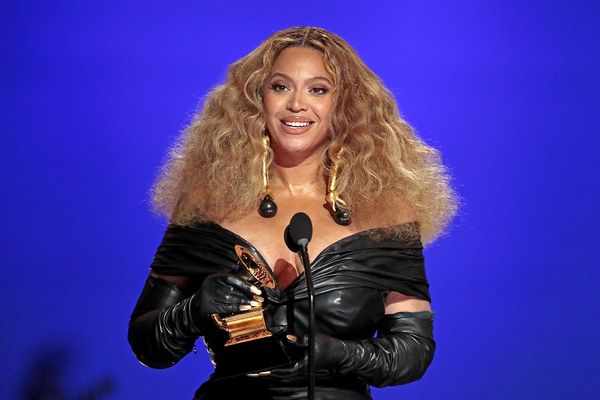 Beyoncé at the 2021 Grammy Awards. Photography by Robert Gauthier / Los Angeles Times.
To start with, I'm zooming in on the great 20th century style leaders, the influencers of their day, the women of style, substance, and social status, who chose their jewels to underline individuality, to showcase personality, to reflect and enhance their lifestyles, tastes, values, idiosyncrasies, and reputations. These were the women—Daisy Fellowes, Babe Paley, Millicent Rogers, the Duchess of Windsor—whose style reached way beyond fashion, who set trends, broke sartorial rules, and influenced fashion-conscious jewelry wearers for generations to come. Women dedicated to the art of style, for whom dressing and living well was a form of self-curation; they were in effect their own art works. And like all works of art, they had something to say about their place in the world—and so often they said it through their jewels.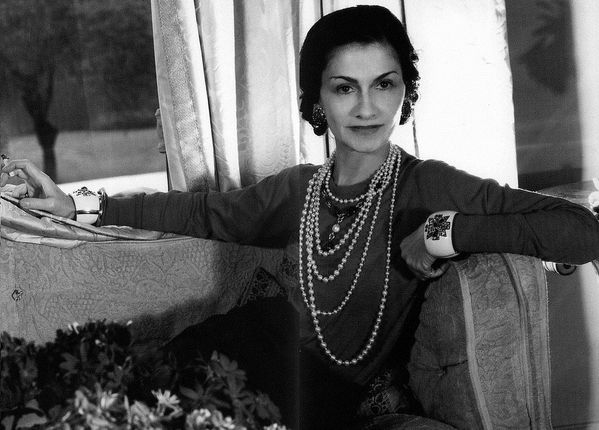 Gabrielle "Coco" Chanel with a Verdura Maltese Cuff.
Gabrielle Chanel was the quintessential rule-breaker, wearing masculine tailoring and a boater when Belle Époque beauties were tightly corseted in ultra-feminine, frothy all-white gowns, topped with extravagant hats; Chanel later dared to mix fine and faux gems in her rich Byzantine-flavored jewels that look just as modern today as they did a century ago. The celebrated interior decorator, Elsie de Wolfe, Lady Mendl, liked to weave silk ribbons through her Art Deco diamond bracelets, while Diana Vreeland moved between horn pendants and cuffs, baroque Chanel brooches pinned to her turban, and an exquisite modernist rock crystal and gold bangle by Suzanne Belperron for Herz, worn at El Morocco in 1938. Mrs. Harrison Williams, later Mona Bismarck, was another a Belperron devotee, while Barbara Hutton, the much-married Woolworth heiress and original Poor Little Rich Girl liked to pair her majestic tiara, studded with Grand Duchess Vladimir's magnificent emeralds, with a casual caftan during stays at her villa in Tangier. The ineffable Babe Paley, one of Truman Capote's "Swans," wore her jewels with inimitable casual panache: she wound her wrists in strands of pearls, or encased them in Verdura's pair of pearl bracelets, one black, one white; she teamed a Verdura fringe necklace with a one-shouldered evening gown, drawing attention to her long, slender neck and pinned a brooch to the back of the shoulder. Every detail of Paley's style was watched, analyzed, and copied; when she took off her scarf on an unexpectedly warm New York day and tied it around her handbag strap for a lunch date, she launched a major trend.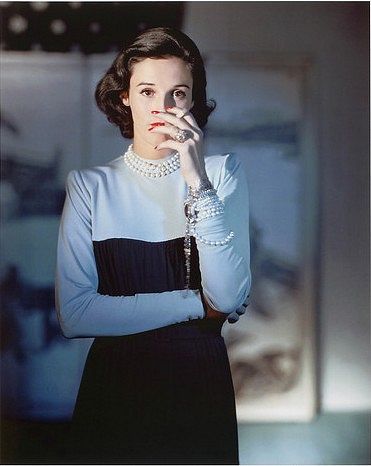 Babe Paley draped in pearls.
Pat Saling, New York-based antique jewelry dealer, whose clients included María Félix, the Mexican actress celebrated for her immense Cartier crocodile and serpent necklaces, Jayne Wrightsman and Mrs. Douglas Auchincloss, who had "an impeccable eye" and would often "tweak a jewel to make it her own," says, "They were part of a dynasty of women with great taste and style, who knew what looked good on them, and knew how to wear jewelry."
Leading the pack was Millicent Rogers, the Standard Oil heiress, for whom individual style was all in the mix. She wore ravishingly refined couture, Schiaparelli, Mainbocher and particularly Charles James but also liked to dress up in Chinese robes or Tyrolean dirndls. She loved to mix jewels, by names such as Boivin, Cartier or Verdura with spiritually-imbued Navajo silver and turquoise ornaments or jewelry she designed and made herself, meaning her style had the quality of an unearthed treasure. Her unlikely, whimsical costumes and combinations emphasized her personality, her artistic, imaginative temperament. Rogers is said to have found a leaf that she particularly loved, stuck a pin through it and asked Boivin to copy it for her in gold and diamonds. But perhaps, when it comes to her jewels, Millicent Rogers is most famous for the magnificent and monumentally proportioned Starfish brooch, designed by Juliette Moutard for Boivin, a jewelry house run by women who understood what their female clients wanted from their jewels, and dared to give it to them. The Starfish, acquired by Rogers in 1938, was a hand-span wide, fully articulated, set with a sumptuous, regal mix of rubies and amethysts, strikingly bold and worn by Rogers high on the shoulder to stunning effect. The first of this small series of Starfish brooches was bought by Claudette Colbert (now in the Museum of Fine Arts, Boston); another by São Schlumberger, and in each case the jewel became part of the wearer's persona; carrying with it, through history, the scent of the woman.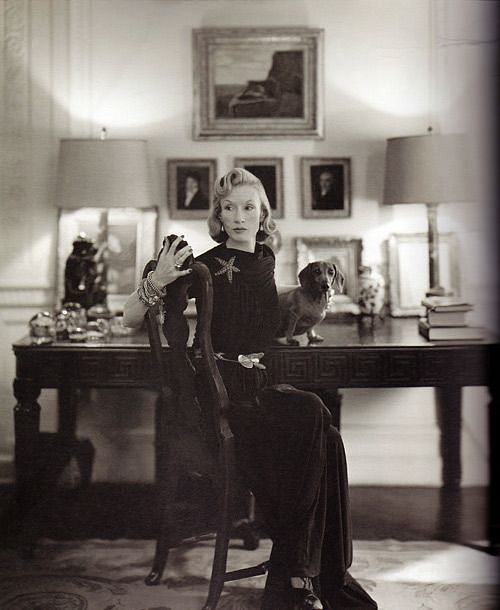 Millicent Rogers sporting the Boivin Starfish Brooch.
Daisy Fellowes was even more audacious and capricious in her jewel-wearing, and while a regular on the list of the World's Best Dressed Women and a keen couture client, she often chose outfits to complement the jewelry she so adored. She advocated wearing pairs of cuff bracelets, so as not to be unbalanced, and experimented with arresting color combinations, such as Cartier's signature coral and emeralds. Yet the Singer sewing-machine heiress is best remembered for her spectacular Collier Hindou, the lusciously fringed tutti frutti necklace made for her by Cartier, Paris, in 1936. It was one of several Indian-inspired jewels acquired by the socialite. Fellowes, like so many women of style and substance of that era, had fallen in love with India, and its cultural heritage of jewels and gems, and following one visit to the country, she asked Cartier to remodel some of her existing jewelry into a lavish collar, like the one made for the Maharajah of Patna in 1935. Dressed in a Christian Dior outfit inspired by the Tiepolo Frescoes in Würzburg, Fellowes wore the collar with a leopard-print trimmed gown to the Beistegui Ball at the Palazzo Labia, Venice in 1951. The necklace remains the quintessential Cartier Tutti Frutti design, with its clusters of colored gems carved as leaves and berries, but even more, it is inextricably linked to Daisy Fellowes, to the woman and her style. The daring originality of her taste, and the sureness of her eye, influenced not only her peers and fashion-followers, but the jewels and jewelers themselves; Daisy Fellowes became part of the creative process. Just as Marlene Dietrich worked with Van Cleef & Arpels on her famous ruby and diamond Jarretière cuff bangle. And just as so many 20th century style-leaders helped shape contemporary jewelry design, through taste, style and influence.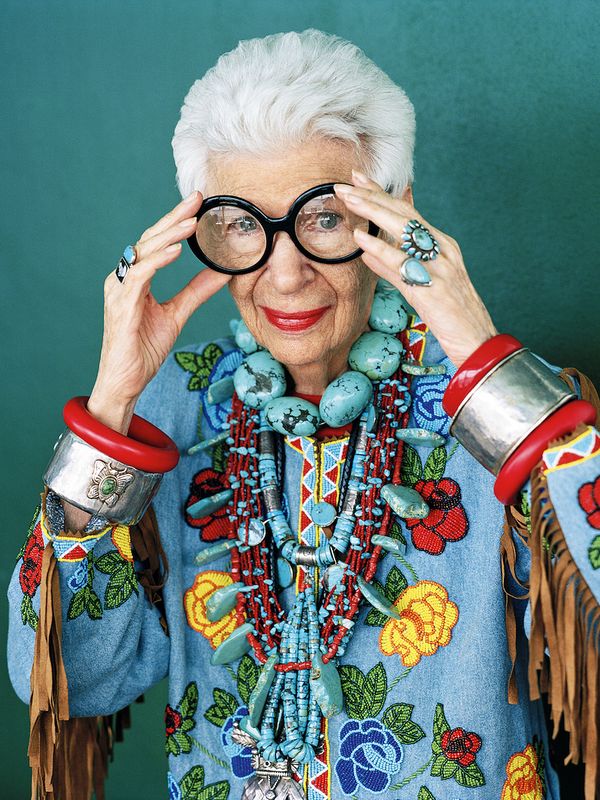 Iris Apfel. Photography by Bruce Weber. Courtesy of the Peabody Essex Museum.
Back to the present or to the future, and at a time of gender fluidity, when stereotypes and social status quo are being seriously challenged, increasingly, it's male stars and celebrities, on and off the Red Carpet, who are wearing jewelry, particularly High Jewelry, both statement brooches and necklaces, with audacity and originality, to express their personality and values. Anthony Anderson wore an exuberant Chopard flower brooch to the Golden Globes and then a vintage Art Deco Boucheron arrow to the NAACP Image Awards this season. While Billy Porter, Harry Styles, Elton John, Pharell Williams are all jewelry devotees, and forces for cultural and sartorial change—a subject that I plan to take a deep dive into at a later date. But for now, as the Oscars and the jewels-on-parade sink in, we can add these names to the illustrious rollcall of jewel-influencers who have and are still nurturing our appreciation of the jewel as the most powerful, original expression of individual style.

Recommended Reading

Aldo Cipullo: The Man Behind the Cartier Love Bracelet >