Joan Mitchell, Untitled, 1979. Estimate $9,000,000 - 12,000,000. 20th Century and Contemporary Art New York.
Written by Patricia Albers

Two untitled paintings. The first, from 1953, by a twenty-seven-year-old Joan Mitchell thrilled to be part of the avant-garde scene in lower Manhattan. Nowhere else was painting so intensely lived, it seemed, or so deeply felt. The second, from 1979, by a fifty-four-year-old Mitchell living in a French village off the power grid of the art world. Painting was supposedly dead. But she thumbed her nose at that idea. Her longtime companion had just run off with another woman, leaving the artist wounded, enraged, and lonely. As always, her studio was where she came to terms with life in its full complexity. "Music, poems, landscape, and dogs make me want to paint," she declared. "And painting is what allows me to survive."
Because Mitchell often slammed pigment to canvas with brusque gestures or full body force, it would be easy to assume that she painted quickly and spontaneously. In fact, she had nothing but scorn for the idea of an artist simply unloading her emotions on canvas. A deliberate painter, Mitchell would begin a session in her studio by dropping the needle on a record, often Charlie Parker or Billie Holiday in the 1950s and Maria Callas in the 1970s. Or she would absorb herself in poetry, perhaps her beloved Rilke. The point was to get beyond her own ego and open an emotional space. She also turned to memories of places, people, and even dogs that she loved. Gifted with vivid sensory recall, Mitchell talked about carrying her landscapes with her in a mental suitcase or album. She didn't imagine scenes or seek inspiration from her studio windows. (Indeed, she painted at night.) Instead she mentally mapped out her images, "framing" particular landscapes remembered at particular moments and seeking visual equivalents for her emotional responses to them. Hers was a high-wire act balancing internal and external worlds.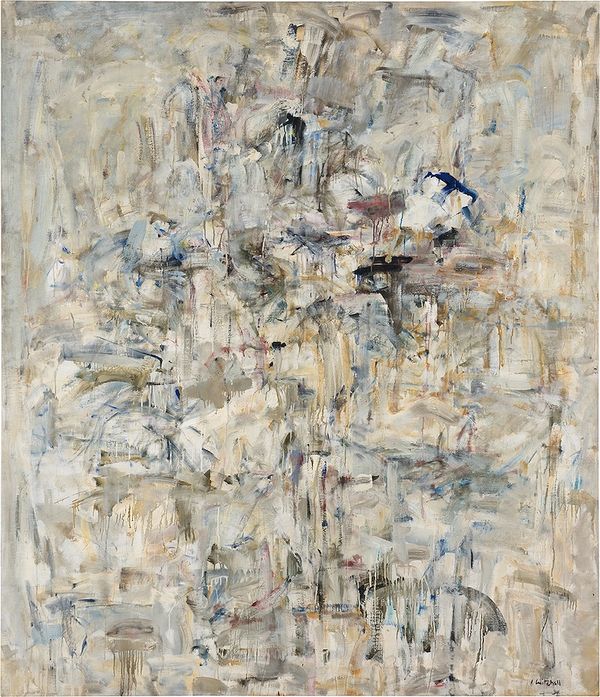 Not until the artist had worked out the image did she stir her paint and load a brush. Then she'd stand poised before the canvas tacked to the wall at the far end of her studio. All concentration, she would advance with the prowess, and often the wallop, of an athlete,
 knowing exactly what she would do when her brush hit. After every few strokes, she would retreat to size up the results. Pre-visualizing her painting did not mean that Mitchell didn't take advantage of accidents or make adjustments or occasionally lose control. But when she was cranking, painting was pure joy, like riding a bike with no hands.
Joan Mitchell had arrived in New York in late 1949. One day a few months later, she walked into the Whitney Museum and came face-to-face with Willem de Kooning's Attic, packed with fragments of the human figure. She was wowed by the painting: its rawness, its handling of space, its expressive power. Later she sought out Piet Mondrian's oils in which he envisions trees as compressed networks of lines and in which she perceived a transcendent light ("and I don't mean white"). From the work of these two artists and others, Mitchell took what she needed, freeing her forms and rethinking her paint handling and use of space and light. What's more, Untitled, 1953 draws from her surroundings. It brings to mind a letter she wrote to a friend in which she remembers watching "rain that closed the landscape" and made her remember "some so closed and soft rains on 10th St." Gently roiling, shimmering, and drip-streaked, the painting may also have found inspiration during her time that summer in Springs, Long Island, near Gardiners Bay.
Hers was a high-wire act balancing internal and external worlds.
The following year would prove a hard one for the artist, who had been agonizing over what she believed to be her wrong perceptions. Since childhood, Mitchell had known that she experienced the world differently from others. Mitchell had synesthesia, an innate and lifelong neurological condition in which, when one of the five senses is stimulated, that sense responds and another does too. Some synesthetes see sounds. Others hear flavors. Mitchell had several types, including colored sounds and colored emotions. For her, hope was literally yellow. Depression was metallic white. By the time she emerged from her crisis, Mitchell had resolved to turn what she perceived as a negative into a positive by using her synesthetic perceptions in her art. It's no coincidence that she then came into her own as a colorist.
Mitchell's paintings of the late 1950s won wide recognition tempered by the fact that she was a female artist in a macho environment. In 1959, she moved to Paris to be with the French-Canadian painter Jean-Paul Riopelle. Neglected by the art world throughout the Pop Art era, she remained doggedly loyal to "real painting." Her lusciously hued works of the early 1960s would give way to so-called "black paintings," inspired by her sailing trips to Corsica, and then to oils inhabited by hovering blocks of color. By 1979, she had long since moved to Vétheuil, a village northwest of Paris where her property overlooked the Seine. Dazzled by the changeable weather and riotous vegetation, she imbued her art with the colors, textures, and light of the Seine Valley.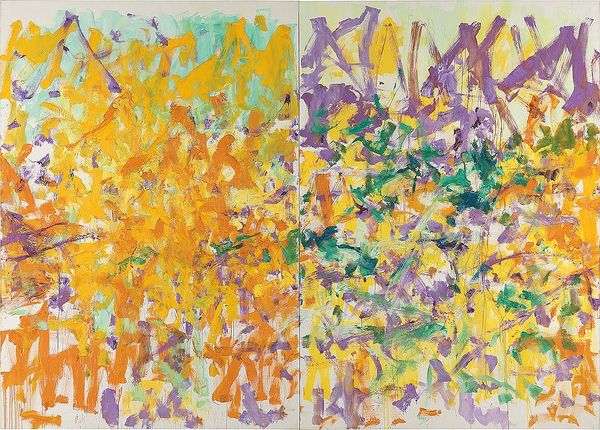 It's a fair guess that Untitled, 1979 owes much to Mitchell's garden. Nearly twelve feet across, it makes use of one of the craftiest practices she had developed over the years: do it one way, then deny it. Thus she sets up a horizontal format, yet undermines the landscape effect by using two vertical panels with a cut between them. Mitchell was smitten with that cut for other reasons too, like the contrast between its crisp line and her emphatically handmade strokes. In any case, it hardly corrals the overgrowth—the bent, hollow, and decaying stalks—the painting evokes. This is no prim flowerbed. For Mitchell, flowers didn't need to be fresh to be beautiful, nor did colors and compositions need to be art-school harmonious.
She was striving for something more primal: "Painting is like music," Mitchell said. "It is beyond life and death. It is another dimension."
Patricia Albers is the author of Joan Mitchell, Lady Painter: A Life, the first biography of Joan Mitchell. She is currently working on a life of the Hungarian-born photographer André Kertész.
Discover More from 20th Century and Contemporary Art New York >

Recommended Reading
Ruth Asawa: The Making of a Forever Stamp >