Last April, when the United States Postal Service (USPS) unveiled their upcoming forever stamps, the section of the Internet that includes curators, writers, and artists erupted in enthusiasm. The stamps honored artist Ruth Asawa (1926-2013), who, in the past few years, has finally received international recognition for her remarkable wire sculptures. The resulting posts fell somewhere between "these are so wonderful" and "I love Ruth Asawa." Both the stamps and the artist had cued a seemingly universal outpouring of appreciation.
Although the effusions seemed to come all at once, the Ruth Asawa forever stamps—revealed in April and issued in August—had been in the works for years by the time they reached our post offices and social media feeds. As Ethel Kessler, the designer of the Asawa stamp and an art director at USPS explains, "All these things, they just take much longer than anybody can imagine."
It's a very challenging medium, to work in miniature. –Ethel Kessler
Every year, USPS receives about 30,000 suggestions from the general public for people, places, and things that should be stamps. The final twenty-five or so will meet the qualifying criteria determined by the Citizens' Stamp Advisory Committee. US postage stamps must, for example, focus on "American or American-related subjects" and "honor extraordinary or enduring contributions to American society, history, culture or environment." One of USPS' most important eligibility requirements, which is not true for all countries, is that living people will not be considered, making each stamp a legacy.
When Asawa's name came up, "it seemed like it was a great idea," Kessler says. "She was a great subject, with an amazing history." But even if the recommendation is excellent, the designers need to consider what will work well at stamp-size. "Sometimes they make a recommendation. And one of us says, 'that would make a great movie, but I don't think that's going to make a great stamp,'" shares Kessler, who has been working on stamps since 1996. "You have to isolate it down into its simplest, simplest form. It's a very challenging medium, to work in miniature."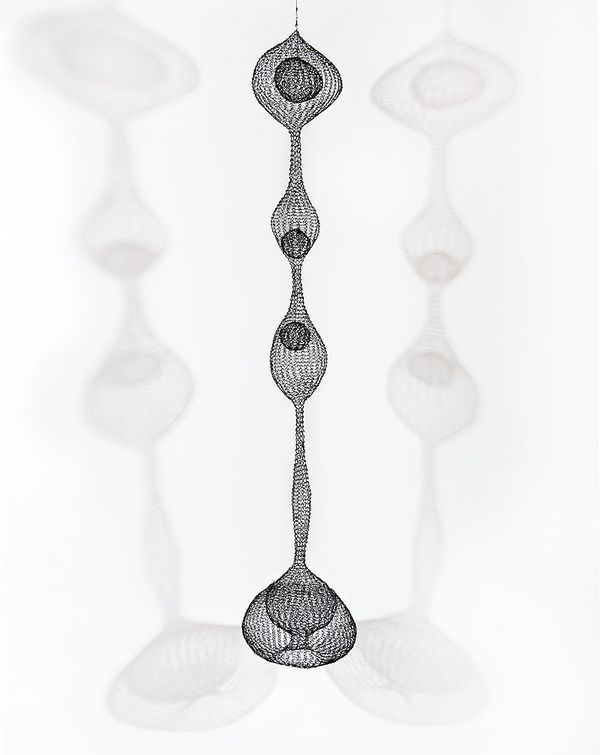 Ruth Asawa, Untitled (S.045, Hanging Five-Lobed, Multilayered Continuous Form within a Form, with Spheres in the First, Second and Third Lobes ), circa early 1960s, copper and brass wire, 72 x 14 x 14 in. (182.88 x 35.56 x 35.56 cm). Estimate $1,500,000 - 2,000,000. 20th Century & Contemporary Art Evening Sale New York.
Once the subject is selected, the stamps are assigned to one of the four art directors. Each art director has a particular area of interest, Kessler's being art, culture, flowers, and gardens. When Kessler was assigned Ruth Asawa as subject, she began researching Asawa and visiting galleries, to get a sense of her background and approach. "It could be that it's about a writer and that I haven't read anything by that writer," she explains. "In order to choose the visual direction, you have to know what their style is like."
One of the challenges of translating's Asawa's work to stamp-size was how ethereal, transparent, spatial, and three-dimensional her oeuvre is. Kessler describes trying to balance Asawa's two-dimensional and three-dimensional works and eventually deciding that they "rejected each other," as the two-dimensional works interrupted the multidimensional planes of Asawa's sculpture.
[Stamps] tell America's story to the world. –Ethel Kessler
Ultimately, Kessler selected ten photographs of Asawa's sculptures, nine of which were taken by Larry Cuneo, who is married to one of Asawa's daughters, Aiko, also an artist. The pair met while at the Pratt Institute and when they settled in San Francisco, they often visited Ruth Asawa's home. Cuneo describes Asawa's house as a "bustle of activity." "I quickly learned that everyone pitched in, so I did my part by documenting the activities," he wrote over email.
By the time Cuneo was contacted, he says, "there had been several meetings regarding design ideas, sculpture choices, image availability, copyright permissions, etc. But, wow, I thought; how nice to even be considered for the project?" The images taken by Cuneo and selected by Kessler show Asawa's sculptures against white backdrops where they cast subtle shadows. Cuneo writes that for these shots, with their minimal background and indirect light, "simple is better." He adds his compliments to Kessler, "The inclusion of both tight crops and full sculptures is so smart, as are the typeface and the subtle tonal adjustments of the backgrounds."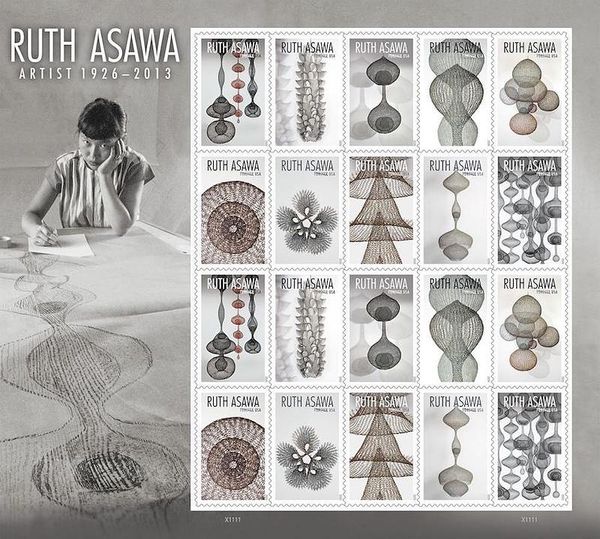 The Ruth Asawa Forever Stamps designed by Ethel Kessler. © 2020 U.S. Postal Service.
In their final form, the stamps float within their small crenellated frames, each line and loop is distinct, the range of colors clearly visible. Some of the stamps feature multiple works, creating a constellation of overlapping forms. On the selvedge, there is a portrait of Asawa at work, taken in 1954 for Life magazine; she knowingly glances back.
Kessler thinks the stamps resonated so widely and deeply because, as Paul Ha, Director of MIT List, said to her, Asawa is "an artist's artist." Asawa's work, she explains, is very contemporary, "it's a unique category all her own. It's out of the normal mainstream of painting and sculpture." And almost like a two-dimensional, portable exhibition, the forever stamps—a form of public art—announce this unique contribution to art history.
Yet these distributable, national objects are also intensely personal, individually peeled off and applied to birthday cards, announcements, and thank yous. And Asawa's story will continue beyond that final envelope application. "It's amazing," reflects Cuneo, "to think that this morning a child, thousands of miles away, is fetching the mail and may be inspired to make a drawing or a sculpture."

Contact a Specialist:
Amanda Lo Iacono
aloiacono@phillips.com
+1 212 940 1278
Discover More from 20th Century & Contemporary Art Evening Sale >

Recommended Reading
One Artist You Need to Know: Beverly Pepper >
In Lynette Yiadom-Boakye's Work, Narrative Unfurls on the Canvas >