Allen Jones, Project for Fifteen Foot Woman, 1967. Estimate £150,000 - 200,000. 20th Century and Contemporary Art Evening Sale.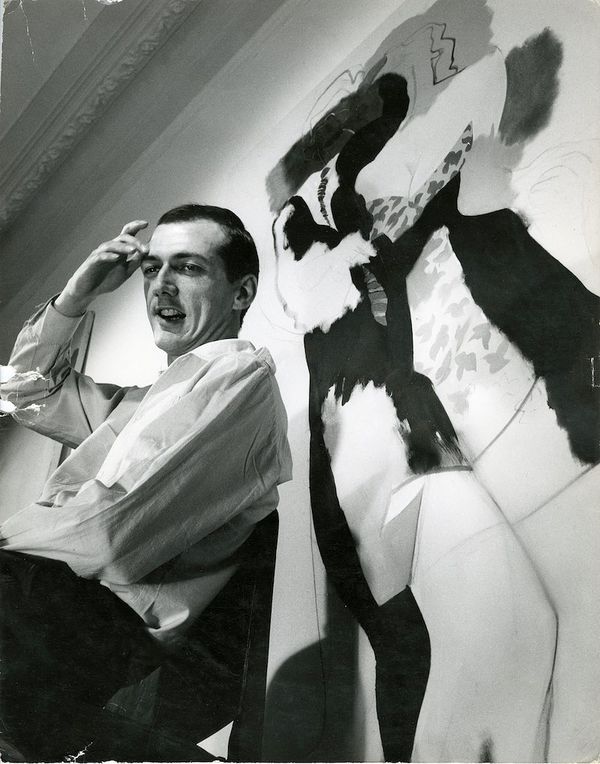 Allen Jones by Jorge Lewinski, 1960's. © The Lewinski Archive at Chatsworth / Bridgeman Images.
Judith Lamb: Mr. Jones, you are one of the most important British Pop artists. Examples of your work are housed in museum collections around the world, and exhibitions of your work are continuously held in your honour. In 2015, the Royal Academy of Art in London organized a retrospective of your work, and Almine Rech in Paris and, most recently, in London has exhibited new paintings and sculptures. Thank you for visiting Phillips today to talk about your seminal painting 'Project for Fifteen Foot Woman' ahead of its sale on October 20.
'Project for Fifteen Foot Woman' was painted here in London in 1967, shortly after your return from the United States. In the other paintings from your now iconic leg series, you introduced a third dimension by adding a shelf or steps to the painting. 'Project for Fifteen Foot Woman' appears to be a return to two-dimensional painting. Can you put this work into context and tell us how it relates to the other paintings in this series?
Allen Jones: American Painting was about the flat surface; in formal terms a Lichtenstein is as flat as an Ellsworth Kelly. To counter the illusionistic depth implied in my pictures, I fixed shelves or steps to them. Another way of addressing this issue was to make a picture using several canvases. I joined three together to make a nine-foot-high figure called Perfect Match.
With this picture, Project for Fifteen Foot Woman, I got carried away with the scale before realising it would make a fifteen-foot figure that I would not have been able to fit into my studio, so she remained a "project."
Allen Jones, Perfect Match, 1966-97, oil on canvas, Museum Ludwig, Cologne. © Allen Jones. Image: Rheinisches Bildarchiv Köln.
JL: Can you tell us about the Arthur Tooth exhibition and your relationship with Tooth?
AJ: Peter Cochrane, a Director at Tooth's gallery, saw my work in a student exhibition—the Young Contemporaries, 1961. It was after my first year at the Royal College of Art. He brought the collector E. J. Power to see me and offered me a four-year exclusive contract. Tooth represented Stanley Spencer and Matthew Smith, but Peter was more interested in the avant-garde and signed up R. B. Kitaj before the latter was approached by Marlborough Gallery.
Peter was one of the first people in the UK to buy American Pop Art and was an eccentric and avid collector. I remember, along with Peter Phillips and Peter Blake, sitting around Cochran's table in St. John's Wood, reminiscent of the headmaster's study, looking at black and white photographs of his recent purchases in New York. Lichtenstein's pedal can diptych, Jim Dine's large black-tie painting, and a dish of Oldenburg cookies. It was all very new and all very exciting.
JL: I understand you have a funny story about the catalogue, which was produced unbound for the exhibition.
AJ: Peter's spirit for innovation stopped short of the catalogue I designed with John McConnell, who would later become a Pentagram partner. Rather than stapled pages, it was a loose-leaf folder that would allow the recipient to pin favourite image to the wall or stick them in a book. The cover contained a transfer—a decal of a leg in a spiral that could be affixed to a car windshield or perhaps the refrigerator. Peter held it with disdain, allowing the loose leaves to fall upon the ground. He tut-tutted and said no more. To meet the printer's deadline, Project for Fifteen Foot Woman was photographed unfinished and exhibited in its current state.
The present work photographed in an unfinished state, illustrated in the catalogue and published on the occasion of the Allen Jones exhibition 27 June - 15 July 1967 at Arthur Tooth & Sons Ltd, London. © Allen Jones.
JL: In the 1970s and 1980s, there seems to be a return to creating works that are distinctly paintings and distinctly sculptures including very large outdoor works. What was the most challenging project you undertook?
AJ: My 60 foot sculpture of an acrobat spanning three floors within the atrium of the Chelsea and Westminster Hospital was commissioned when the new building was completed. The sculpture arrived on the site in several sections, each over twenty feet long. It required the help of several passers-by to rock each of the heavy curved steel limbs from each end in order to pass them through the brand new revolving doors of the hospital facade.
JL: In addition to painter and sculptor, you are also a renowned printmaker and have taught lithography at universities. Do you have an equal love for the mediums? Or is there a favourite?
AJ: Not in particular but as a student interested in learning about colour, I chose lithography as my second subject. The chemical process is so time consuming that it was an incentive to use as few colour printings as possible to achieve maximum effect. My teacher Allin Braund at Hornsey always said that if you can't finish a print with up to five colours, then paint it.

Discover More from 20th Century & Contemporary Art Evening Sale >