Nicole Eisenman 4:20, 2004. Estimate: HK$2,000,000-3,000,000
20th Century & Contemporary Art Evening Sale, Hong Kong
As a socio-political movement, Feminism originated in the 1840s, at the time when men and male artists dominated the art world, and indeed the canon of art history itself. However as the following century progressed, figures like Georgia O'Keefe and Frida Kahlo carved their places and stamped their authority on domestic and international scenes, unapologetically demanding recognition and respect for their works. Now in the 21st century, their foundations continue to grow stronger, with female voices becoming ever louder – exemplified by women artists holding huge exhibitions at eminent institutions and repeatedly achieving record auction results.
With this spotlight, revel in the boundless energy and creativity of some of the world's most important female contemporary artists.

Nicole Eisenman Hunnenschlacht (The Battle of the Huns), 2001. Estimate: HK$800,000-1,200,000
20th Century & Contemporary Art and Design Day Sale, Hong Kong
Leading the vanguard of the resurgence of American figurative painting, Nicole Eisenman was awarded the revered MacArthur "Genius Grant" award in 2015 for her achievements as a visual artist. Her work centers around the human body as a vehicle to tackle the pertinent social issues of today, while employing elements of allegory and satire in her compositions. Blending surrealism with social realism, Eisenman regularly pays tribute to the Renaissance tradition of encapsulating the gravity of history with an alleviating sense of humor – brilliantly showcasing her rich artistic prowess. Highly regarded by institutions and collectors alike, Eisenman is signed to international powerhouse Hauser & Wirth, and has exhibited at the likes of MOMA and the Whitney.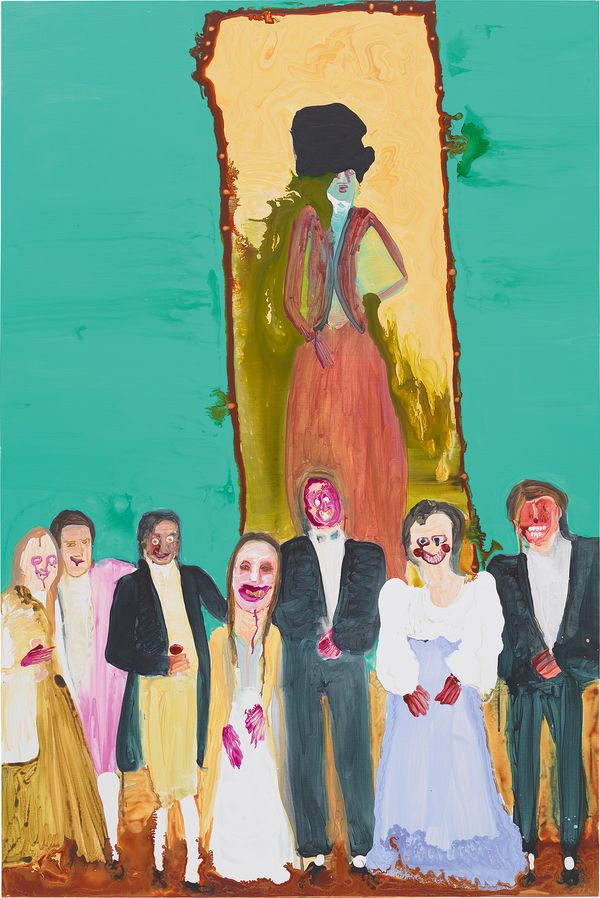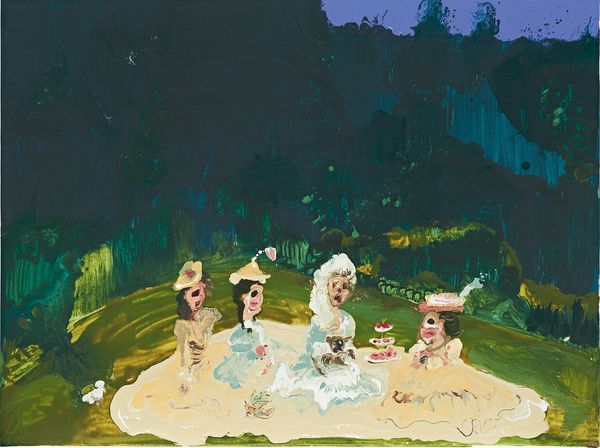 With a particular predilection for satirizing the social norms of centuries past, Genieve Figgis takes the classical genre of portraiture and reinterprets it into a contemporary context, using her distinct technique of impasto-laden acrylics. Distorting the bodily forms of her genteel subjects, she injects a sense of dark humor into these scenes of opulence and leisure, all the while reconstructing them in the formation of her unique painterly tenet.
Having only appeared at auction in Asia last year, soon achieving auction records with Phillips, Figgis has become a darling of the auction world, her witty and subversive takes on art history masterpieces are hotly sought after by some of the most established collectors. This season, featured are three of the artist's works – the highlight of which being Ladies Picnic (Déjeuner sur l'herbe) offered in the Day sale. While paying tribute to one of the most iconic paintings of the 19th century, Édouard Manet's, Le déjeuner sur l'herbe (which sparked controversy and notoriety upon its unveiling the Salon des Refuses in Paris) Figgis' macabre sense of humor navigates between the boundaries of the classical and the contemporary while positing herself as a worthy successor to the French realist.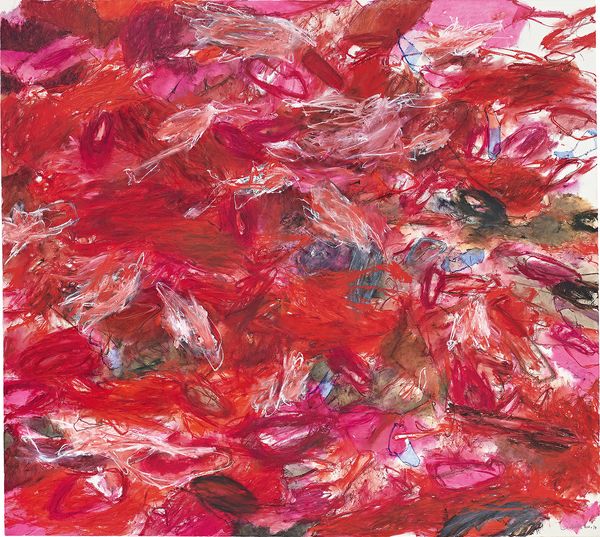 Christine Ay Tjoe Layer as a Hiding Place, 2013. Estimate: HK$4,000,000 - 6,000,000
20th Century & Contemporary Art Evening Sale, Hong Kong
Christine Ay Tjoe is recognized internationally as perhaps the most prominent contemporary abstract artist. In recent years, her artistic endeavors have expanded from Asia to Europe and America.
Painting in her now-signature medium of oil bar on canvas, each brushstroke takes on a life of its own – demonstrating her preternatural understanding of the relationship between line, space and color, with a kaleidoscopic labyrinth of textures and colors that ebb and flow across the canvas.
A highlight from the Evening sale is one of Ay Tjoe's most acclaimed works, Layer as a Hiding Place, a seductive work that embodies the raw depths of human emotion and vulnerabilities that form the hallmarks of her practice.

Barbara Kruger, Untitled (Shove it, starve it, blind it, choke it, drown it, shame it, buy it, fuck it), 1986. Estimate: HK$ 2,000,000 - 3,000,000
20th Century & Contemporary Art Evening Sale, Hong Kong
A leading figure in the feminist art movements of the 1960s and 70s, Barbara Kruger's work primarily consists of photographs intertwined with bold text. Simultaneously challenging and subjugating the spectator, she uses her work to send a powerful rebuke to the positioning of the female subject within the discourse of patriarchal culture.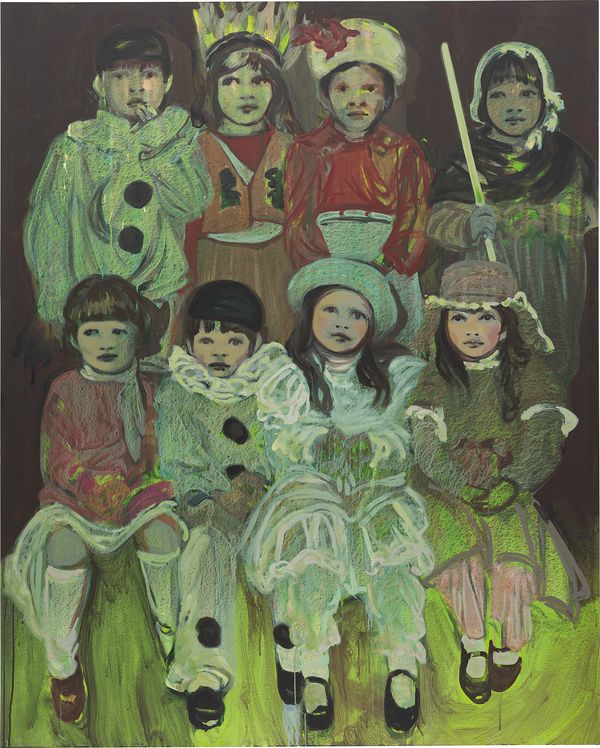 A brilliant example of Claire Tabouret's synthesis of the gestural and graphic, Les déguisements (Disguises) is a reinvigoration of the classical tradition of figure painting, encompassing the artist's range of diverse influences which filter seamlessly into her compositions. The recipient of the Femmes D'Or prize in 2014, Tabouret has been honored with a raft of solo exhibitions at a number of distinguished institutions, cementing her position as one of the most important artists of our generation.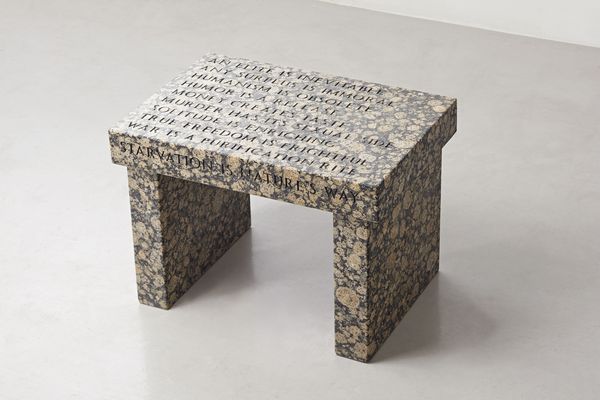 Jenny Holzer is a Feminist, Neo-Conceptual artist who has garnered swathes of international recognition for her large-scale installations of words and ideas within public spaces. Though LED signs have become her most visible medium, Truism Footstool is a more concrete manifestation of her original artistic vision. Composed of granite and covered with Holzer's trademark truisms, the work invites us to walk around it, engaging with multiple viewpoints in the investigation of its inherent meanings as well as our own relationship to the space around it. Ultimately, Holzer provides us with a medium that provokes visceral responses in order to uncover the uncomfortable truths within ourselves.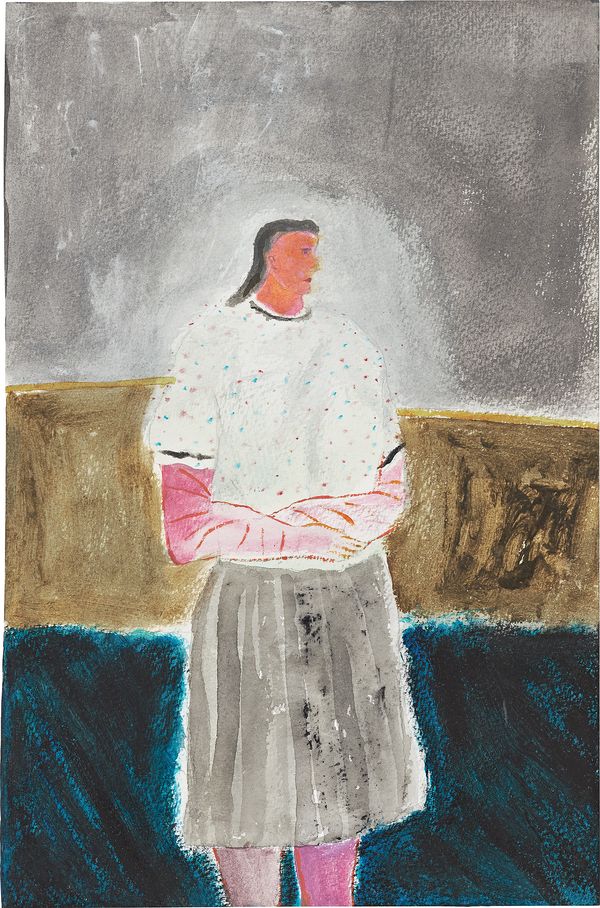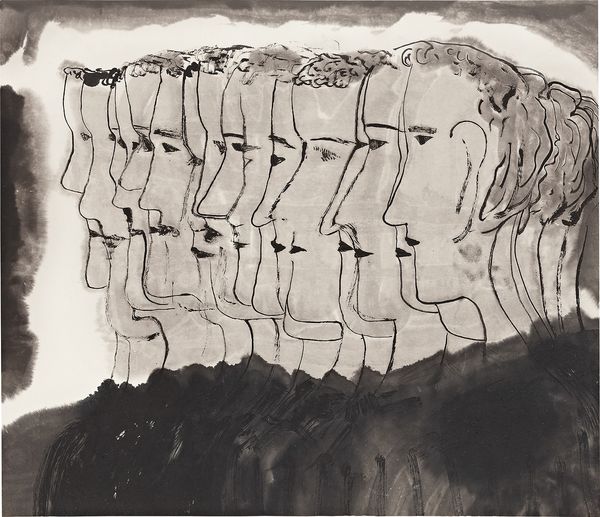 Born and raised in Hong Kong, Firenze Lai largely turns to figuration in her body of work but refuses to coin her compositions as "portraits". She examines the hidden collectiveness within individuality through skillfully rendering anonymous subjects in a localised setting - creating a psychological landscape that moves past the surface of human faces and into the realm of raw feeling and expression, which resonates with Francis Bacon's emotionally charged canvases. Taking the seemingly ordinary aspects of Hong Kong as her main source of inspiration and meticulously ponders on the details in our everyday life, from the houses we live in, to the streets, the weather and the physical experience we encounter on a day-to-day basis - capturing the very essence of the city through the intimate spaces she creates.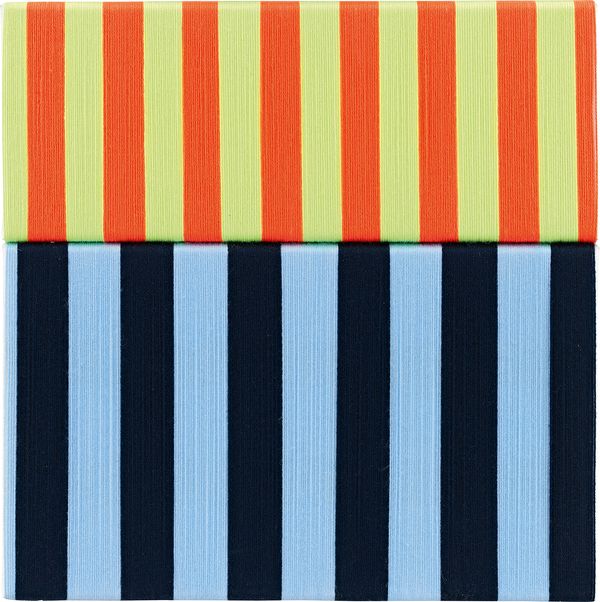 Widely considered to be one of the most successful female artists of her time, Rosemarie Trockel became the first female to represent the German pavilion of the Venice Biennale in 1999. By integrating historically feminine domestic handicraft and labor within the praxis of fine art, Trockel thus develops a complex dialogue that touches upon questions of material sensibility and production modes, while simultaneously undermining the established ideals of outdated gender politics.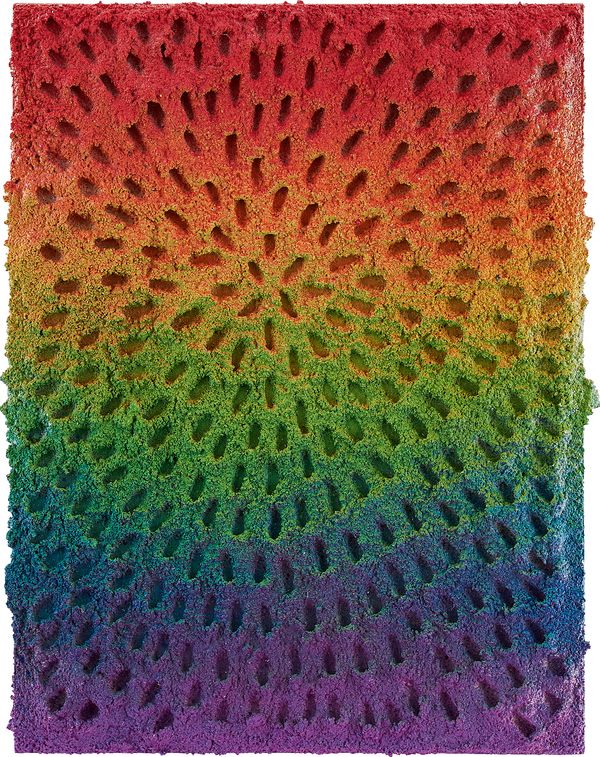 Jennifer Guidi Eight of Wands (White Sand #9 Mandala, Rainbow Gradient), 2018. Estimate: HK$180,000 - 280,000
20th Century & Contemporary Art and Design Day Sale, Hong Kong
Jennifer Guidi's practice focuses on the vivid colors and textures of Maghreb textiles, inspired by their abstract stitchings and irregularities, and the childhood memories of being schooled by her grandmother at an early age how to sew and knit. In the following year she combined these new-found sensibilities with an inventive medium – sand – first applying a thick under layer onto the canvas, she then uses a dowel to make disciplined markings in repetitive motions, adding more sand and paint as she goes along. Rejecting photographs or preliminary drawings, these paintings are products of the artist's raw psyche, and what comes out of this arduous process are forms and compositions that are hypnotic and mesmerizing.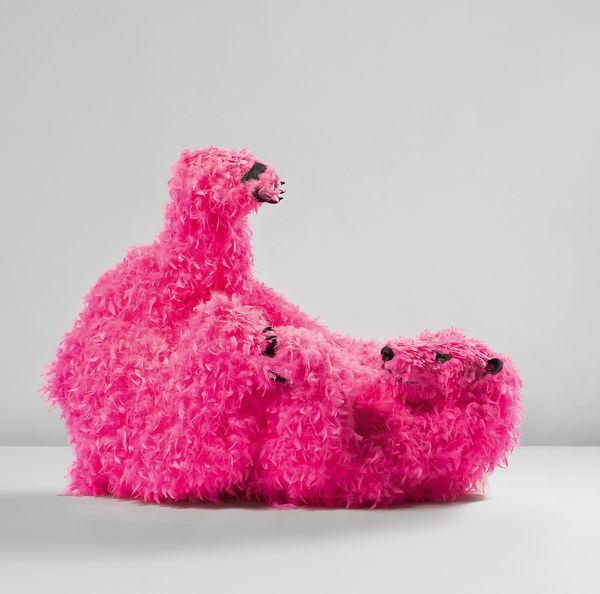 Paola Pivi is an Italian-born artist whose work encompasses daring and visually striking range of forms and materials, including sculpture, photography and performance. She is most famously known for her sculptures of polychrome polar bears, inspired by a dream in which she was surrounded by a lagoon full of baby bears, eschewing geospecific rational. Each bear is inherently playful and humorous, made from urethane foam and adorned with painstakingly-installed turkey feathers, while suspended in acrobatic lunges or yoga poses. Indeed each sculpture is imbued with a certain sense of innocent spirituality, emphasized by their clever names, which are envisioned by the artist's partner, Karma Lama, a composer of Tibetan music.
Fresh from her recent exhibitions at Galerie Perrotin New York, as well as a major show at MAXXI, Rome's Museo nazionale delle arti del XXI secolo, Pivi is undoubtedly a rising star in the international art scene.

Though these artists come from all corners of the world, each with their own distinct artistic lexicons and rich creative energy, they share in an immutable ability to transcend borders, cultures and languages in the projection of their unique fantasies. Yet as Jean-Michel Basquiat once said, "I am not a Black Artist. I am just an Artist.", and no more is this true than when considering these artists, as they should not be considered solely within, or defined by, their virtue of being women. Instead, they should be celebrated for what really defines them – the creation of magnificent works of art that are sure to remain at the cornerstones of public imagination and captivation for generations to come.