Just prior to Freeze private view. Left to Right: Ian Davenport, Damien Hirst, Angela Bulloch, Fiona Rae, Stephen Park, Anya Gallaccio, Sarah Lucas and Gary Hume, August 1988.
© Abigail Lane. All Rights Reserved, DACS/Artimage 2020.
Image: Abigail Lane.
It is a story that has entered art world mythology. In July 1988, a group of sixteen young artists took part in a show held in an abandoned London Port Authority warehouse, organized by a Goldsmiths' second-year student called Damien Hirst. The artists included Gary Hume, Mat Collishaw, Ian Davenport, Michael Landy, Sarah Lucas and of course, Hirst himself. The now infamous exhibition, titled Freeze, epitomized the essence of these new artists' common creative verve; they wanted to tackle and re-structure the established art world through self-promotion, shock-tactics and pure entrepreneurial spirit. The Royal Academy of Art's then Exhibitions Secretary Normal Rosenthal and the Tate's new Director, Sir Nicholas Serota, attended along with advertising mogul and collector Charles Saatchi, signaling not only a watershed moment in British art but also Hirst's dogged determination for widespread recognition. Birthing a new generation of artists, this group and others would soon experience a meteoric rise to fame under the collective name: "Young British Artists" or YBAs. A tale of perseverance, dedication, commitment and creativity, the genesis of the YBAs has come to represent the most treasured characteristics of British morale.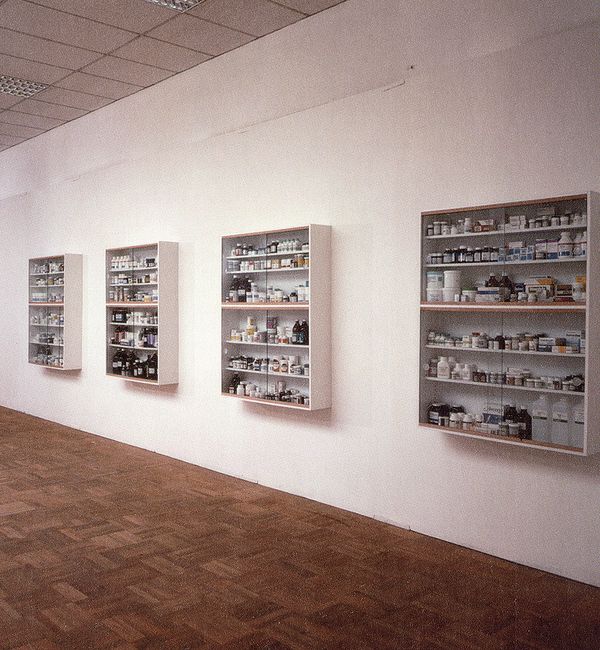 Installation view of Bodies in Damien Hirst's Degree Show, Goldsmiths College, London, 1989.
© Damien Hirst and Science Ltd. All rights reserved, DACS 2020.
Image: courtesy of the artist's studio.
Goldsmiths College of Art undoubtedly provided the foundation for Freeze and the subsequent YBA movement, with the majority of the group attending their B.A. Fine Art course between 1987 and 1990 – in the exception of Julian Opie who graduated years before, in 1982, but was a driving force for the younger generation. From the conservatism of Margaret Thatcher's government to the rebellion of The Sex Pistols and The Clash, London in the 1980s thrived in diversity. Goldsmiths' innovative approach to art-making was no different, abandoning the traditional segregation of artistic training into painting, drawing and sculpture in favor of an openness to process and materials which resulted in a fresh and confident dominance of mixed-media work.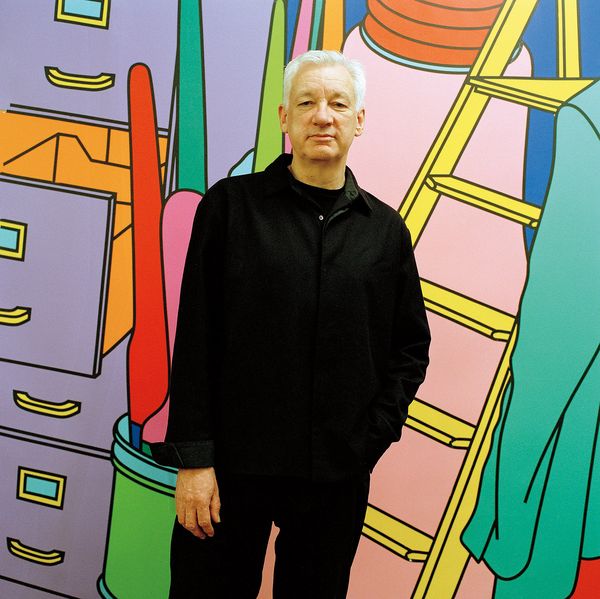 Michael Craig-Martin in front of Full, estimate: £80,000-120,000. Circa February 2006.
Image: Eamonn McCabePopperfoto via Getty Images.
These students were receiving advice and encouragement from their course leader and artist in his own right, Michael Craig-Martin. As a principal figure of British conceptual art, his personal approach to the play between rhetoric and object influenced many of his young students to pursue complex themes through diverse media and processes. However, the students were as much influenced and nurtured by their mentor as they were by each other. Gary Hume was painting his seductively shiny hospital doors in household gloss as Hirst was experimenting with the same medium on kitchen pans. Spurning the often inevitable competition that comes with beginning an artistic career, the YBAs supported one another in their pursuits. Craig-Martin has noted retrospectively that "With the YBAs, I saw a generosity I'd never witnessed before. When a collector came to a studio, the artist would say, 'Do you know so-and-so's work?' And if the collector said no, the artist would take them round to so and so's studio. It was a magical time." (Michael Craig-Martin, quoted in Stuart Jeffries, 'Michael Craig-Martin: Up close and impersonal', The Guardian, 4 May 2011, online). Gary Hume Magnolia Door One, 1988. Estimate: £20,000-30,000.
The YBA magic was infectious and quickly after their bold arrival onto London's art scene, their work was snapped up by dealers, gallerists, as well as both established and new collectors. Amongst these collectors stood out Robert Tibbles – a veteran YBA-admirer, whose aggregation of artworks forms a sourcebook of the movement's best productions. "I did want the overarching story of my collection to make sense," Robert said. "And so, I had to continually ask myself: do these bits of the jigsaw produce something that has a theme or coherence?" Uniting seminal formulations of Damien Hirst's best bodies of work, impressive large-scale compositions by Michael Craig-Martin, provocative word-paintings by Sarah Morris and a uniquely touching video piece by Sam Taylor-Johnson, Robert's collection traces his emotional and psychological journey as a collector, but also the history of Britain's most revered contemporary movements.
With the new decade came an unprecedented recognition and fame for these young artists fresh out of art school. It was also during the 1990s that the YBAs became notorious for their punky 'work hard, play hard' ethos, taking over the pubs and clubs of London's Soho and East End to host parties and private views whilst mixing with friends from the worlds of fashion, music and film. The group's absorption into the establishment was firmly secured when the Royal Academy staged the notorious Sensation exhibition in 1997, traveling to New York and Berlin and introducing these artists to the wider public both in Britain and internationally. Innovative and provocative, these artists indeed caused a powerful sensation in the cultural landscape from which we are still feeling the after-shocks.
Acquired from 1988 until roughly 2000, the works from Robert Tibbles' collection allow a glimpse into the YBAs' genesis and progression, conveying a visual time capsule that almost no other collection could boast. "I bought and put together all these works, in a very slow but very careful way, and they only got better with time," the collector said.