Worldwide Head of Jewels Graeme Thompson auctioneers in New York.
One year on from the official re-launch of our New York Jewels division, the category continues to grow globally—with an expanding team, impressive consignments and skyrocketing sale totals.
1. Impressive Growth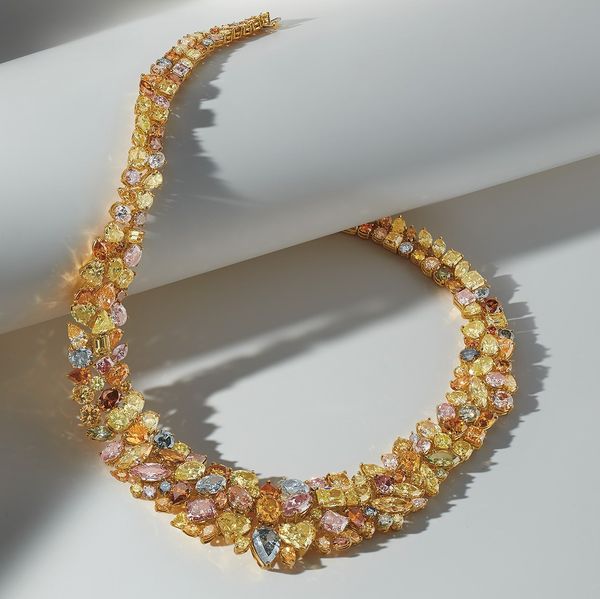 An Important Fancy Diamond, Colored Diamond and Gold Necklace, sold for $500,000.
At the close of the year, we can report that the Jewels category saw a more than 23% annual increase in auction sales compared to 2018. Meanwhile, our New York December Jewels auction alone saw a 126% increase over the previous year's sale.
2. New Voices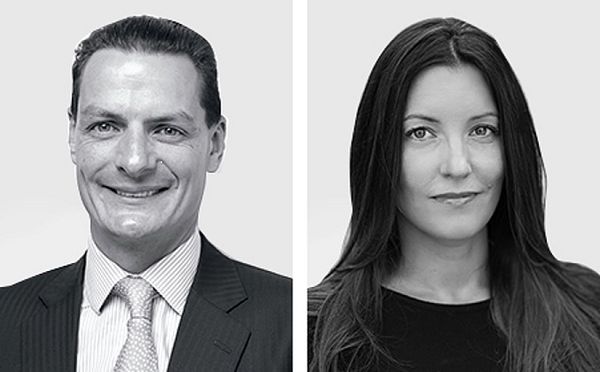 Graeme Thompson joined Phillips this April becoming Worldwide Head of Jewels and is based in Hong Kong. Susan Abeles, Head of Jewels Americas and Terry Chu, Head of Jewels Asia welcome West Coast Senior Specialist Alexis Vourvoulis based in Los Angeles.
3. Collecting Trend: Colored Diamonds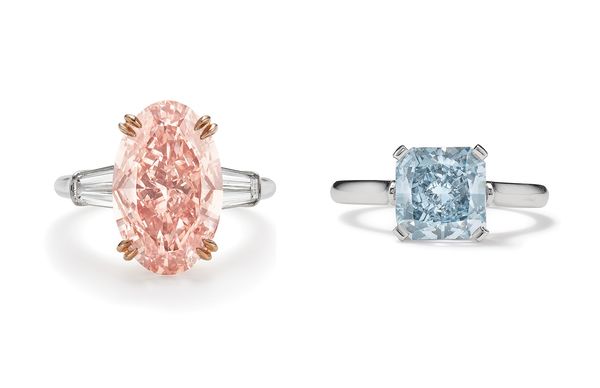 Colored diamonds continue to garner interest and excitement across global markets with international collectors. The June Jewels Sale in New York featured a rare and exceptional 6.01 carat fancy intense orangy pink diamond, which sold for over $1.3 million. In December, it was a Tiffany & Co. fancy intense blue diamond of 3.02 carats, which sold for over $1.6 million, reflecting the demand for rarity and uniqueness in beautiful gems.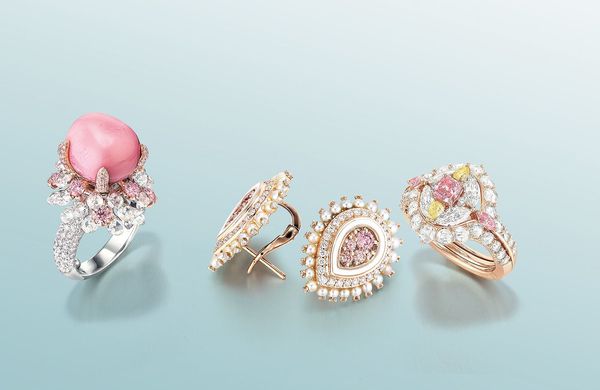 Argyle pink diamond jewels from Karen Suen, Sarah Ho and Paige Parker.
In Hong Kong, we celebrated the legendary (and now nearly-depleted) Argyle diamond mines, which have provided the world's only stable source of pink diamonds. A special section of our Jewels & Jadeite sale offered pieces set with stones from the mine, as well as three works commissioned by Phillips from contemporary jewelers Sarah Ho, Paige Parker and Karen Suen.
4. Contemporary Partnerships
Phillips has a long history of working with jewelry's rising stars. This March in Hong Kong, we presented a selling exhibition of jewels by Sarah Ho. With roots in Hong Kong and Macau, the London-based designer drew inspiration from her heritage to create the 30 pieces on offer. Highlights included her Full Circle collection, which donates a portion of proceeds to the communities from which these rare stones are sourced.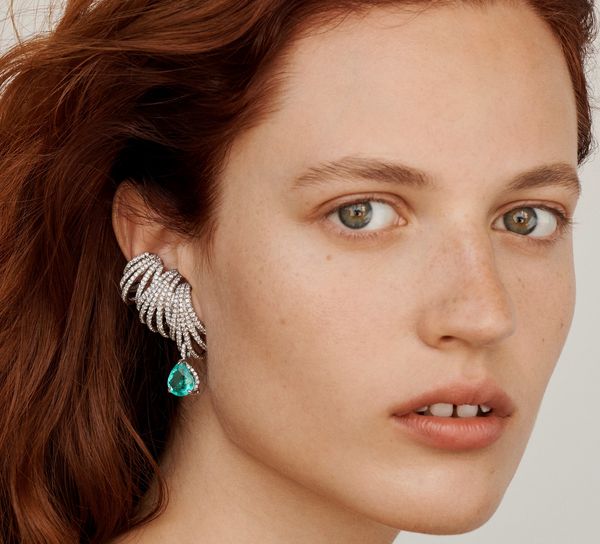 A Diamond 'Delphine' Ear Cuff and Green Tourmaline Paraiba and Diamond 'Delphine' Ear Piece, by Ana Khouri.
Following 2018's wildly popular selling exhibition in New York, we extended our relationship with Ana Khouri across the pond with a second edition in London this September. With a new space, new pieces and totally fresh installation, Ana Khouri: Jewels as Art was yet again a resounding success. Speaking on her life's work, Khouri told us, "I do not simply want these pieces to adorn, or to stand alone as beautiful objects. I want my designs to evoke their connection to space—its vastness, its majesty and its superlative form."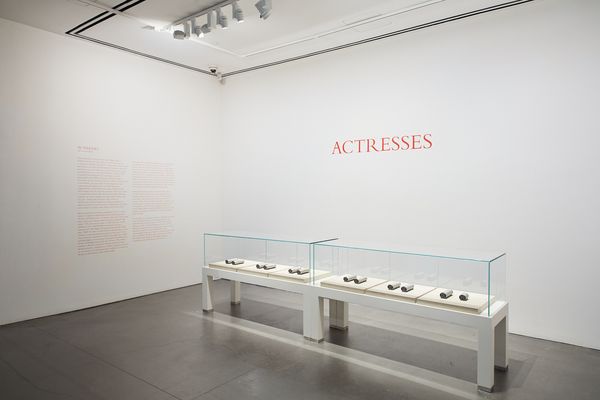 In New York, Philips participated in Jewelry Week with the exhibition ACTRESSES by legendary artist Daniel Brush. This exceptional work stands at the intersection of contemporary art and the world of jewelry. Composed of hand-engraved steel and diamond ID bracelets, this work celebrates and pays homage to some of the biggest silver screen names in the history of Hollywood and the role these actresses played on and off-screen.
5. Signed Success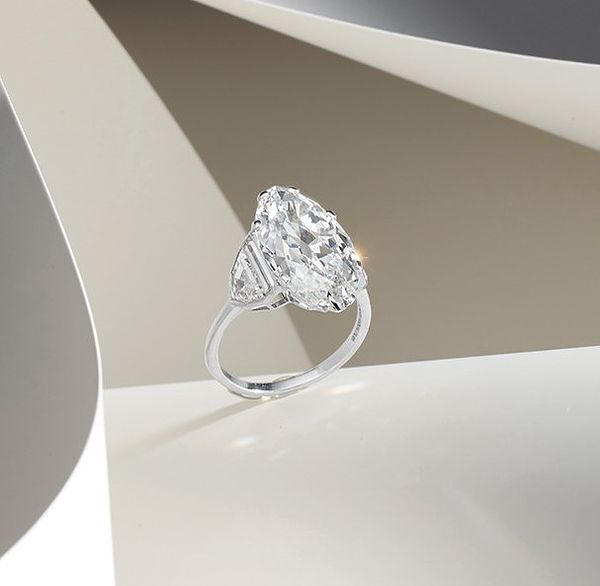 A Spaulding & Co. Art Deco Diamond and Platinum Ring, sold for $200,000.
As in previous seasons, Phillips has seen consistent demand for signed pieces by iconic houses such as Cartier, Bulgari and Van Cleef & Arpels. Important results from this year included the aforementioned Tiffany & Co. blue diamond ring, as well as a De Beers fancy intense yellow diamond ring, which realized $275,000, and a Spaulding & Co. diamond and platinum ring that sold for $200,000.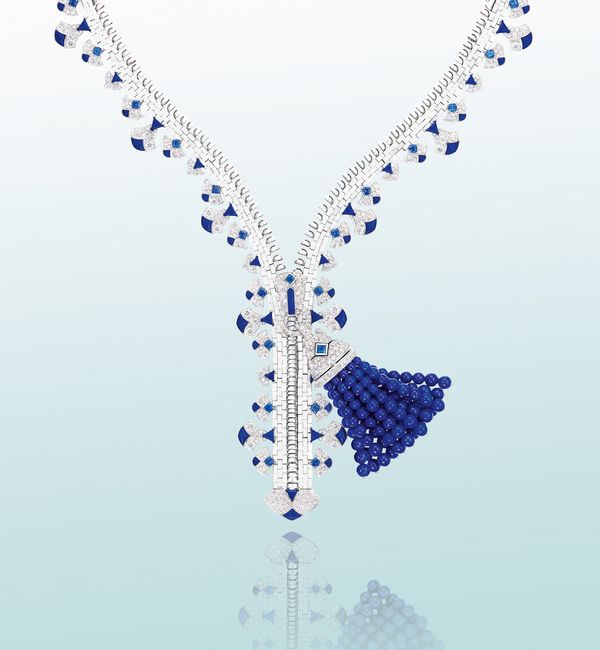 A Van Cleef & Arpels Lapis Lazuli, Sapphire and Diamond 'Zip' Necklace, sold for HK$4,350,000.
In Hong Kong, the iconic Van Cleef & Arpels 'Zip' necklace design achieved HK$4,350,000, while a diamond 'Butterfly' brooch by Graff sold at the high estimate for HK$2,000,000. Also of note was the sale of a Cartier 7.09 carat 'Golconda' diamond ring for HK$4.6 million, nearly doubling the low estimate for the gorgeous stone.
6. Steady Growth Online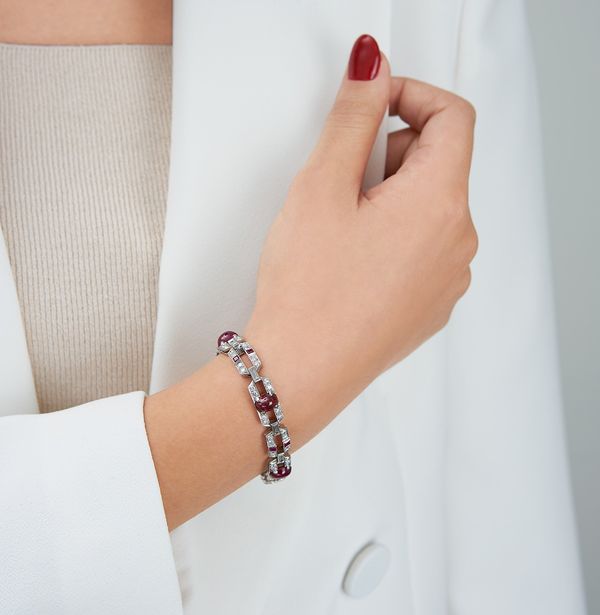 An Art Deco Ruby and Diamond Bracelet, sold online for $11,875.
Our June and December online-only companion sales sold nearly $630,000 worth of pieces with estimates ranging from under $1,000 to over $5,000.
As we move into the new decade, our global Jewels division looks forward to bringing more precious gems to market while fostering young, contemporary talent among jewelry designers around the world.