A large full-bodied molded gilt copper "Hackney" horse weathervane
I am not a decorator. The only place I decorate is my own house. — Florence Knoll Bassett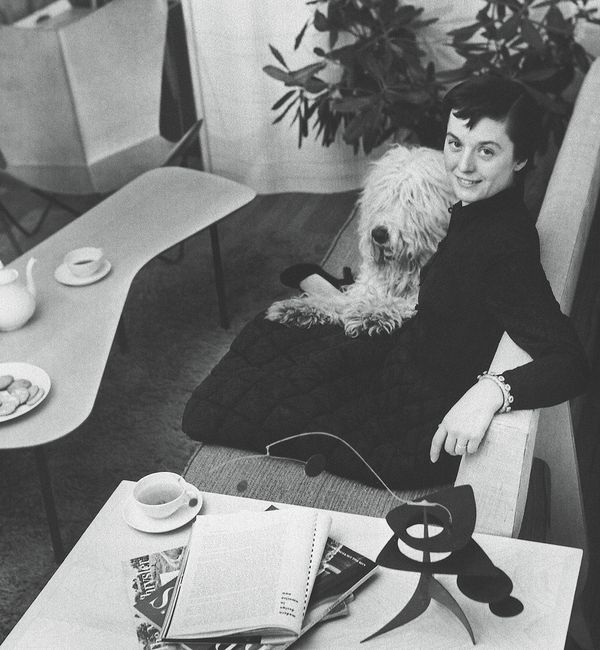 Florence Knoll and her dog, Cartree, at the 575 Madison Avenue Knoll Associates Showroom, 1956. Image courtesy of Knoll Archive. Artwork: © 2019 Calder Foundation, New York/ Artists Rights Society (ARS), New York.
On first thought, it may seem surprising that Florence Knoll Bassett, the pioneer of the sleek aesthetic that came to define the postwar American office interior, collected nineteenth-century weathervanes. What place, exactly, did these trotting horses, glistening gilded fowl and verdigris patinated roosters have in the home of one of the leading exponents of modernism?
Though these sculptures may seem incongruous, it's worth remembering that so-called primitive art and modernism go way back. Wassily Kandinsky mined Russian folk art for inspiration while Pablo Picasso and other artists working in Paris collected African carvings. Meanwhile, in New York, artists such as Elie Nadelman and Charles Sheeler, looking to define a distinctly American brand of modernism, found their native artistic roots in early American folk art. As Helen Appleton Read wrote for the Brooklyn Daily Eagle in 1924, "A group of our younger artists…have poked about in antique shops, in old saloons and chophouses and brought back quaint pictures and statues. These are now serving as decorations and inspiration in the studios of many of them. Why bother about French Gothic or the frescoes of Santa Croce when we have material primitive at hand that has the humor and tang of our native soil?"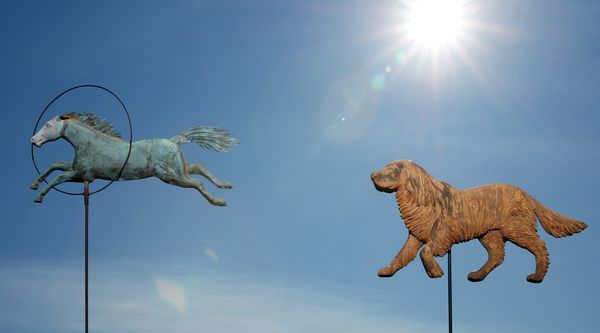 From left: A full-bodied molded copper and zinc "Horse and Hoop" weathervane. A carved painted and giltwood dog weathervane mold.
Into the late 1950s, which is when Florence discovered weathervanes "on a whim" while on a trip to Paris with her second husband Harry Hood Bassett, early America continued to serve as inspiration for American artists as well as prominent collectors such as Abby and John Rockefeller. To name a few, David Smith had drawn on farm implements and machinery parts gleaned from his upstate New York property for his "Agricola" series of the 1950s, while Andrew Wyeth represented rural America in an entirely different manner.
At the same time, the magazine Art in America, with the dedicated folk art collector Jean Lipman at the helm, published articles about the leading contemporary artists of the time alongside articles on Shaker design and New England gravestones. Albert Barnes' installations of Van Goghs and Matisses next to ornamental strap hinges come to mind as a visual of the same approach of conferring non-traditional art on equal footing with modern masters. Among these writings for Art in America, an article published by Alice Winchester titled "Antiques for the Avant Garde" (1961) is of particular relevance. "There seems to be today among people of advanced taste," she wrote, "a considerable interest in antiques. Dwellers in glass houses, for instance, will fill them with period furniture." Listing nineteenth-century American weathervanes among the potential objects for inspiration she continued, "Such things stir modern taste not because of their age but in spite of it, and are appreciated not for quality or rarity but because they 'look modern.'"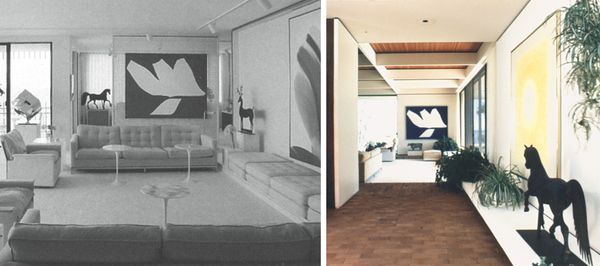 From left: Entryway towards the living room of Florence Knoll's home, Coral Gables, Florida. Image courtesy of Florence Knoll Bassett papers, 1932-2000. Archives of American Art, Smithsonian Institution. Living room of Florence Knoll, Coconut Grove, Florida, 1985. Image © Christoph Kicherer/Vogue Décoration.
While Florence Knoll Bassett does not seem to have included weathervanes in any of her office interiors, they do appear in images of her summer home in Vermont. She acquired the vanes in Vermont as well as in the many antiques stores located near the Knoll showroom in midtown Manhattan and treasured her collection enough to bring it with her when she and Bassett relocated to Coral Gables, Florida, in 1965 and finally to her last residence in Coconut Grove, where she displayed a group to striking effect in a custom grid-shaped display.
"Cocks have always been seen, but never as well as in American weathervanes," Pablo Picasso once said, and we might well add that weathervanes have never been as well seen as in the home of Florence Knoll Bassett.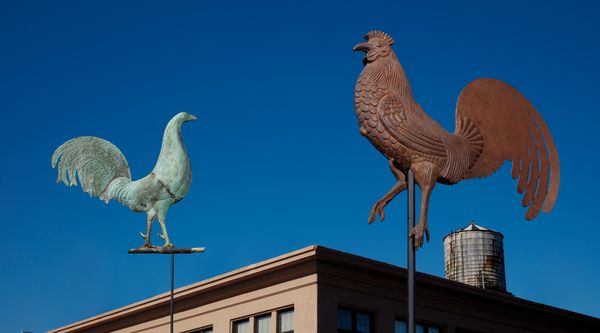 From left: A full-bodied molded copper gamecock weathervane. A large full-bodied molded and cast-iron Rooster weathervane.
More Collection Highlights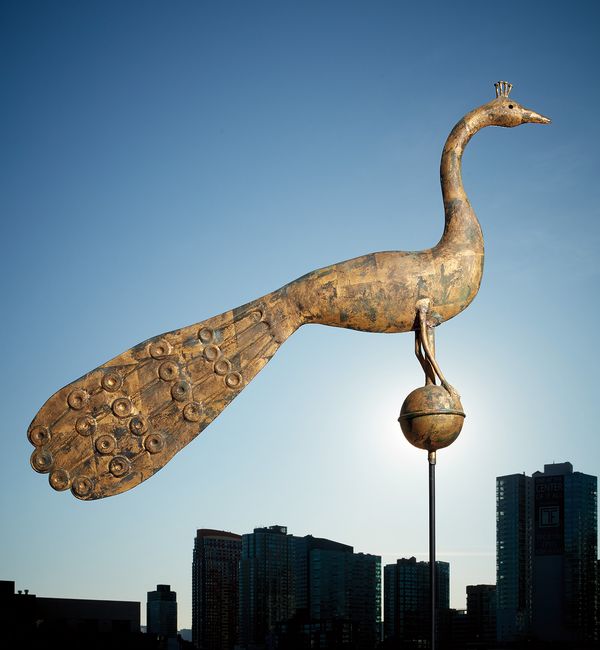 A full-bodied molded gilt copper Peacock weathervane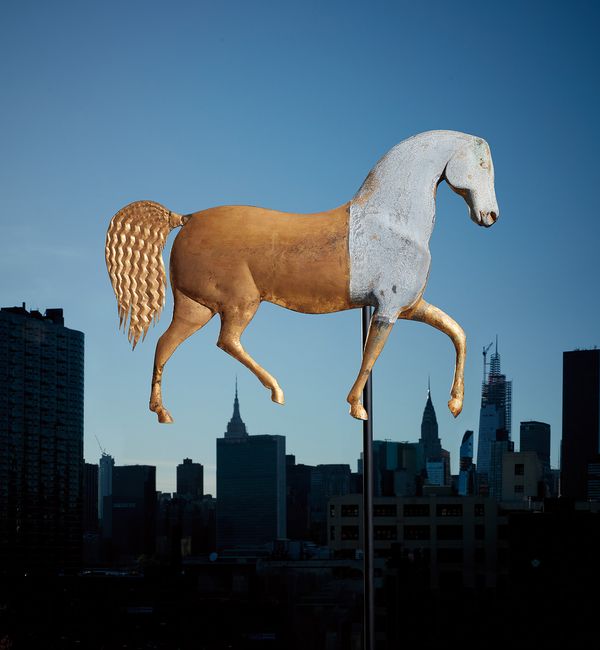 A full-bodied molded gilt copper and zinc "Index" horse weathervane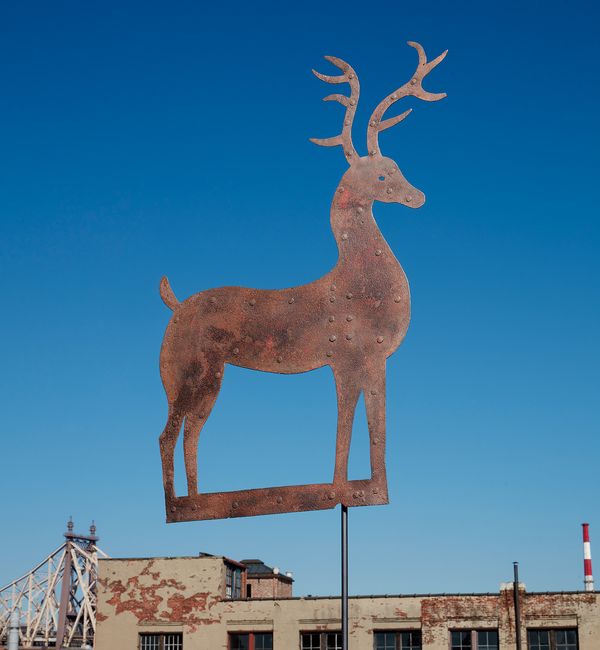 A primitive sheet iron stag weathervane
Read More
Making Modern: Property from the Collection of Florence Knoll Bassett >
A Symphony of Curves: A Jeroen Verhoeven Masterwork >
Precious Metalwork: Alexander Calder's Jewelry >