Created at the height of Alexander Calder's recognition, when his designs adorned the fashionable intelligentsia of Europe and the United States, Calder's delicate Cape Clasp and Six Circles brooch are paradigmatic of the artist's ability to yield a universal, abstract lexicon within intimate objects of wearable art. Delicately handcrafted, each unique piece adds another dimension to the cerebral experience of Calder's work, allowing for a tangible, portable, and highly personal level of engagement. It is in these exquisite works, where the artist delicately hammered radiant planes of silver and brass into elegantly undulating forms, that we see Calder forming a direct relationship with his patrons, both past and present.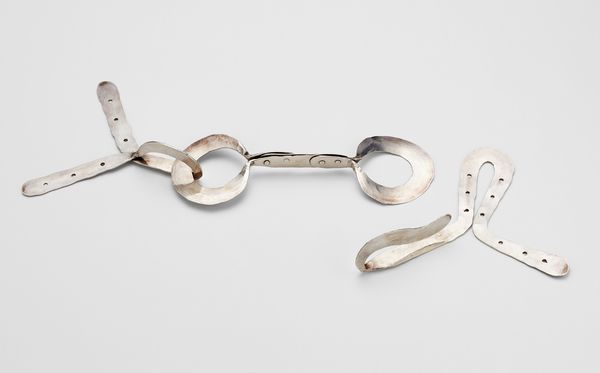 Alexander Calder Cape clasp, circa 1936. Estimate: $30,000 - 50,000.
Design at Phillips New York, 17 December.
Born in 1898 to the painter Nanette Lederer Calder and the sculptor Alexander Stirling Calder, the young Calder used beads and leftover copper wire to create jewelry for his sister's dolls. As he grew, Calder nurtured his interests in physics and construction, graduating from Stevens Institute of Technology with a degree in mechanical engineering in 1919. He combined these skills with his creative impulses upon moving to New York, first enrolling in drawing classes at New York Public School 1922 and then at the Art Students League. Throughout his career, making jewelry provided Calder the perfect confluence of mechanics and artistic experimentation. His tactile appreciation of metalwork progressed into a refined understanding of compositional balance and geometric harmony. After first leaving to study in Paris in 1926, Calder's continued contact with the French capital, and the relationships he built with seminal Surrealists and Abstractionists such as Joan Miró made him a crucial bridge between Abstract Expressionism in New York and European Modernism.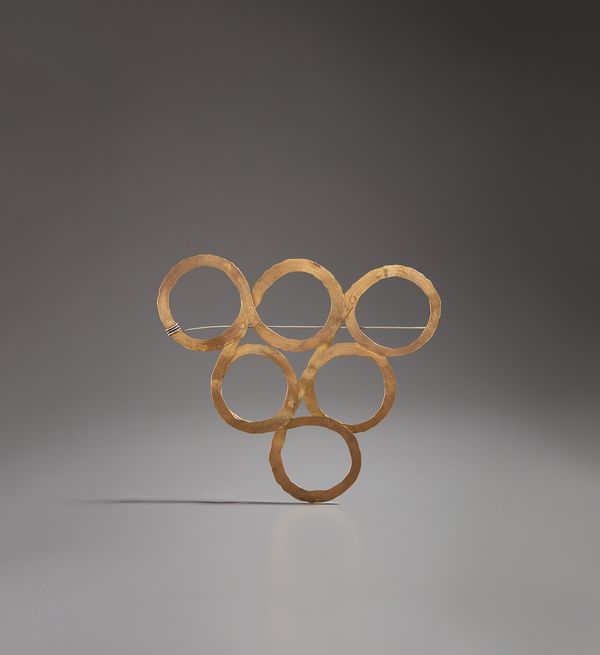 Alexander Calder "Six Circles" brooch, circa 1940. Estimate: $45,000 - 65,000.
Design at Phillips New York, 17 December.
Calder's sustained practice of delicately manipulating metals into evocative forms marks him as a pioneer of studio jewelry. Inspired by his milieu, his pieces were often personal gifts to friends, family, and patrons. In 1931, he made a triple banded ring with a spiral plaque as an engagement ring for his wife Louisa. The spiral motif would remain an enduring formal trope that he would reimagine in copper, brass, silver, and gold. Created circa 1940, Six Circles is emblematic of the artist's technical capability. Elegance and order is maintained while the minute indentations of Calder's hammer caress the surface, enabling it to shimmer with the record of his hand. The piece once belonged to artist Aviva Baal-Teshuva and her husband Jacob—a renowned critic of modern and contemporary art who later authored a publication on Calder. Tracing a single line of thinly hammered brass that aligns and overlaps to compose an eloquently gathered pyramid of loops, the piece speaks to the artist's overriding concerns regarding movement and geometry, as expressed in the interlocking patterns of his lithographs and the motion of his mobiles.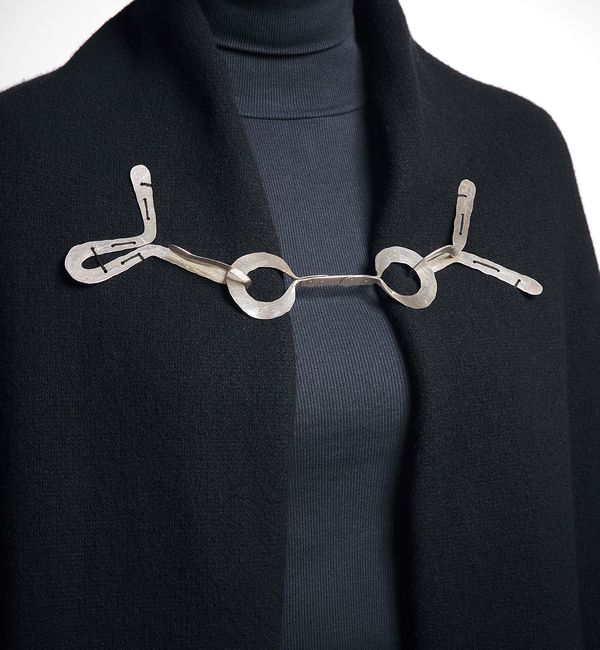 Alexander Calder Cape clasp, circa 1936. Estimate: $30,000 - 50,000.
Design at Phillips New York, 17 December.
As a statement of allegiance to avant-garde artistic practice, Calder's jewelry was collected avidly by influential contemporaries such as Peggy Guggenheim, Millicent Rogers, and Mary Rockefeller, each beguiled by its enigmatic effect. Created in 1936 and boasting outstanding provenance, Cape Clasp once formed part of Mary Rockefeller Morgan's collection, having been originally acquired by Nelson A. Rockefeller—the renowned collector, philanthropist, and 41st Vice President of the United States who also served a as Trustee, Treasurer, and President of the Museum of Modern Art, New York when the museum began to draw an equivalence between jewelry and contemporary art. An early work crafted in silver—which became scarcer in Calder's œuvre as the war progressed—the elegant clasp plays with sculptural possibilities within the realm of functional attire. A seemingly infinite loop of glistening silver speaks to the conceptual rigor of geometry while the asymmetrical fluted ends and hand-formed rivets recall the endearing whimsy of Calder's early representational wire sculptures. Here, Calder manipulates an ancient, precious metal, inviting the collector to revel in the free abandon of consciously naive forms and "join with him in eschewing the facile and pretentious." As noted by Calder's grandson Alexander S. C. Rower, "In my grandfather's day and today, when his jewelry owners wear his pieces, it sets them apart and they make unspoken recognition as members of the Calder clan."