Liz Larner X, 2013. Gift of Dr. Phyllis Kammerman Sher and Dr. Kenneth Fred Swaiman in memory of their parents, Shirley and Seymour Kammerman and Shirley and Lester Swaiman, 2015.
As part of our commitment to the world's preeminent museums and cultural institutions, Phillips is proud to sponsor the Walker Art Center's annual benefit event—Avant Garden. This year's edition celebrates the Walker Art Center's new fall exhibition, Siah Armajani: Follow This Line, which will run from 9 September through 30 December 2018 and present the Minneapolis-based artist's work in a comprehensive retrospective for the first time.
In support of the museum's award-winning artistic and educational programming, the Avant Garden Art Auction, a silent auction to be held on Saturday 8 September, includes works by Larry Bell, Jenny Holzer, Raymond Pettibon, Michael Krebber, Sigmar Polke and many other key contributors to modern and contemporary art.
Below, Phillips and Walker Art Center editors take a closer look at five highlights.
Event Details
8 September 2018
725 Vineland Place, Minneapolis, MN (map)
View Tickets >
Browse Auction >
Auction Highlights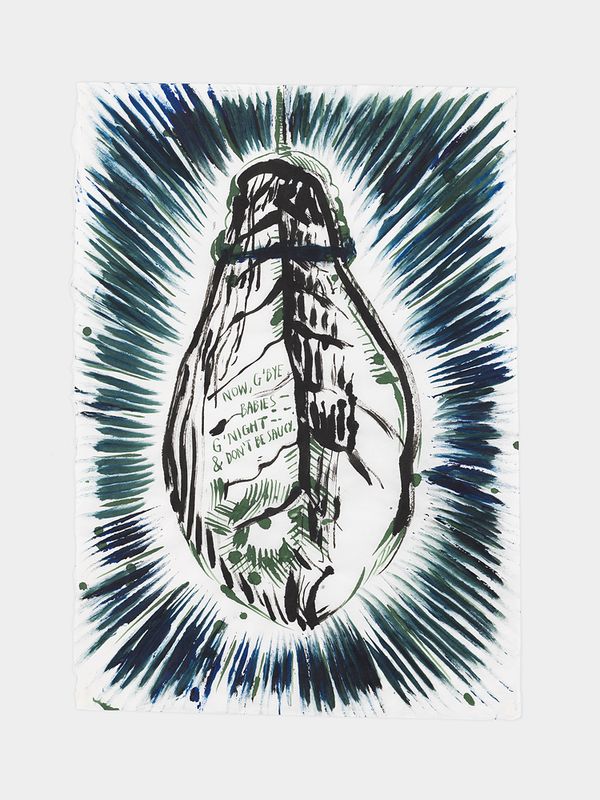 Raymond Pettibon No Title (Now, g'bye babies...), 2017. Opening bid $28,000. Courtesy the artist and David Zwirner Gallery, New York. Born in 1957 in Tuscon, Arizona, Pettibon embraces a wide spectrum of American high and low culture, using his work to reflect on deviations of marginal youth, literature, sports, religion, politics, art history and sexuality. Using 1970s and '80s Californian punk rock culture as a point of departure, Pettibon was recently celebrated with the New Museum's 2017 retrospective, Raymond Pettibon: A Pen of All Work.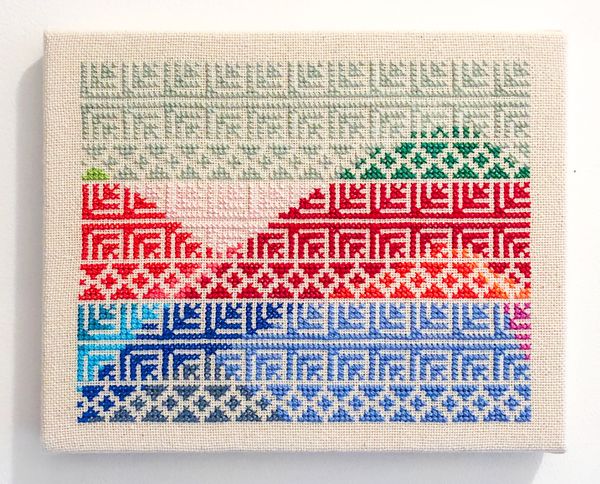 Jordan Nassar Prose Poems V, 2018. Opening bid $2,400. Courtesy the artist and Anat Ebgi, Los Angeles. The hand-embroidered textile pieces of Jordan Nasar—a graduate of Middlebury College who was born in New York in 1985—address an intersecting field of language, ethnicity and notions of heritage and homeland. Using craft as a mode of communication, Nassar generates symbols via computer and then meticulously hand stitches them onto carefully mapped-out patterns.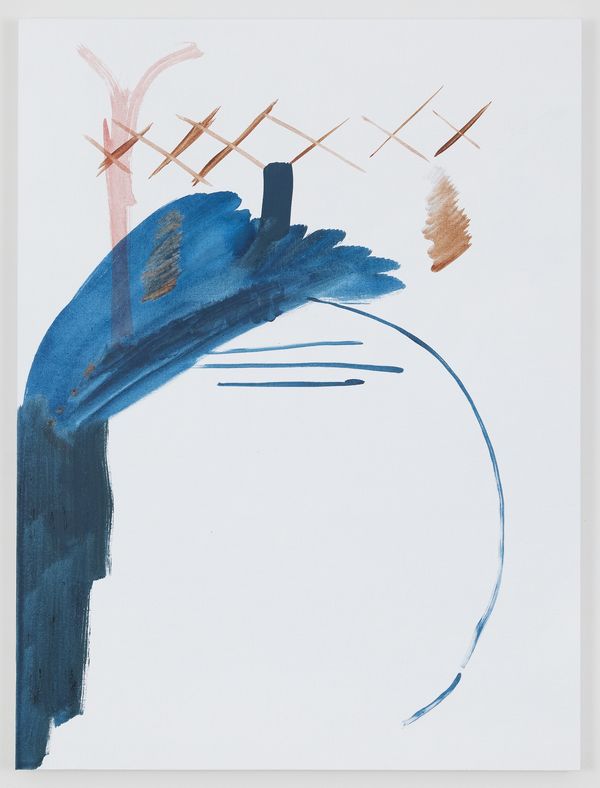 Michael Krebber Untitled, 2018. Opening bid $44,000. Courtesy the artist and Greene Naftali, New York. Born in Cologne, Germany in 1954, Michael Krebber lives and works in New York. With the artist's conceptual approach to painting, his brushstrokes leave a canvas open and full of possibilities. Like an unfinished sentence, his works leave the viewer guessing what might happen next. Pieces from his oeuvre are represented in the collections of the Museum of Modern Art, New York and Centre Georges Pompidou, Paris, among others, with recent solo exhibitions at locations including Kunsthalle Bern and Museum Ludwig, Cologne.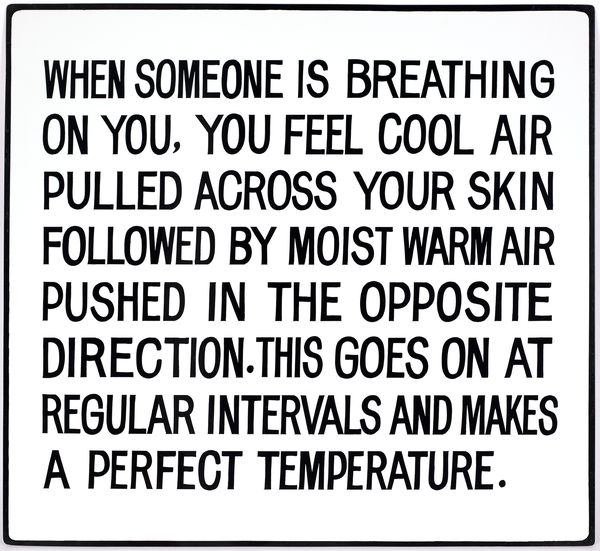 Jenny Holzer Living: When someone is breathing on you..., 1981. Opening bid $48,000. Courtesy the artist. The text-based art of Jenny Holzer has appeared in various media, across billboards, t-shirts, parking meters and LED signs—her signature medium. Most recently at Phillips New York, we offered a LED Truism work by the artist, entitled Truisms: UNEX Sign, 1983, during our May Evening Sale of 20th Century & Contemporary Art. The stark one-liners for which the artist is most-celebrated call attention to social injustice and shed light on dark corners of the human psyche.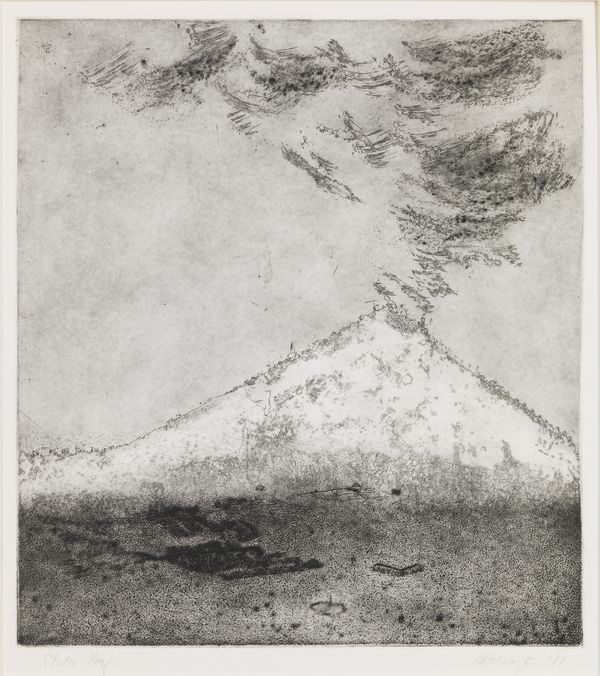 Richard Artschwager Mount Saint Helens, 1981. Opening bid $4,000. Courtesy Gagosian Gallery, New York. Since the early 1950s, Richard Artschwager has forged a unique path in 20th Century & Contemporary Art, making visual comprehension of space and everyday objects appear strangely unfamiliar. His work has taken a variety of labels such as Pop Art, Minimal Art and Conceptual Art, yet it continues to defy any single categorization. Artschwager specializes in categorical confusion and works to reveal the levels of deception involved in pictorial illusionism.
Read more about the works on offer in Avant Garden Art Auction 2018 on walkerart.org.